Made in the Shade (Tobacco State)
Connecticut Made, 2016
By Cynthia Parzych
This book is a perfectly fine book. It's also (yet another) book that shines a light on one of the reasons I don't write a book. You see, books like this are very temporal in nature. They have an expiration date; a short shelf life of sorts. Heck, I would guess there's some stuff in the book that was outdated by the time it was printed and distributed.
Which… is fine. That's just the way these things are – and the introduction does make note of this. My personal problem is that this would bother me to the point of anxiety and loss of sleep. That's why writing a website, where I can change stuff within seconds of learning a new piece of information soothes me. Do I keep up with everything? Of course not. Could I if this was my job? Probably… believe it or not.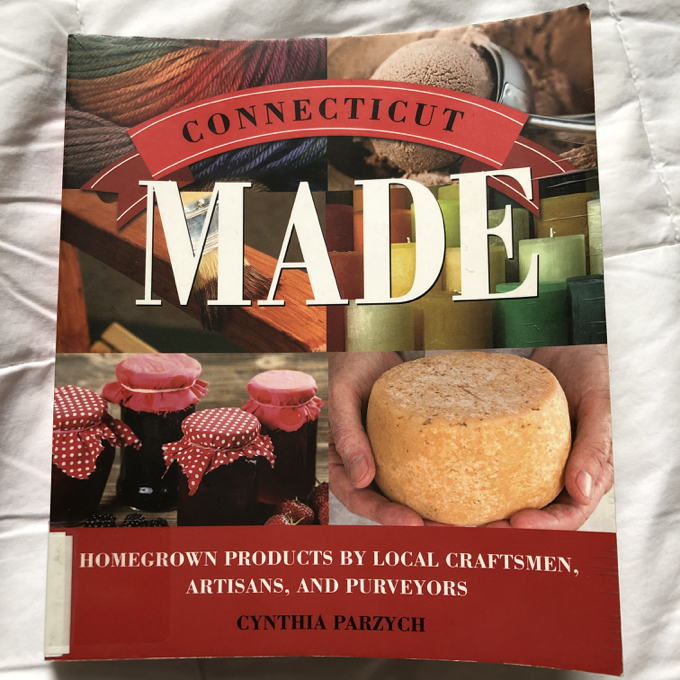 Heck, just yesterday a commenter on this site wrote that a link to a little trail in Mansfield wasn't working. A page I wrote six years ago about a Mansfield town trail. So I found the updated link – towns are always changing these things – and corrected that page. In seconds.
Can't do that with a book. (Of course, the counter-argument is that authors can do editions every few years and make more money – ha! – but… still. My brain doesn't like that.)
But my brain did like Ms. Parzych's effort here. She highlights a wide range of CT artists, crafters, bakers, makers, and growers.
A unique guidebook and local resource full of hundreds of things to find and buy, crafts to discover, factories to explore, and history to uncover––all made in Connecticut. Hundreds of the state's top cottage industries––all places that you can shop and/or tour––are showcased. Organized by product type, categories include ceramics/pottery, clothing/accessories, furnishings/furniture, glassware, home décor, jewelry, specialty foods, toys/games, and so much more. Together, these homegrown establishments help make up the identity of the Nutmeg State and are part of the larger fabric of what is distinctively New England.
Neat, huh? The author spent a good deal of time sorting out the best way to organize the book, and I appreciate that. The hierarchies on CTMQ are an obsession of mine, and I can tell that Ms. Parzych has a similar affliction.
As I read the book "only" three years after publication, much of it was still relevant. There is a section on breweries which is now quaint and downright funny, as that particular industry has more than doubled in size since 2016. Speaking of which, there's a bit about Shebeen Brewing. In 2015/16, Shebeen was a bit of a mess; making weird gimmick beers that were not good. Parzych writes:
They make very unusual beers indeed. Their Cucumber Wasabi, Cannoli (served in a glass with a sugar-coated rim with chocolate shaving sprinkled on the head!), Pumpkin Scotch Ale, Bacon Kona Stout, and Concord Grape Saison are just a few of their crazy ideas, which surprisingly are (mostly) pretty tasty.
"Mostly pretty tasty." I LOL'd at that. Some of these beers continue at the Shebeen arm of the Brewery Collective, and in all honesty, are rather tame as far as 2019 craft "beer" goes. For a book that champions all things made in the state, the above passage qualifies as "shade" to my mind.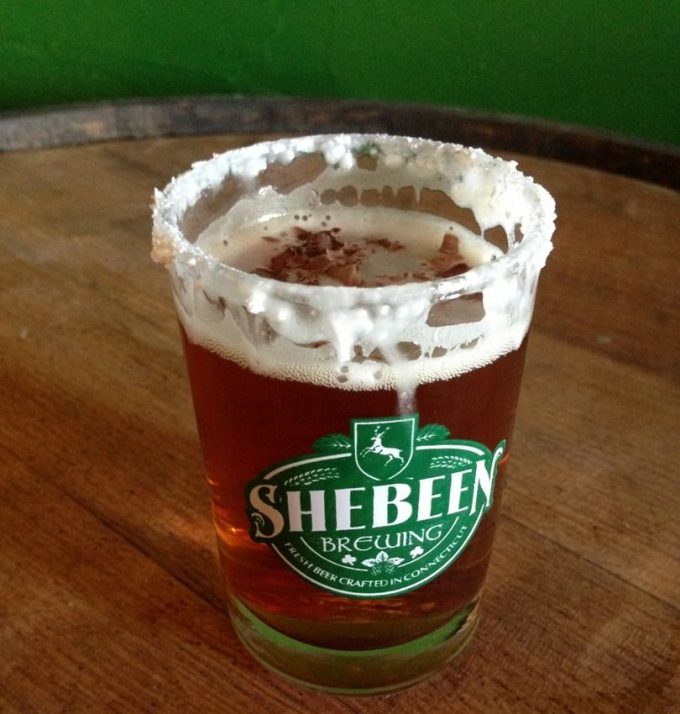 Lots of what Parzych highlights are things that I focus on as well. Chocolate makers, wineries, breweries, and unique businesses. I can't pretend I personally learned much from the book, but I really don't count when it comes to things like this.
That's not to say there were little gems sprinkled throughout. Chairigami, for instance. Located in New Haven, owner and designer Zack Rotholz makes furniture and other items out of cardboard. It's all lightweight and durable, and ships flat. I think it's all rather cool.
There's also Tucci Lumber Bat Company in Norwalk… where a former pro baseball player makes, you guessed it, bats. Some MLB guys use his bats. Or at least did.
Ms. Parzych is a Connecticut small business owner herself, running a publishing company and a food business using the produce grown on her property and sourced locally to make sauces, soups, pesto, pickles, vinegars, jams, and marmalades all sold from her house and farmstand under the The Old Parsonage label. (She lives in Glastonbury in The Old Parsonage, whatever that is.)
This is a neat little book for what it is. It covers the state really well and highlights a good swatch of the businesses I would probably feature if I were to write a similar effort.

CTMQ's List and Reviews of Connecticut Books