Left Me Hanging a Bit
One of Windsor, Beth M. Caruso (2015)
I dunno… I'm just not a big fan of "historical fiction" I guess. I like good books on history, and I like good works of fiction well enough. But there's always something so awkward when the two genres meet and mingle. I'm sure there are countless examples of good historical fiction, but the only one I remember really enjoying in my head right now is Caleb Carr's The Alienist.
One of Windsor is not The Alienist. However, I can't imagine a dry historic telling of the first woman hanged for witchcraft in Colonial America would be all that compelling. And it is clear that Ms. Caruso dug deep, far, and wide for as much known history about the events leading up to and including Alice Young's hanging.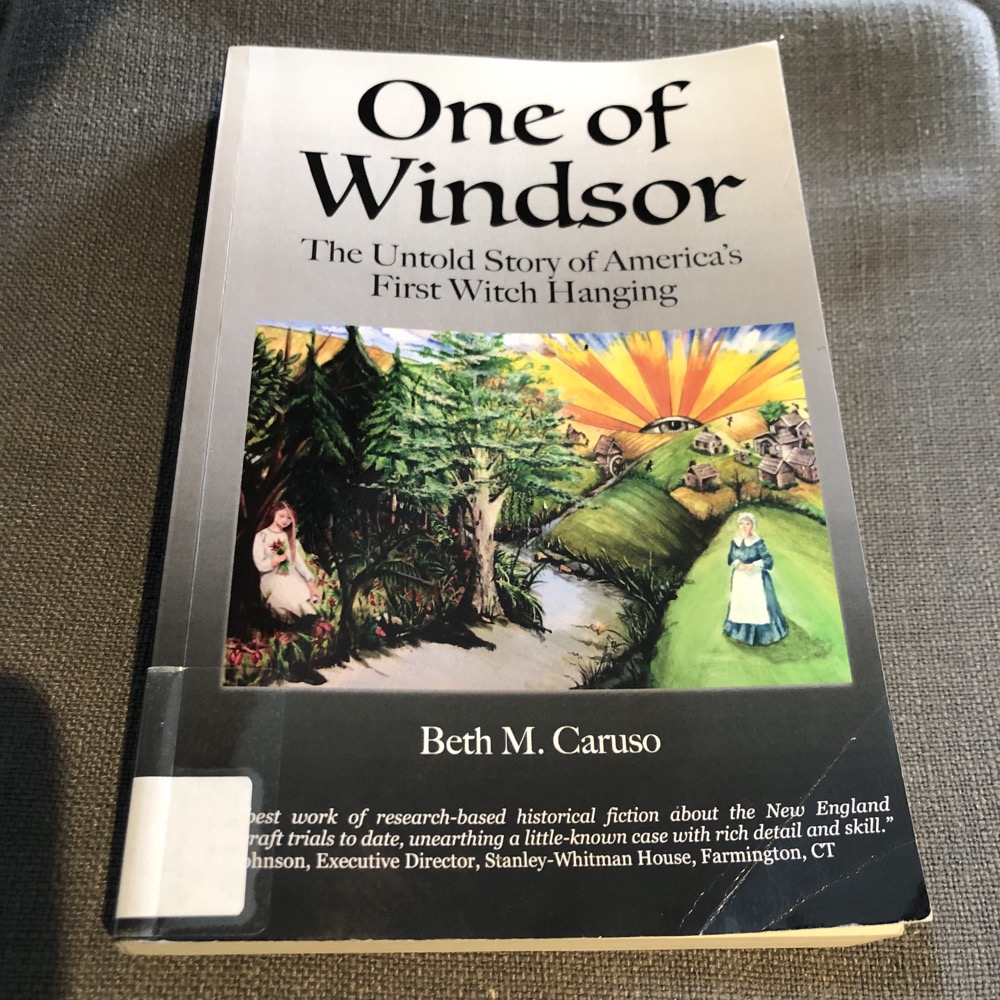 Caruso put together a story of a young English girl's life; traveling from England to the new settlements in the Massachusetts Bay Colony in 1635 as a helpmaid to another family since her parents were dead. We learn early on that young Alice supposedly has borderline psychic abilities and she quickly gets into herbalism and the healing arts (aka, witchcraft!).
Alice Young was a real woman. She really did live in Windsor and she really was the first person hung for being a "witch" in the colonies. Anything else about Alice is… let's say… assumed. Her interactions with Native Americans and her "intuitive" abilities to heal and of course all her conversations.
It's those conversations that bother me the most. It's the literary device the author has chosen to bring in the known histories of the times. This results in stilted and completely unnatural interaction between people.
Like, "Good Morning Mr. Habberbabber!"
"And good morning to you, young Alice! Notice how the sun shines between the oldest two buildings here in Massachusetts? By the way, Newton was settled in 1630 as part of "the newe towne", and was renamed Cambridge in 1638. My friend the Roxbury minister John Eliot persuaded the Native American people of Nonantum, a sub-tribe of the Massachusett led by a sachem named Waban, to relocate to Natick so we could live here in peace!"
Although, the Puritan clergy of the book are so ridiculous and rigid that perhaps they did actually talk like that. It's actually kind of refreshing to read a book that paints some of our founding forefathers as the monsters they were. The more you read and learn about how and why liberal hippie Roger Williams wound up founding Rhode Island and how and why Thomas Hooker wound up going to Hartford and how the bonkers version of Christianity formed the early colonies, the more cloudy our romanticized version of "the pilgrims" becomes.
Life in the new Colonies was rough and Alice's experience reflected this. However, she is astonished by her first sight of the rich American wilderness and its inhabitants. She subsequently begins to appreciate the beauty of her new home. This is shown to be quite different from her fellow colonialists, as most are terrified of the dark woods and the people who had lived in them for millennia.
In the story, no way reflective of any historic record, she befriended the natives and became quite familiar with their healing balms, which started the whispering. As the story progressed, the injustices suffered by rather innocent Alice were quickly spiraling out of control around her; and people were getting sick and dying from, we assume, the flu.
Her use of clairvoyance was not something that was necessary. It almost, in an unintentional way, justified the puritanical suspicion of her. That is, if she was actually clairvoyant – even in today in the 21st century – she surely is mystical and magical and obviously a witch. So you know what? hang her!
I kid, of course. (There's just no such thing as clairvoyance – strong intuition, yes, clairvoyance? No.)
She uses her intuition/magical powers to help those around her in Windsor. She even learns to finally explore the possibilities of a love of her own. However, the blinding fears of Puritan leaders set the stage for America's very first witch hanging – her own – on May 26th, 1647.
The ironic(?) part of her execution is that her strong ties to the Tinker family of Windsor influenced Connecticut's Governor John Winthrop, Jr. to put a halt to any further witchcraft hangings in the New England settlement – some 45 years later.
Caruso did an amazing job coaxing a 300-page story out of scant historic reference material. She accurately (as far as I know, which isn't the best gauge) described the people and places and foods and things in 17th-century Connecticut. A bit heavy on the herbal remedies; so much so that I think Ms. Caruso is into that stuff today – which is her prerogative of course.
The book seemed to also kind of avoid the truly dark themes of colonial America. When disease swept the settlement, Caruso shifted the time and introduced a love story. It just felt like avoidance to me somehow. As I said at the outset, this type of book is just not my bag. Windsor has a special place in Connecticut history for many reasons, and being home to the first (two, actually) "witches" is but one.
The facts of this story are that Alice's name was Alse Young and she was taken to the gallows in Hartford's Meeting House Square where the Old State House now stands and publicly hanged. The journal of Massachusetts Bay Colony Governor John Winthrop states, "One … of Windsor arraigned and executed at Hartford for a witch."
At the urging of author Beth Caruso, Alse Young was formally exonerated on February 6, 2017, by a unanimous vote of the Windsor Town Council, along with Lydia Gilbert, the second Windsor woman to be executed for witchcraft.
The Colonialist Puritans were misogynists of the highest order. They were scared Englishmen who scapegoated women and children and Native Americans for every difficulty they faced on this continent. They wrote laws and built a society based on their strict interpretation of the Bible and some of that has carried through all the way to our 21st century.
And let's be honest – would any of us be surprised if cries of "Hang the Witch" rang out from some quarters again today? I know I wouldn't.
Sigh.

CTMQ's List and Reviews of Connecticut Books