Tony Dorset
The Hot Pink Farmhouse, David Handler (2002)
This is the second in David Handler's Berger and Mitry Mystery series. As always, I will sprinkle in random passages because they are just so Connecticut.
I'm trying. Really, I am.
I'm trying to get past the absurdity of this series of mysteries all taking place in a tiny, wealthy, quiet coastal Connecticut town. Author David Handler lives in Old Lyme and his fictional Dorset is Old Lyme with some borrowed elements from surrounding real world towns.
Like all the murder. Lots of murder. That's a borrowed element from… I dunno… San Salvador? Mogadishu?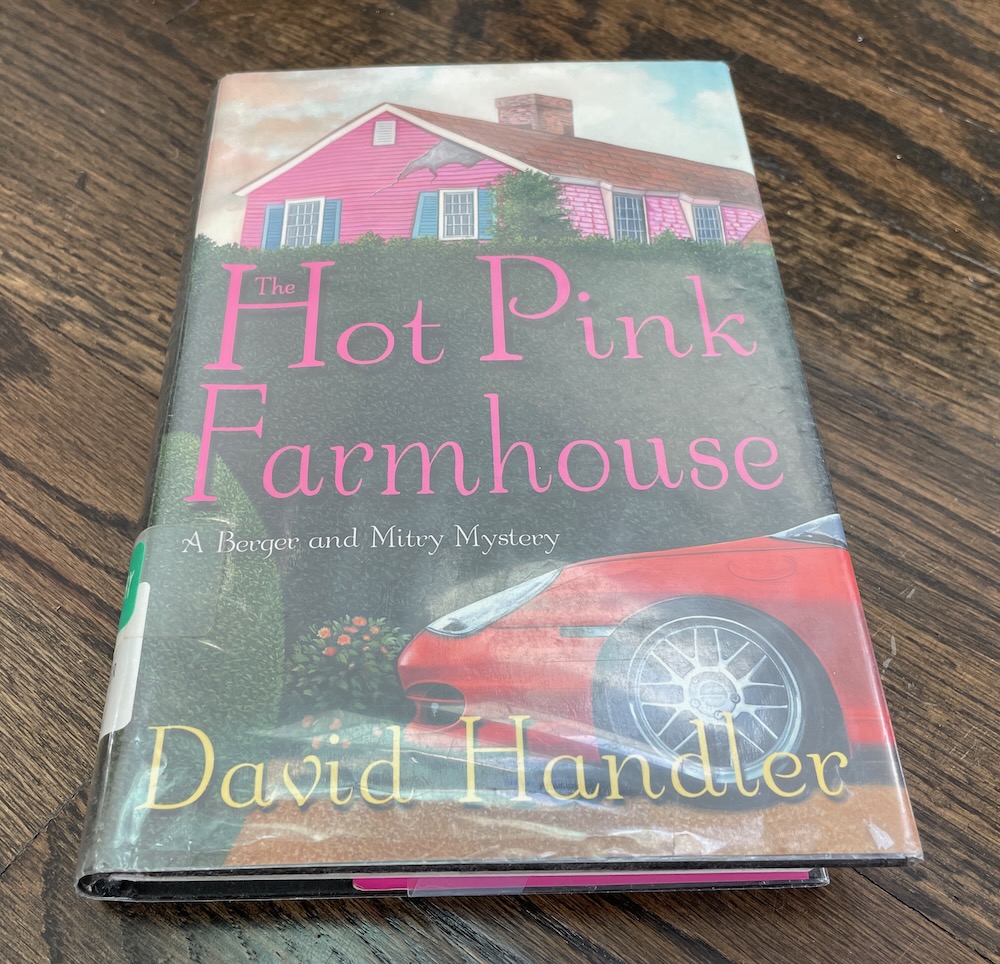 Okay, I love it. It's so ridiculous, and Handler's writing style is entertaining in more ways than one. The way he writes Des Mitry, now Dorset's black resident trooper, is just so perfectly off key it's hilarious. He handles the stereotypical conversations of Des's "old Jewish lady" friend much better. Disaffected teenagers? Somewhere in the middle.
These are books for older ladies. Apparently often horny older ladies. As with the first book in the series, I was again struck with just how sexy some of the scenes are and how out-of-nowhere sexual terms pop up now and then. Again, it's super entertaining on some level. (And, for the record, Handler can absolutely describe sexy women really sexily. His fantasy woman in this book, Takai Frye, is… something else. Her ability to show nipple in multiple situations – after her sister's murder, walking around town, with a gun aimed at her – is amazing.)
And if I need to prove which demographic loves this murder mystery series, the Enfield Library did/does this cool thing where patrons give short reviews of books in the books. Check this out: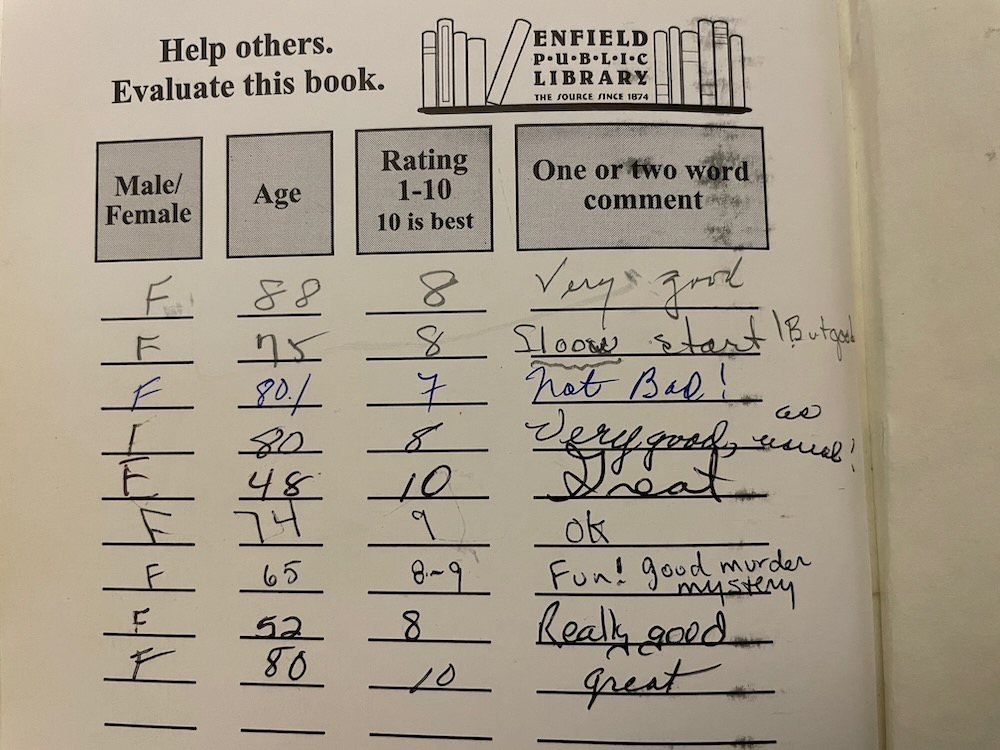 Yes, that's real. And yes, I know that's CTMQ's top readership demographic as well. My people. Love to you all.
Aside from Mitch Berger and Des Mitry, there are only a few characters retained from the first book. Des's Jewish cat-lady friend, her father the Deacon, and another cop – and none of them are main characters. Instead, we meet a couple dozen new Dorset inhabitants – four of whom will die soon enough. The most interesting of the lot has to be Wendell "Hangtown" Frye, the local wealthy reclusive artist.

Author Handler certainly did some homework on the area's rich history of art and art colonies. References are made to past impressionist masters who lived here, and Frye even ran an art colony of his own. Trooper Mitry takes art classes at what must be the Lyme Academy College of Fine Arts. All those references is why I began reading these books in the first place, and I love it.
(Des Mitry, you'll recall from the first book, transferred from the state's Major Crimes department to be Dorset's resident trooper. Here, she can pursue her art – and her man, Mitch Berger.)
As far as the story, it mostly focuses on the murder of "Moose" Frye, Hangtown's beloved daughter. She was carrying on a sexual relationship with someone and the car she was driving was blown up early one morning. Now, the car was her much-hated sister Takai's. There are parallel plots about real estate development, corrupt school boards, financial shenanigans, contractor woes, juvenile delinquents painting phalluses on everything… um, a drunken voyeur, a racist kid, gay online dalliances, lesbian trysts… um, pot growing, secret passageways, disappeared vagrants… these books are nuts.
I guess if you're not familiar with Old Lyme, you just kind of read these books and enjoy them for what they are. Our curse is being very familiar with Old Lyme and surroundings, which makes the stories so ridiculous. Handler makes it a point to be very accurate with roads and place names, which adds to the ridiculousness.
Let's see what Kirkus has to say about this book:
Pudgy film critic Mitch Berger, a New York City Jew, and his unlikely love Desiree Mitry, a black cop with a sensational tush who's now contentedly directing traffic outside Center School in tony Dorset, Connecticut, discover that life and love in the 'burbs can be every bit as calamitous as in the big city.
Hold up. I just wanted to focus on how "tony Dorset" can be 'every bit as calamitous as the big city" but Kirkus just had to mention Mitry's "sensational tush" didn't they? (In fairness, the book does mention Mitry's butt many, many times.)
Which one of eccentric, world-renowned sculptor Hangtown Frye's daughters died in a car explosion—Moose, the local schoolmarm, or Takai, the "serial destroyer of men"? Poor Moose turns out to be dead, but Takai insists she was meant to be the target. And she's probably right, since she's slept with most of the husbands in town and offended most everyone else by her alliance with real-estate developer Bruce Leanse, who's been buying up vast amounts of acreage. Hangtown, of course, won't sell his holdings, since he's childishly happy with his wetlands and his home replete with trapdoors and secret passages. Then Colin Falconer, the school superintendent, attempts suicide, and his secretary courts death more successfully by getting murdered. When Desiree's former partner, the macho, lamebrained Rico, can't quite figure things out, Mitch is left to respond to a frantic SOS from Takai, a fatal father/daughter confrontation and, sad to say, a truly silly resolution.
Whoa. That didn't help my cause… why did they say Hangtown was "childishly happy with his wetlands?" The strongest part of this book is everything about Hangtown, his art, the local art community he's a huge part of, and his love for his ancestral farm on the bank of the Connecticut River. He's a third generation artist, and he's proud of that.
The book builds to a crescendo where we, the reader, could feasibly finger eight different people as Moose's murderer. Then "Swamp Yankee" Melanie Zide is murdered and… there are still about eight worthy suspects. Of course, that's the goal of a mystery writer, right? In the end, it's… one of those eight people. There's a climax where Trooper Mitry can't seem to pull the trigger – on a person shooting a Barrett 50 caliber gun inside a house, which is kind of hilarious. I think that's some sort of symbolism for how Mitry can't seem to pull the trigger and make her deep love for Berger more official.
I guess maybe we'll get that in book three! Until then…

Li'l Ol' Dorset Violent Crime Count:
5 murders (1 historic), some serious battery, police brutality, and an attempted arson. (Lots of adultery and online impersonation and fraud, but we won't include that.)
We'll say… 7 Violent Crimes.
Series Running Total: 15

CTMQ's List and Reviews of Connecticut Books