Burn the Witch
The Witch of Blackbird Pond
Elizabeth George Speare (1958)
Sure this is a book for early teens, but the Washington Post screams, "Irresistible!" I was somehow able to resist it for 36 and a half years of my life, but that's not the point. It is a pretty good book and tackles some heady 17th century Connecticut subjects.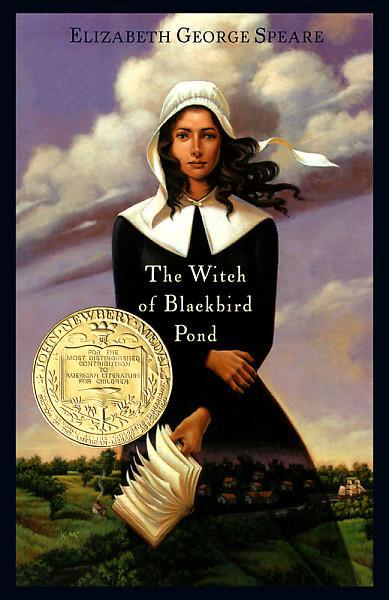 What's interesting about Blackbird Pond is that it sort of flows very nicely from Sarah Vowell's The Wordy Shipmates (CTMQ review here). It takes place right around the same time as the Pequot War and some other stuff in Shipmates. The witch of the title is a banished Quaker – something touched on in the other book.
But mostly, we learn here about Puritanical intolerance coupled with early self-governance in the colonies. The book was inspired by the Buttolph-Williams House in Wethersfield and takes place in that town. Old Saybrook has a part in both the book as well. Speare mixes in historical figures with her fictional ones and does it smoothly.
Blah, blah, blah – the book is about an outsider; a girl from Barbados – who comes to live with her extended family in Connecticut and is branded a witch by some locals merely because she has nice clothes and can swim and read. Oh, and she play-acts too. Oogity Boogity. Of course Kit, that's the girl, is only helping and educating and trying to have a little fun in the stifling town. I don't have to tell you that it all works out in the end since it's a kid's book.
Definitely a fun read for people like me interested in our history. Do what I did and couple it with a visit to the Buttolph-Williams house in Old Wethersfield. It makes for a richer experience.

My visit to the Buttolph-Williams House in Wethersfield
CTMQ's List and Reviews of Connecticut Books