I Fowl'd Up
Brass Works Brewing Company, Waterbury
March 2019
Funny story… (not really) – there was a time when I perhaps cared a bit too much about brewery stuff in Connecticut. I don't mean to say I was binge-drinking Connecticut beer every other day. Not at all. I mean that I was on top of things. Like, I'm fairly certain no one knew – or was told – more Connecticut brewing stuff.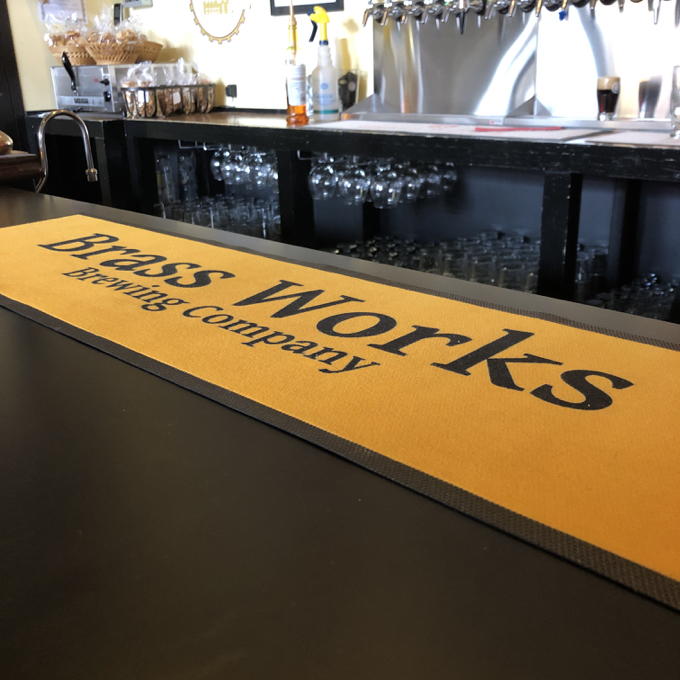 I didn't ask for that. It just sort of happened because of my writing and Twitter feed. So when things happened like Brass Works Brewing's announcement to the scene, I was the ding-dong to be the one to really care about whatever perceived slight was happening.
To remind you, Waterbury is the Brass City. Ed Silva had been operating Lasting Brass out of his Waterbury house for years. Lasting Brass had its branding, logo, name, etc and was moving into the professional space with all of that intact when Brass Works burst on the scene.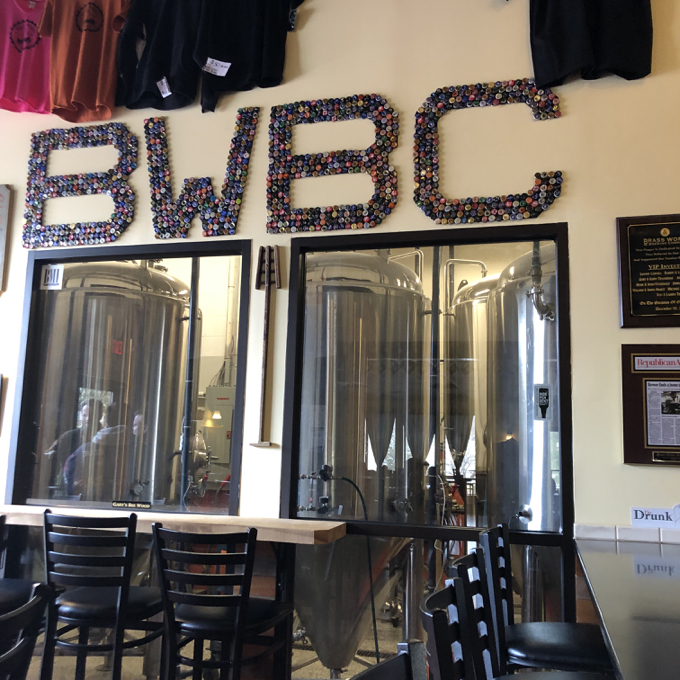 Brass and Brass. With more or less the same brassy-looking cog wheel/gear in the logo. Oh, and Brass Works was opening a mere 3 miles from Lasting Brass. Everyone* went bananas.
*"Everyone," in this context, means the insular community of about 17 people who often think they are more than 17 people.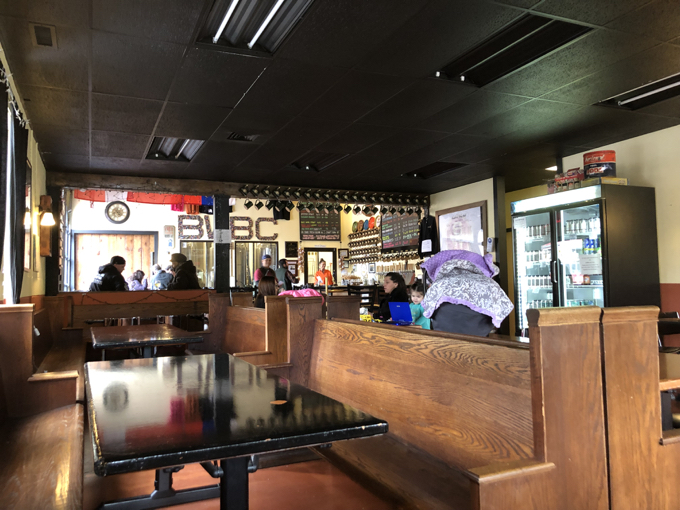 The thing that got me particular ruffled was when Brass Works said they had never heard of and were wholly unaware of Lasting Brass. At the time, I found that impossible for several reasons – and frankly, I still do. Lasting Brass tried to open its operational brewery in Waterbury and had gone pretty far down that path with city officials. Those same officials spoke with Brass Works mere weeks later, and —
You know what? No one cares. I'm not even sure Ed from Lasting Brass cares anymore. People absolutely DID confuse the two when both were new, and I'm sure people still do from time to time I guess. It would suck if a key restaurant account gets it wrong and orders from the wrong one, but I doubt that happens.
One of the owners from Brass Works reached out to me back then and I said my piece and we got over it and I forgot about it.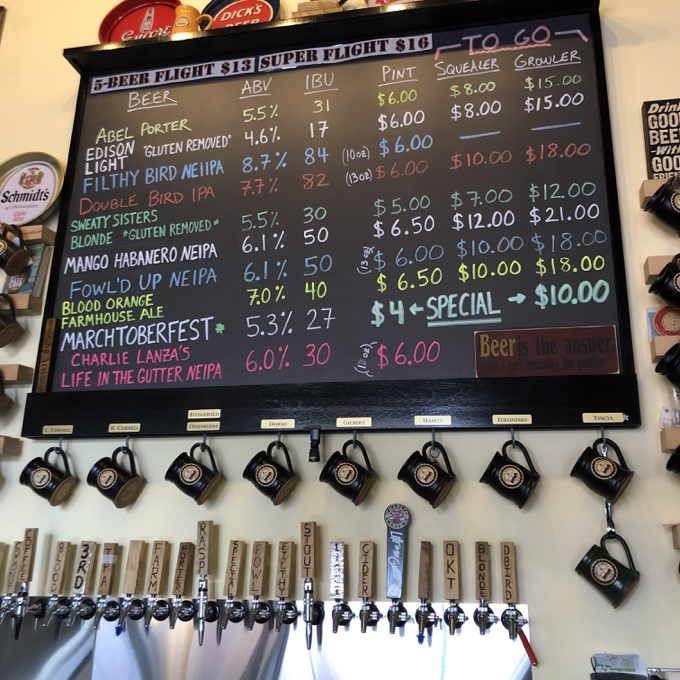 Forgot about it until I visited in early 2019. No, no one recognizes me at breweries anymore (yay) and very few people remember any of this stuff. There are nearly 100 breweries in Connecticut now. Looking back at these quaint little tiffs now is mildly embarrassing. But that's how things were then. Now? Now let's just go see what's up at Brass Works already.
The brewery is a bit hidden among an ugly collection of rectangle buildings in northern Waterbury. I had read that it was in a sketchy area, but it's not. At all. In fact, it bumps up against state forest land and there is no cause for concern. At all. People saying that are ridiculous.
Brass Works isn't in an abandoned factory, but is that other breed of brewery – abandoned faceless section of office park. Yet they make it work.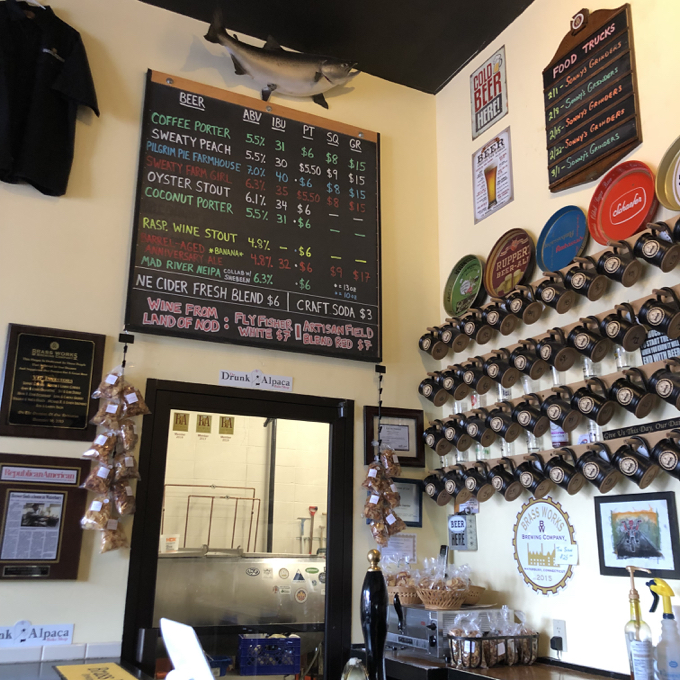 I was very impressed with the interior. There's a nice mix of hightops, couches, booths, and repurposed church pews. The room is a decent-sized rectangle, but there are distinct sections within it. That's something too many of these places overlook.
I found the tap offerings overwhelming. There were NINETEEN Brass Works beers on tap. Holy crap, that's a ton of beers for a 7-barrel brewery. (Maybe they're up to 10 now, I have no idea, but NINETEEN?! I'm not sure Two Roads has NINETEEN beers on tap. Wow.
A bunch of their beers are named "Sweaty" something or other. In fact, the Sweaty Sisters Blonde Ale would surely be considered one of their flagships. They've moved on to beers like Sweaty Peach and Sweaty Farm Girl. All 3 were available to me during my visit.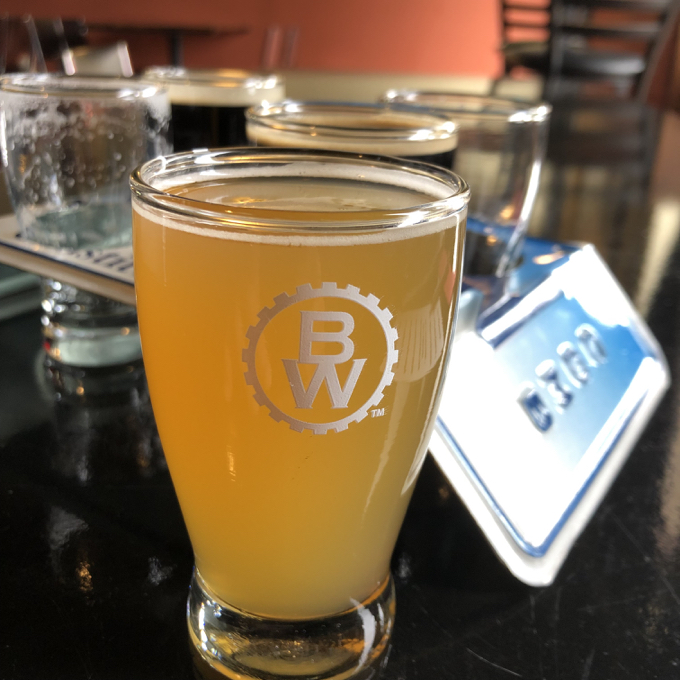 Just thought you should know that.
You should also know that you can get your standard flight of five beers here for 13 bucks. But Brass Works also offers what they call the "Super Flight." That's a sampler of 12 beers for 16 dollars – but the volume of your samples is less than they are with a regular flight. I had no need for 12 different ounces of beer, so I stuck with the normal flight for normal people.
But yeah, choice paralysis is a thing here. I went with the sweaty blonde thing as well as a porter, märzen, oyster stout and their NEIPA. I think that's a good mix to put these guys to the test.
I was served my flight and… what in the world is this thing?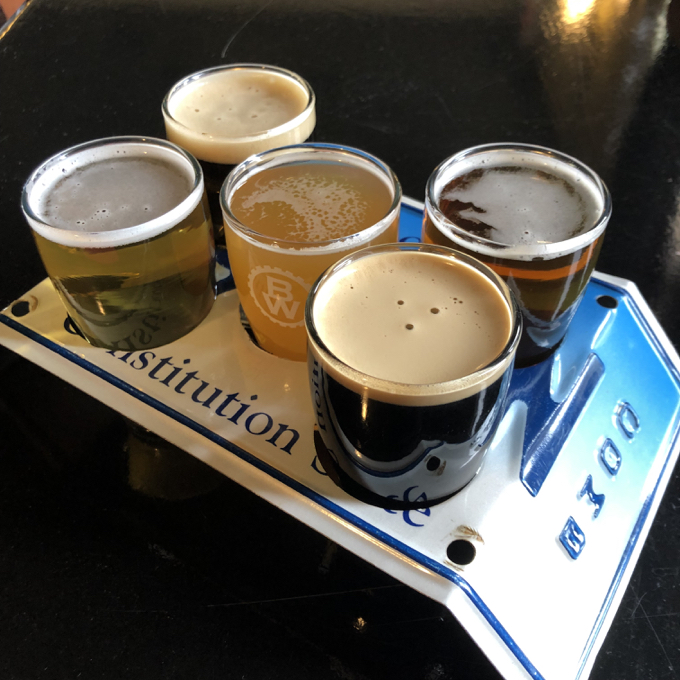 Everything here is pretty on point. The seating, ambiance, spacing, bar area, etc… but I've no idea what these license plate flight holders are all about. They're awkward, unnecessary, and frankly, just dumb. Minor quibble.
I'll admit it. Part of me sort of almost kinda wanted the beer here to be terrible. Going all the way back to the Brass vs. Brass Battle of 2015, I realized I was still harboring mistrust towards Brass Works. My fingers were poised over my phone, ready to let my friends know that this place was as lame as we thought they would be.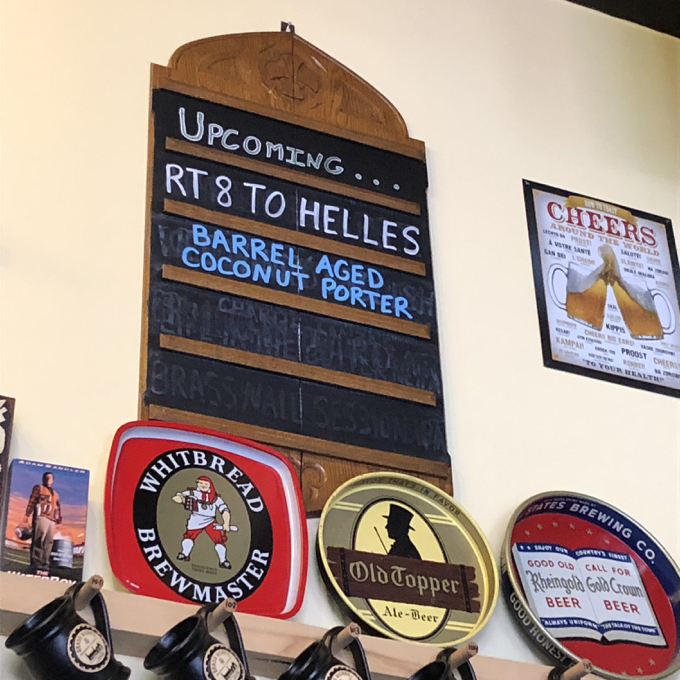 Then I drank. The blonde was good. The Abel Porter was really, really good. The marzen, though leftover from the previous fall, had held up pretty well and the nuance of a decent Octoberfest beer were present.
I paused to reflect. I had ordered some sort of something from the food truck. It was a Vietnamese Spring roll that wasn't very good.
But the beer was good. The oyster stout was really good. Heck, even the NEIPA wasn't bad. The Brass Works NEIPA is called Fowl'd Up; which is sort of a theme here. There are several beers named "Fowl'd" and "Double bird" and things like that. I've no idea why.
None of my 5 samples were below average or "off" or off-putting. When the worst thing about a brewery experience is the dumb thing someone thought was cool to serve flights on, you're doing alright.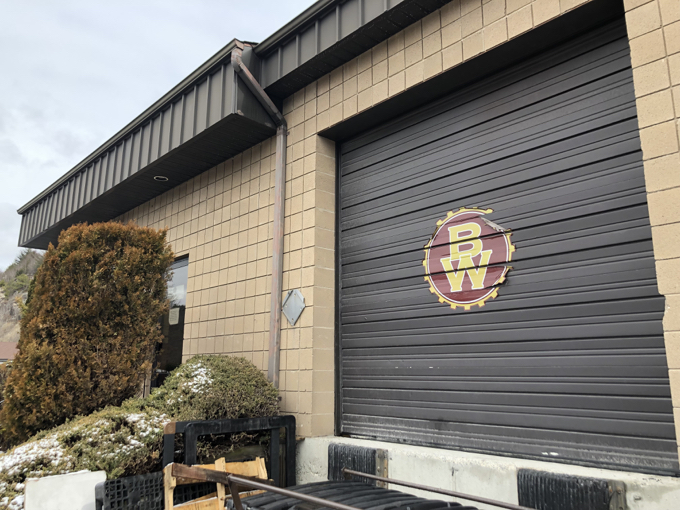 As for me, I learned from my Brass Works experience. The two "Brass" breweries have differentiated themselves and no one thinks about any perceived confusion anymore. Entering new-to-me breweries with unfair preconceived biases is dumb. I really try not to do that at all, but I realized that I brought some here, all due to my personal friendship with Ed at Lasting Brass. I'm glad the space and vibe and beer allowed me to forget all about it all though.
And finally, don't order Vietnamese food from a Waterbury food truck when you're married into a Vietnamese family and eat great homemade food all the time.

Brass Works Brewing Company
CTMQ's Breweries & Brewpubs