Let's Geaux!
Roux Cajun Eatery, Simsbury
March 2022
A rare day off from work with the boys in school? Be still my heart.
A Cajun eatery has come to Connecticut? Clog my heart's arteries.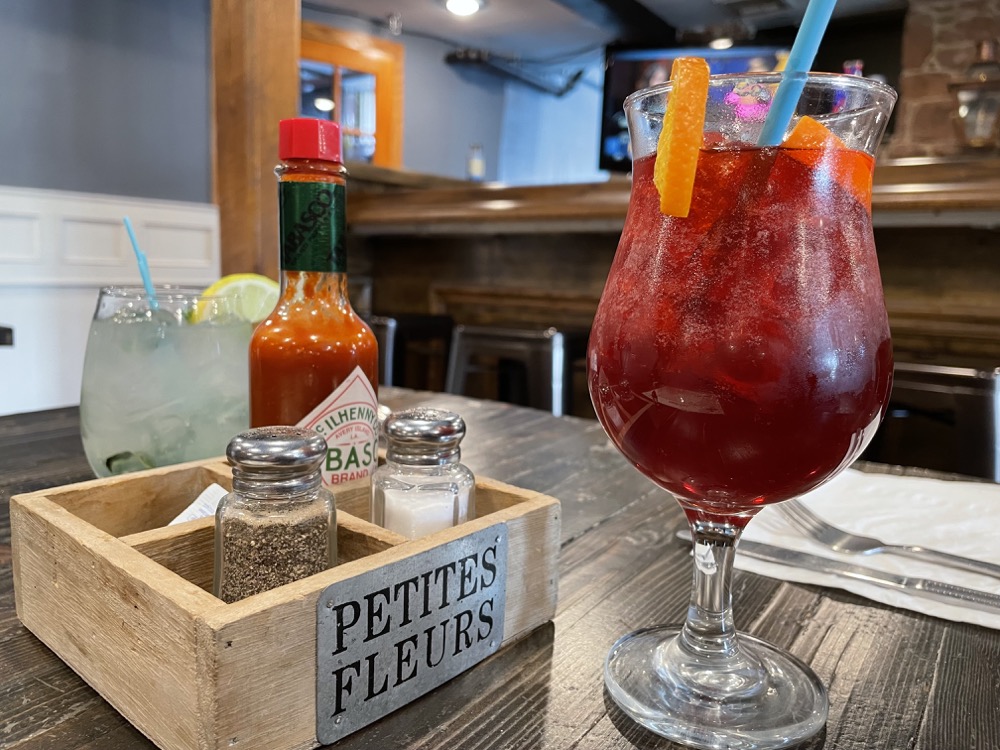 Yes, let's go eat lunch at Roux, who is "bringing Louisiana food, music & culture to New England," according to their tagline. Owner and Simsbury resident Steph Civitillo grew up in Louisiana and has opened a restaurant with a menu full of Cajun classics like gumbo, jambalaya, po'boys, shrimp and grits, and… alligator bites.
We'll get to the pastries later, but the expected items are there as well like beignets, King cake and Doberge cake.
The restaurant opened in the spring of 2021 with a bang. They did it up proper New Orleans style, with a jazz band in house, followed by a brass band parade with parasols and that whole business. Always fun to inject some fun into sleepy Simsbury now and again.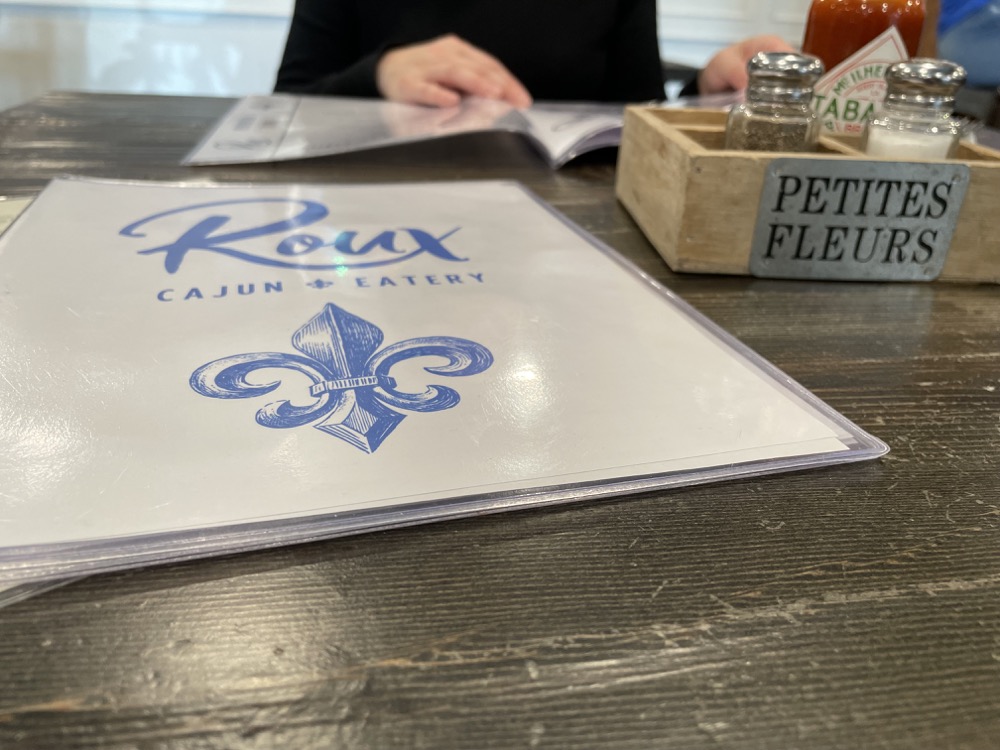 A "roux" is, of course, used as a thickening agent for gravy, sauces, soups and stews and – what's that? "Roux" was Civitillo's grandmother's maiden name? Yes, Maw Maw Irma Roux. For real. And the owner is from Gonzales, LA, the so-called Jambalaya Capital of the World? Okay, this place simply has to be good. To that point, the restaurant's gumbo and jambalaya recipes come from Grandma Roux.
Like many people, Civitillo made a career pivot when the pandemic hit in 2020. She left the insurance industry and took a flyer on the restaurant. A restaurant that she insists be as authentically Cajun as possible in northern Connecticut.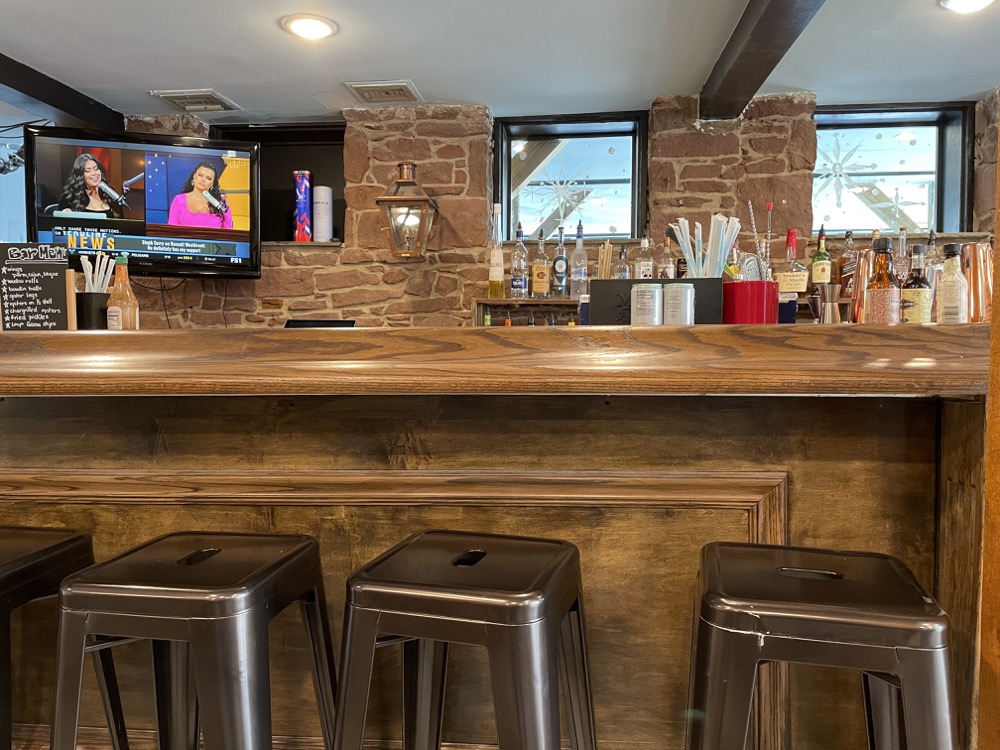 The shrimp and crawfish are from the Gulf and Louisiana. The po'boy bread is from some famous bakery down there. Same with everything else where possible. That hot sauce on your table? That's Crystal Hot Sauce, produced by family-owned Baumer Foods in Louisiana since 1923. (It was a'ight. Nothing special.)
Hoang and I were seated and we took in the space. The ceilings are painted "hainte blue" and there are prints of a "loup garou" (Cajun werewolf legend), and fleur de lis, and fake French Quarter inspired gas lamps.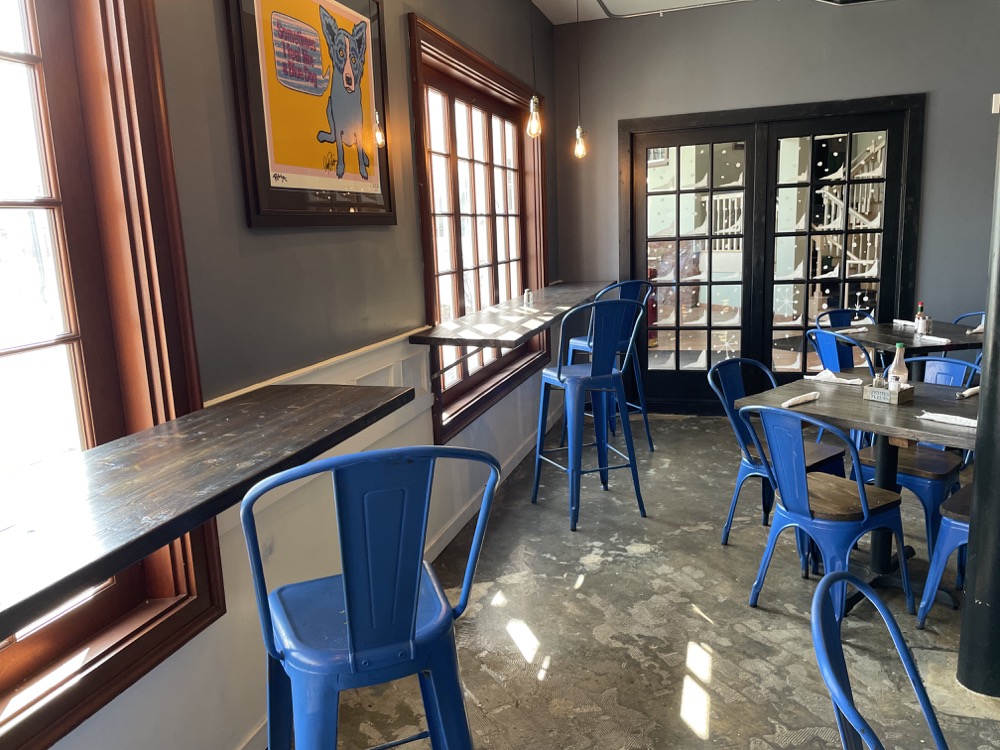 It's nicely done. We looked at the drinks menu and decided to go full New Orleans. A "NOLA Julep" for Hoang (a mint julep with rum instead of whiskey) and a Hurricane for me. I got caught up in the spirit I guess, as I don't like rum and I don't like sweet and fruity. But hey, when in New Orleans, right?
We ordered the Loup Garou chips (homemade chips with a sort of gorgonzola sauce), buttermilk biscuits with house made honey butter, a fried shrimp po'boy, the "Cajun sampler" (cup of gumbo, cup of jambalaya, and a cup of shrimp and grits – though there are more choices), and some beignets and a slice of King Cake. We were excited.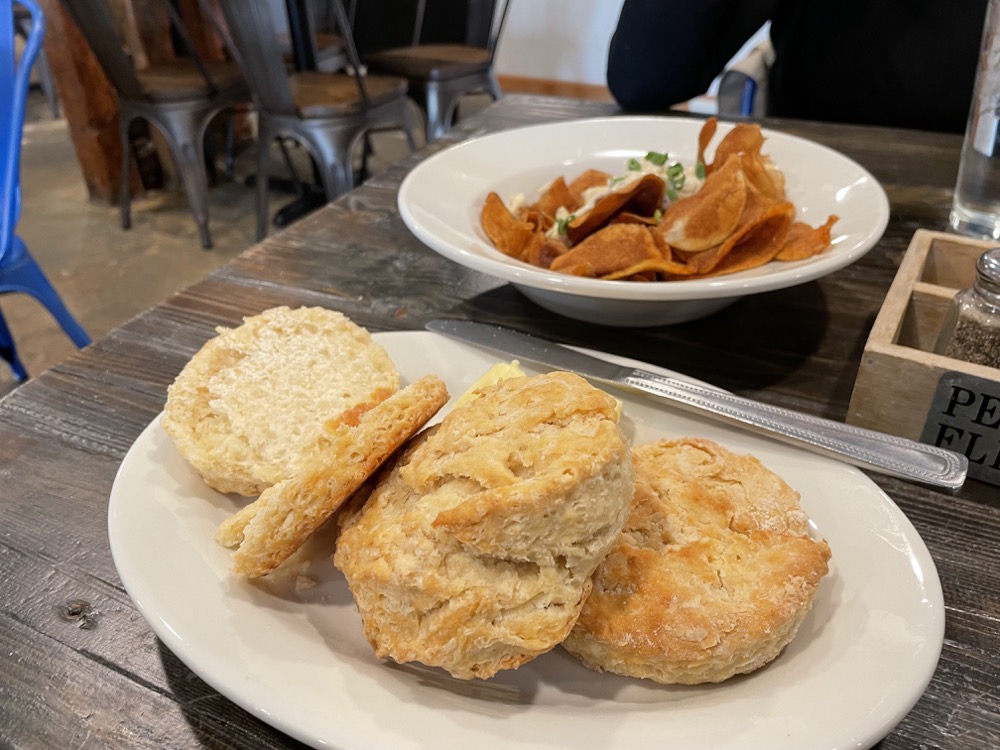 The chips were awesome. Hoang and I both found the biscuits a bit dry and could only be saved by copious amounts of the honey butter. Her po'boy had too few shrimp and too much bread and lettuce but was okay. I dug into my cups of Cajun.
All three were good, but I definitely had to be pretty liberal with the Crystal sauce. I don't know if this is Roux trying to Simsbury-ize the menu, but c'mon. More seasoning, more heat. Both the jambalaya and gumbo were lacking here.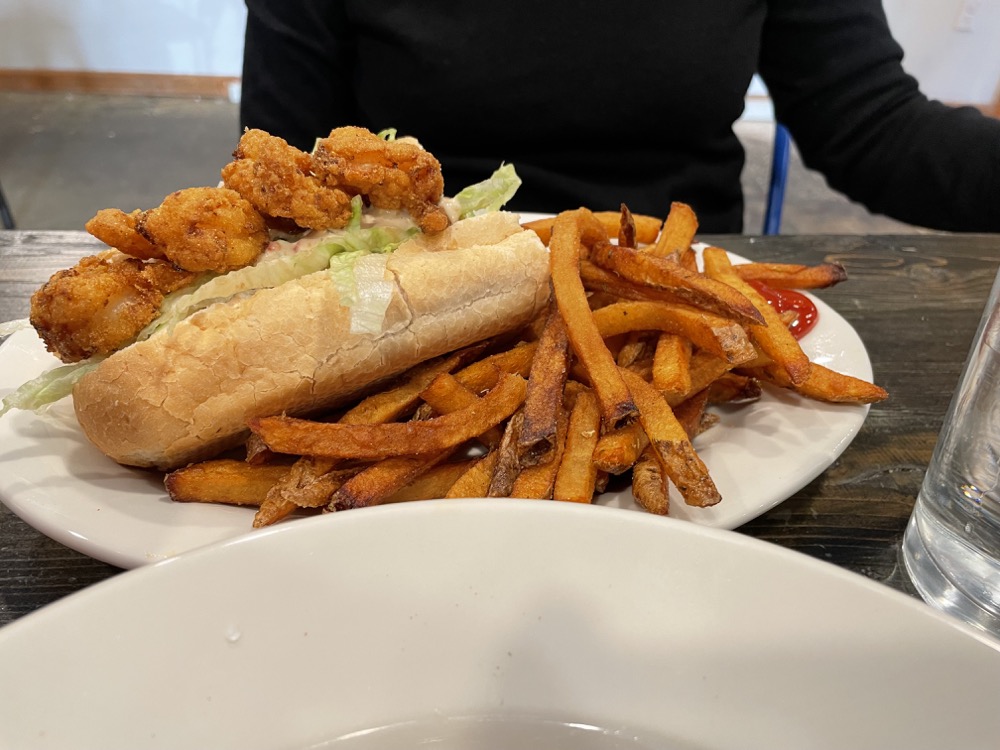 The grits here retained some of the grittiness found in authentic grits. Hoang is more familiar with creamier risottos and such, but I liked the preparation just fine. Again, it wasn't exactly swimming in shrimp but supply chain and inflation and all that… maybe that's an issue here.
I've heard some grumbling about lack of staff and meal prep times, but this is in 2021-22. EVERY restaurant has those issues, so I'll give them a pass. (We were more or less alone on a random weekday, so that wasn't an issue.)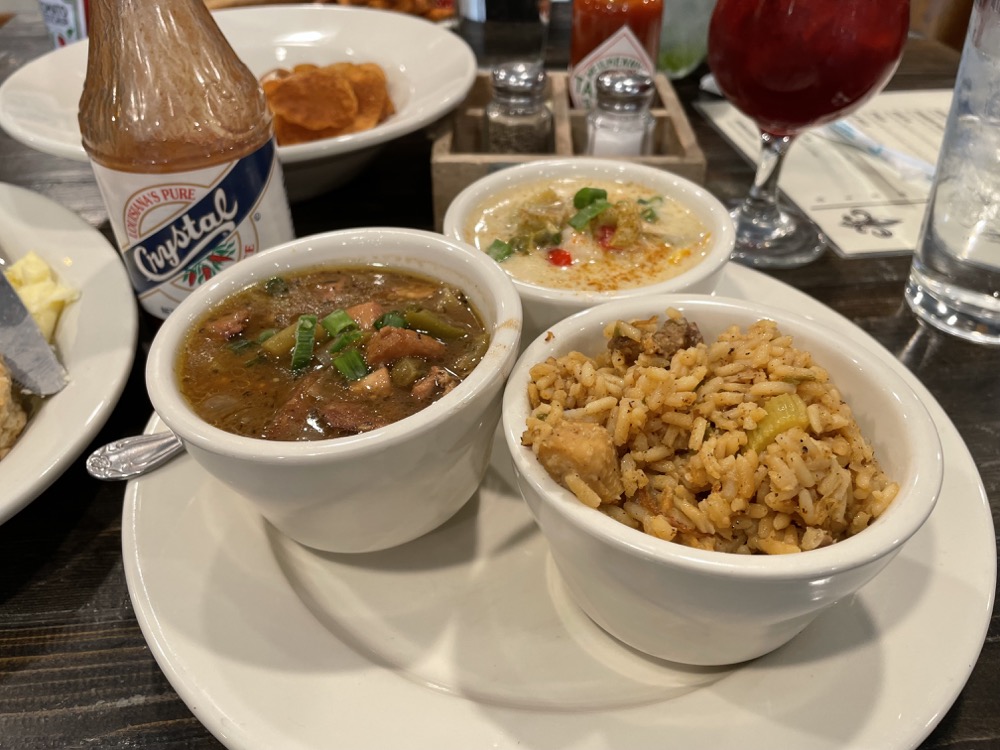 The prices here are not very cheap. The prices are more in line with Lagasse or Besh and not Pat O'Brien's or Café du Monde. Whatever happened to Emeril Lagasse? Dude was everywhere and then "BAM!" he wasn't. Our lunch was a hundred bucks with tip – though to be fair, the dumb drinks were a fifth of that.)
We were in a rush to get home before our son, so we got the beignets and King cake to go. The traditional cinnamon and sugar cake with thick robe of icing made it home fine – and it was delicious. Beignets need to be eaten fresh and hot, so they unfortunately devolved into a bit of a greasy and wet mess, but that was on us. We certainly still ate them – I want to believe they'd have been wonderful at the table in the restaurant.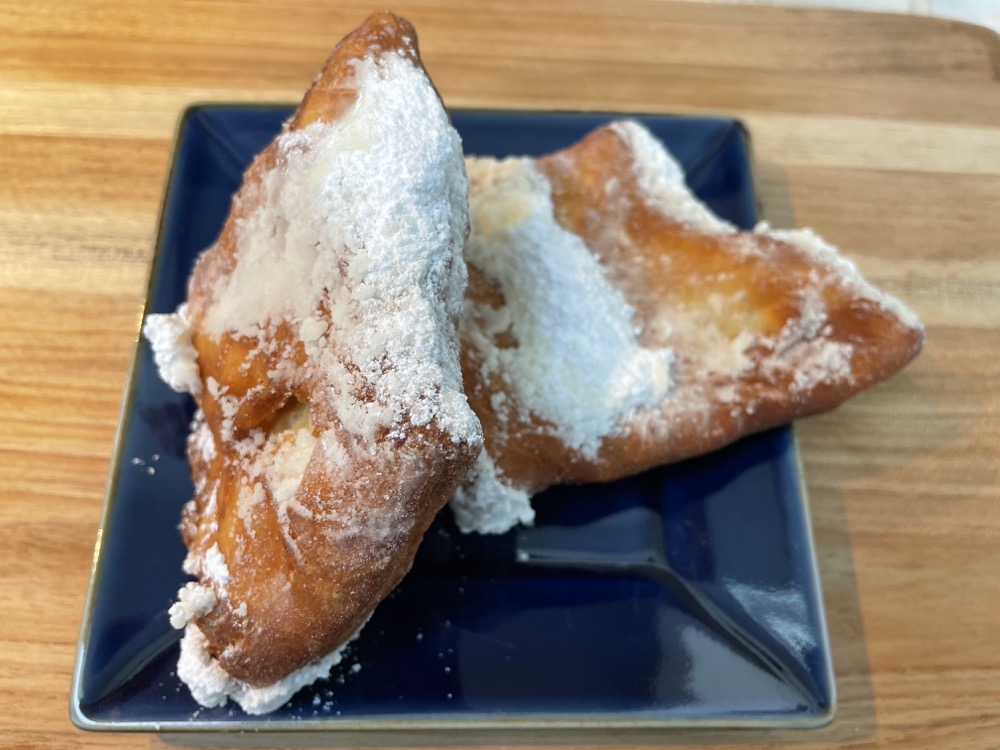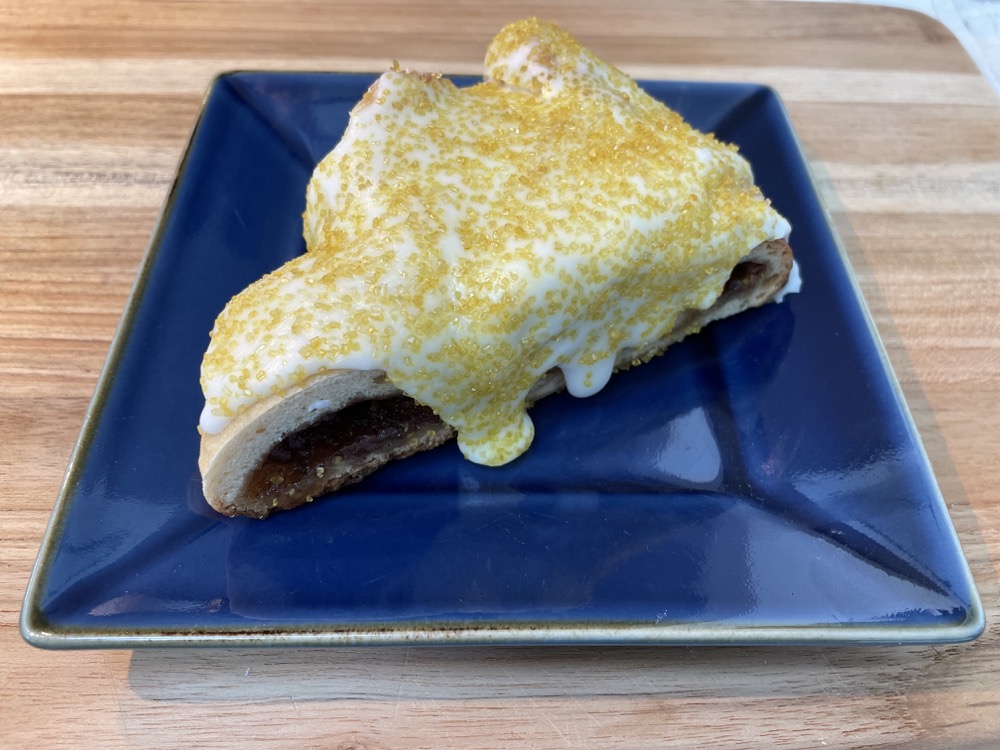 I must note that one non-Louisiana item on the menu here is local Tulmeadow Farm ice cream. I'll allow that tweak of the house rules.
There are many more Cajun dishes we didn't try, but perhaps will someday post-pandemic when I won't have to give excuses for slight missteps. I have no need for alligator bites, but hey, they're there for you if you want.
Connecticut has had Cajun restaurants in the past, and I even know that Hartford's long defunct Rajun Cajun was helmed by a native Louisianan. But that place was gross. Roux is clean, fun, and has a lot of locals excited for what it should and can be.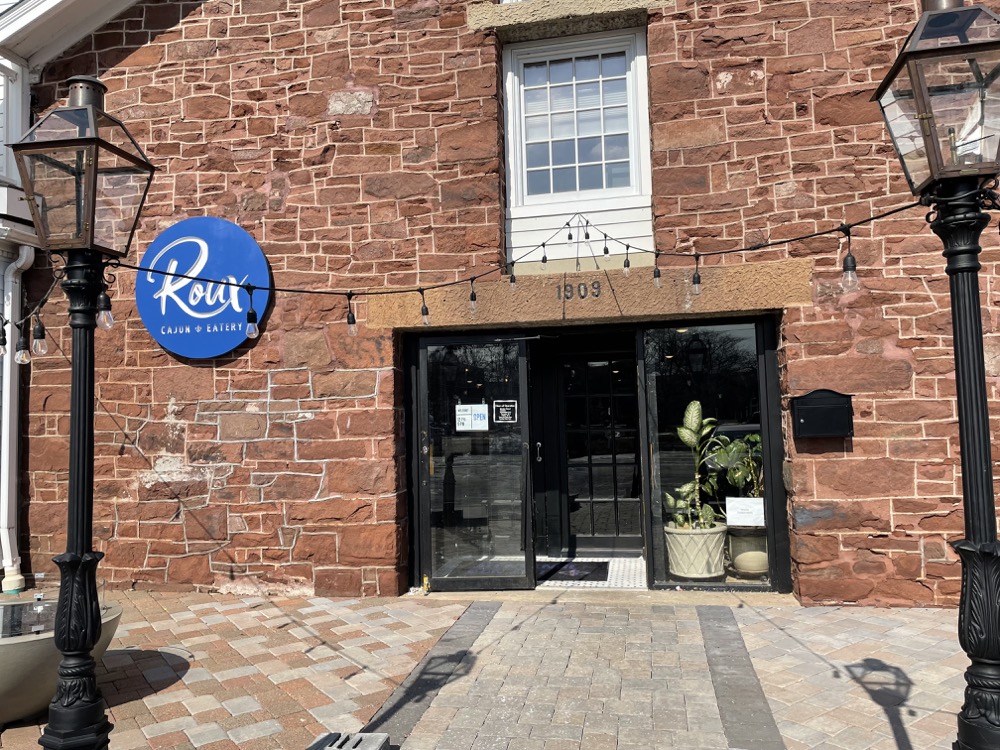 Roux Cajun Eatery
CTMQ's CT World Food Tour