Bring on the Cavalry!
Cavalry Brewing
Oxford
[May 2014 Update: Cavalry has closed. This came as no surprise to me, despite my effusive description below. This page was written back in 2010, when the CT craft beer landscape was infantile and owning a brewery was very difficult. Over time, Cavalry's beers fell apart. I had very good experiences at Cavalry, and Mike helped out a charity event I did, and I wish him all the luck. Black Hog Brewing moved into the space. RIP Cavalry.]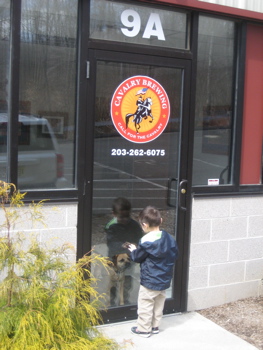 Knowing a few things about how hard Connecticut makes it on our local small brewers, I sort of put it out of my mind that new breweries would be popping up any time soon. So imagine my surprise when I found out about Cavalry Brewing out in Oxford, not too far off of I-84.
Just make sure you know exactly where you're going, as it's not exactly easy to find. Once you get to the office/warehouse park thing, go to the extreme left and then to the extreme back left building.
So how did this operation come about? Let's ask founder and brewmaster, Mike McCreary (via the brewery's website):
During the Great Recession of 2008 I became a casualty of company consolidation. Forced to redirect my life I decided to use my previous experiences and pursue a completely new avenue for a career path. I always loved beer. After all I am Irish so therefore it is innate. I combined my previous talents as salesperson, business manager with my background in biology, biochemistry and subsequent education in business and brewing beer seemed the logical option.

I trained in Sunderland near the Scottish border in the UK and had the opportunity to work with several local breweries while training and establishing my own brewery. Cavalry Brewing came about because I wanted to tell a story about my experiences in the military and about the friends I served with in Iraq. I was on active duty for three years and in the Army reserves for 19 years before Uncle Sam thought it would be nice to send me to Iraq for a well deserved vacation in early 2003. My wife was 5 months pregnant and I was off to work as a Civil Affairs officer in Baghdad. I went over as a Major with some of my best friends. We all made it back alive despite many close calls. Please enjoy my first line of beers as a tribute to them and all soldiers who fight for this country.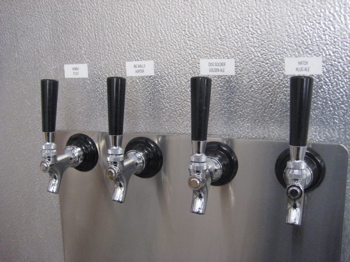 Mike told me that pregnancy story when I was there. (Hoang was nearly bursting with Calvin at that time herself, but my being "away" in Oxford, Connecticut sort of paled to Mike's story about being sent to Iraq.)
I also met Mash the family dog and I'm glad for that: He kept Damian entertained for most of our visit. Yes, that's right – I had Damian with me to tour and taste at a brewery. What of it? Rest assured, we made the short drive over to Southford Falls afterwards and Damian had a grand ol' time there. And so did I. Mike asked me if I would like to taste his beers and it was hard not to give a sarcastic "duh, yes," as we made our way over to his taps.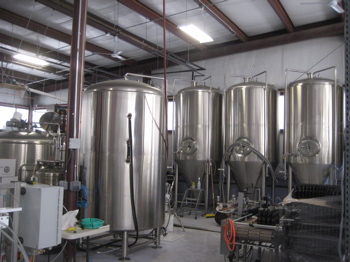 All four of Cavalry's brews pay homage to the soldiers who fought and are fighting in Iraq. I thanked him for his service and even toasted it, as I tasted my first – rather heavily poured – sample. Mike explained how his beers are all brewed in the English tradition as I drank the Hatch Plug Ale.
Hatch Plug is brewed in the India Pale ale style, but Mike admitted to me, "I'm not a hop head, so…." So yeah, this isn't a very hoppy ale. It's good, just not hoppy like it seems as though the entire industry is moving to these days. I threw out the adjective "dry" and didn't get anywhere with that, so I shut up and drank. The label for Hatch Plug says, "A happy tanker is a fat tanker and a real fat tanker is a Hatch Plug. This beer is named after a 1st Lieutenant that was traded for six M-16's to another unit prior to departing for Iraq in early 2003. Hatch Plug went on to run the Baghdad airport and helped establish the telecommunications system in the region. Despite what we did to him he remains a good friend to this day."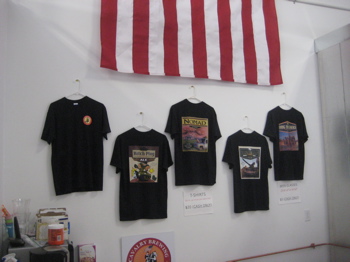 I'll pretend to know what all that means and move on to tasting number two, the Dog Soldier Golden Ale. Golden ales are never "my thing," but this one was nice and light and downright refreshing – and at only 4% ABV, safe to imbibe, which is good because once again Mike hooked me up with half a pint.
Cavalry obviously doesn't plan for little kids to wander their premises, as Damian (of course) found the GIANT stack of empty bottles. Oh man, that tower was NOT super stable and Damian was messing about all around it! If he knocked that over, I'd have owed a good chunk of money and would have had an absolutely terrified child on my hands – who might have gotten cut up in the process. From that point forward, of course I kept the boy far, far away from those bottles. (He had much more fun stepping in the sticky puddles at the bottom of the tanks anyway.)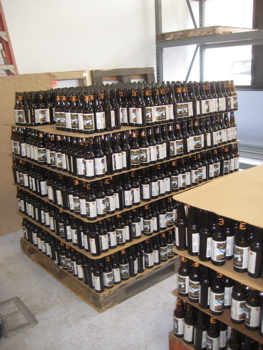 I moved on to the Nomad Stout, which was simply awesome. Dry, malty and with discernible chocolate notes, I loved this stuff. I never planned on buying a growler of stout (thinking I'd go with something lighter), but there was no question that I'd be taking some of this home.
On the day I visited, they were down to their last keg of the Big Wally Porter. The porter was a hearty drink that Mike figured I'd like the best. I don't know why he figured that, because I was stuck on that stout.
I gathered up Damian and Mike filled my growler with the stout. I again thanked him for his service to our country and for his service to my refrigerator and with that, Damian and I had chalked up another Connecticut brewery.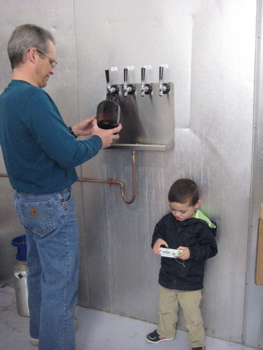 Cavalry in the NYT
Back to CT's Breweries, Brewpubs & Cider Mills