War's a Beech
Civil War Tree
Granby
It's 2018 and I'm editing old Granby posts before "releasing" the CTMQ Complete Guide to Granby and I came across this from my Colton-Hayes Tobacco Barn Museum post of 2008.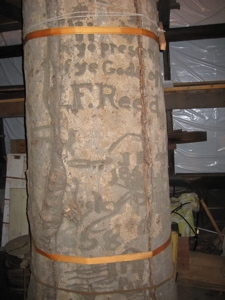 Because of its apparent uniqueness, I'm not bestowing this chunk of tree its own hallowed page on this totally free website.
Said Carol Laun, Curator/Archivist of Granby:
It is a beech tree that grew in the West Granby hills and was carved and decorated with initials, dates, flags, cannon, tent etc. by local young men who served in the Civil War. The tree died and we were able to acquire it for our Museum. I think we are the only Historical Society to have a tree. It has been featured in the book of Notable Trees of Connecticut.
I've no clue how one would verify if they are the "only historical society to have a tree," but I love that she had enough confidence to make that claim. Therefore, I claim it too.
Salmon Brook Historical Society