Cross This Off My List
Cross Farms Recreation Complex, Tolland
June 2021
Tolland is a big town with lots of woods and lots of those woods have trails. If I'm to actually red-line Tolland (that is, hike every trail in town), I need to get crackin'. Despite all of its trails, most people view Tolland as either a) that town on the way to UConn, b) that spot at the bottom of that hill on I-84 with the speed trap, and/or c) the home of Camille's Pizza.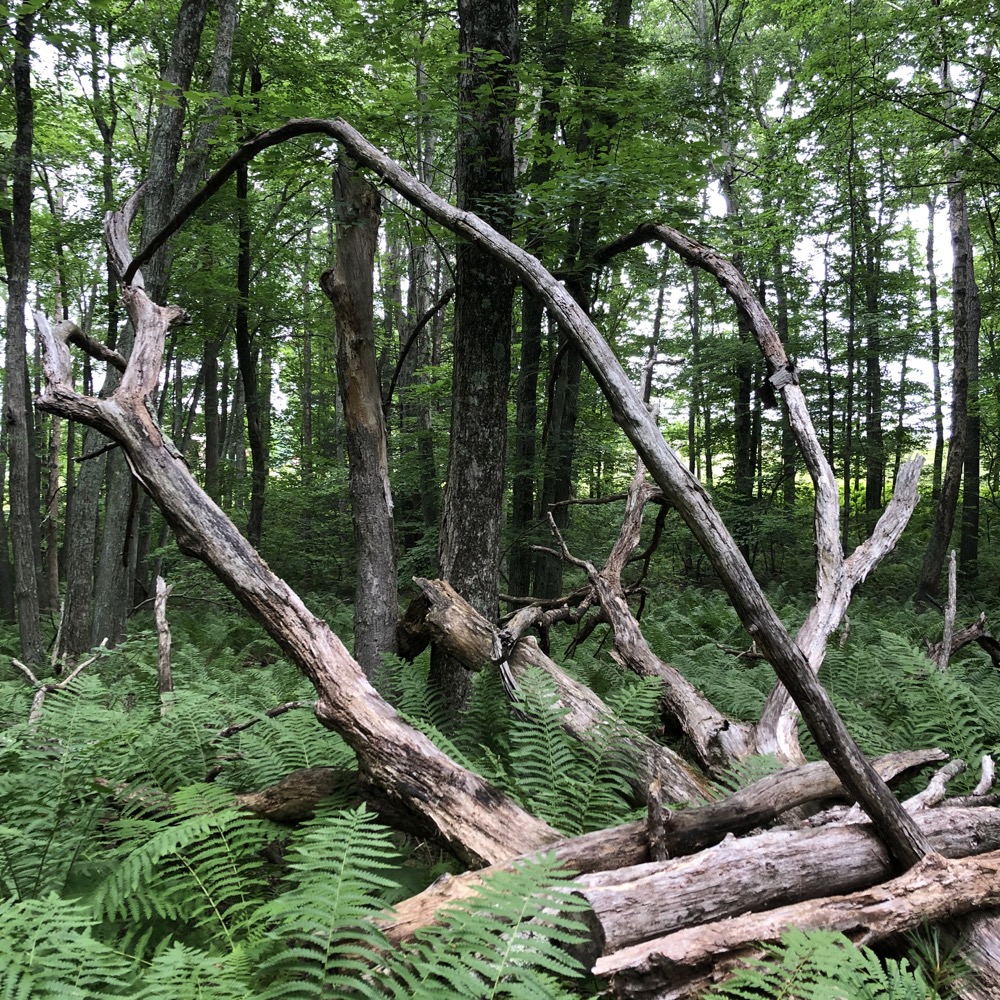 And that's fine. I'm not sure this page will change that perception, as there are better trails in Tolland. In fact, there are a lot of better trails in Tolland. But again, I'm here to hike them all, so let's get going.
I was at Cross Farms because my son was attending an all day soccer camp run by the UConn soccer coaching staff. And hey, Ray Reid not only showed up, but stayed throughout the day. ("Big name" coaches attach their names to these types of things all the time but usually send their minions to run kids through the paces and collect their parents' money, but it's kind of cool when they actually interact with the kids.)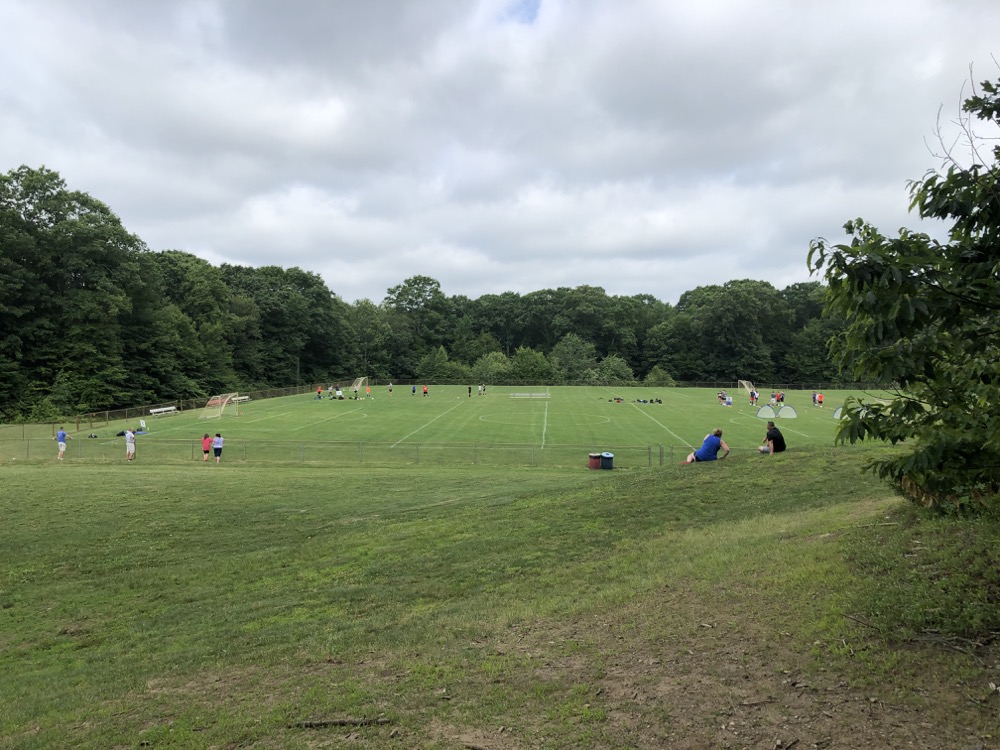 I spoke to Coach Reid when I dropped Calvin off and I didn't give him the business for his abysmal 2021 Big East campaign or his antiquated conservative approach to the game. He's a nice guy, and through my son, I've gotten to know one of his assistant coaches pretty well. As an attacking mid, Calvin wouldn't fit in with the UConn system, but we let them think he'll actually play for them in eight years.
(I'm kidding, He's 10. And I don't have dreams of Calvin playing D1 soccer, nor do I push him to have that dream. But I will say as his proud father, the kid is exceptionally good and he wowed the UConn staff as the youngest kid there that day but bossed the center of the field in the final scrimmage – even pushing a guy 100 pounds heavier off the ball, controlling it away from him, and sending a curling pass to the feet of a cutting striker 40 yards downfield. I was legit impressed and so were the coaches, seeking me out afterwards.)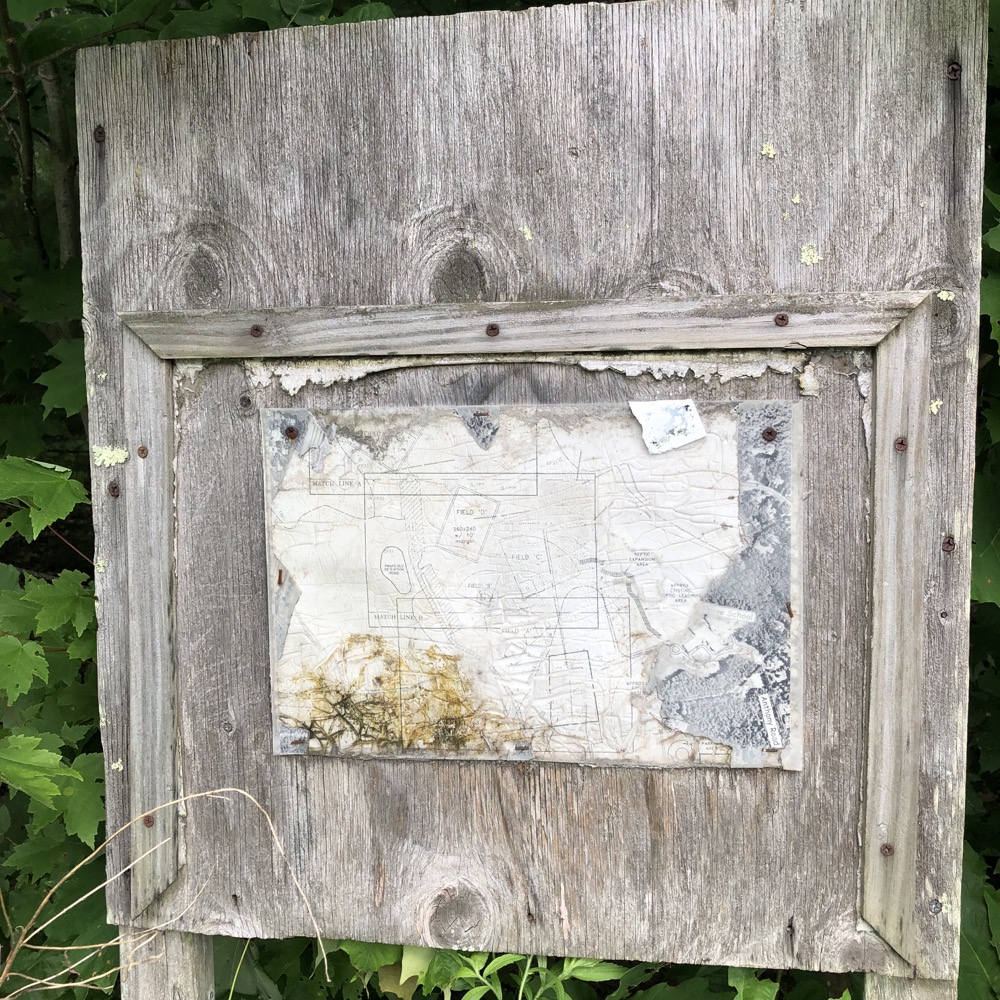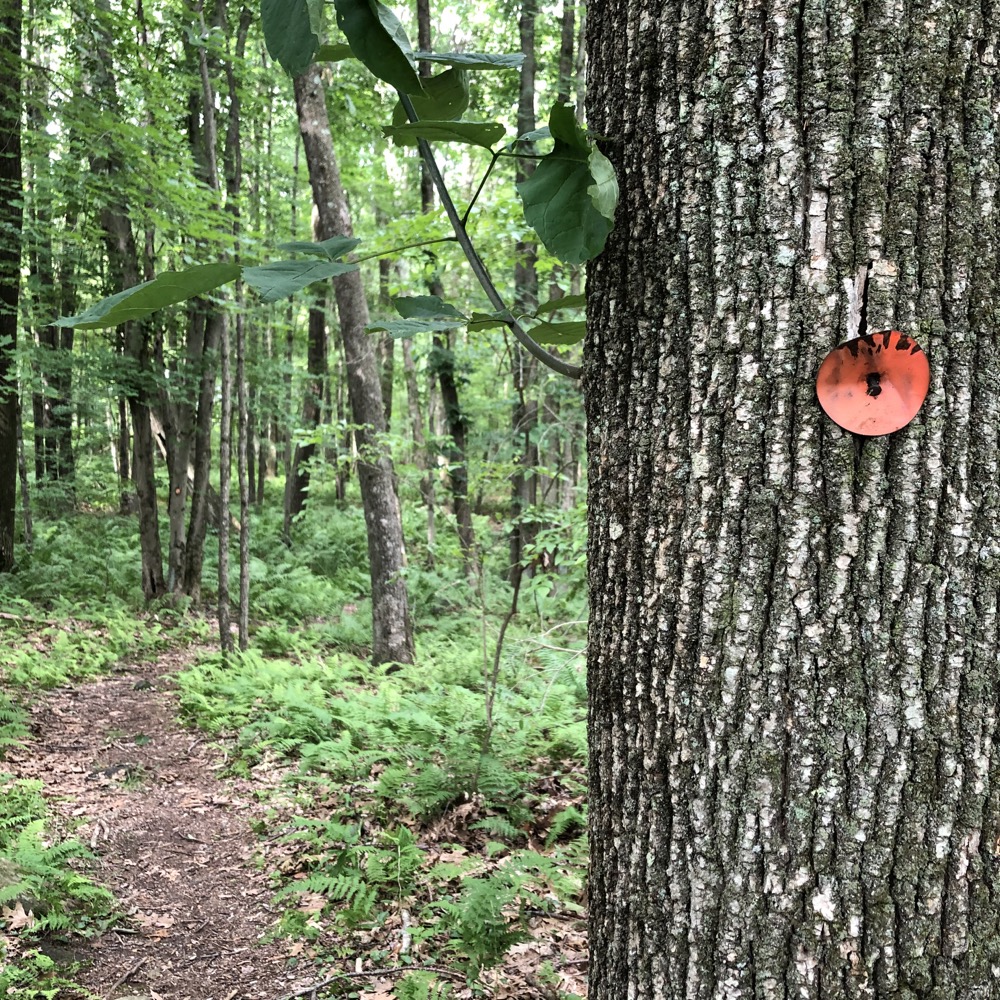 Anyway… between drop-off and catching the end of that scrimmage at the end, I hiked some trails, starting with a clockwise circumnavigation of Cross Farms. The sign at the trailhead near the complex entrance was a bit… aged. No matter, I knew that the trail was generally a loop around the park and I'd be fine.
I began walking into the woods and was immediately plunged into a dark wetland forest with a floor of ferns and skunk cabbage. It was nice. The trail was fairly well cleared and despite several side trails, I was pretty confident I was on the correct path most of the time.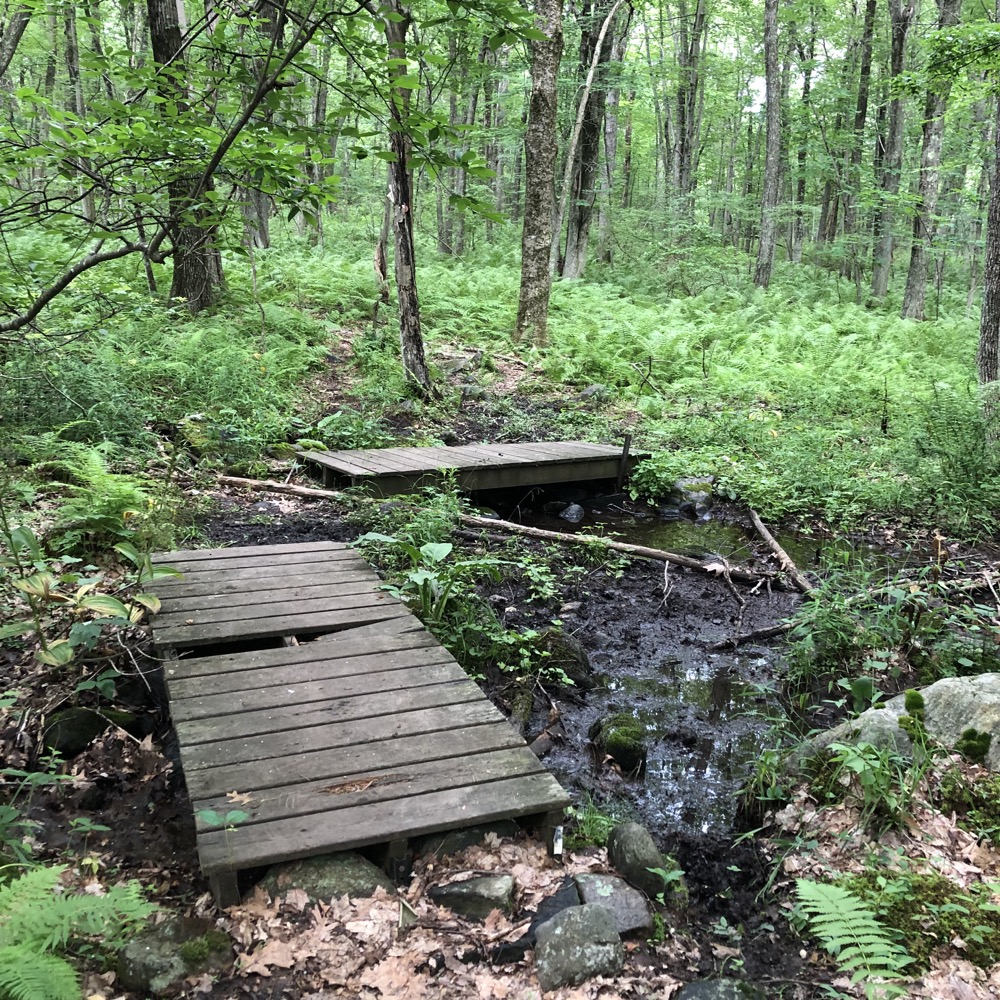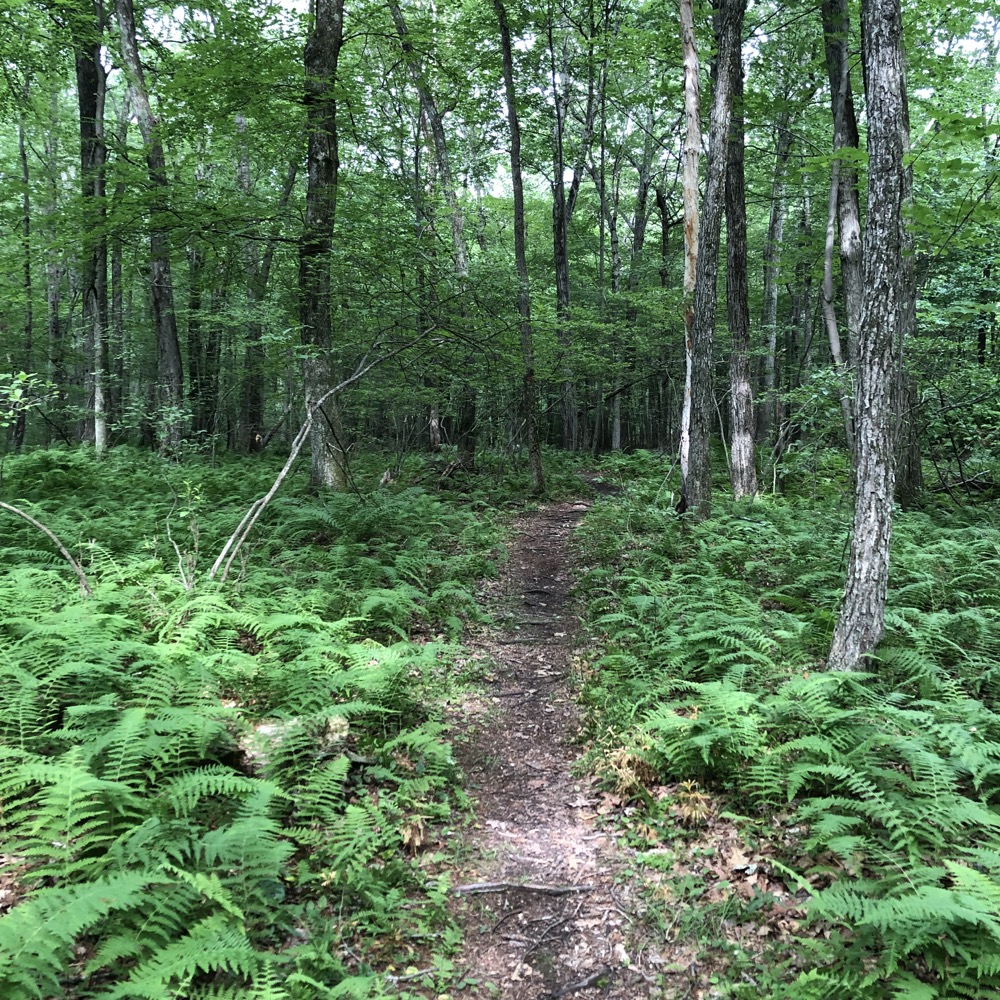 Except for the time I went left to some houses instead of right.
After a while, I was back behind soccer fields and could hear the shouts and yelps of the kids and coaches. I continued along the trail and found myself on a wide stone dust trail. I followed it for a while but realized it was going straight away from Cross Farms and I have since realized it was a path through the woods to Tolland High School and its athletic fields.
Which is kind of cool, right? A sort of secret path through the woods between soccer and baseball fields. At least I think that's where it led to.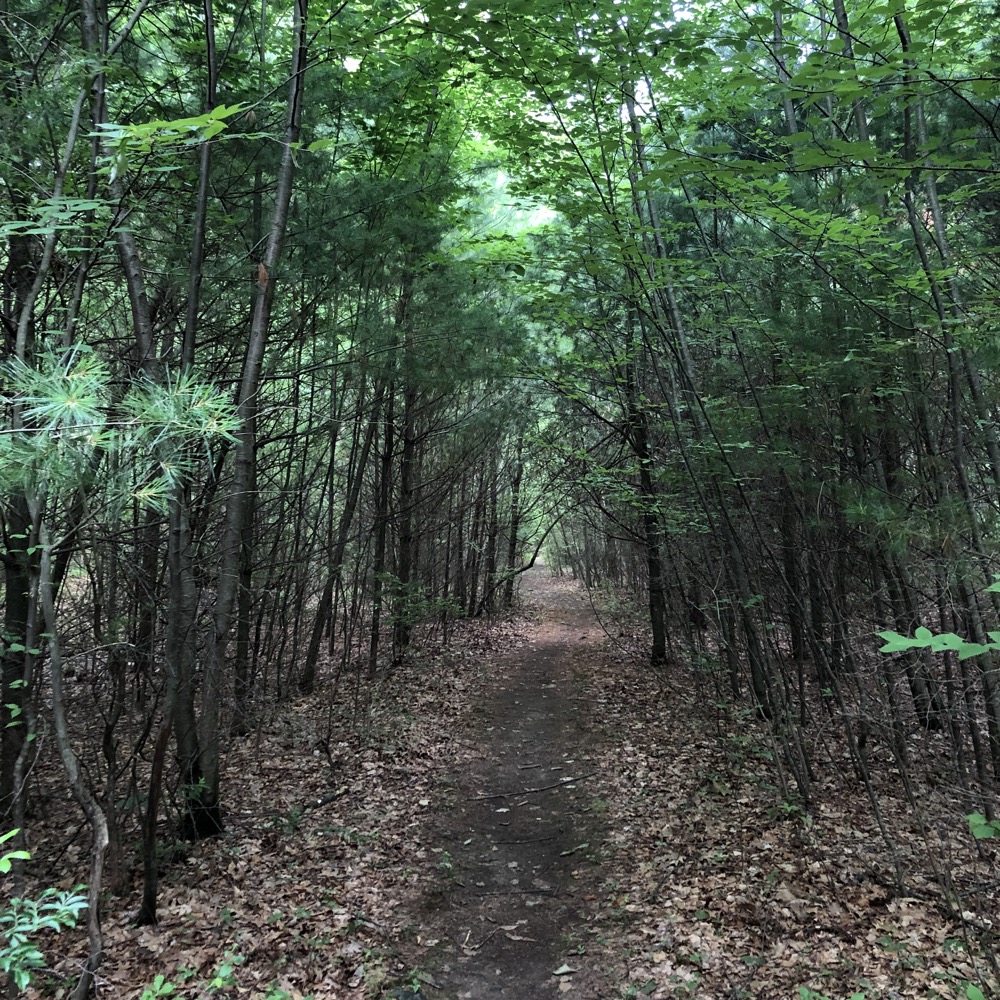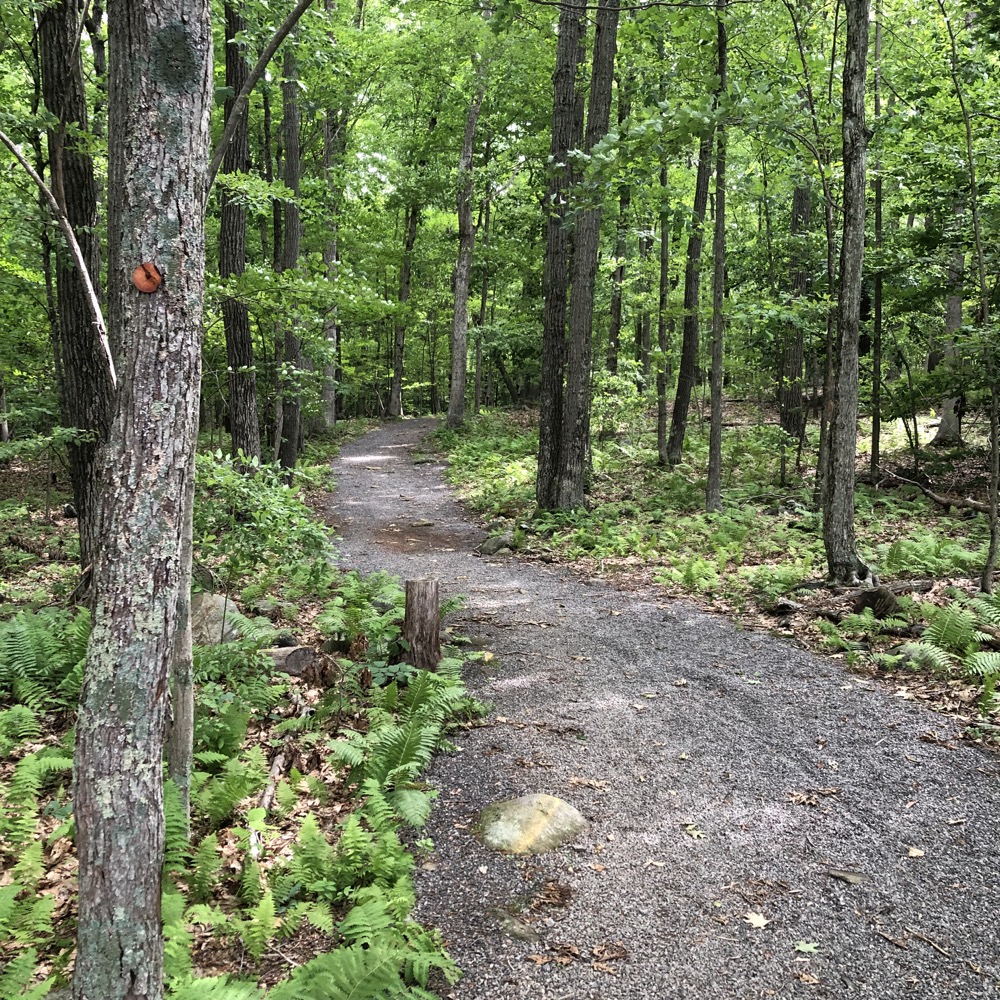 I then found myself in the middle of Cross Farms' disc golf course in the woods. A group was playing and I was in their way, which is a little awkward. We eyed each other warily but made peace and we both continued on with our respective activities.
When I was poking around for information about Cross Farms, I read a little bit about the disc golf course and saw it was designed by David Wollner. Huh. I know David Wollner. He's the longtime brewer and craft beer evangelist from Willimantic Brewpub at the other end of Route 195. What's he doing designing disc golf courses?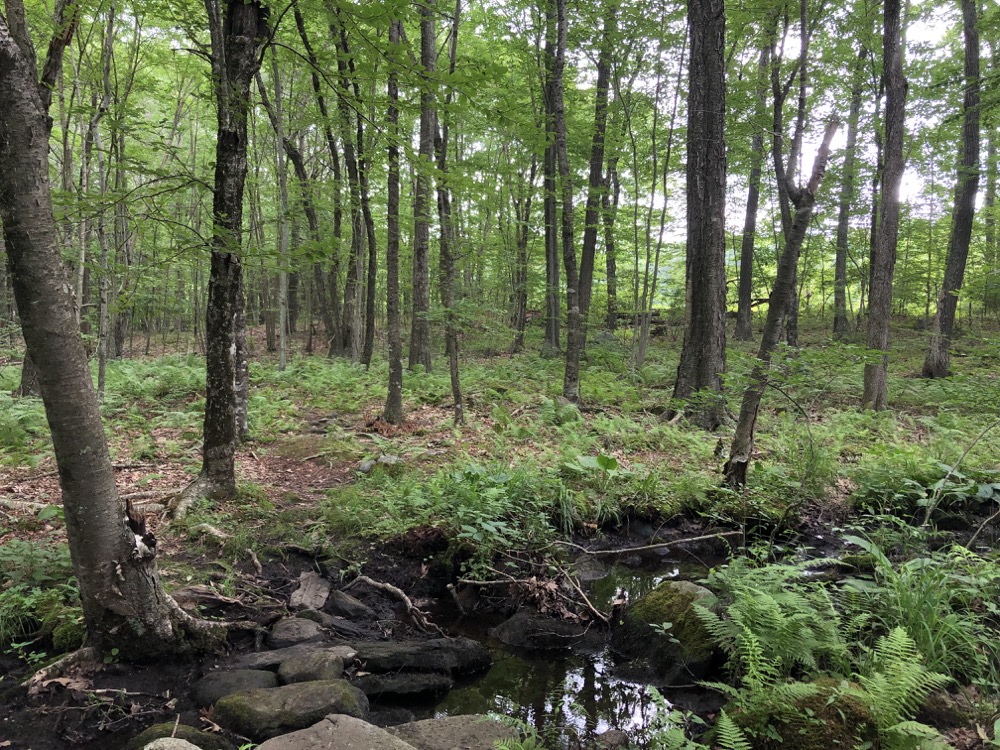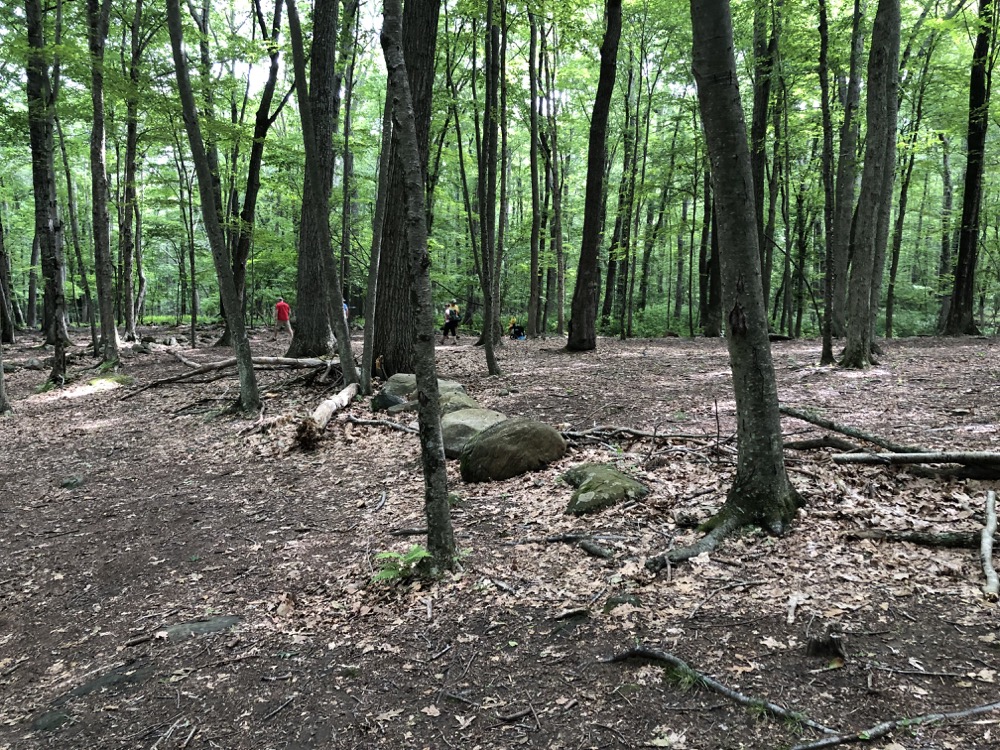 (Turns out, that's his thing. The man loves tie-dyed shirts and disc golf.)
I wound up on the other side of some more fields and took stock of my situation. I could head back into the woods, onto the disc golf course, and simply circle around the baseball field… or I could pop out and watch how my son is doing for a minute before heading out to another trail in town.
I chose the latter. Which gives me time to mention that there's a nice ADA playground here called "Adam's Adventure" which was added in recent years. Actually, Cross Farms Complex itself has only been around since 2004 and all the fields seem to be in good shape.
I doubt many come here "just for the hiking trail," but I'm sure there are many who are glad it exists. Someone cares enough to keep it fairly well cleared and for that, I care enough to give it its rightful place in the pantheon of CTMQ.