A simple concept, really. It turns out that when you visit a winery here along the Connecticut Wine Trail, and plunk down the 6 or 7 bucks for a tasting, they give you the wine glass.
I was bored today and decided to create a new list: Connecticut Wine Tour Complimentary Glasses in Various Parts of My Yard. I hope you enjoy it as much as I do.
1. Sharpe Hill Vineyard (Pomfret) Glass near eggplant blooms: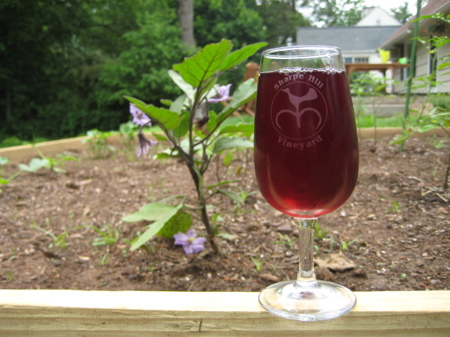 I'm not a fan of this free glass. It has an effeminate quality to it; like for an aperitif – which I hate. Nice font and clean logo score points though. 3 out of 5.
2. Jerram Winery (New Hartford) Glass on rock near oregano: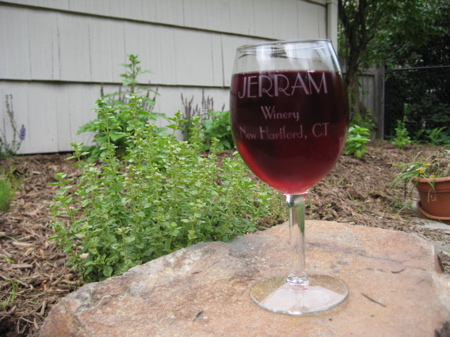 A rounded, nice glass – but hindered mightily by the old timey Gatsby-esque font. Also, the massive size of the Jerram name turns me off a bit as well; with good wine comes humility. 3 out of 5.
3. Sunset Meadow Vineyard (Goshen) Glass on mulch near some purple verbena plants: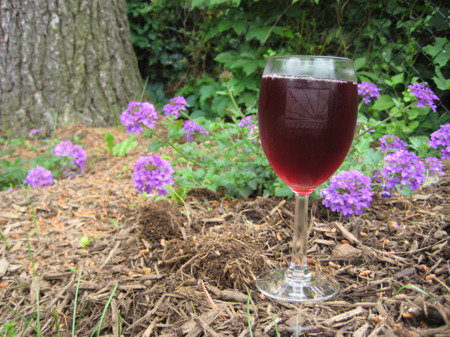 A medium width to the glass gives it a slightly weaker look, but doesn't ruin it. However the logo does, unfortunately. Teeny-tiny all-caps font pushed aside by the massive sunset & meadow etching on the glass. Poor design. 2 out of 5.
4. Miranda Vineyard (Goshen) Glass in front of potted lettuce varieties: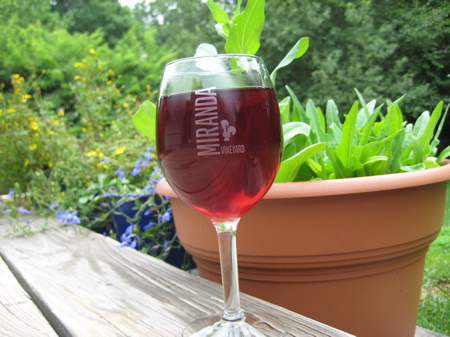 Nice solid glass (same as Jerram's) with properly sized font and clean, neat logo which has a story. The vertical scroll is the only thing hindering a perfect score. 4 out of 5.
5. Gouveia Vineyards (Wallingford) Glass on deck as Damian yelps in sprinklered delight: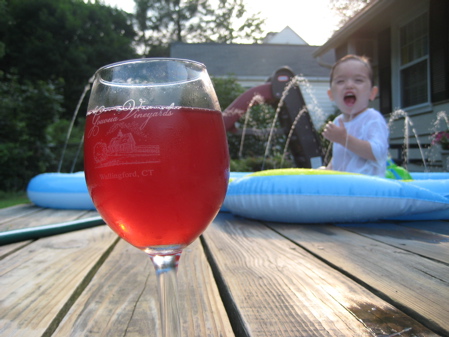 Could be the same glass as Miranda directly above, but the thin cursive etching with overdone curly-cues hinder this glass. Nice representation of the winery but not enough to overcome the weak script. 3 out of 5.
6. Chamard Vineyards (Clinton) We didn't actually get a class from Chamard, as they weren't very nice to us: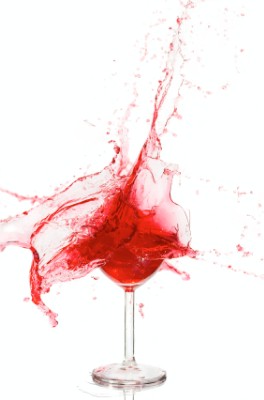 I'll use this image for wineries that don't give us the glass. Rating n/a
7. Rosedale Vineyards (Simsbury) Glass on edge of deck with baby snapping turtle I found under the rose bush in the background: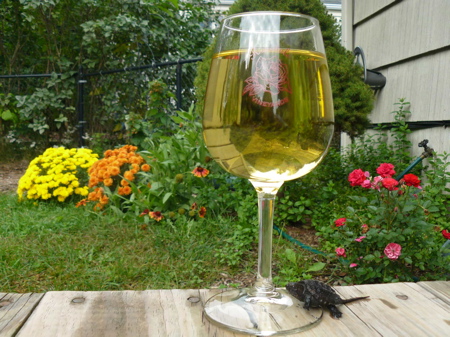 Does wine pair well with snapper soup? There is a deep red cursive "Rosedale" etching with block capital "VINEYARDS" font. Large rose depiction in center. Meh. I don't like mixing fonts, personally, but the flower is a nice personalized touch. 3 out of 5.
8. Land of Nod Winery (Canaan):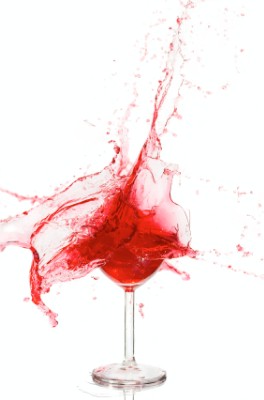 We did get free jam samples here, however. Rating n/a
9. Connecticut Valley Winery (New Hartford):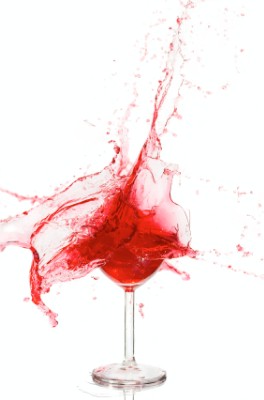 I wish we got one… they use uniquely wide glasses for tastings. Rating n/a
10. Priam Vineyards (Colchester) Glass in front of large late-season tarragon plant:

Interestingly, I actually like the scripting here and the interplay with the classic all caps font works this time. The glass, however, shows noticeable seams for a minus point. 3 out of 5.
11. Heritage Trail Vineyards (Lisbon):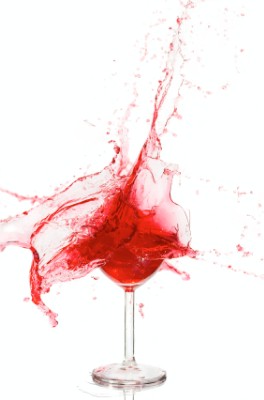 Great wine, great winery. Too bad no glass. Rating n/a
12. McLaughlin Vineyards (Sandy Hook):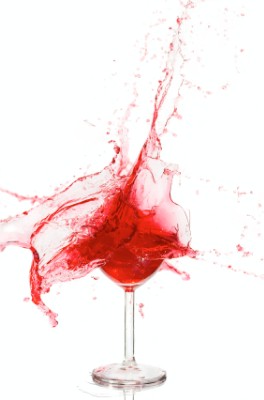 My guess is that the wine glass delivery truck can't make it across the beaver bog. Rating n/a
13. Digrazia Vineyards (Brookfield):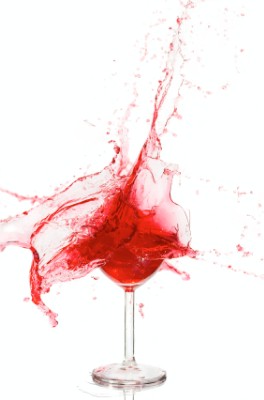 Ahhh, look at me, I'm a shattered… I'm a shattered… Look at me- I'm a shattered, yeah. Rating n/a
14. Hopkins Vineyard (New Preston): Wine glass perched on stone walkway I installed this year.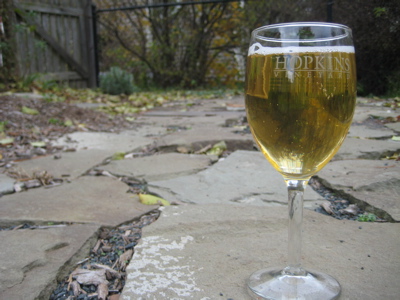 Love it. Clean, simple, to the point. Just as wine and stone walkways should be. 5 of 5
15. Haight-Brown Vineyard (Litchfield): Wine glass in front of Blue Spruce planted upon Damian's birth.

I'm torn. I love the color/logo/font scheme, but the glass itself is weird. It's more of a chalice, with a pentagonal stem that feels heavy and cumbersome. 3.5 if 5
16. Cassidy Hill Vineyard (Coventry): At the tasting.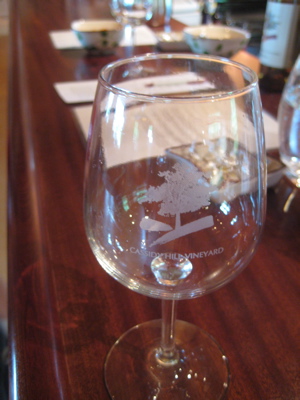 Since this wasn't complimentary, I snapped at shot from our tasting. I really like this one; simple logo of a tree and two watercolor brushstrokes and the all-important font is perfectly executed. Rating 5/5
17. Holmberg Orchards (Gales Ferry): On my framed garden in front of zucchini and eggplant.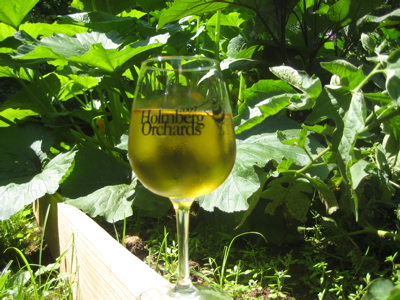 I like this one a lot. It has the year (2009), a clean font and a not-too-cute bee logo. Nice shape as well. Rating 5/5
18. Maugle Sierra Vineyards (Ledyard): On top of Damian's slide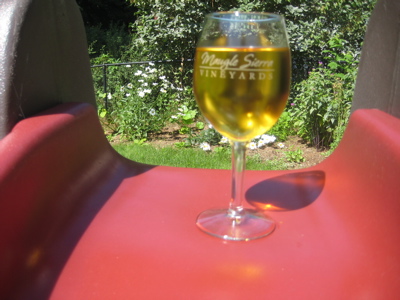 Pedestrian look to this one; very similar to Priam's glass with the scripted font and the blocked "Vineyard" below. Rating 3/5
19. Bishop's Orchards (Guilford):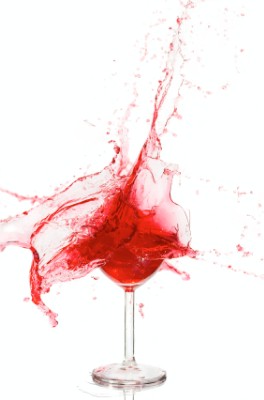 Reason: They're tastings are FREE (at press time) so who cares about a glass!. Rating n/a
20. Jones Family Vineyard (Shelton): Autumn mum and fallen pine needles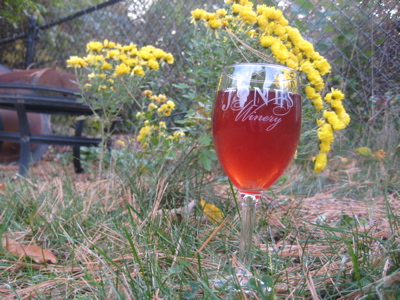 Classic stemware shape, classy cursive font, Caps could have all retained same size. Rating 4 out of 5
21. Stonington Vineyards (Stonington): On the deck, fall foliage in background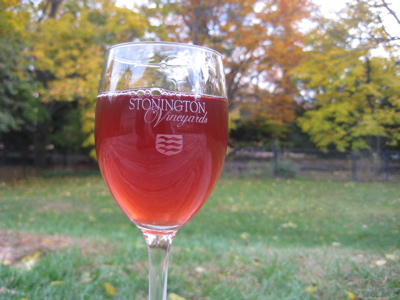 Excellent. Nice shape, great font mixture and tasteful, understated logo. Rating 5 out of 5
22. Jonathan Edwards (Stonington) On the deck, with missing trees from Oct. '11 storm in background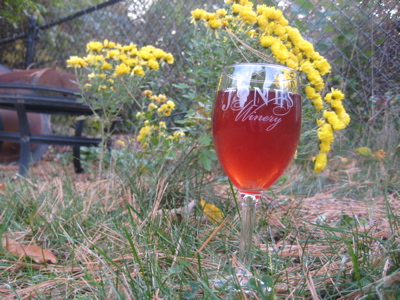 Beautiful glass; gossamer thin and nice script. (You get it with the pricier tasting). Rating 5 out of 5
23. Taylor Brook (Woodstock)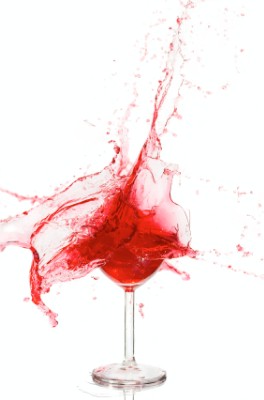 Lovely people, creative and delicious wines… No glass. Rating n/a
24. Saltwater Farms Vineyard (Stonington)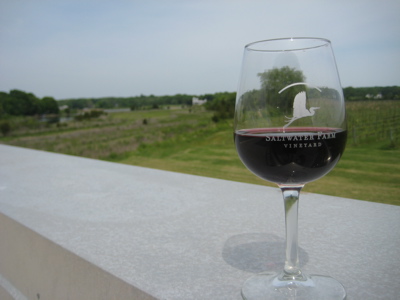 Lovely people, perfectly designed glass. Love it. Rating 5/5
25. North Winds Vineyard (Stonington)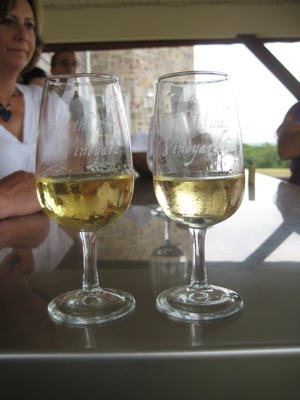 Meh. I don't like the elongated shape of the glass, nor the Pirate font Rating 2/5
26. Dalice Elizabeth (Preston)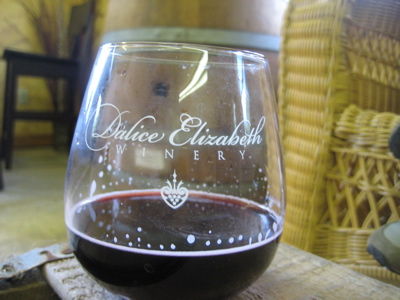 Because this is the type of glass we usually use at home, I love it.Rating 5/5
27. Paradise Hills (Wallingford)

Winery had just opened and maybe you get a signature glass if you want one, but I only drank from a plain glass.Rating 1/5
28. Lost Acres Vineyard (Granby) glass on edge of giant fig tree pot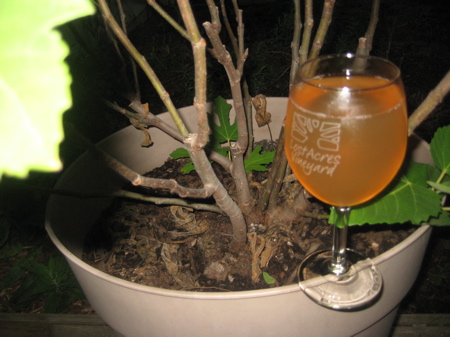 I LOVE this glass! Artfully composed image of the mighty Granby Oak! Rating 5/5
29. Walker Road Vineyard (Woodbury) glass on edge of pool in front of lime tree

Nice. Simple and straightforward. I like it. Rating 4/5
CTMQ Tours every CT Vineyard
30. Preston Ridge Vineyards (Preston)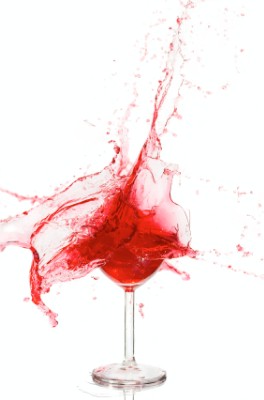 I believe I was offered the glass from the tasting but really, we have way too many of these things.
31. Bethlehem Vineyard (Bethlehem) The deck. In the fall. Again.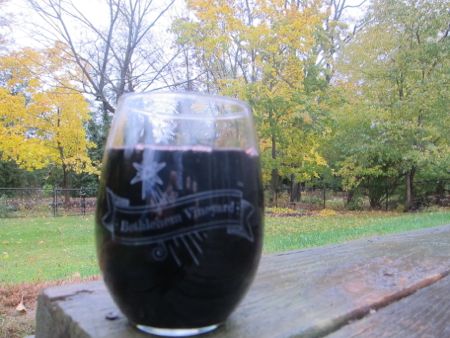 In Bethlehem, it's all about the Christian stuff. I'm not a Christian. Rating 2/5