I figured it would be prudent to write a little blurb about my son, Damian, and some of the special challenges Hoang and I face raising him. I have hinted throughout CTMQ that he's a little bit different from other kids his age which has prompted some emailed questions.
"Why don't you take him to this or that museum?" and "What does Damian think about that?," etc.
Damian has an exceedingly rare (~ 600 diagnosed) and poorly understood genetic anomaly called Smith-Magenis Syndrome. This results from a partial deletion on his 17th chromosome which manifests in several ways – morphologically, mentally, and behaviorally. We are "out of the woods" with many of the physiological health issues according to many tests he's undergone (cardio, renal, spinal, hearing, etc) and his deletion is a "smaller" deletion which gives us hope some of his behavioral issues won't be as severe as some other SMS kids – though there is no evidence to back that up.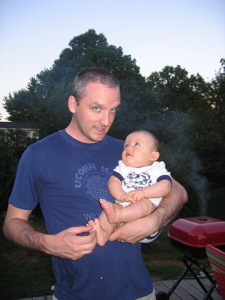 The birth of our child was the best thing ever and we of course continue to feel that way. Having an infant started me on this journey to visit all that CT has to offer, as we could no longer go far away to exotic locales. By the time he was six months old, Hoang and I knew something was not quite right with our son, but the difficult diagnosis (through genetic testing) was still a year off.
SMS kids have all sorts of issues, most notably mild to moderate mental retardation (please stop saying "retarded" as a pejorative, thanks), gross motor delays (he crawled at 16 months – on Mother's Day! – and walked at 29 months for examples), sleep disorders, and behavioral issues that are often very difficult to handle.
SMS kids tantrum for no reason all-too-often. SMS kids display SIBS, or, Self Injurious Behaviors. These two issues are the hardest for us to adjust to and to handle – and will always be. So far (at 2 and a half), we've been spared the SIBS for the most part, save for some serious head banging now and again. But that very well may change at any time. However, the tantrums and misplaced anger are prevalent and impossible to deal with sometimes. Tears are all-too-common at our house. (Oddly, SMS kids very rarely actually cry tears – they just yell.)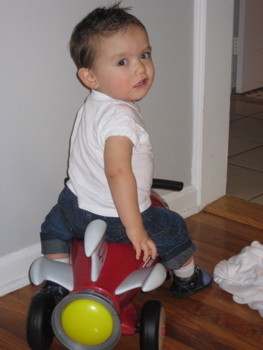 Damian does not talk but he hopefully will. (Most SMS kids talk around 4 or 5.) He knows several signs and has been getting speech, OT, and PT for over a year now to good effect. Because he is so small (and so dang cute), he can "get away" with his developmental delays at this point. He is wonderful at daycare and we are confident that the exorbitant taxes we pay in West Hartford will allow him to continue in some great special education programs here.
As readers of CTMQ know, we DO get him "out there" and I can attest that he just loves being outside and meeting new people. (SMS can sort of be compared to Autism except Damian is sometimes hyper-social rather than antisocial.) I plan to continue on this path as much as possible but there are other times when we simply need to circle the wagons and deal with him as best we know how at home. He can be exhausting emotionally and physically to say the least.
Friends and readers cannot be expected to truly understand some of the challenges we face (i.e., how do you discipline an apparently poorly disciplined kid whose only response to discipline is endless angry tantrums and destruction?) but I'll be happy to discuss further if anyone would like.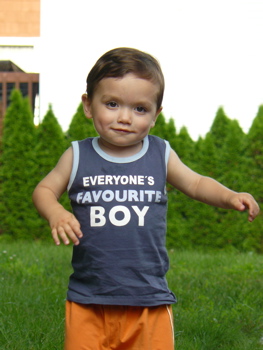 Damian is a beautiful kid; he's smart and he's funny and can be the most loving and wonderful child on the planet. He simply cannot control himself sometimes and can certainly cause stares and questions and much heartache for his parents!
While I'm at it, I will also take this opportunity to note that Hoang is the most incredible, strong, beautiful-inside-and-out woman you'll ever know. Damian is not an easy kid to raise and the challenges are constant and very difficult. We both have our moments, to be sure, but Hoang is to be commended.
This has not been an easy first parenting experience and it won't get any easier. And we can never know if we have the tools necessary to raise Damian to be the best he can be – but we can certainly try. Hoang and I have many struggles with SMS and the delicate balancing act that is our Damian. But we'll be fine. We have to be, for his sake.
Heck, I think he wants to be a hiker just like his Dad – he just loves being outside and exploring his world. Now, if only we can teach him that doing so in a cold rain isn't always the best idea…
That's our boy – and we love him and help him (and each other) in ways that we never knew existed. Thanks for your support.
– Steve (September, 2008)
Continue on to an April 2009 Update