Gosh Darn Nice
Goshen Land Trust, Goshen, 0.7 Miles
March 2016
When you skim this page it will have no effect on you. And it shouldn't. It's just another short little trail you'll likely never seek out featuring a little boy you'll never know. But a lot of my inspiration to write up all the stuff that I do really has nothing to do with some weird love affair with Connecticut.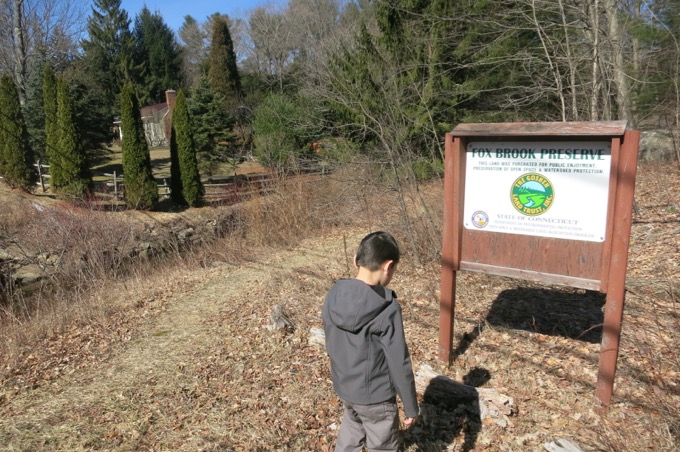 I have a love for my family and for writing. In the future, when I stumble upon this page about a short loop trail in Goshen, I'll smile. I might get a little misty-eyed. Why? This is one of the last "nice" solo hikes I did with Damian. As he grew older, his difficult behaviors became worse and less manageable. Getting him out of the car for a hike became torture, let alone actually walking through the woods.
And when we didn't have little brother Calvin with us to sort of serve as a model, forget about it. But let's just focus on this hike, at Goshen Land Trust's Fox Brook Preserve, and my disabled son and I had a grand old time.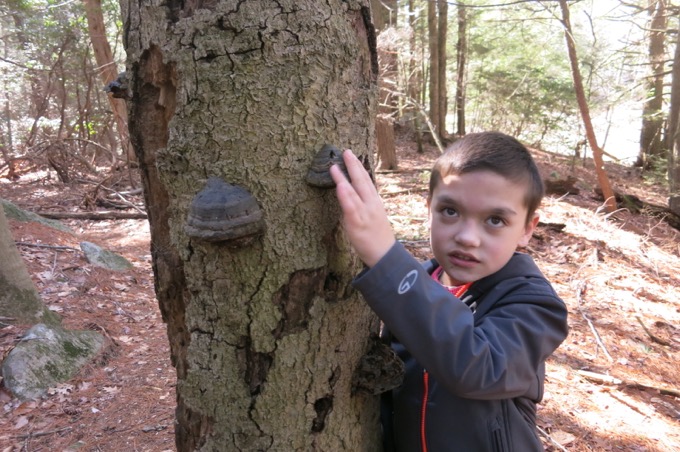 The Fox Brook Preserve Trail is a loop north of route 4 in the heart of Goshen. One can travel south across route 4 and continue through some more GLT property and on down through some town property on another trail. This is a beautiful part of the state and is incredibly rural and quiet. While I'd never live in Goshen, I still love it and many other towns like it.
This trail can be accessed by travelling east on Route 4 from the rotary for half a mile. A car can be parked on the north (left) side of the road at our Fox Brook Preserve sign. This trail is a 0.5 mile loop which crosses over the pristine Fox Brook and passes by an old furniture mill site. A rock outcrop provides a view over the marsh, where herons and egrets can often be seen.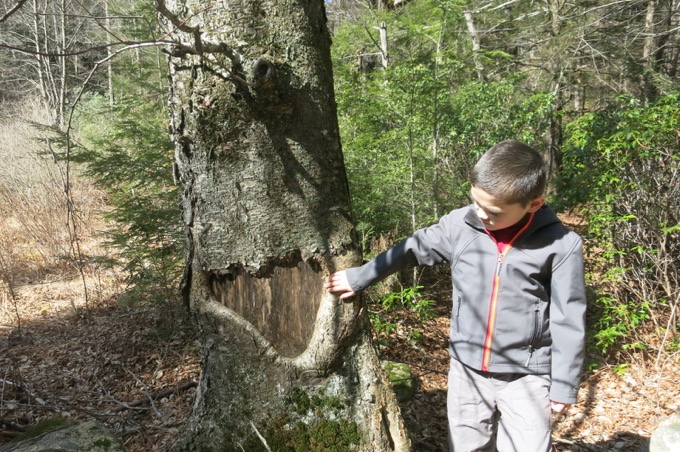 "A car can be parked…" This made me chuckle because a) yeah, this isn't a popular trail and b) This is Goshen! You could feasibly park 100 cars along the road here and no one would be affected.
Actually, I have no idea how popular or not this trail is. We didn't see anyone on a warm and sunny March day – notice how no one says "unseasonably warm" anymore. Climate catastrophe and all that. The trail is a little lumpy, but there is no appreciable elevation gain.
For us, there are two highlights here, and the first is this bridge: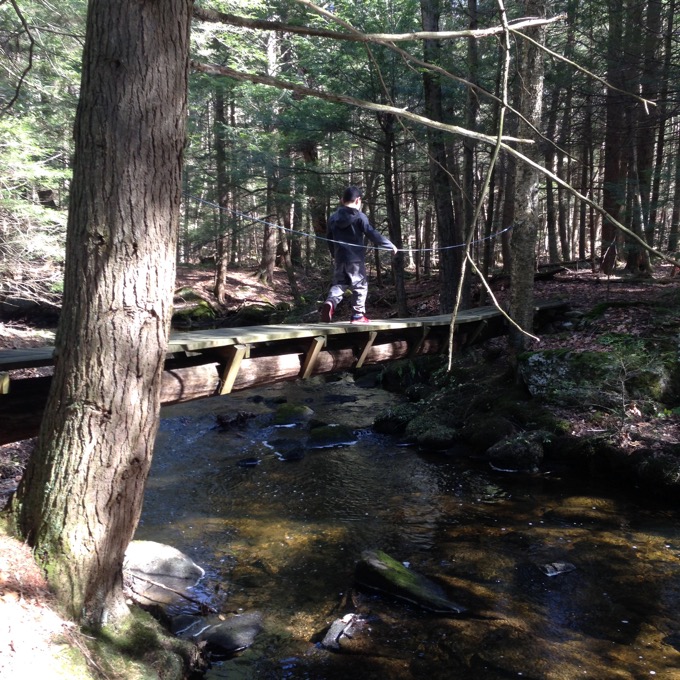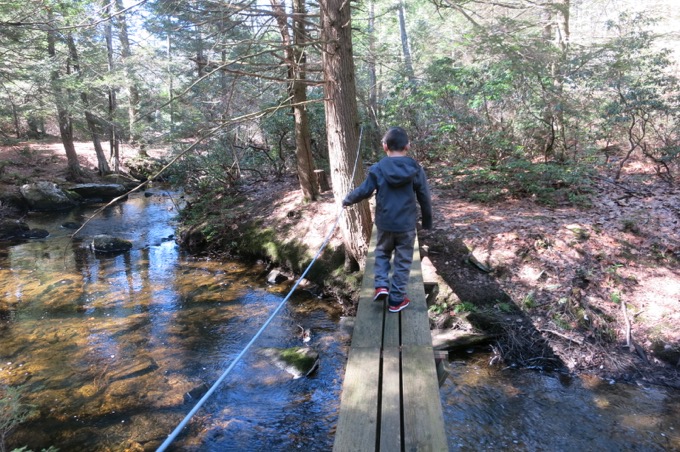 Damian simply does NOT do stuff like this. But he did! I was amazed – he wouldn't cross bridges where he could see the water moving until he was maybe seven, but to cross a skinny bridge over water with only one rope for a handrail? It was pretty awesome. I wound up taking a bunch of pictures of the "event" which in retrospect, was probably pretty dumb in case he needed help.
Parenthood, right?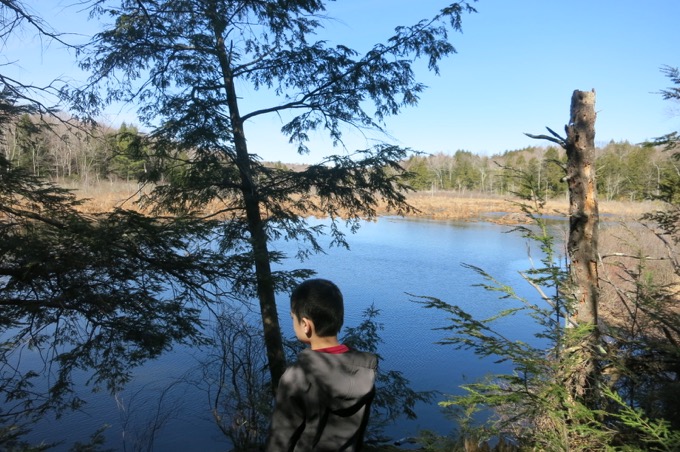 The other highlight is the bit of the trail that takes in the view of the marsh. As I said earlier, all of Goshen feels remote, but remote Goshen feels really remote. Damian actually seemed to enjoy the moment for a while; and he was beginning to feel what pride feels like. We sat and looked out at the marsh and I had a one-way conversation with him about pride and doing a good job and life and happiness for a few minutes. (D's not big on real conversation.)
It felt good. Doing what I love with a very challenging boy that I love and everything working.
OMG (Oh My Goshen) it was nice.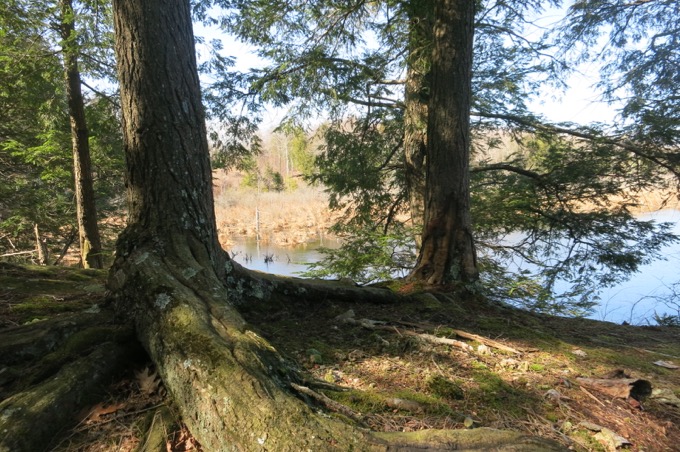 Goshen Land Trust
CTMQ's Goshen Land Trust Intro