Going DEEP
CT DEEP Western Headquarters/Harwinton Conservation Trails
May 6, 2018
I'm going to do a rare thing here in Harwinton. I hiked all seven currently trailed properties on one (rainy) morning, so I'm going to sort of serialize the write-ups. If for some reason you want to start at the beginning, go here, to the Kalmia Sanctuary elsewhere in town.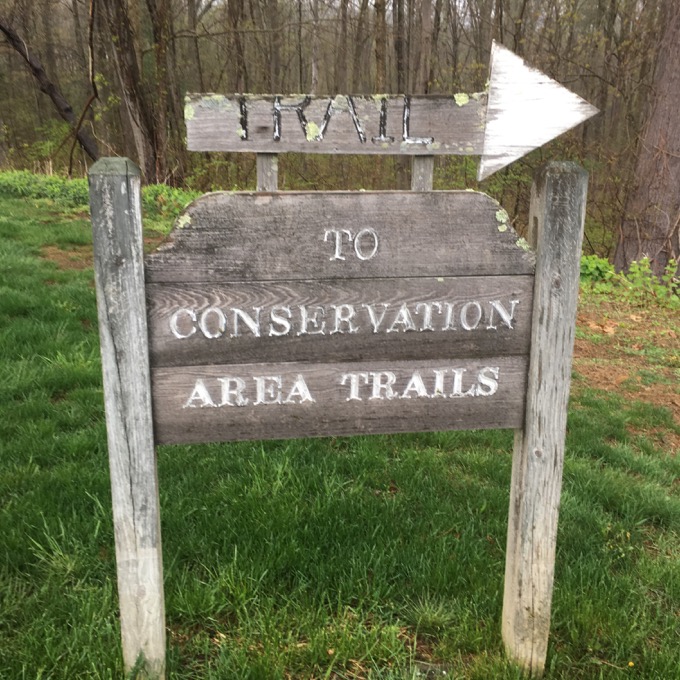 I finished the Harwinton Land Trust's Forever Forest property as the rain began to pick up in intensity. I still had one more place to hike and was determined to do so no matter how hard it would rain. As I pulled into the entirely empty parking lot and gathered myself, a police cruiser slowly drove behind me.
(The police station is part of this large town complex, along with the library, a senior center, a school, the town offices, and lots of sports fields.)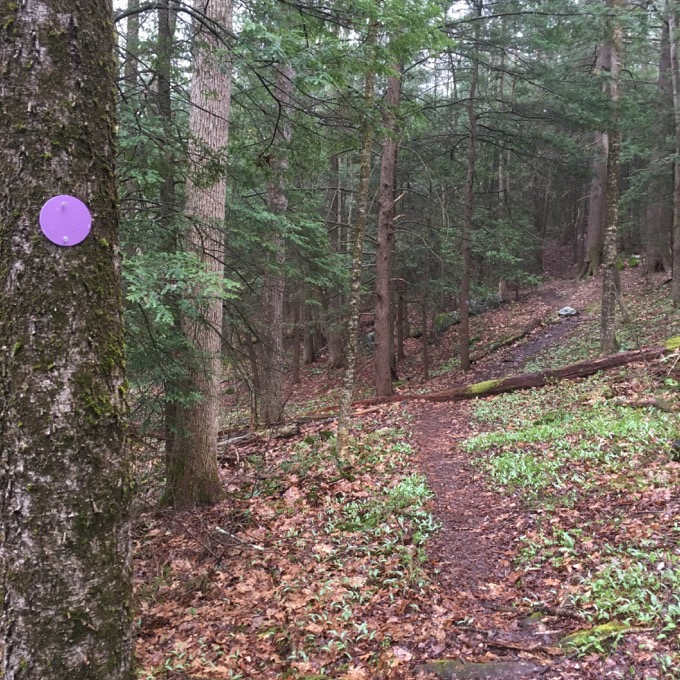 It was kind of weird. I'm just going for a hike in the rain, officer. That's why these trails exist, right? No matter, I hopped out of my car and hit the trail.
There are nine maintained trails here and I began on the white trail, heading downhill towards a creek and the purple trail. Three of the trails are designated mountain bike trails and I believe the local NEMBA chapter helps maintain them.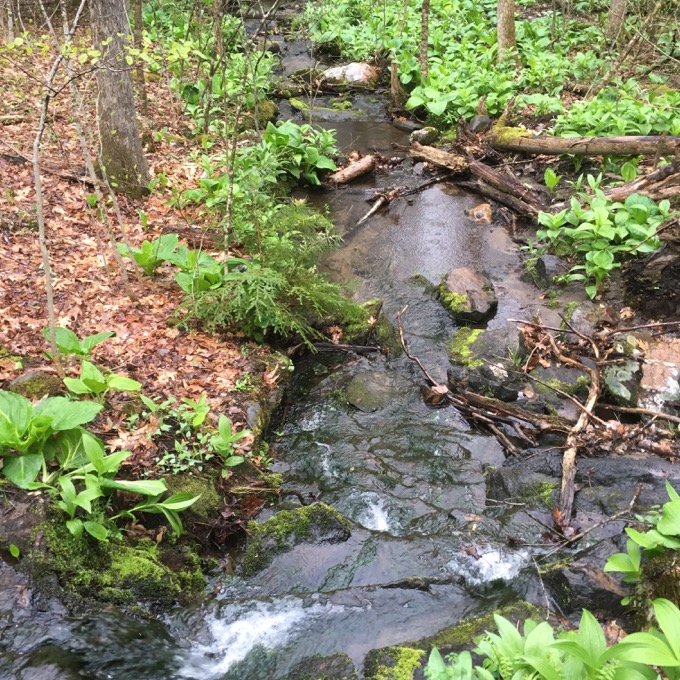 I passed the purple trail and hit the red. I headed north towards the green loop trail and the little pond and picnic area it passes. It's a lovely little spot. The green trail… or perhaps the green + yellow trail… is officially the J. Stanley Quickmire, Jr. trail.
I can't find much on Mr. Quickmire, but I can report that he was from Harwinton (surprise!) and was involved with the Audubon Society. So let's say he was a local naturalist and preservationist and the town has memorialized him with this trail. (I'm assuming he has passed away.) The trail is not called the J. Stanley Quickmire, Jr. Trail anywhere except "on the ground," as I can't find it mentioned anywhere online.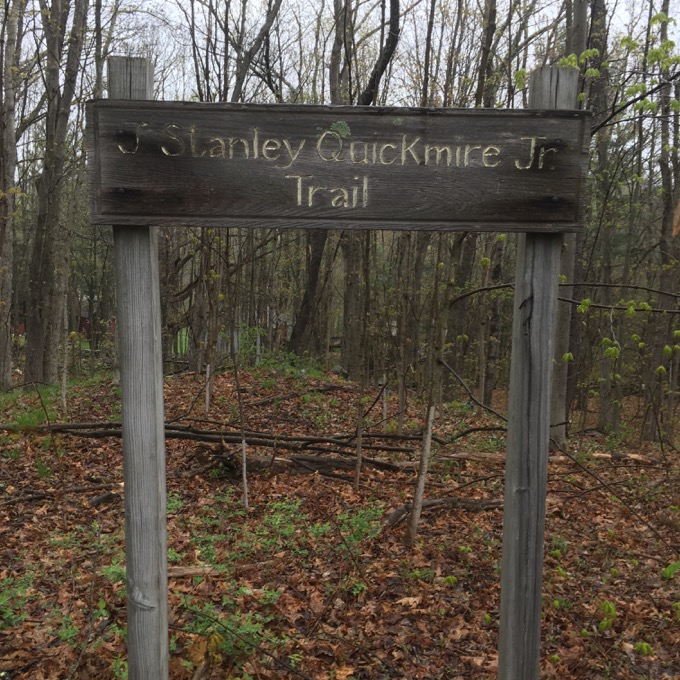 It's just the green trail. And it's really nice; following Leadmine Brook along a flat, wide path. Despite the rain, or perhaps because of it, my walk along the stream was peaceful and pleasant. The green trail loops back to the picnic area, but I forged ahead, continuing south via the yellow trail.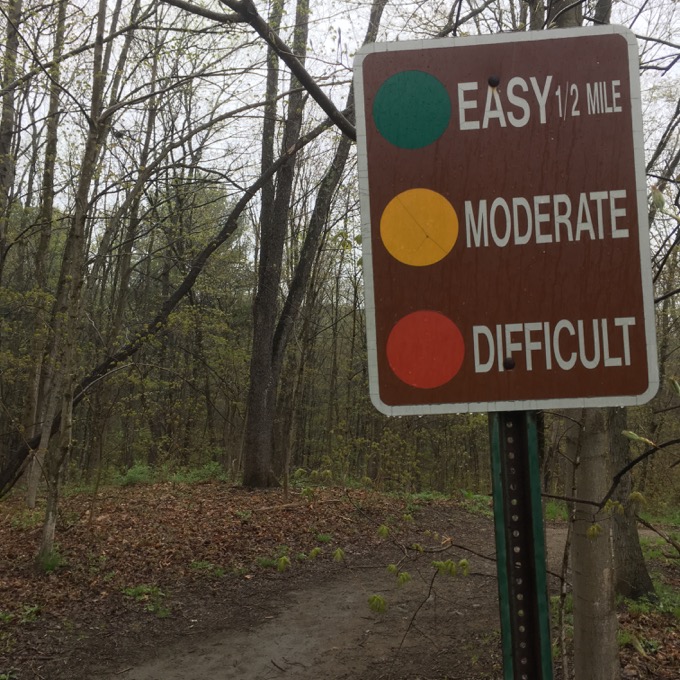 After hiking for several hours all morning across Harwinton, I passed my first fellow hiker here – a woman with an umbrella. I understand why people hike with umbrellas, but they seem so cumbersome and unnecessary to me. Oh well, she looked happy (and much drier than me!).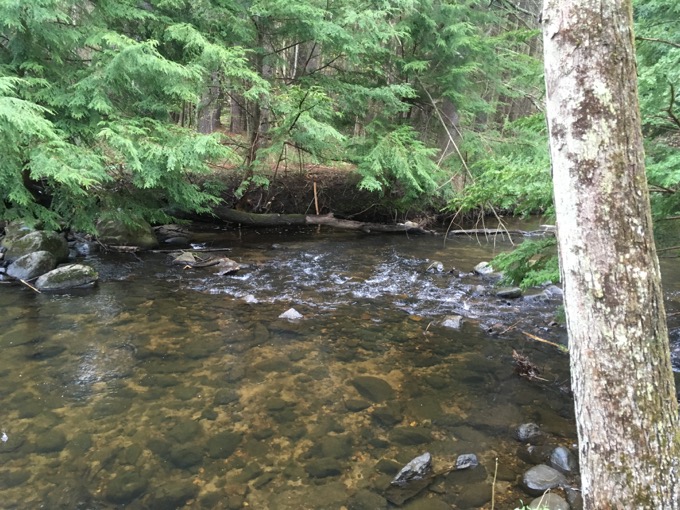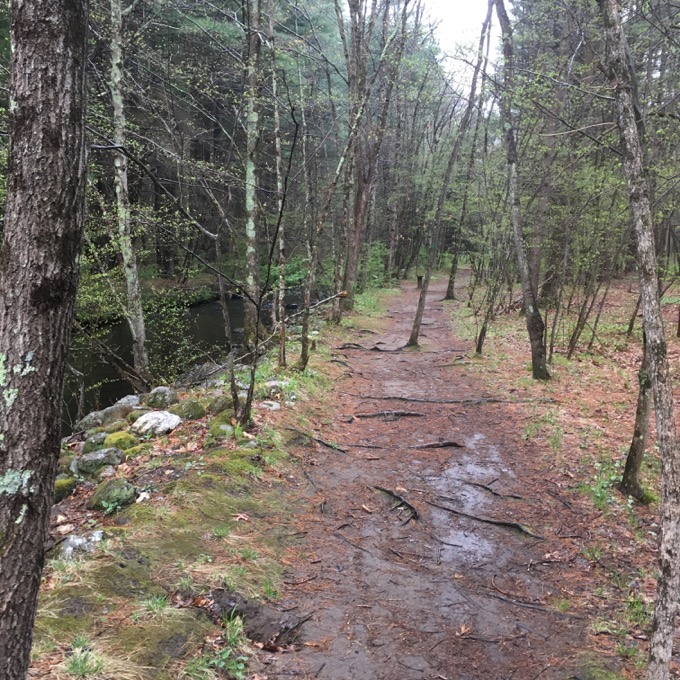 There was a brand new bridge crossing Leadmine Brook that wasn't on the map. I crossed it and followed the trail on the other side a bit before returning to the yellow trail. The map promised a log crossing further along, but that log is no longer there. I wound up following a herd path way too far south looking for it and found that the brook has scoured a nice little rocky gorge "off the map."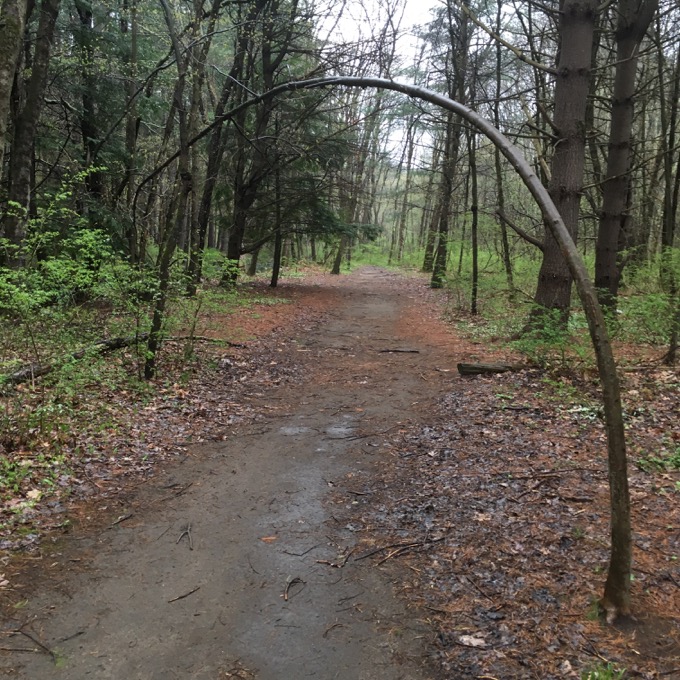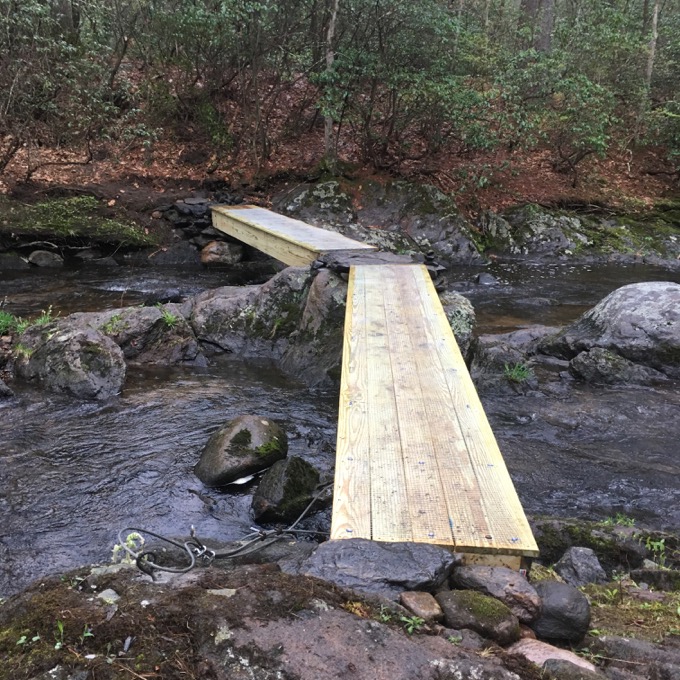 NEMBA (New England Mountain Biker Association) has created some trails down here – and I think they may have built that new bridge as well. Their trails are sort of silly to hike; switchbacking and snaking up the hill in an almost absurdist way.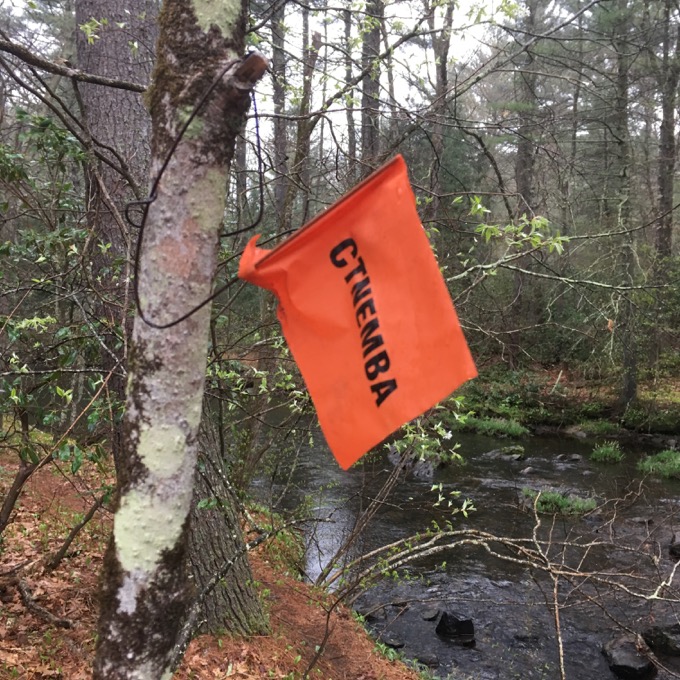 Though I'm sure it's fun on a mountain bike – and I'm quite pleased to see NEMBA active in trail building and maintenance. I'm sure they've done similar efforts all over the place, but I've really only seen it here and off the Metacomet in East Granby. This is a good thing; keep it up, NEMBA.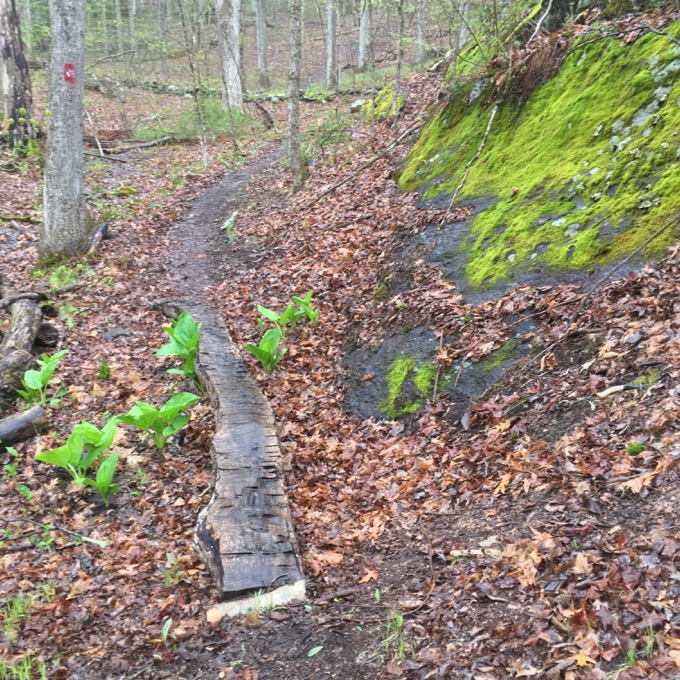 I wound my way back up the hill via the red/white bike trail before getting annoyed with the zig-zagginess of it. It more or less parallels the yellow trail so I popped back over to that trail and made my way back up to the top.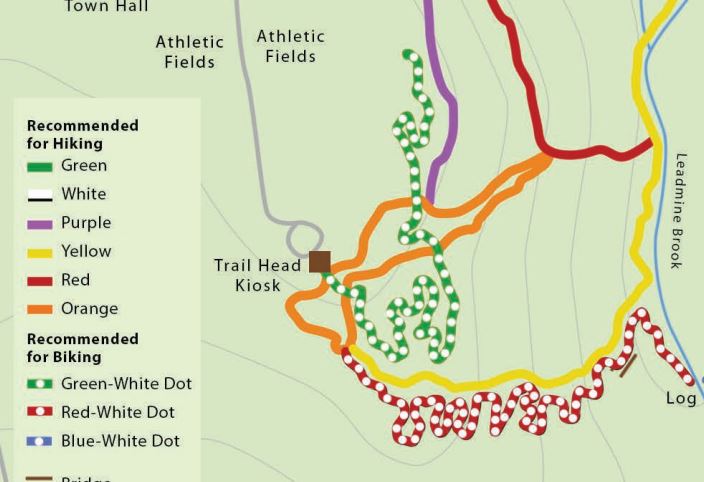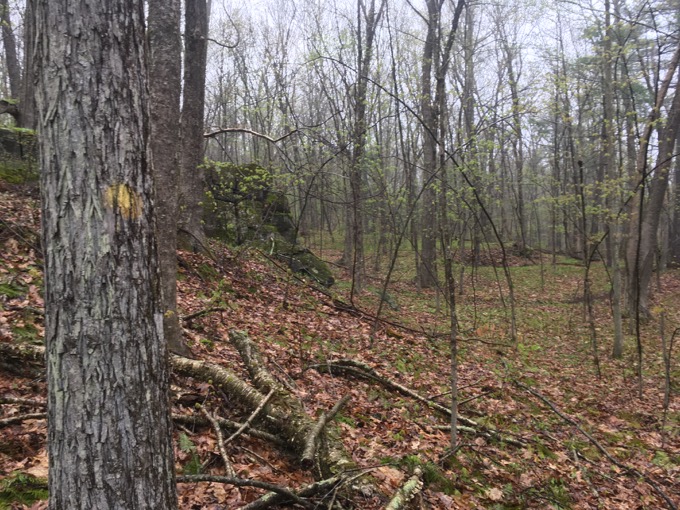 From there, I spent some time on the orange trail and the green bike trail. But by this point, it was pouring and I was soaked and felt as though I'd seen enough of the Harwinton Recreation Trails. I think you'll agree, especially if you're the rare person who read through all these hikes at once. (You're awesome, by the way.)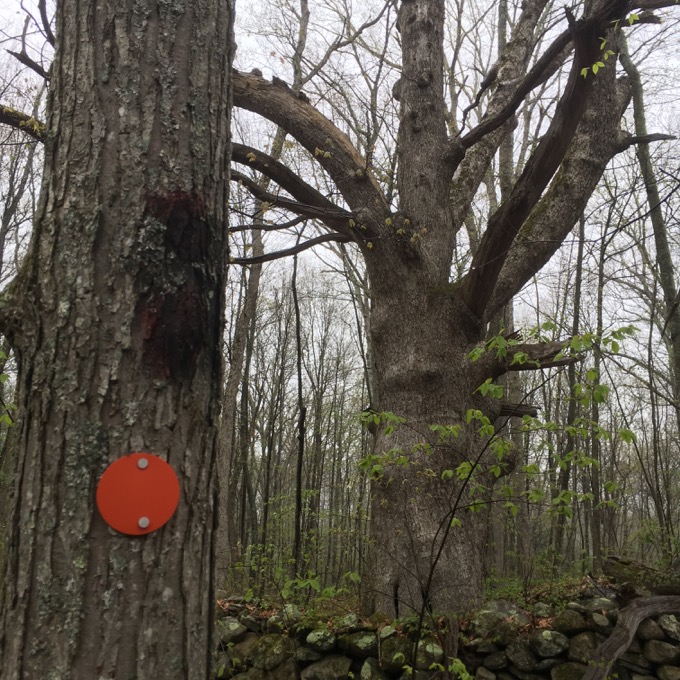 I returned to my car via the parking lots for the ball fields. I was struck by how nice Harwinton's town facilities are. Let's be honest… this is Harwinton. And their fields are on par with Darien and Greenwich. And it's nice they are all centralized too… unlike my town which has junky fields all over the place.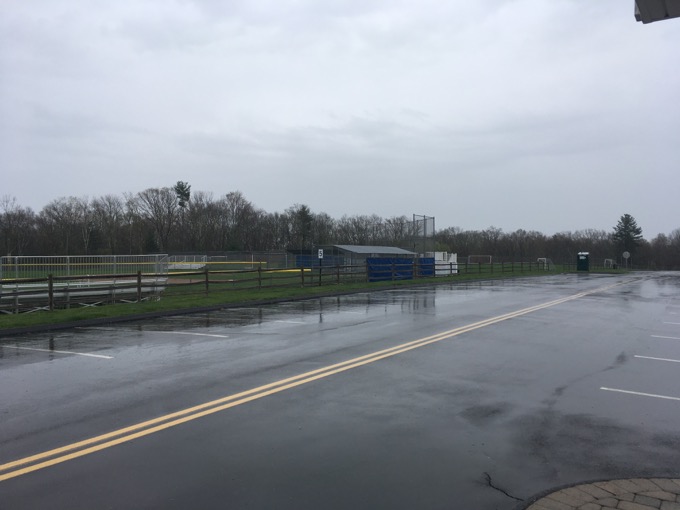 And that, my friends, ends my walks through Harwinton…
Until the land trust's Indian Meadow Trail opens up in late 2018 or 2019. (I actually tried to hike this trail too, but it was not cleared yet and that wouldn't have been remotely fun.) Oh, and I hear you nitpickers noting that a good chunk of the CFPA's Tunxis Trail chugs through Harwinton.
You're right… and I hiked that in 2008.
So there.