Sexier Than a Henry Miller Book
Henry F. Miller House
30 Derby Street, Orange
CTMQ readers know that it is the very rare page on this site wherein I write about some place I didn't actually visit. I can count on one hand (out of thousands of pages) how many times I've done this. Well, this is such a page. (A page which cites this 2001 New York Times article about the house as a major source of information.)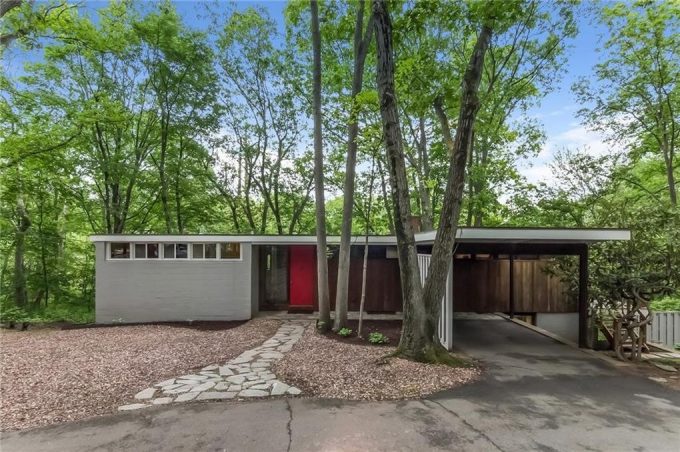 I thought about trying to contact the current home owner and asking if I could visit. But then I realized that would be intrusive – and a bit unnecessary. Moreover, my pictures would have been terrible; and who needs my terrible pictures when realtor.com has a whole bunch of great ones?
I also realize that some of you are wondering why I'm even bothering highlighting this house. Fair enough. So let me help you out: This is an architecturally important house. It was designed and built in 1948-1949 by Henry F. Miller as a thesis project for a Master of Architecture at the Yale School of Architecture – one of the best architecture schools in the world.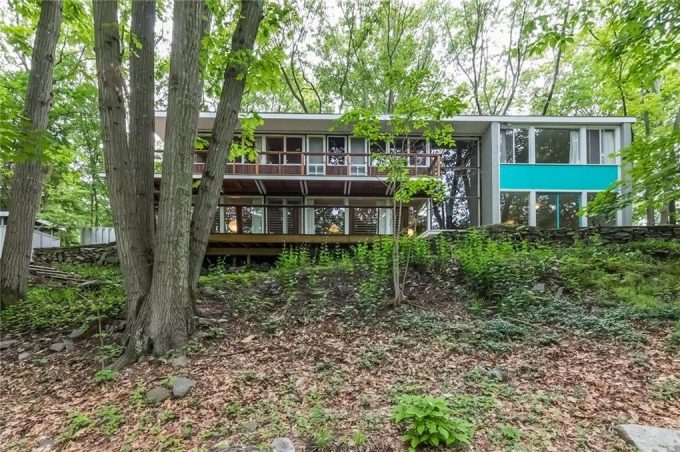 1948-49 was the same two-year period that Philip Johnson designed and built his more famous Glass House down the coast in New Canaan. These were heady times for mid-century modern architecture – and specifically what was called the "International Style" at the time. There are a bunch of these houses in Connecticut, mostly in New Canaan, Stamford, Darien, Ridgefield, Wilton, and yes, Orange.
Hundreds were built, but only a fraction of them remain. There are others in Orange, like the stunning Marcel Breuer Donald Clarke House, but the Miller House is the one I'm choosing to focus on. The style had its origins in pre-World War II Europe and is considered a special subset of mid-century design.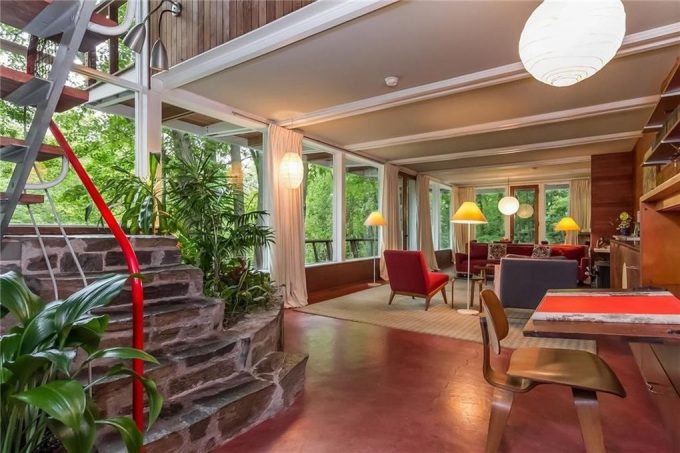 The houses employ lots of symmetry, flat roofs, an emphasis on large glass windows and austere inside space designs. Most homes of the International style are designed to blend into the natural environment, built in wooded areas and often on natural rocky hillsides. Southern Connecticut had the luck and distinction of having acres of wooded areas on natural rocky hillsides near both New York City and Yale. A movement was fostered.
The Miller House wasn't the first in the area – that distinction usually goes to George Kreye's 1935 effort. Then World War II happened before things could really take off around here. Once that was over with, the architects started moving forward again. The New Haven and Fairfield County areas became the center of post-war Modernism in Connecticut and the United States and the Miller house is regarded as the impetus for that.
If only because it got press. The Miller House was featured in an issue of House Beautiful, a publication which was, at the time, promoting the International Style. They stressed the technological aspects and the economic benefits to a more modern house. The Millers built the house for about $25,000 in 1948 (about $266,570 in 2020).
Interest in the house was huge, and the New Haven Register called it "The House of Tomorrow" in their headline announcing a public viewing of the house. On just one day in 1949, over 4,000 people came to and walked through the house. By the end of that year more than 25,000 people would pay 10 cents ($1.07 in 2020, haha), which went to the local Boys and Girls Clubs, to view the two-level rectangular structure with its flat roof and movable walls.
Mr. Miller was over the moon, saying, "At that time I truly believed we would see this style become one of the most popular not only in the United States, but throughout the world." Alas, it turns out that humans are cool with saying something new and bold is awesome, but are not so quick to make the leap to actually purchasing new and bold things.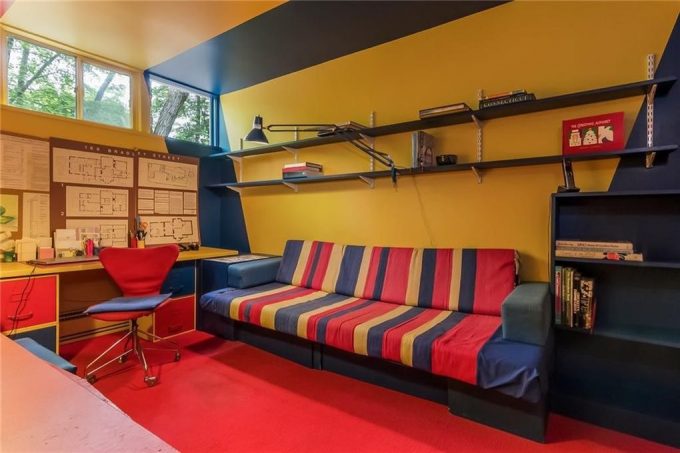 "While the style did become somewhat popular for a while during the 1950's, it never quite caught on the way I had expected — I guess because most people are used to living in cozy capes or large colonials and never quite embraced this more unique and modest style," said Mr. Miller.
Yeah, people are weak. Now, to be fair, if I wasn't married to a fan of mid-century modern architecture and design, perhaps I'd be one of those people saying, "Oh, it looks kind of neat, but I could never really live there!" I don't know. But c'mon people… your colonials and capes are just so cookie-cutter! Live a little! At least buy an orange rug or paint your front door lime green or something!
While the Miller House won't ever become a museum or National Historic Landmark and while I don't think they'll offer tours to 25,000 people for a dollar anytime soon, I'm happy to have a page here on CTMQ recognizing this important piece of architecture in Orange.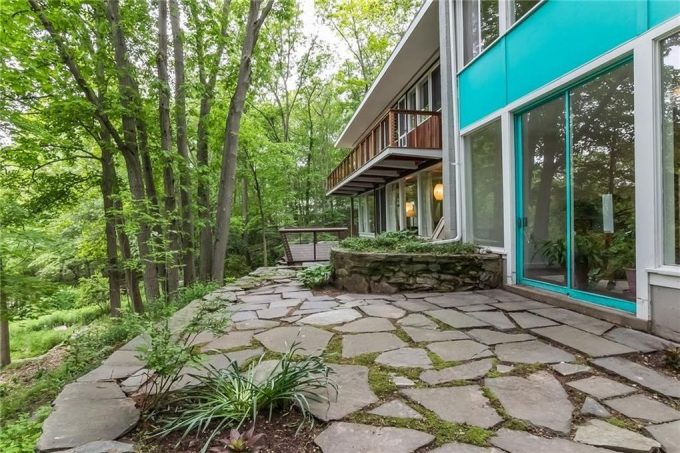 CTMQ's Houses, Ruins, Communities & Urban Legends