That's Some Kinda Bridge
Hockanum River Trails: Windemere Avenue, Vernon & Ellington
~1.3 miles one way, March 2019
If you are reading these Hockanum River Trails south to north you have already read… there's no single way to hike the Ellington trails, so I have no idea where you've come from. But you can go back to the Franklin Street Trail if you want. Better yet, start at the beginning with the HRT introduction and catch up.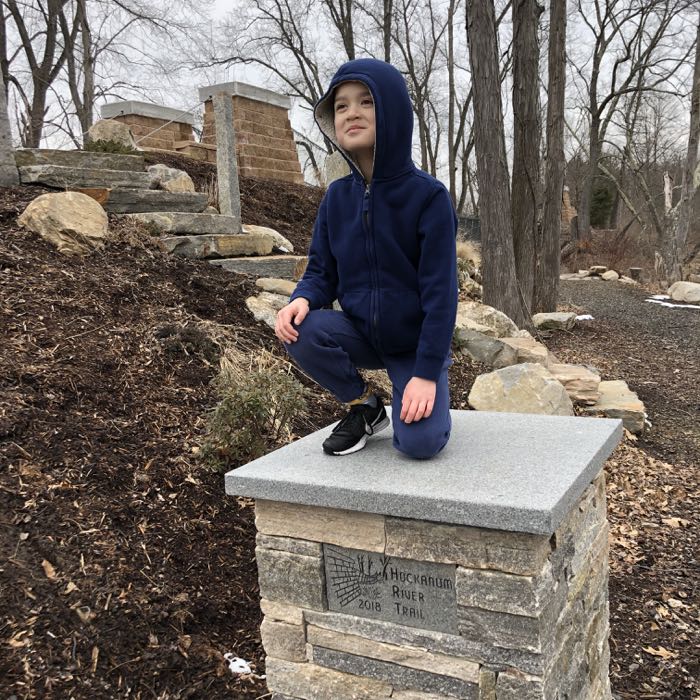 We've made it! All the way up to the northernmost section of the meandering Hockanum River Trail system. If you were thinking that there is some parallel between this trail and, say, the Appalachian Trail… you don't know anything about the Hockanum River Trail. Whereas the AT has its "100-mile Wilderness in central Maine, terminating atop the mighty Katahdin in beautiful Baxter State Park, the HRT's northernmost section begins across from the wastewater plant next to a strip mall and terminates at a mudpit next to a graffiti covered drainage ditch.
And I love it.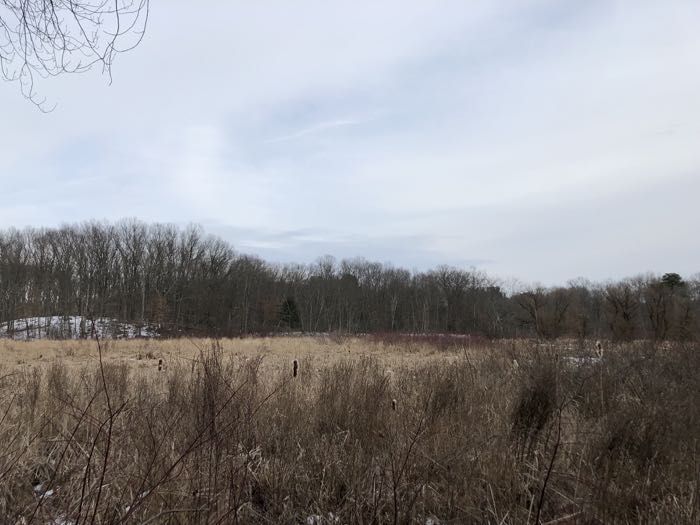 I've written many times that this trail's mere existence is simply amazing. From the miles of boardwalks down at the Connecticut River in East Hartford and north through an extinct strip club parking lot, low-income housing, adult superstores, two sewage treatment plants, abandoned ruins, homeless camps, landfills, "cruising" areas, underneath interstates… the HRT is in many ways my favorite trail in Connecticut. It is the ultimate survivor.
And the effort put forth into maintaining it and constantly improving it is Herculean. There are so many boardwalks, puncheons, bridges, side-hill supports, and goodness knows what else along the way… it's mind-blowing. And here, at the start of this section, is the granddaddy of them all: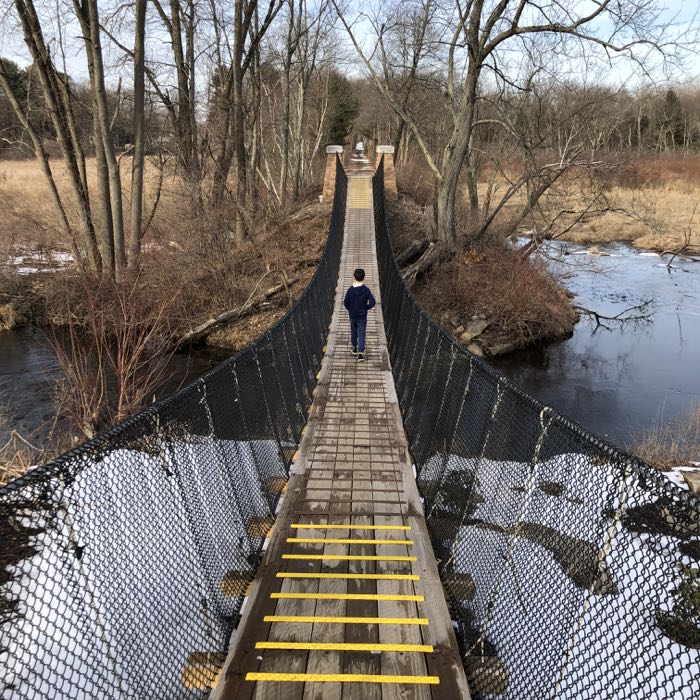 A brand new suspension bridge. In Vernon. In Connecticut.
And it's awesome. My friend Peter Marteka of the Hartford Courant wrote:
The span was designed by Vernon town engineer David A. Smith. Smith worked with Bridges To Prosperity, a company that provides bridges to isolated, third-world communities so people can cross over otherwise impassable rivers. The Denver, Colo., company's website says it has built 200 footbridges in 20 countries, serving more than 1 million people.

The Vernon bridge won't be used so people can access "essential health care, education and economic opportunities," as in the Bridges To Prosperity main goal, but it does close a gap in the Hockanum River trail system that has been on Vernon's master plan for decades, Smith said.

"We designed a bridge that adapted to our situation and our resources," Smith said. "This is a bridge that if we had to bid out and had someone come in, it would have cost the town $300,000. We were able to do it with volunteers for $40,000."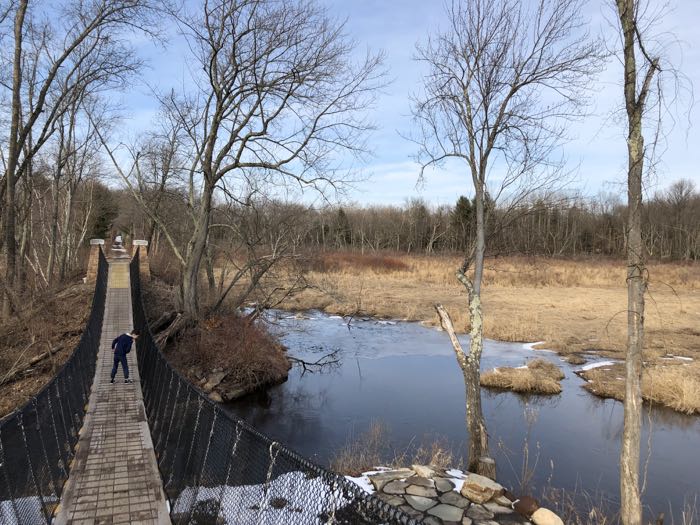 The bridge was built on the back of volunteers 800 hour's worth of effort. The craftsmanship was readily apparent as Calvin and I gently bounced our way across the span. It's a cool bridge – and allows hikers to continue across route 74 from the trailhead at the sewage plant. Now, I'm not sure it's as evocative as Marteka writes…
The Vernon bridge is not the Charles Kuonen Suspension Bridge in Switzerland, which measures 1,621 feet long and 279 feet high, with views of the Matterhorn, Weisshorn and Bernese Alps. But you will get the same feeling as those people do when you start walking down off the concrete launch pad.
Yeah. Okay. I mean, this sentence is the fourth time I've referenced the sewage treatment plant over my right shoulder as I traversed the bridge… looking down upon the clearly strung out junkies on the bench below. And the phragmites-choked marsh I was looking out upon doesn't scream alpine Switzerland, but Peter's a professional writer and I'm just me. (Love you, Peter!)
After the bridge, Calvin and I scooted up the straight line trail; obviously a former railbed. It's pretty cool how it cleaves a stand of white pine which does a decent job hiding the nearby houses.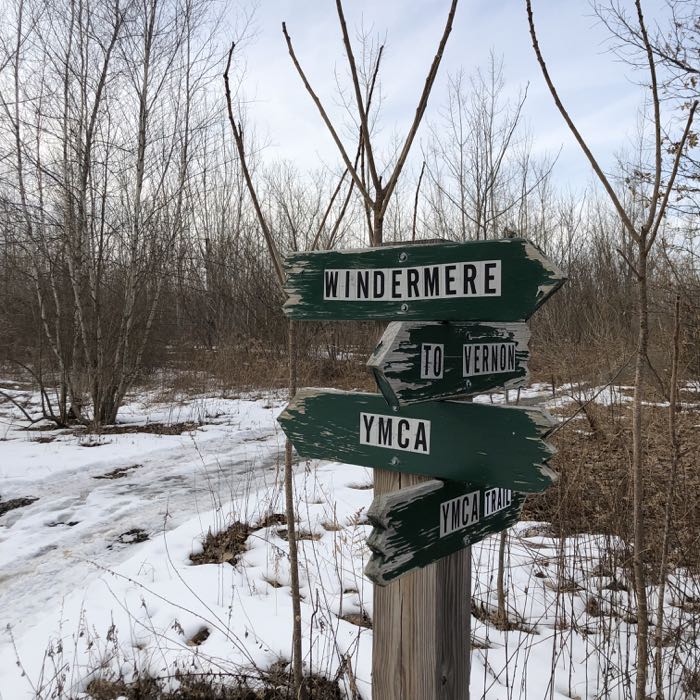 Soon, we popped out into an open field in which a beat down radio station antenna stands. Turns out the antenna is used by some Christian evangelist "Family Radio" station that no one listens to. Probably.
The field is a bit of a mess; littered with a bunch of broken junk. I wouldn't recommend running across it, as who knows what lurks within. From here, there are trails that head over to the Indian Valley Family YMCA. The trails looked pretty nice and if they weren't so snowy and muddy, we'd have checked the place out.
As it was, I decided it wasn't worth it, but at least we made it over to this resting bench with a panoramic view of… well, this: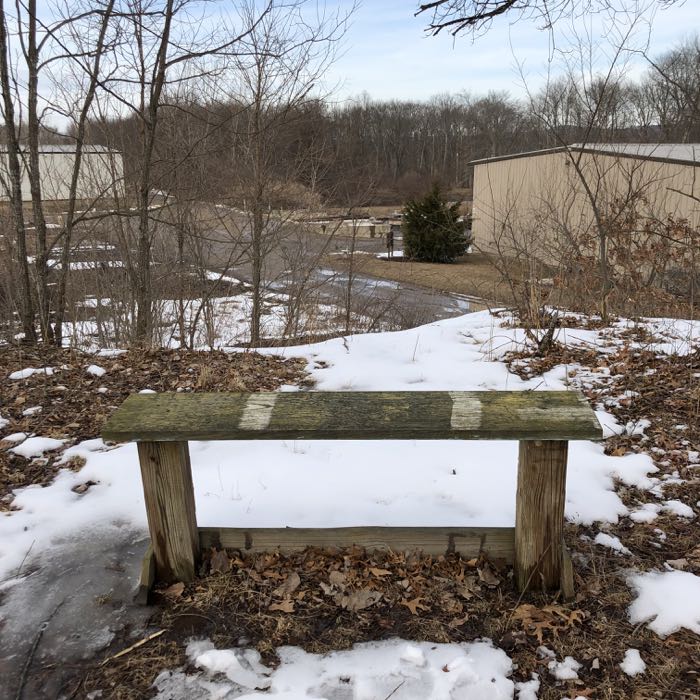 Such is life along the HRT. We went back to the antenna and followed the trail along another corrugated steel building and back into the woods nearer the river. As I always say on these HRT write-ups, the signage is just impeccable.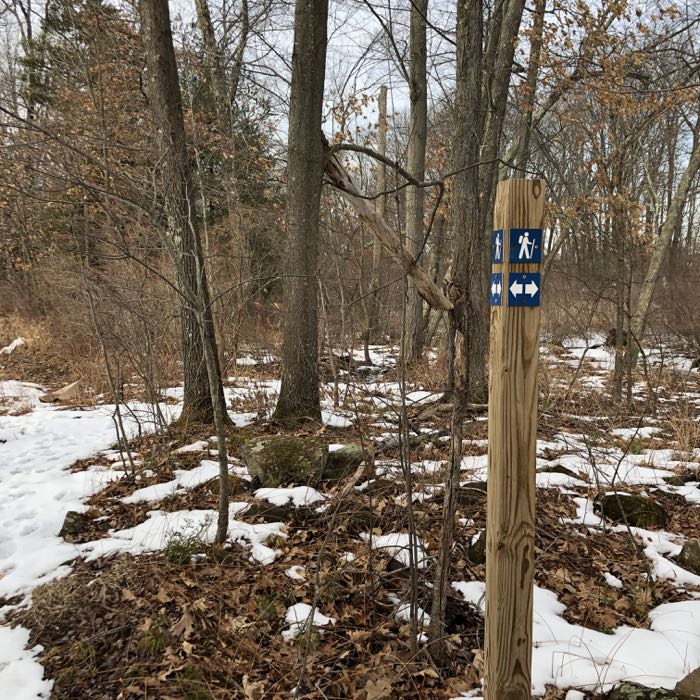 There are a few little loops along the trail here and there, but we kept working our way back to Ellington Marsh and the Hockanum River. Calvin rightly realized that we were on the other side of the marsh a short while prior on the Franklin Street Trail which ended at the new housing development you can see here: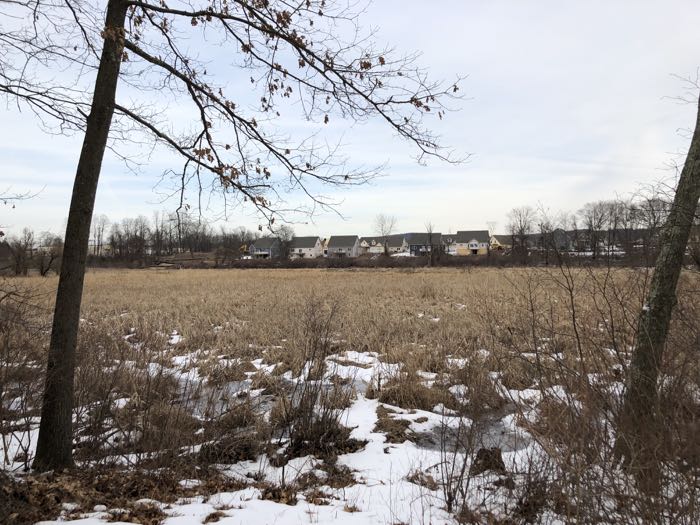 But our trek would continue north, across another long bridge…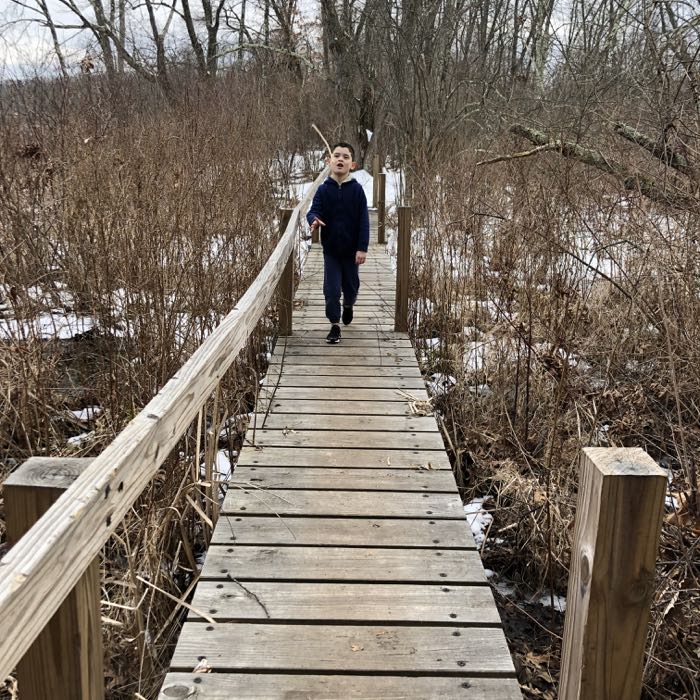 … across another short bridge…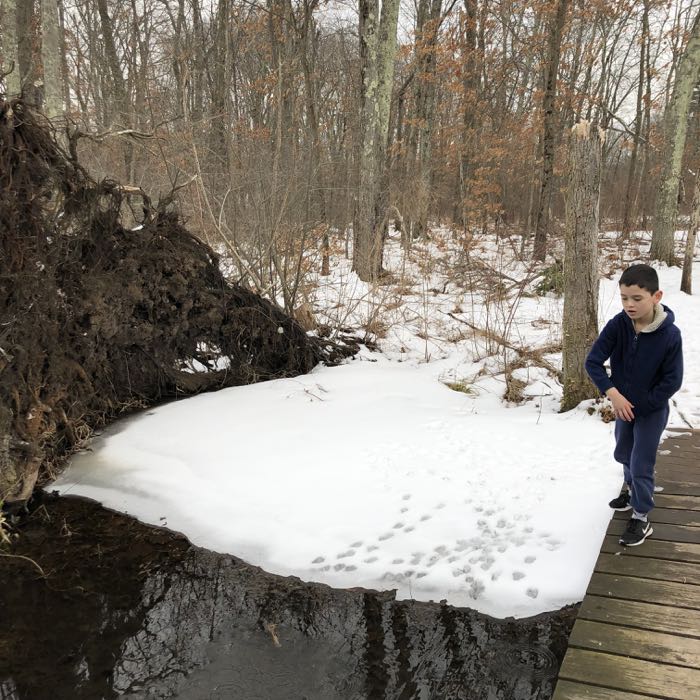 … behind another beat-down industrial building of some sort…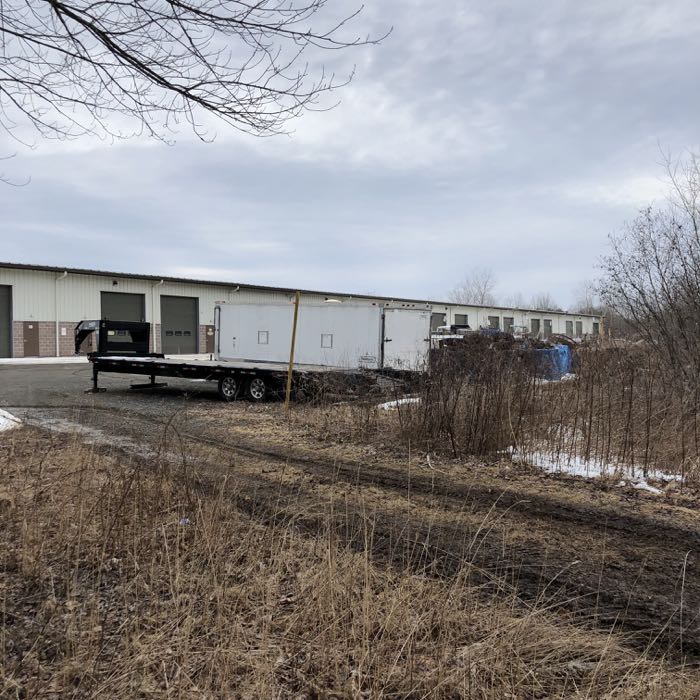 … beside some raised sewers…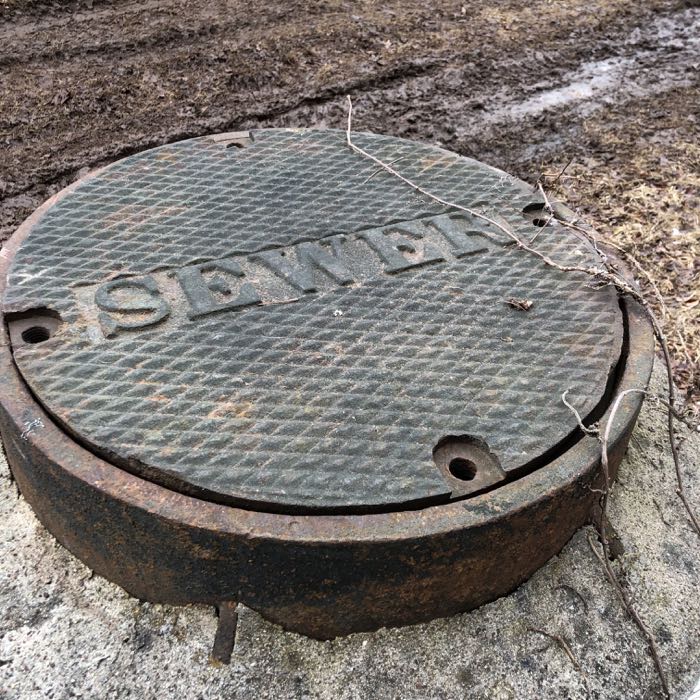 … along a muddy woods road…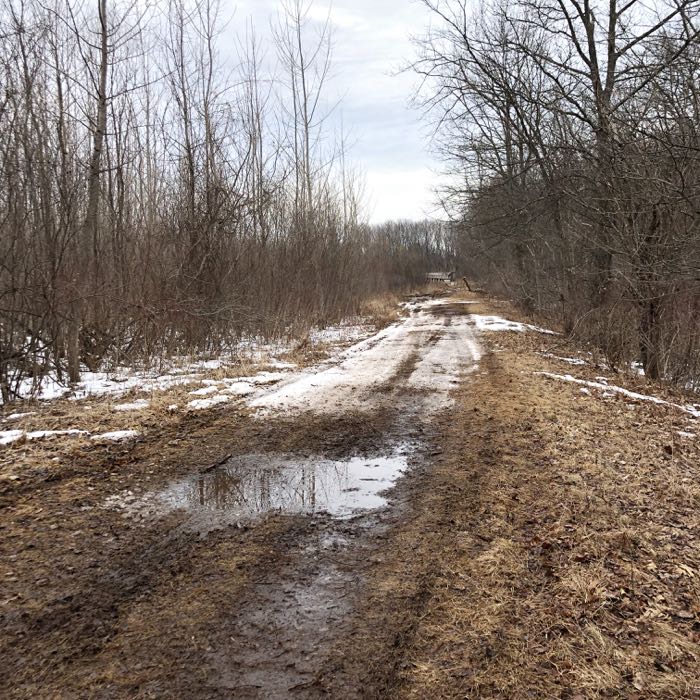 … and then back into the woods for some more proper trail hiking. The trail took us back out to the river again, and around and around a couple more random loops for good measure. The sun had dipped lower in the sky and behind some clouds by now (this was our 4th trail for the day) and we were both a bit tired of the muddy slog.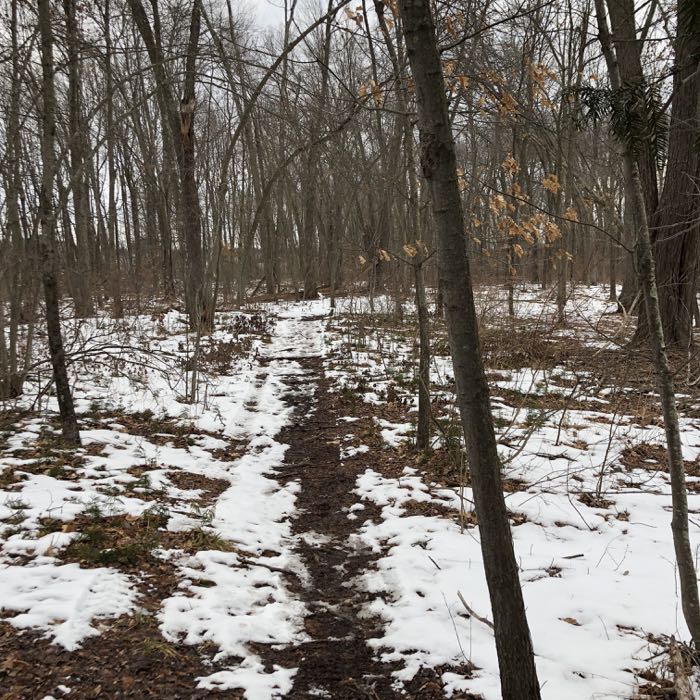 "But Calvin! Buddy! This is the northernmost section of the Hockanum River Trail!" I encouraged him to stick it out. To see it through to the end. And that's when I told him that "the end" was actually only the middle of our hike – as this was an out-and-back affair.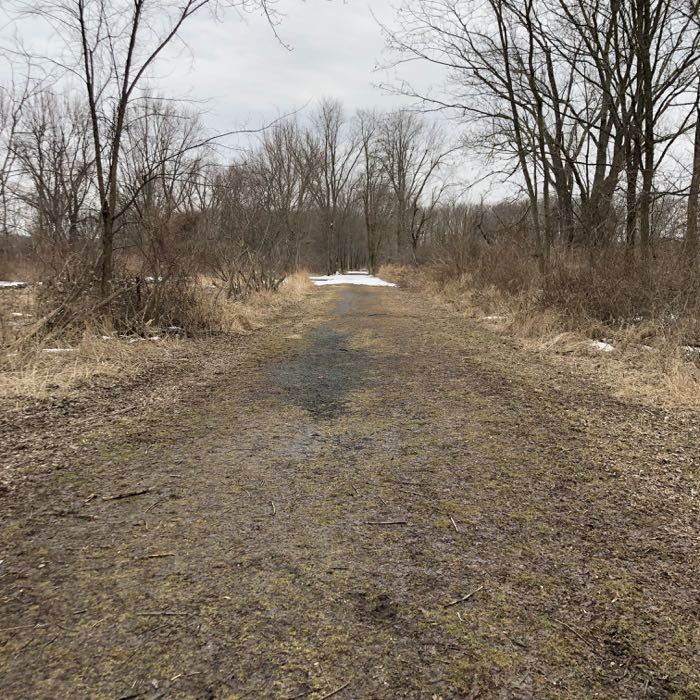 Oh man. That crushed him. It pains a father to see his little boy, who had been a trooper through the day, come to realize "bad" news. But there wasn't much left to cover. We rushed through the woods out to what, again, must've been a railbed trail that took us out to Windemere Avenue and the northern end of the trail. (I ran ahead just to get to the end at a muddy hiker's lot, while he slowly began the trek back to the car.)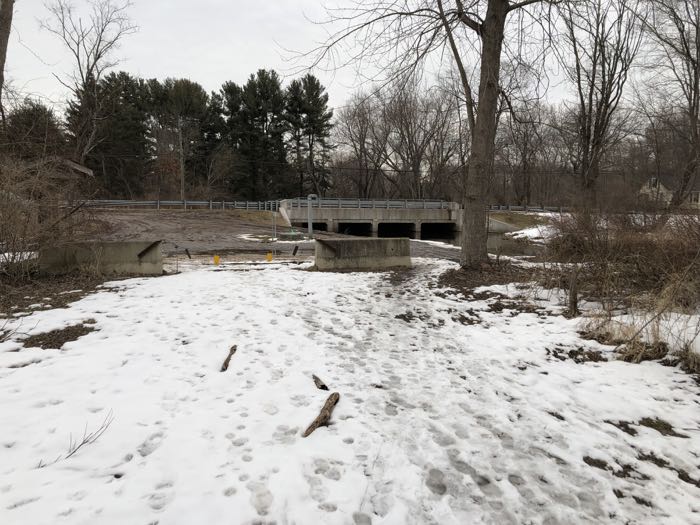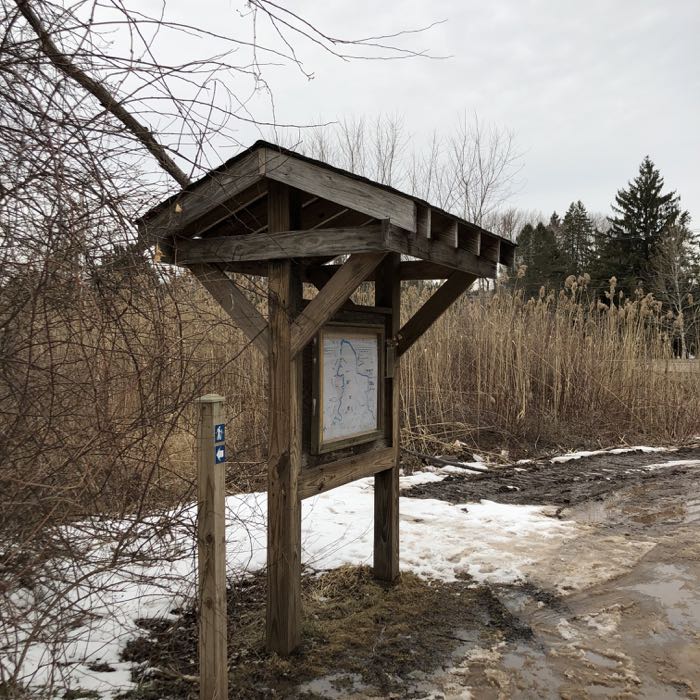 The walk back wasn't quite a long, as we avoided all the loops and YMCA stuff. Oh look, the beat down industrial building again…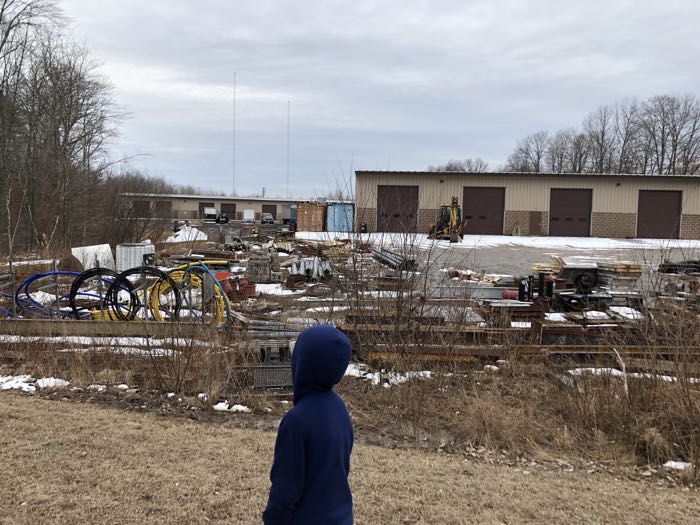 … a little fetid pond…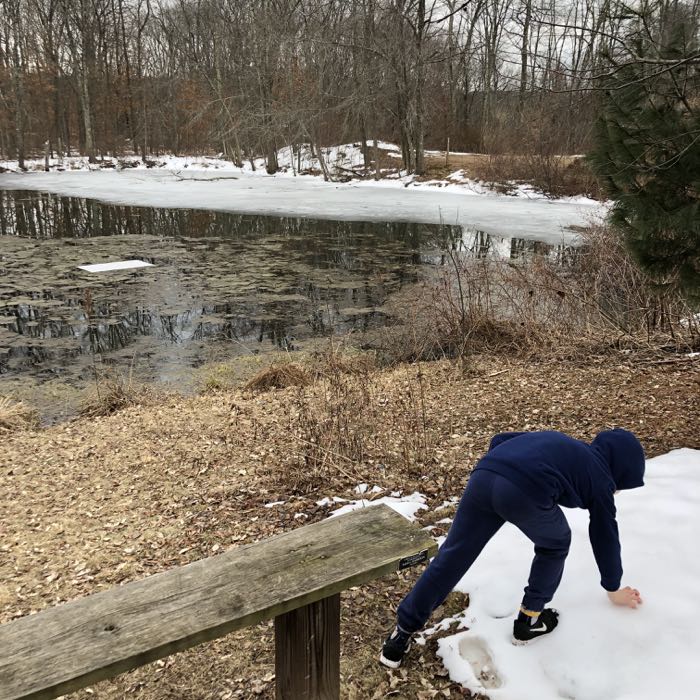 … okay, enough of that. I am being dead serious when I say that I love the HRT trail system. As I write this, I've completed the entire network in Manchester, Vernon, and Ellington. I hope to check out East Hartford soon enough and to be able to call myself I am now a Hockanum River Trail Completer – probably one of maybe a dozen.
A very proud and lucky dozen.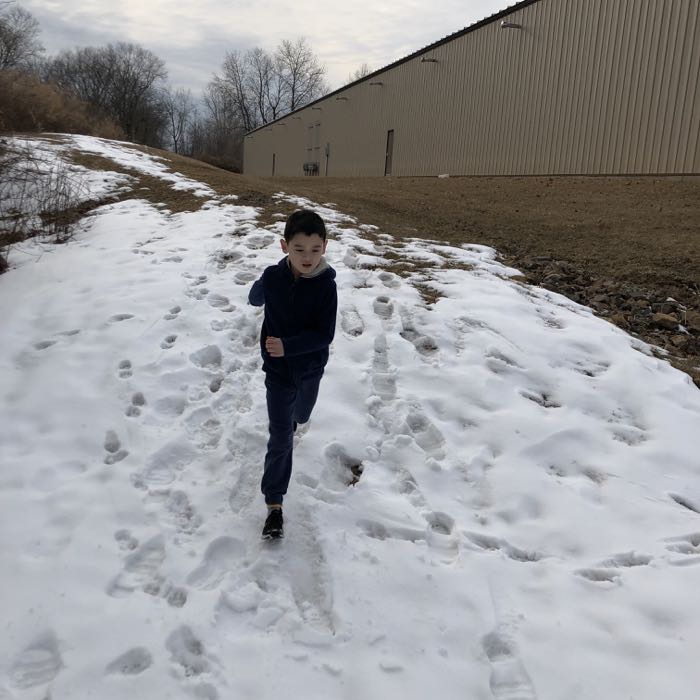 Official Windemere Avenue Trail description
CTMQ's Hockanum River Trails Main Page
CTMQ's Land Trusts Main Page
Hockanum River Watershed Association