Goose Steppin'
Hockanum River Trail: Franklin Street Trail, Vernon & Ellington
~.75 mile one way, March 2019
If you are reading these Hockanum River Trails south to north you have already read… there's no single way to hike the Ellington trails, so I have no idea where you've come from. But you can go back to the West Road Trail if you want. Better yet, start at the beginning with the HRT introduction and catch up.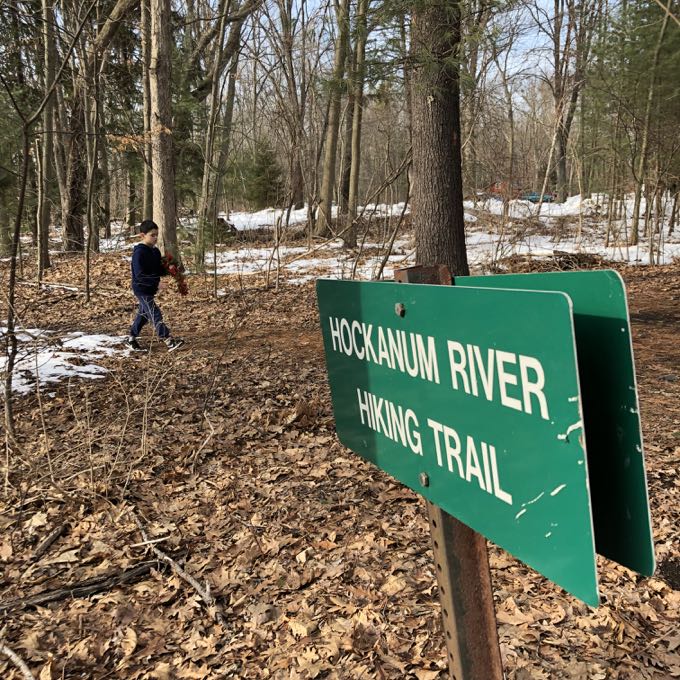 Those of you who have been following along my Hockanum River travels know that the trail leads a hardscrabble life. Its mere existence is heroic unto itself. Heck, if you were to continue south from this trailhead on Franklin Street in Vernon, you'd start at a sewage treatment plant. I love the Hock.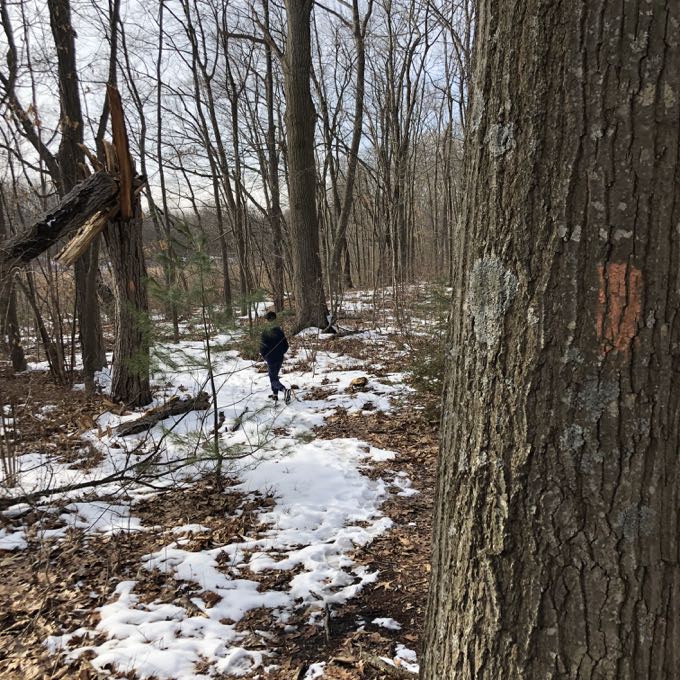 This trail section begins at the Maple Grove Club, in Vernon just south of the Ellington line. What is the Maple Grove Club?
For more than a century the Gesang Und Declamation Club (now known as The Maple Grove Club) has been a member of the Rockville, CT community. Deeply rooted in German / American heritage, the Club has evolved from a German social club for most of its existence to today's, more diverse, social atmosphere.
Sounds good. You can park in their lot and connect to the trail via a short path through the woods, but Calvin and I are sticklers and parked out on Franklin Street. This was our third hike of the day and Calvin just wanted to plow through it.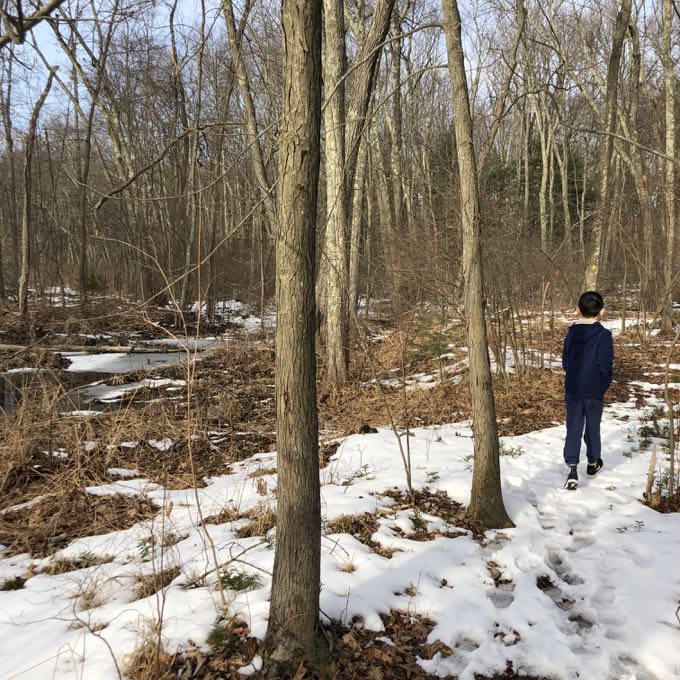 But as is almost always the case, he found things that interested him and the "fast hike" slowed a bit. One thing was a garland of fake poinsettias hung in a tree. I'm sure someone thought it was a pretty addition to the bleak winter woods, but I didn't mind him taking it. It is litter after all and it looked pretty dumb if you ask me.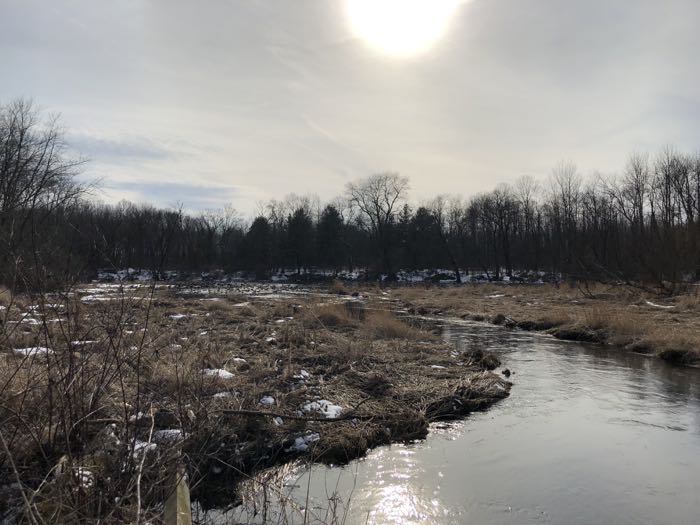 Now excited to give his mama a gift upon returning home, there was a pep in his step.
We enjoyed the first view of the marsh and listened to the cacophony of geese for a while before continuing onward.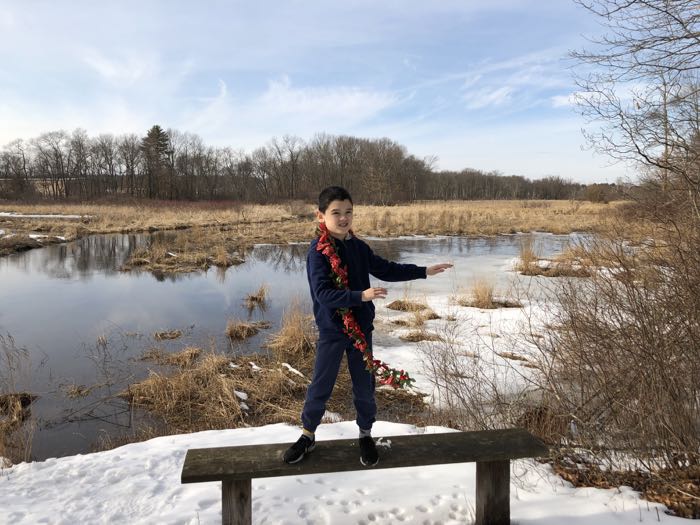 Onward to the next bench (for those unfamiliar, the Hockanum River Trail folks love building benches. And bridges. And all sorts of things like that.) where we took in an even more expansive view of what I've learned is the Great Ellington Marsh.
It is pretty great, but you know what's not great? Nazis. Now, I'm not going to connect the vulgar anti-Semitic message (blurred), the swastika, and the German Club within sight, but I am going to connect the carved sentiment with garbage people who most likely live in Ellington or Vernon who should be punched.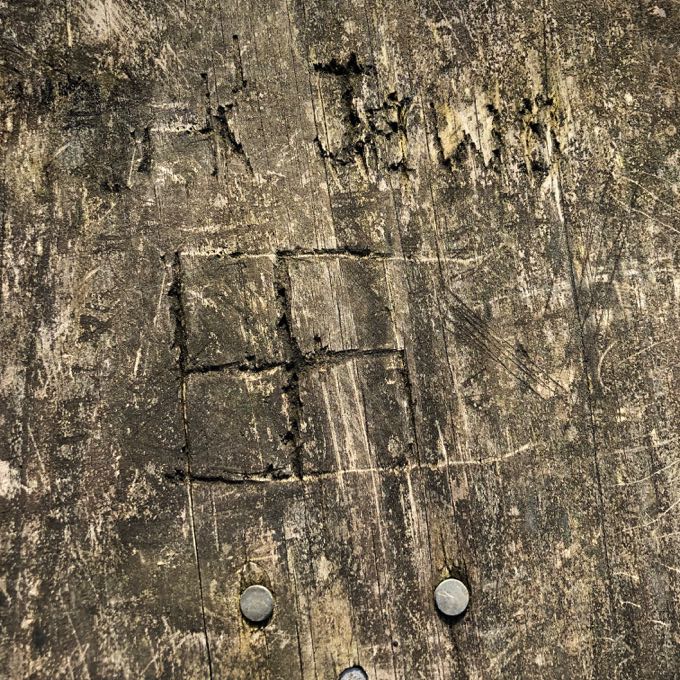 We continued on, up a little hillock to take in another view of the marsh. Ellington is still mostly rural, but has been building up a ton of housing developments over the last decade. Another one is being built here, next to the marsh out to Windemere Avenue. But you know what? The mighty Hockanum Trail will fight on.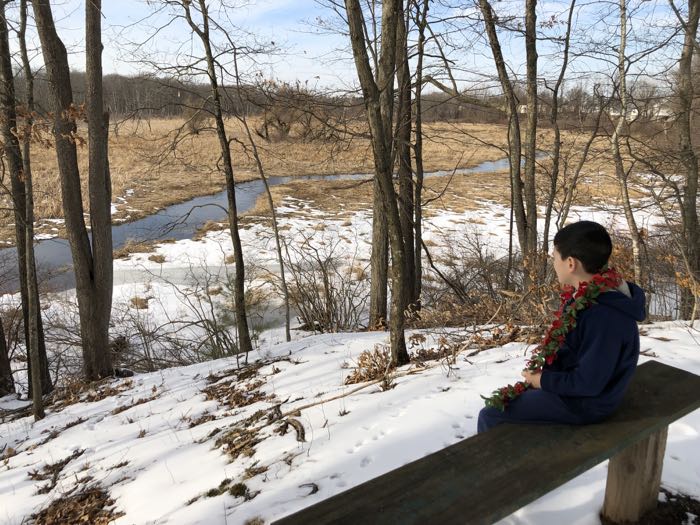 For now, the trail continues down the hill and further along the marsh, eventually ending at what was a corn field and is now housing. The fine folks behind this trail's planning state that eventually the trail will wind through the housing complex and out onto Windemere Avenue.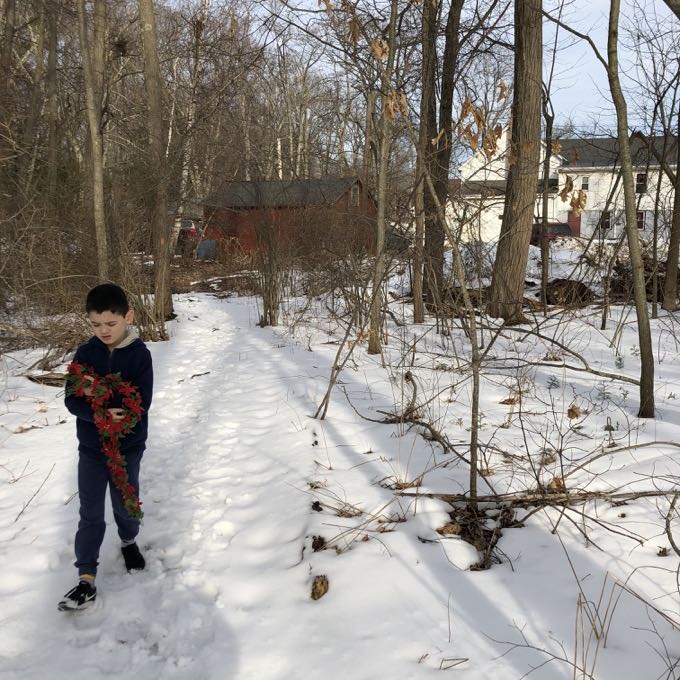 Calvin and I turned tail and trudged back to the car. We took the alternative loop trail which simply stays away from the marsh views. And that was that – once again, this was a very well cleared and marked trail that you'd never guess would be so well cared for.
Official Franklin Street Trail description
Continue on to Section 23, Windemere Avenue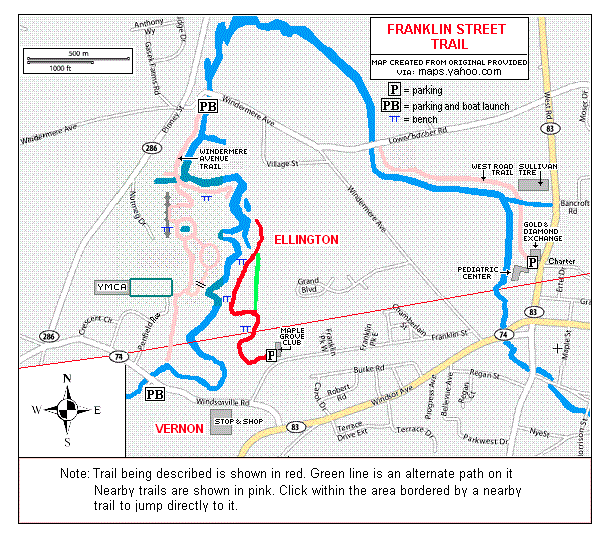 CTMQ's Hockanum River Trails Main Page
CTMQ's Land Trusts Main Page
Hockanum River Watershed Association