Good Ol' Smellington
Hockanum River Trail: West Road Trail, Ellington
~1 mile one way, March 2018
If you are reading these Hockanum River Trails south to north, you have already read the Dart Hill North page. If you haven't, it's a fun one and you should. Better yet, start at the beginning with the HRT introduction and catch up.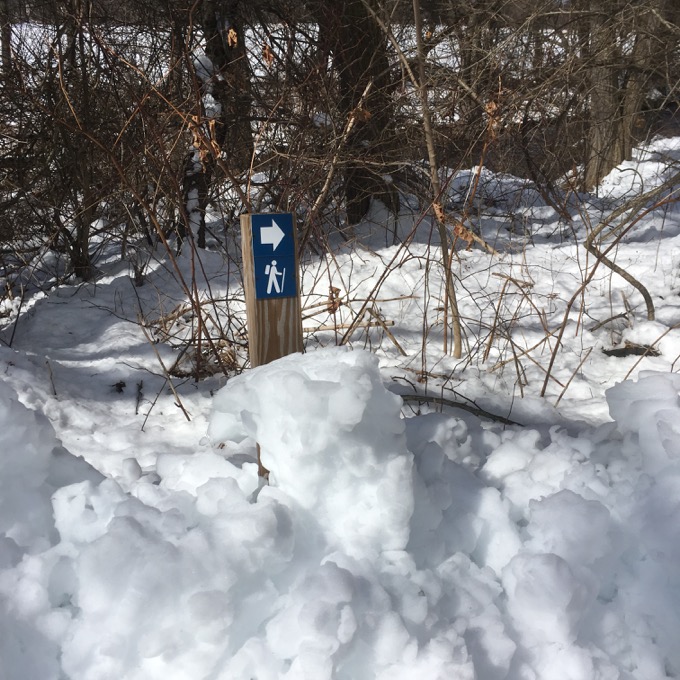 Actually, there's almost no chance you, or anyone, hiked the Dart Hill North Trail and then popped over here to the West Road Trail. For as of 2018, you can keeping going north without a break across the awesome new suspension bridge just across route 74 onto the Franklin Steet section.
The West Road Trail just sort of "exists" east of that bit of fun, but since it exists, I hiked it. I can imagine, perhaps, that one day the idea was to complete the trail in Ellington north of Lower Butcher Road/Windemere Road, but private property/swamp/farmland issues have prevented that from happening. If it were to ever happen, the Ellington melange would make more sense.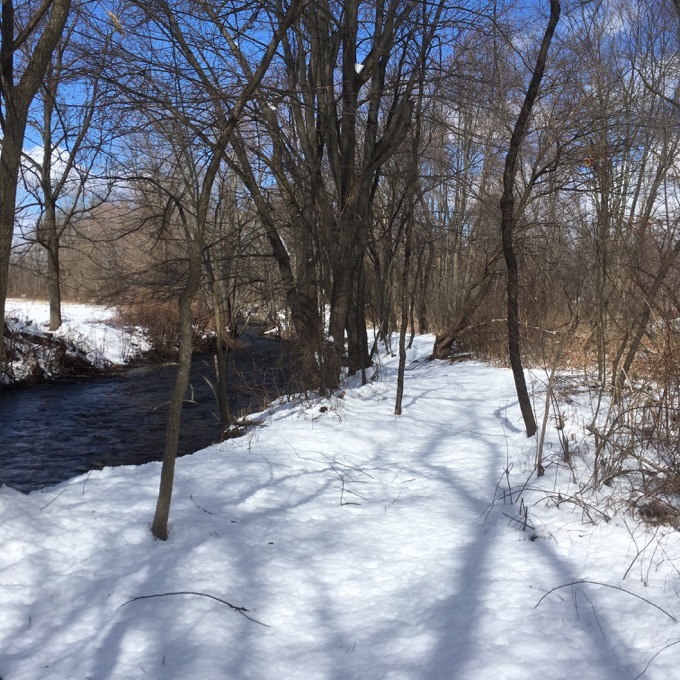 (It would also mean that the wonderful Hockanum River Trail, from the Connecticut River in East Hartford north through four towns would ultimately terminate at the Minhaj ul Quran Al-Noor Islamic Center on route 83 at the Vernon/Ellington town line. Next to the Gold and Diamond Exchange. And the pediatric healthcare center. I will never not love this trail.)
As it is, I began at the Islamic center's parking lot and walked north along the Hockanum River. It appears that the Hockanum continues a bit southeast through some very developed area and just sort of ends at a little pond in downtown Rockville.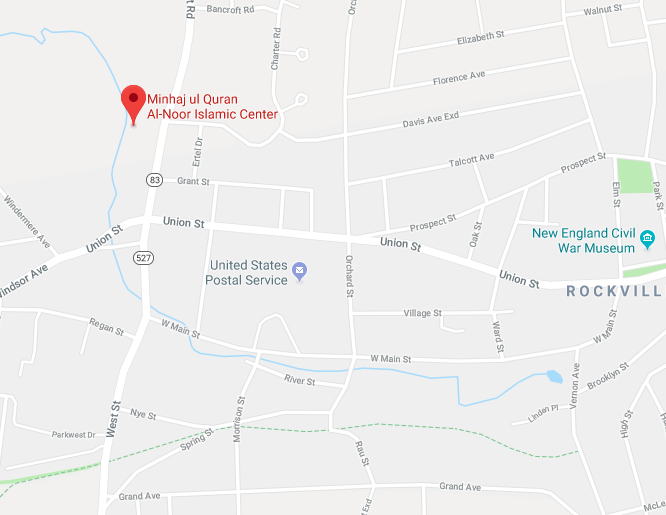 Who knows how much human intervention there was for this over the centuries though.
My son had a birthday party nearby at Spare Time in Vernon. So I took some of my spare time and quickly found the trailhead and began my trek.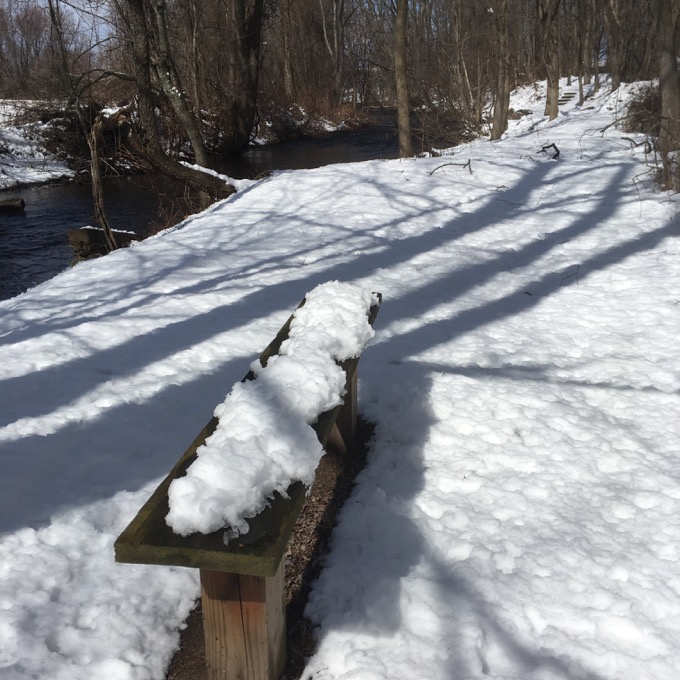 As you can see, no one had broken out this trail. As you can also see, that didn't matter. And as you can also see, I didn't actually expect anyone to have broken out this trail before me.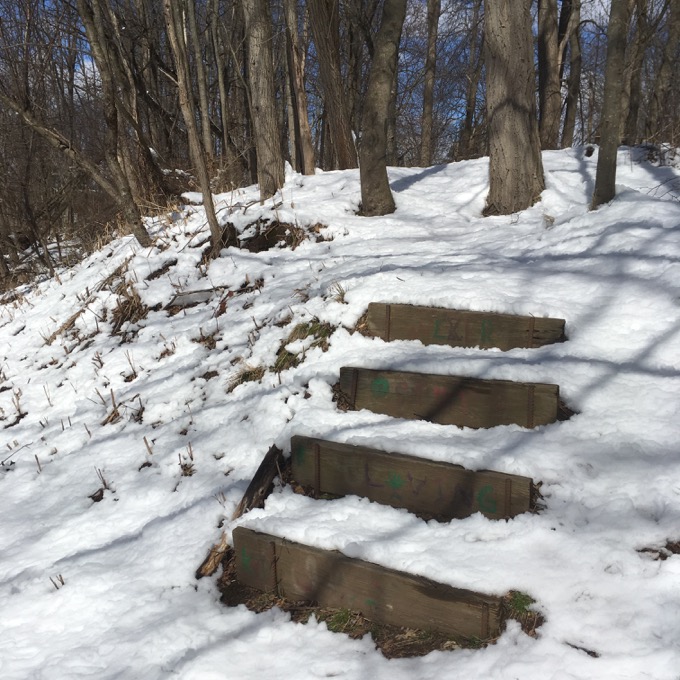 As with almost every Hockanum trail, this one hugged the little river as much as it could. Even here, on this lonely out and back stretch of trail, the maintainers have erected five benches. Two sets of stairs into a tiny little bump. A strong bridge over a rivulet. This is what these folks do.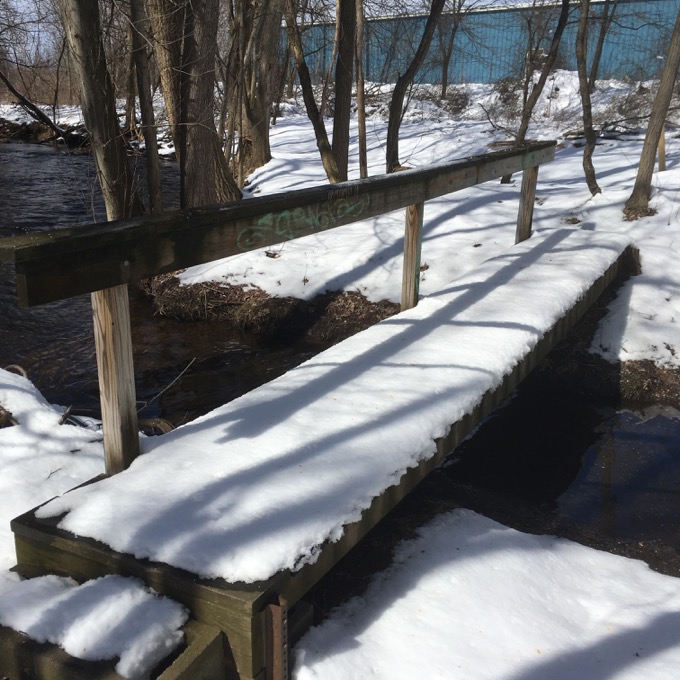 The trail here isn't blazed, but its easy to follow and there are little kiosks along the way. Though I honestly don't have any idea what the eye is supposed to me. Or is that a bird's eye and it's telling us there are birds around?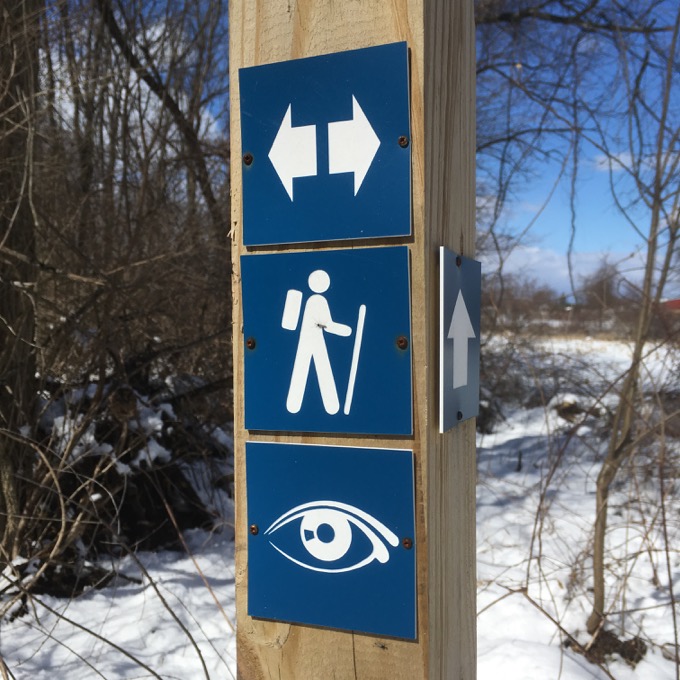 Regardless, you can almost sort of see the end of the trail once you're only a third of the way through it. You won't get lost here.
I titled this page "Smellington," as that is the local way to refer to these parts. On a cold March day, the air smelled great. However, I'm pretty sure that if you walk this path in July, you'll get a good dose of why the town is called what it's called.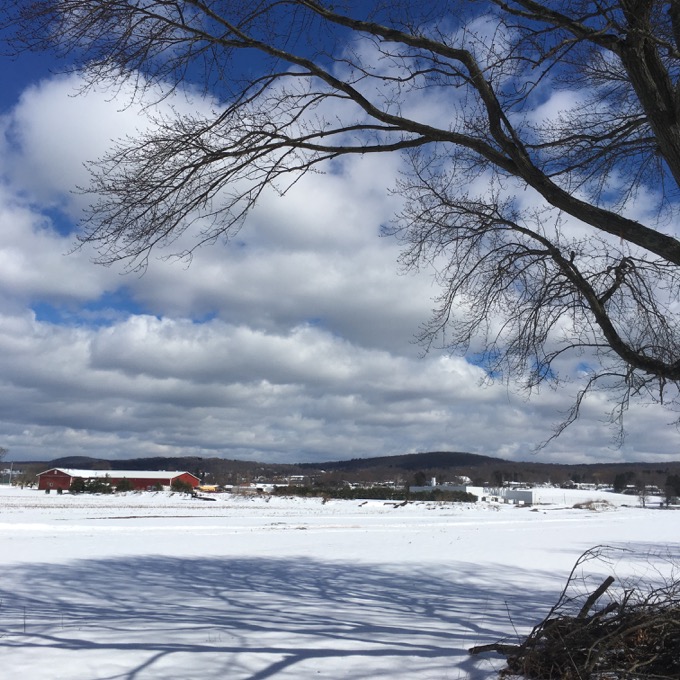 Once I reached the cornfield near Lower Butcher Road, I turned around and jogged back to my car.
That's all I've got.
Official West Road Trail description
Continue on to Section 22, Franklin Street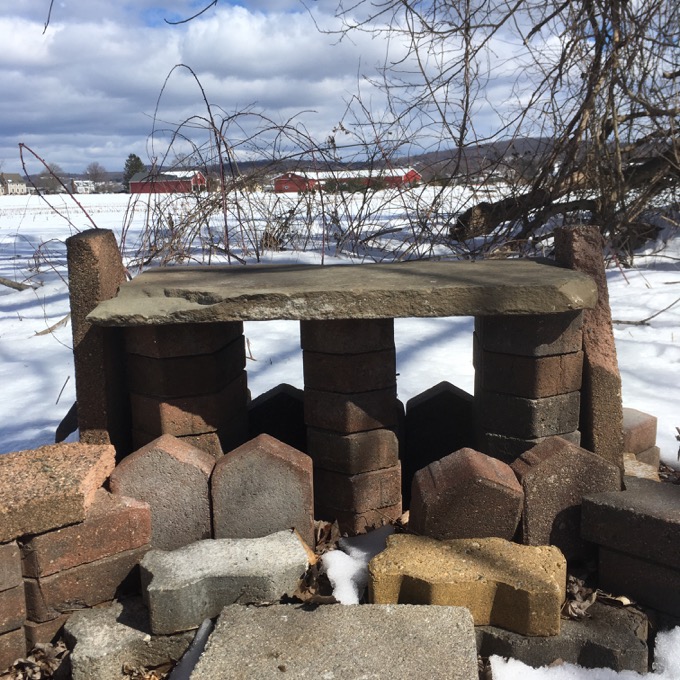 CTMQ's Hockanum River Trails Main Page
CTMQ's Land Trusts Main Page