Stick to Ice Cream, Leave the Puns to Me
Mortensen's Ice Cream, Newington
January 2023
I'm 50 as I write this. I've lived within 10 miles of Mortensen's for decades. And I rather like good ice cream.
Which is why it's really weird that this is the first time I'd ever had Mortensen's ice cream in my life. In fact, for whatever reason, I'm not sure I ever really knew that this century-old dairy business had a brick and mortar store until fairly recently.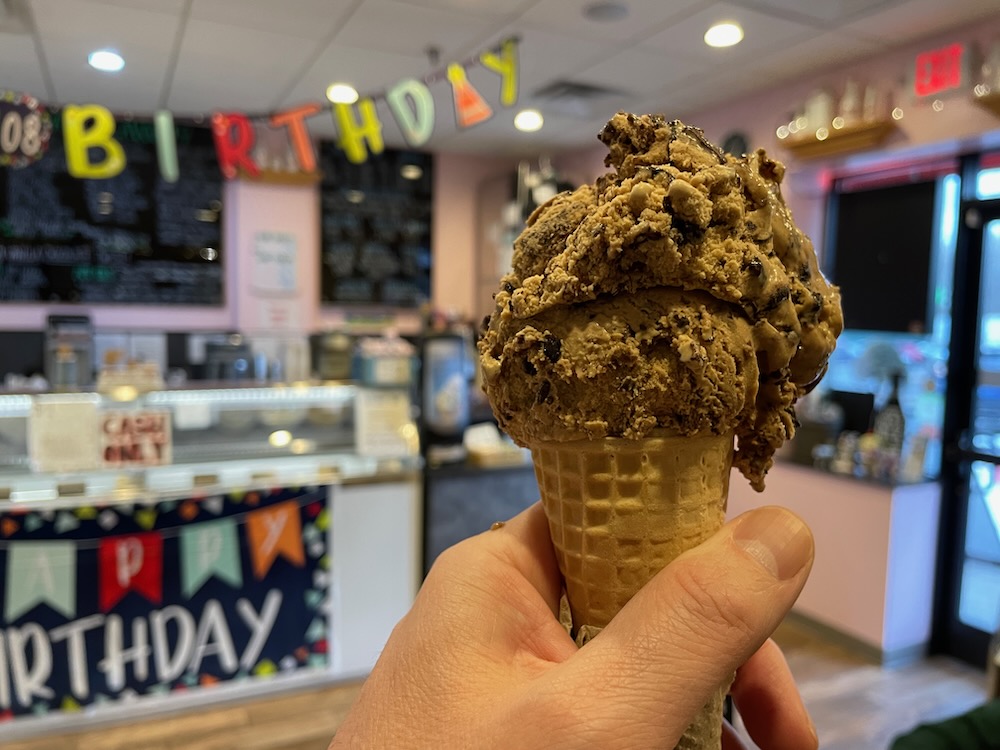 Yes. The guy who maintains and writes this entire website. Really weird.
I have a little bit of an excuse: For the first several years of CTMQ, Mortensen's was a restaurant that served it's own ice cream. No different from Shady Glen in Manchester or A.C. Petersen Farms in West Hartford.
Or, more broadly, like Friendly's I guess.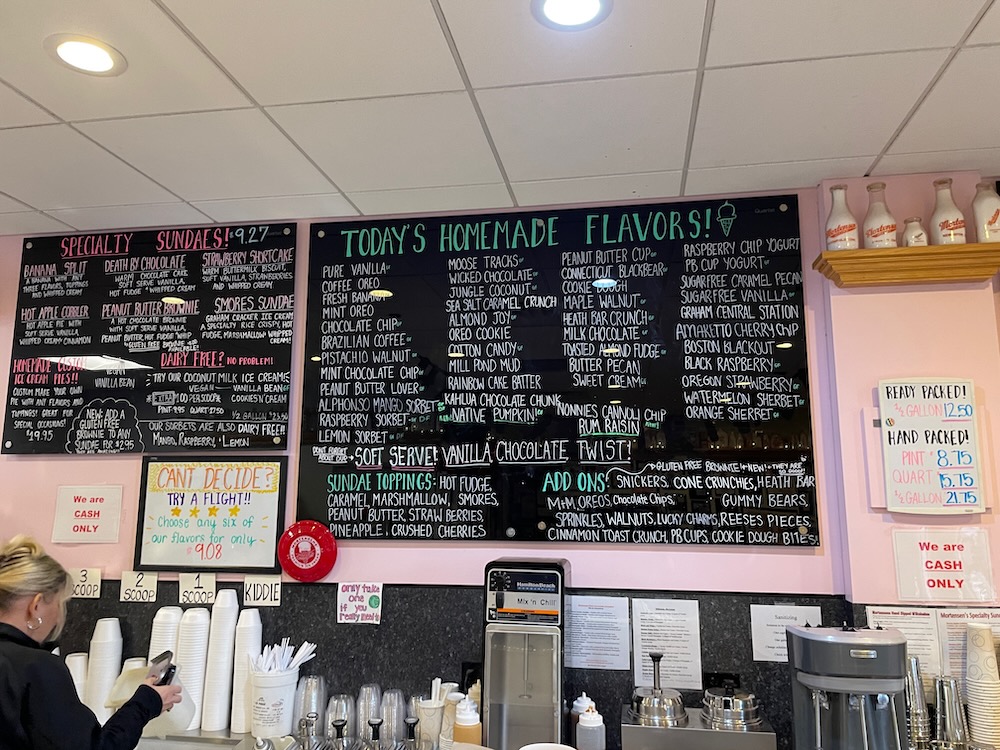 I guess I somehow overlooked it? I don't know, but I've righted that wrong. As for them, operating a singular storefront on the Berlin Turnpike that was essentially a Friendly's must have been somewhat difficult.
Wow. I wrote the above sentence before reading the below excerpt from a 2013 article about their closing:
Mortensen, 63, said he decided to close the restaurant to modernize his business so he could pass it on to his children. Mortensen's has a strong and loyal clientele, but family-run restaurants face increasingly stiff competition from national chains, he said.

"Even GE doesn't make just washing machines and refrigerators any more," Mortensen said.

The stress and long hours of running a restaurant—it's open 7 a.m. to 10 or 11 p.m. every day—are additional reasons to try something new, Mortensen said.

"Thirty-seven years in the restaurant business is like 100 years in another job," said Mortensen, who picked stray napkins and empty jam containers off the floor as he talked. "It's just like when someone comes to your house to eat. You want to give them the very best experience possible."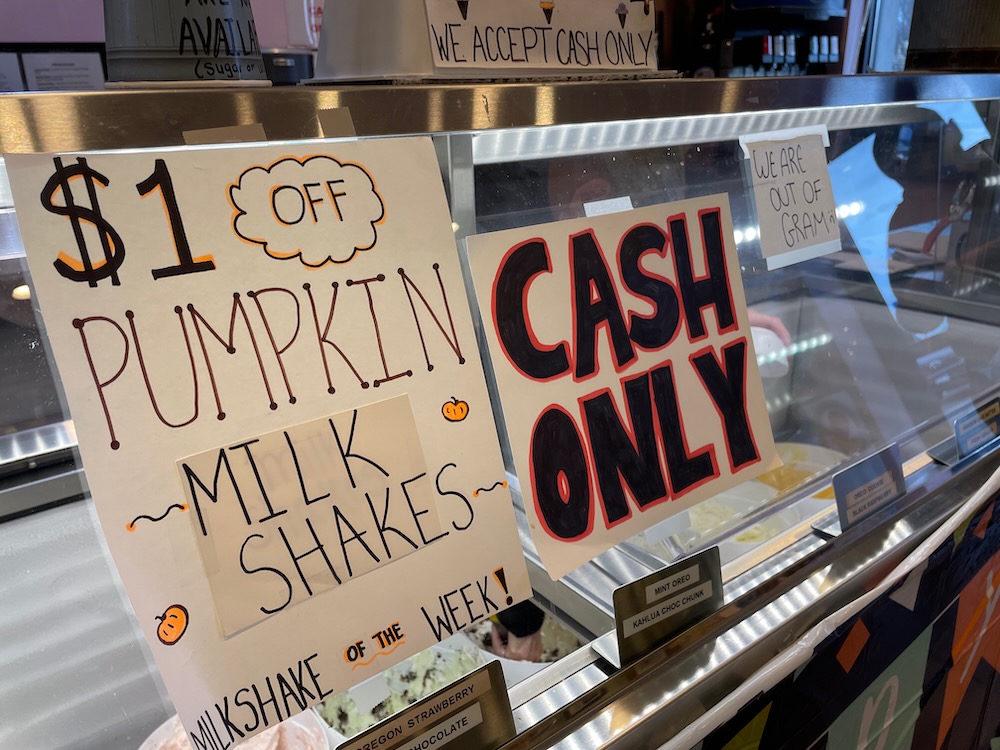 Before the restaurant's 37 years, the dairy operated for many decades. About 5 of them by my figuring. This family has been in this business for well over a hundred years. Before the restaurant opened in 1975, the dairy operated a 250-acre dairy farm right here along the Berlin Turnpike since 1940, before that, they were on a farm in Simsbury in the 1930s and at a dairy in Bloomfield in the 1920s. And before that? Elmer Mortensen first started delivering milk door to door in a horse-drawn wagon back in 1915.
Elmer was a visionary and started selling milk bottles from a vending machine. That became eight vending machines. That became a dairy store and an ice cream shop… then the restaurant and now we've gone full circle.
And since the restaurant closed in 2013? They are still in the same building, but rented about 3/4 of the space to Moe's Southwestern Grill who is still there in 2023. This makes finding Mortensen's for newbies like me a little challenging, as it's tucked away in the back of the building – and you need to know which driveway to turn into when screaming south down the Turnpike.
But figuring it out is worth it. Mortensen's is as classic and old school a little ice cream shop can be when located in a strip mall on the Berlin Turnpike. (A second location in Cromwell, which also used to be a restaurant and then became an ice cream joint… is closed.)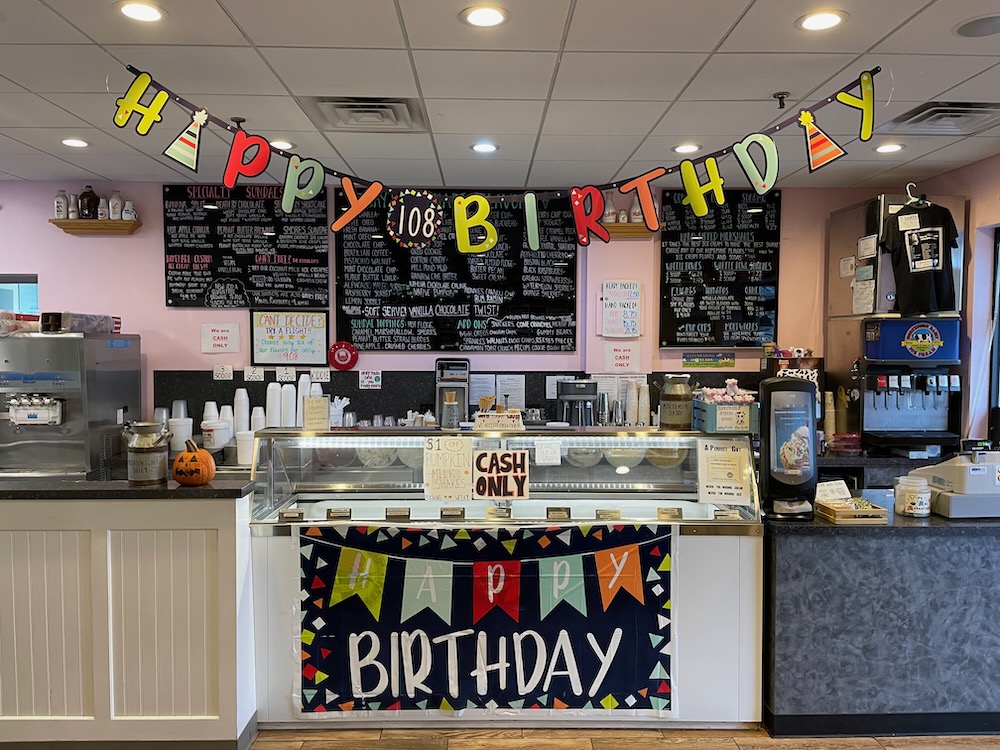 The best part of it being a storefront in this location is that it means that it's open year round. None of that quaint barn-on-a-farm seasonal nonsense. The Mortensen family has always been a family of hard workers, and they don't close for "seasons." Or federal holidays.
And so it was, on MLK Day in the middle of a Connecticut January, that I came to Mortensen's with my son Damian. Where was my ice-cream addicted other son who was also off from school? Oh, he was sitting at home being punished from some ridiculous tween affront or another. Sucker.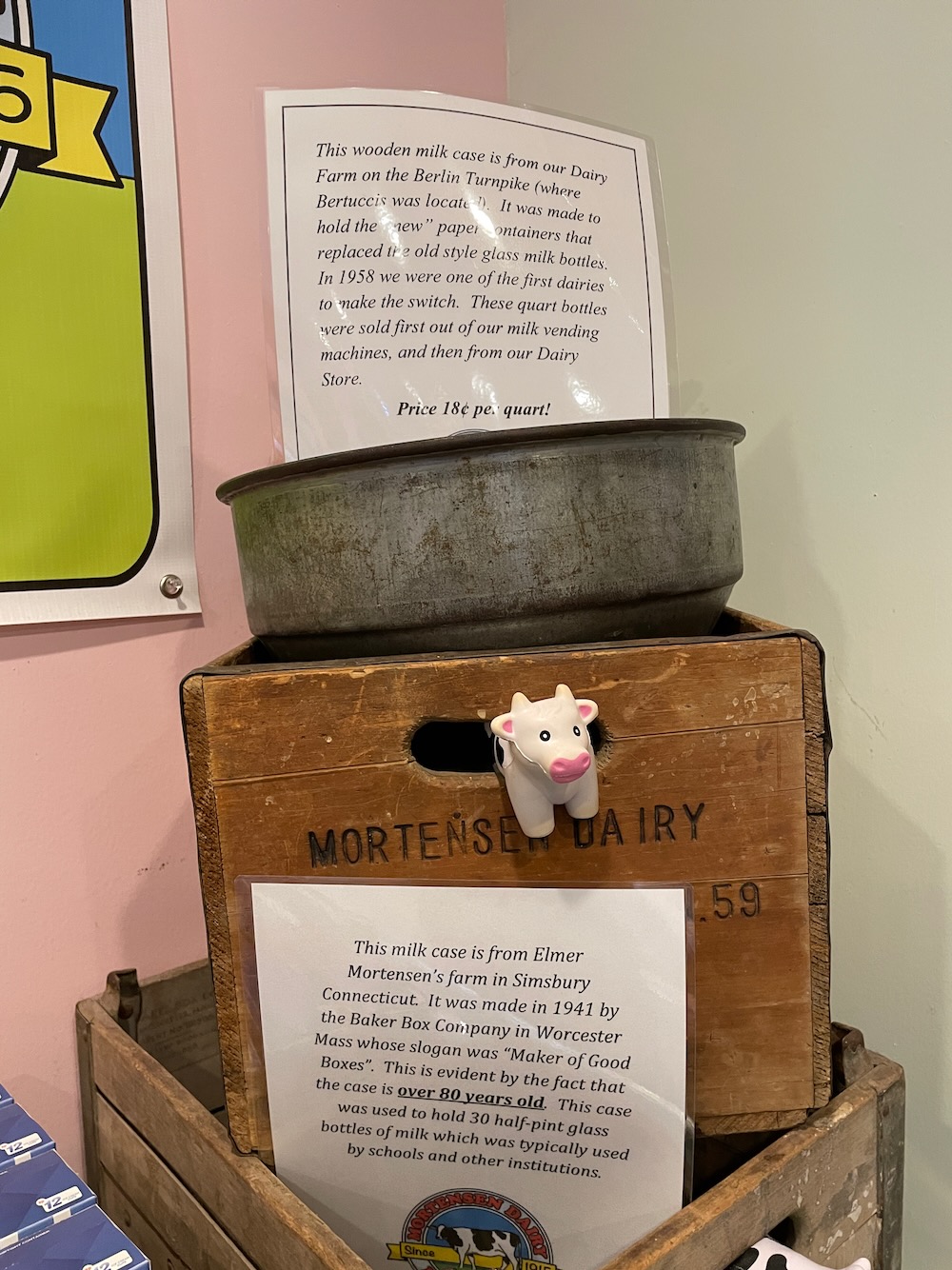 This place prides itself on the family nature of its business and its constant rotation of 50 flavors on offer. I suffered from a bit of choice paralysis, but chose the Mint Oreo for Damian and the Mill Pond Mud for myself. (Again, ice cream places: when you name your ice cream cutesy names, please provide a description of what it is rather than making me ask. But here, I'm glad I asked…)
Mill Pond Mud has an espresso base, with chocolate cookie crunch and chocolate shavings. I paid – Cash only here, by the way – and Damian and I took a seat in the darling little shop. I was immediately taken by all the historic photographs; hey, with over 100 years of history, there are a lot to choose from. They even display some relics from the old dairy farm days.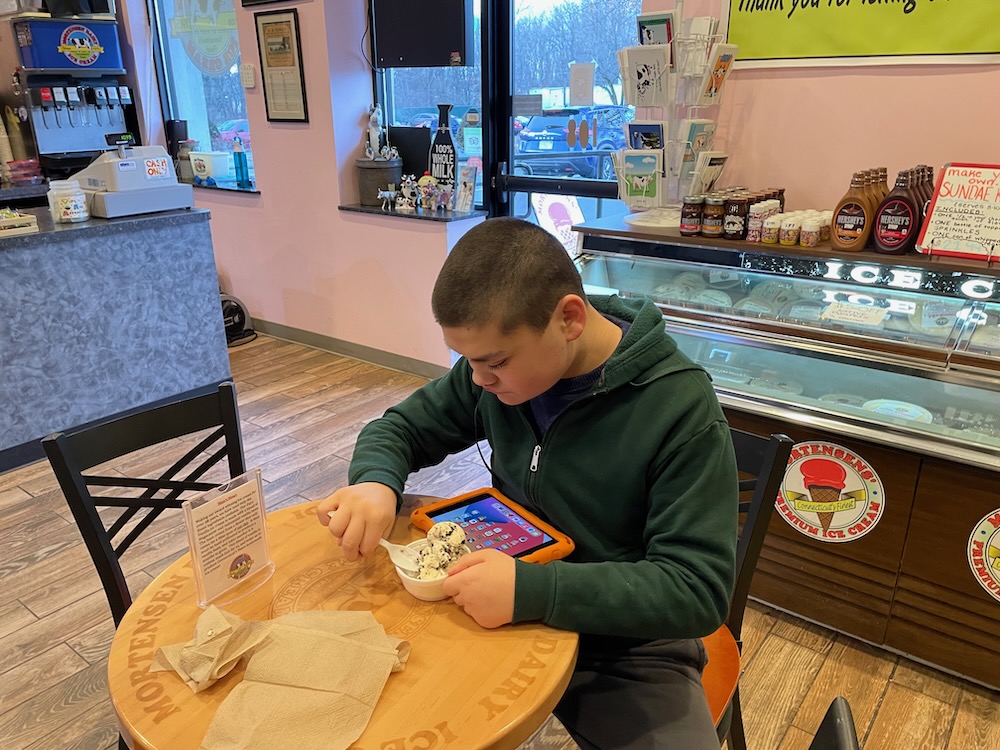 Additionally, they have a few three-ring binders full of… ice cream flavors. The Flavor Encyclopedia. It makes for great reading.
I will admit, though, one of them listed stopped me in my tracks:
Damian enjoyed his cup of ice cream and mine was most excellent. As we ate, a dozen customers streamed in and out of the door. Sure, schools were closed, but it was a miserable January day. I was very happy to see this, as it tells me that at least locals in Newington know what's up and know this place is here and know how to get here.
I'm sure if I polled all the customers at my town of West Hartford's Center at any of the overpriced ice cream joints, I'd find that exactly none would be from Newington or Wethersfield or Berlin or New Britain. They're all coming here… and are better for it.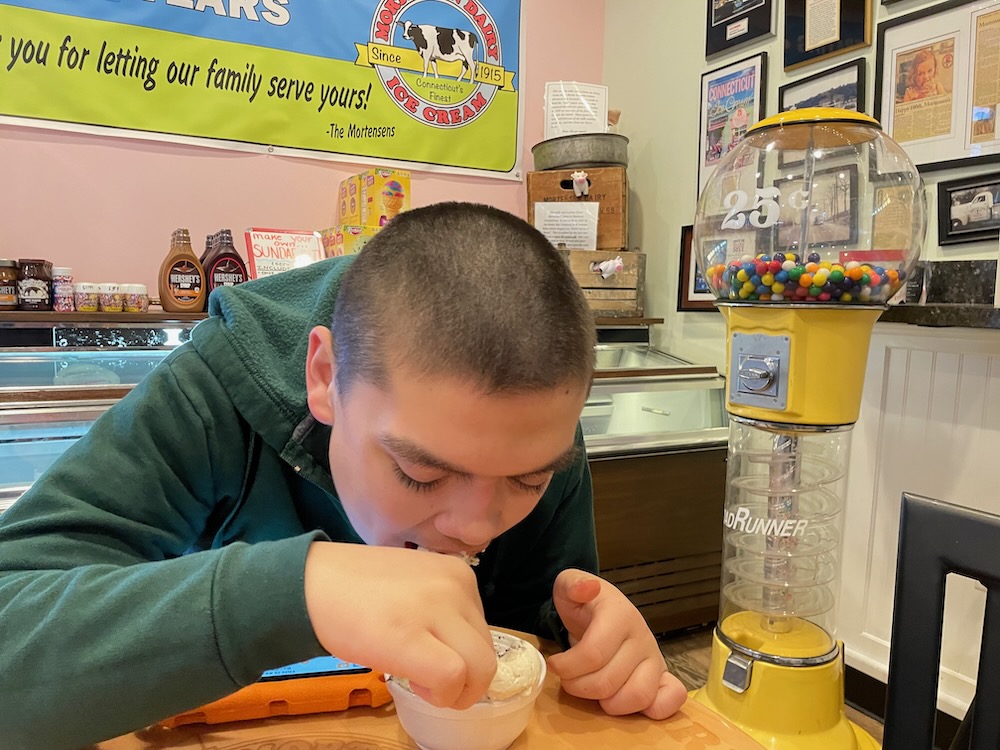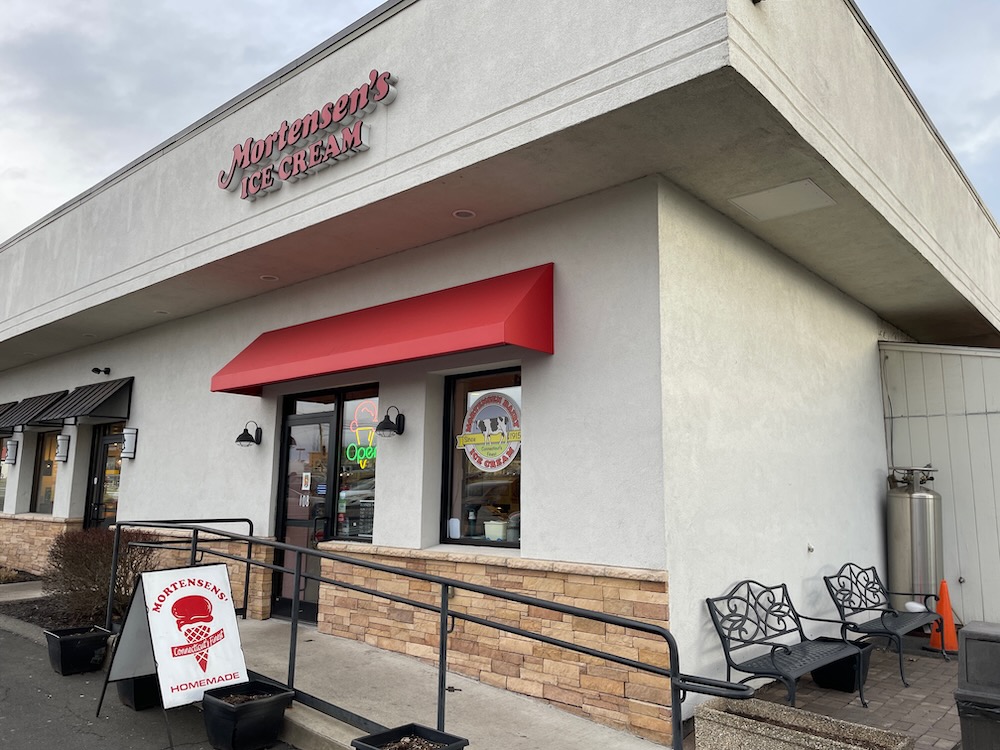 Mortensen's Ice Cream
CTMQ's Homemade Ice Cream Trail