Made in the Shady
Shady Glen, Manchester
August 2009
Shady Glen makes a few appearances on CTMQ. One for their Unique and delicious fried cheese plate, one for their burgers being one of Roadfood's best burgers, and this one – for its ice cream being on that same Roadfood list.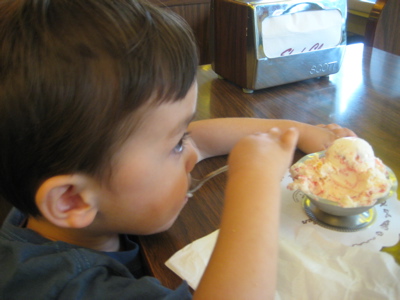 I'm sure I'll return to the restaurant in the future to try some more ice cream – especially their seasonal flavors, but for now, Damian's experience will suffice.
After a quick and delicious lunch, and since he was being such a good little boy, Damian and I shared some of Shady Glen's peach melba ice cream.
Peach melba is a classic old school dessert which is simply peaches and raspberry sauce accompanying vanilla ice cream. Delicious. So why not combine the three into one peachy vanilla ice cream with raspberry ribbons woven throughout? Genius!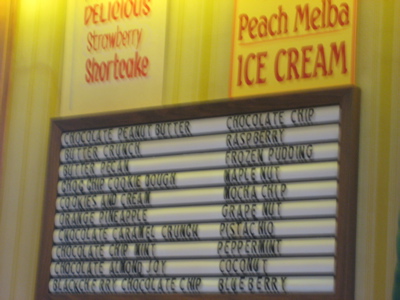 Truthfully, like all of the Shady Glen menu, the ice cream didn't knock my socks off. Oh sure, it was great and we licked up every last drop, but it wasn't among the best I've ever had. But this was Shady Glen after all, and half the joy of eating there is the atmosphere: Dixie cups of water, menus on the wall, cooks in paper hats, waitresses scampering about in 1950's uniforms… It is a pretty cool time machine to eat in, that's for sure.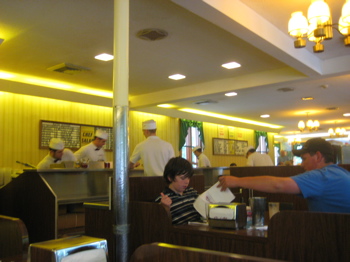 The Roadfood experience:
Milk shakes are available in every flavor of ice cream made at Shady Glen — a huge repertoire that ranges from chocolate and vanilla to frozen pudding and grape-nuts ice cream and our personal favorite, chocolate Almond Joy ice cream. Fruit ice creams are made from fresh fruit from local and regional farms and available topped with a semi-sweet chocolate sauce that hardens as it hits the cold ice cream and turns into rich, fudgy chunks. In addition to the regular list of flavors, Shady Glen always has seasonal varieties, such as Christmas ice cream (with red and green cherries) and Thanksgiving ice cream (pumpkin-flavored).

Shady Glen may be best known for their unique cheeseburger (four slices of cheese that are fried on the griddle and arranged like huge flower petals over the patty), but it is, in fact, a dairy store where John & Bernice Rieg produce some of the finest ice cream in Connecticut. Malts, sundaes, banana splits, and cones abound, all containing rich ice cream that's high in both butterfat and taste. The New England favorites Grape-nut and Frozen Pudding are divine, but multiple visits are required for seasonal favorites like Pumpkin and Licorice Chip.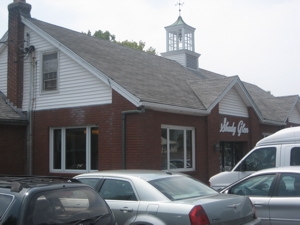 2016 Update: Hm. That's it? That's all I wrote seven years ago? That's not like me at all! I guess I was Shady Glenned out after all the other Shady Glenning. I also lied to you, as I've never been back since promising to do so above. Of course, I could go back at some point and enjoy some more ice cream and if I do, I'll replace this paragraph.

Shady Glen (Facebook page)
CTMQ Eats the Roadfood List
CTMQ's Homemade Ice Cream Trail (Shady Glen is not on this)