Jenny From the Choc
Jennifer's Ice Cream, East Haven
August 2022
"All Products made fresh daily on the premises.Ice cream cakes, ice cream sandwiches, cones, sundaes, milkshakes."
That's it.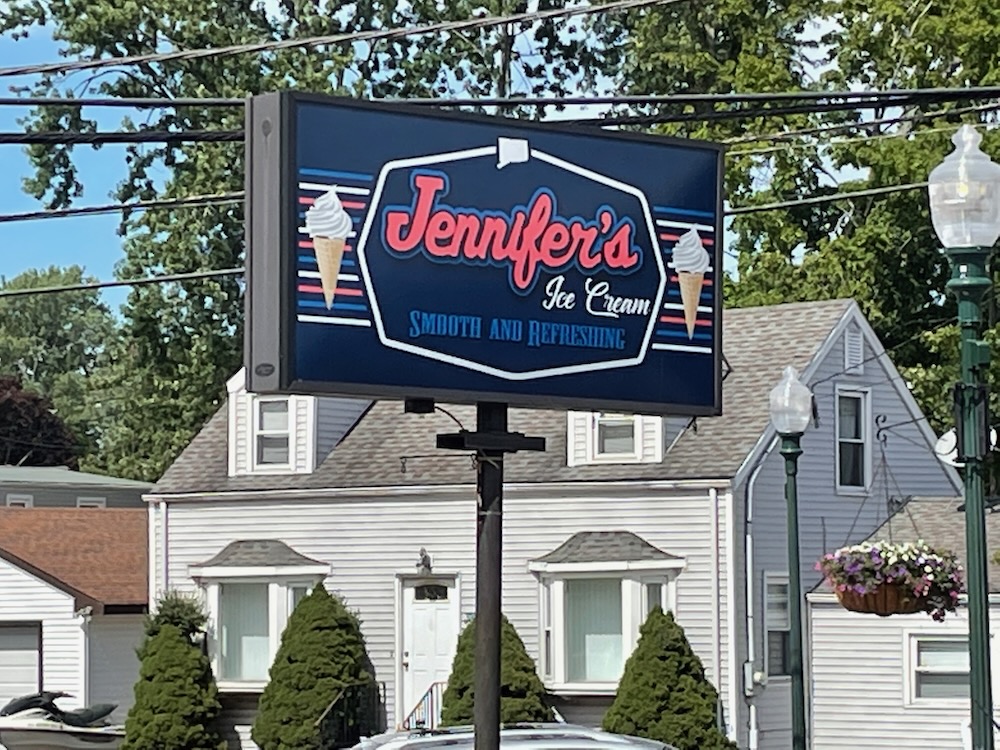 That's all I can tell you about Jennifer's Ice Cream, located in a busy section of East Haven on a corner lot. Apparently, they're not into their history or their mission. They just make ice cream and ice cream products and sell them. That's it. No pretension, no saving the planet, no wacky flavors, and certainly no Instagrammable servings methods or décor.
In other words, Jennifer's is an ice cream parlor like ice cream parlors used to be. And the Jennifer's website is a website like websites used to be too. Bare bones. In 2022, each photo comes with a massive font of the photo tag ID (gibberish) which adds to the charm. I love it. They care about their day-to-day, not the gosh darn interwebs.
Sometimes you just want a cone of vanilla, y'know? And here, it can be hard or soft serve vanilla.
I had Damian with me on one of our all-too-rare forays out into the world together. We ambled through a few smokers hanging outside while they enjoyed their ice cream and were given about 4 seconds to decide what we wanted.
I demanded more time. Perhaps the large percentage of patrons here are local repeat customers. It seems like that kind of place. Of course, I almost always get chocolate mint chip (I got chocolate mint chip) and Damian usually gets one of only a few flavors, so… yeah, I really only needed 4 seconds I guess.
The young woman scooped efficiently and skillfully. Less than seven bucks total – the price for one of these in my dumb town. I like this Jennifer person, whoever she is.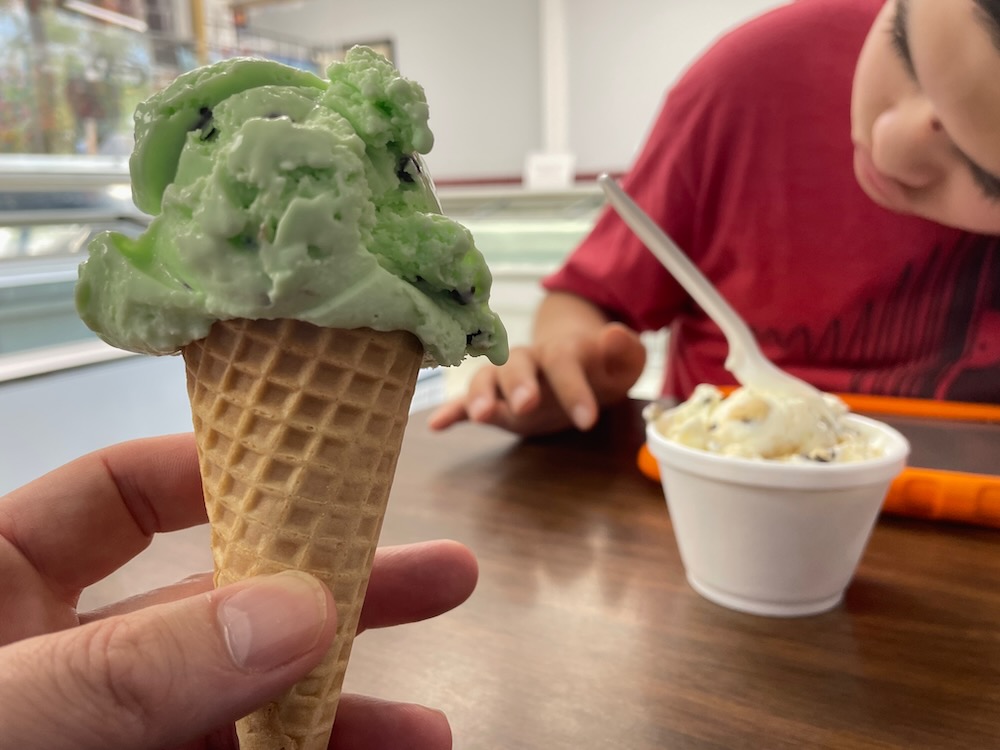 Damian sat and got to work on his cup. I poked around. This place seems to specialize in cakes. Cakes for kid's birthdays and such. And they do make their own ice cream, which… since I don't really have anything more to say about Jennifer's besides Damian saying that it looks like a bathroom – there's lots of white tiling – I wanted to look into that.
Places like this buy 10% ice cream mix. Basically just 10% butterfat milk. You dump in in a vessel an chill it and mix air into it and then put in whatever flavor(s) and mix it up again and then blast chill it and voila, you have ice cream.
Jennifer's also has soft-serve options they make here as well – same process, except this time you put the mix into the soft-serve machine and not a freezer. I'm over-simplifying the process of course, but if you've ever wondered how these smallish places can make so many flavors so frequently, there you go. (This also how they make ice cream so quickly on cooking challenge shows too. I assume.)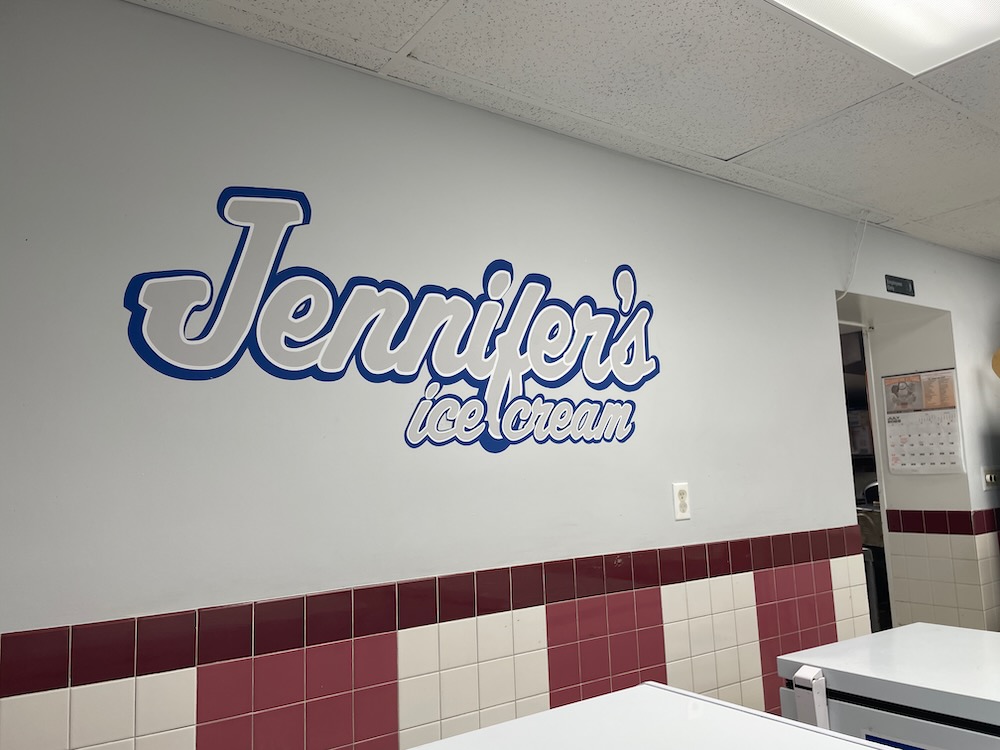 Speaking of flavors, I see on their website they have one called Banoffee. That doesn't sound good, because bananas and coffee don't sound good together. However, the site says that Banoffee is banana, caramel, and Oreo ice cream, which sounds pretty good. Now I'm intrigued and if I find myself in East Haven again, at least I'll have my answer as to what I want before I walk in the door.
Damian's Cookie n' Cream Crunch was very good, and my mint chocolate chip was also good. Both were standard and straight up, but that was expected going in. And sometimes, an old school traditional ice cream parlor down the block is all one needs.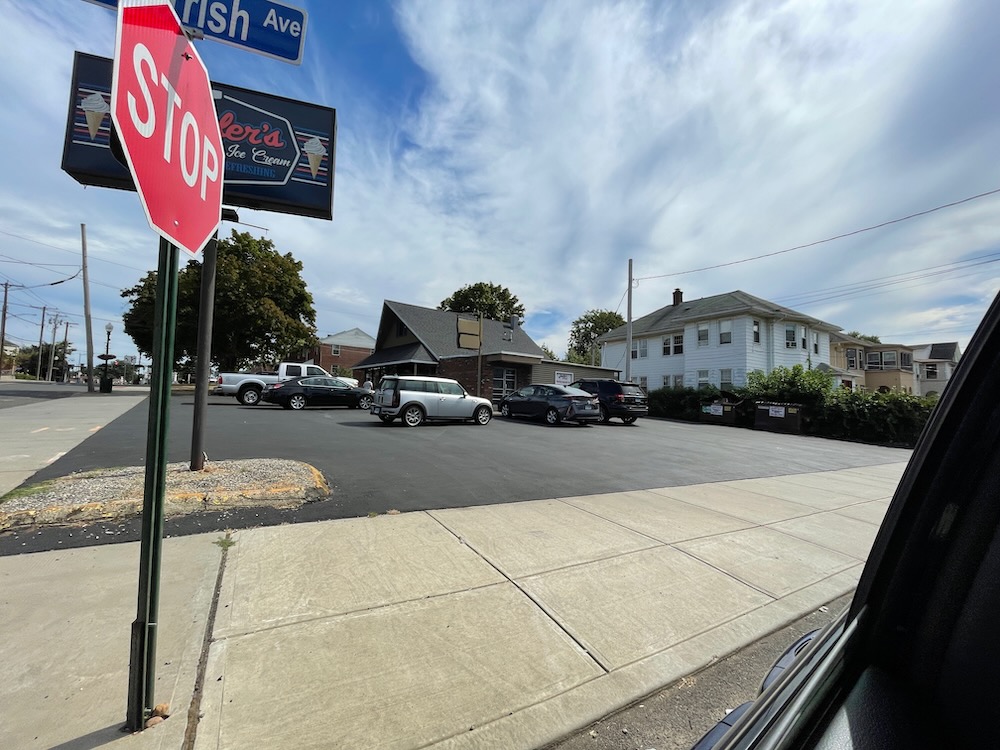 Jennifer's Ice Cream
CTMQ's Homemade Ice Cream Trail