Trying To Be Kleind
Kleindienst Family Nature Preserve, Plymouth
February 2023
I love the hundreds of short little random loop trails that dot Connecticut. While they present quite a challenge to me to write about them in any interesting way, and they often present absolutely nothing of interest to me as an out-of-towner, I love the fact that I can take a couple hours of of my life to rip through several in one trip.
And that means CTMQ content, baby! It's all about the content!
Note: For those of you unfamiliar with this website, I never promote it, make no money from it, and have nearly no social media presence. In other words, I assure you, it's decidedly not about the content.
Baby.
It's about my list-fulfillment mentality. Plymouth. Heck, half of you didn't even know we have a town called Plymouth. You may have heard of Terryville, but Terryville is part of Plymouth. (A rather huge part to be fair. It's, like, almost all of Plymouth. Connecticut is a weird little state sometimes.)
Regardless, Plymouth has a land trust. And as of early 2023, there are trails on two of their land holdings. One of those two is the Kleindienst Family Nature Preserve, located on Armbruster Road in a suburban area. There's a nice big sign announcing the wonders within.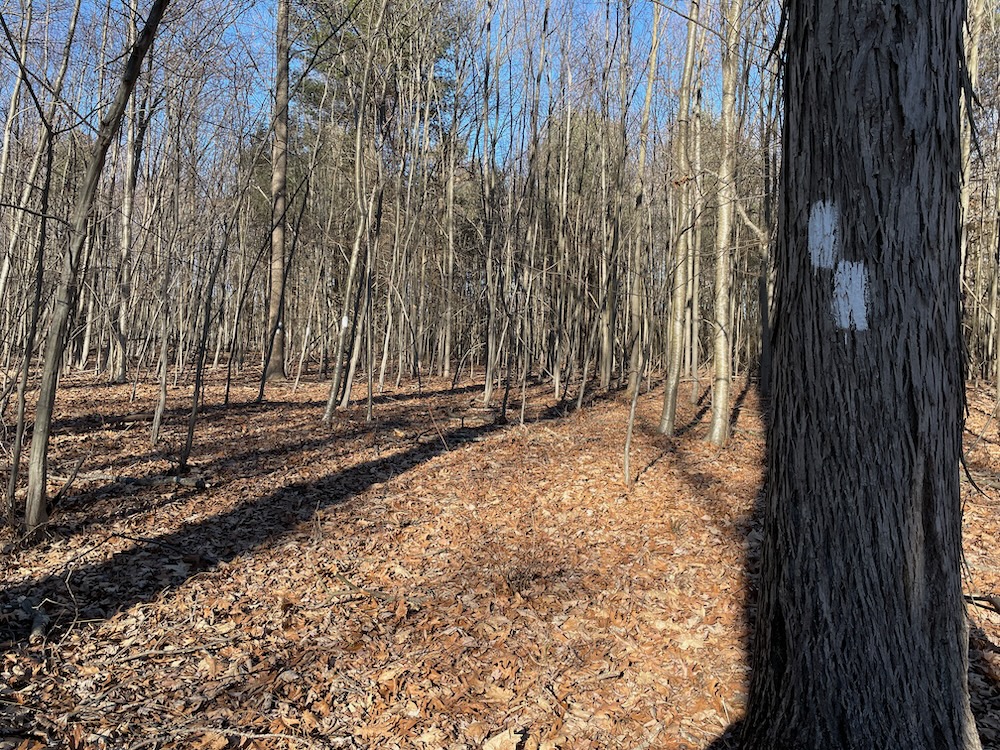 I parked and hopped to. I can only imagine this is some old Eagle Scout project that hasn't been kept up with, as the trail needed some serious trail work. Oddly, the most overgrown/blow-down-y areas were all out near the trailhead. Once I got into the woods, the trail was much clearer – except for the fact that no one ever hikes this trail and tehrefore the trail itself was nearly nonexistent in places.
But! But it was blazed quite well and I had no issues. The whole property is hemmed in by suburbs and businesses that make chemicals and metal things and whatnot. Ok, there's a little stream at the back of the property. And there is a hemlock grove which is nice.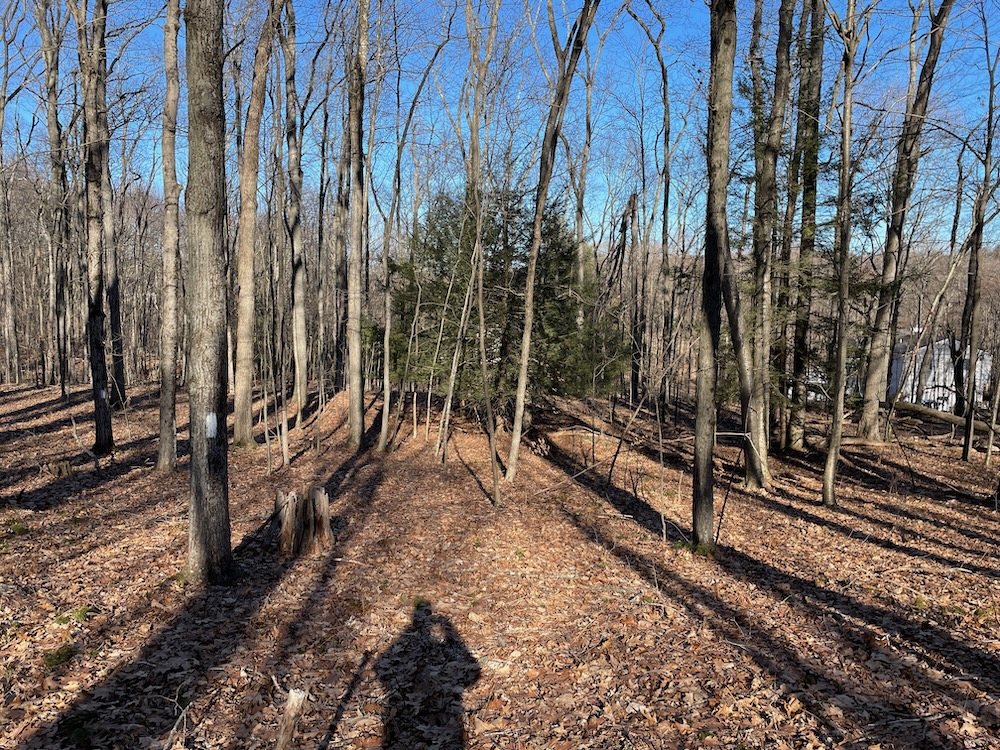 But for the most part, the woods are… just woods. I'm glad they are "just woods," of course, but don't expect anything else here.
And don't expect to find any information about how this parcel came to be protected or how the trail came to be. Just accept it as the miracle it is, I guess. In my searching, I did come across the ancestral etymology of "Kleindienst" which I will now share with you.
German: from klein 'small' + Dienst 'service' an occupational name for a farmhand or laborer who was second in line to a more highly paid class of servant (see also Kleinknecht ). The term also denoted a particular kind of tax levied in the Middle Ages hence the surname may be a metonymic occupational name for a collector of such taxes or for someone who had to pay such a tax.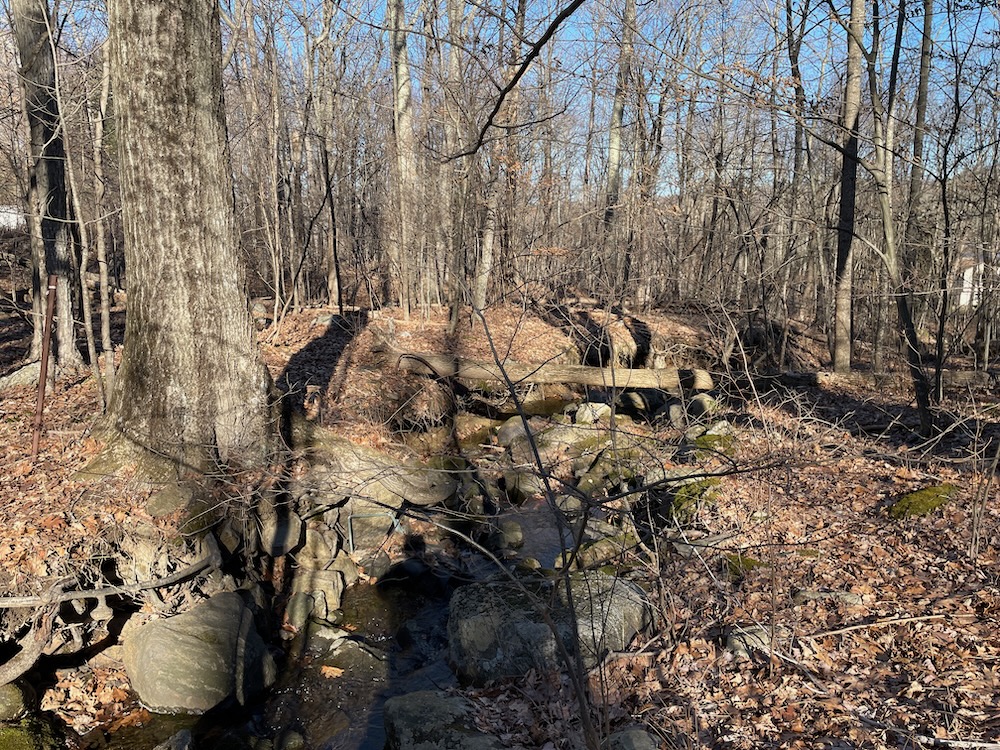 There was a famous clip of Arnold Schwarzenegger and David Letterman talking about his last name when Arnold said it literally translated to "black plowman" (Schwarz = black, negger = plowman) but the whole story with the accent and with Dave's "aw shucks" Indiana reaction and confustion was pretty funny. I don't link videos like this anymore because they get disappeared too often, but feel free to look for it.
I don't imagine too many people hike this loop. I didn't even see evidence of local dog walkers using it, and when I went crashing through the brush and sticks and stuff at the outset, I had the thought that the people in the houses there thought I was out of my mind.
And, perhaps, they were right to think that. I'd like to thank the Kleindienst family for their "small service" in suburban Plymouth, Connecticut.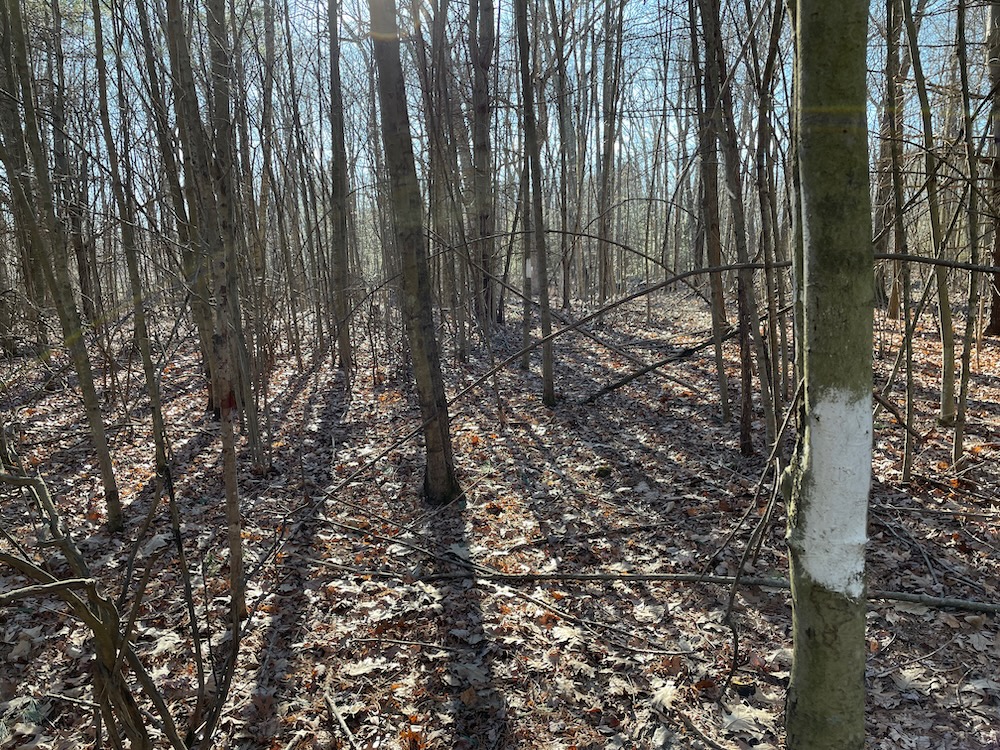 Plymouth Land Trust
CTMQ's Plymouth Land Conservation Trust Trails