Pure Aarti
Le Rouge Chocolates, Westport
February, 2020
Check this out: The owner and chocolatier at Le Rouge Chocolates is named Aarti Khosla. She specializes in making high-end chocolates and cakes with hand-painted artistic flourishes. Her little shop is in Westport. And Westport? Arguably Connecticut's artsiest town.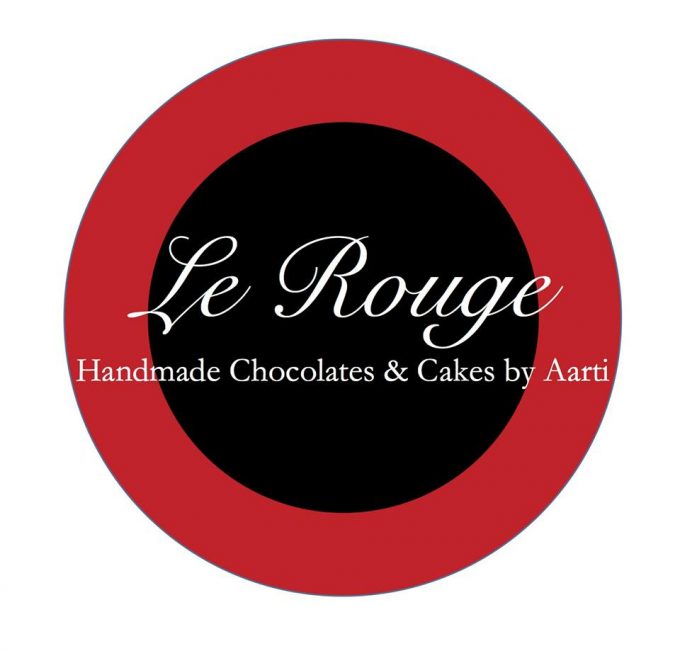 In the early 20th-century artists, musicians, and authors such as F. Scott Fitzgerald moved to Westport to be free from the commuting demands experienced by business people. The roots of Westport's reputation as an arts center can be traced back to this period during which it was known as a "creative heaven."
In the 1950s through to the 1970s, New Yorkers relocating from the city to the suburbs discovered Westport's culture of artists, musicians and authors. It's always just been sort of an outlier Fairfield County town along with Weston – but only in some respects. It's still a wealthy white enclave. This is Connecticut.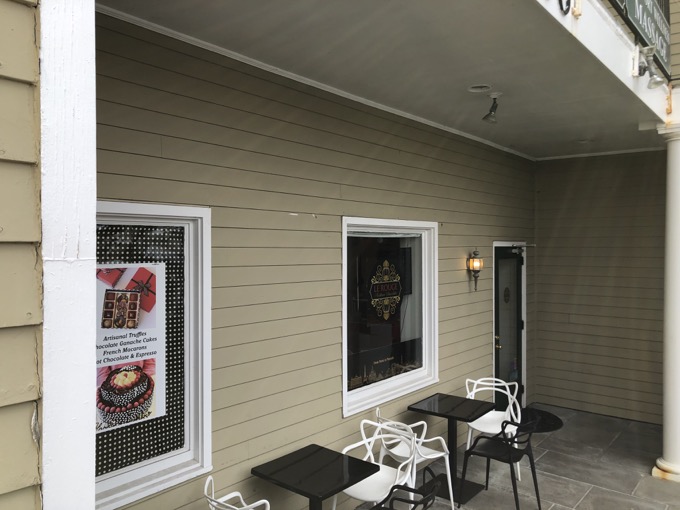 So here we are… in an arty town in a chocolate shop that specializes in arty treats, helmed by a lovely Indian woman named Aarti. It's all a little too perfect. At such a perfect intersection of the artistic universe, the chocolate has to be great, right?
I grew up in India and am privileged to call many countries across the globe home… The U.S., London, and Hong Kong to name a few. Born with "foodie genes" and blessed with a mom who is an amazing cook, it was easy to follow my passion to become an artisan chocolatier.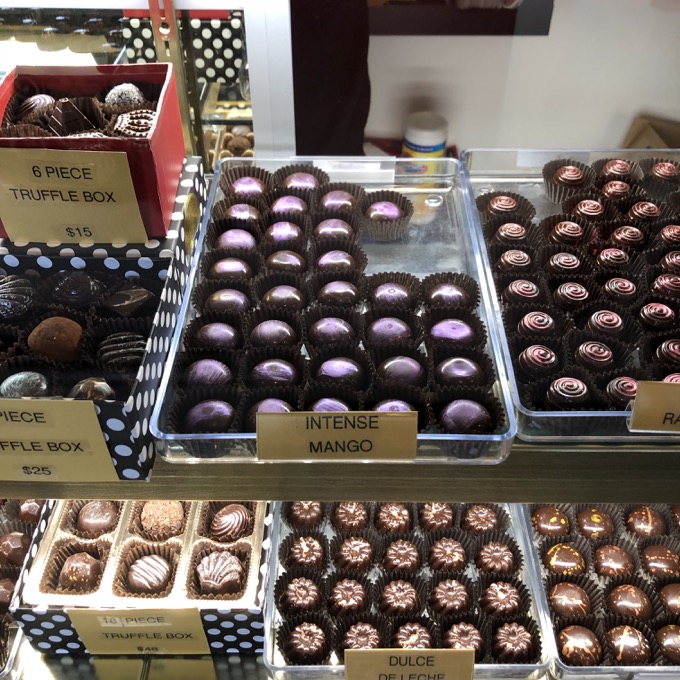 I prefer my somewhat supernatural origin story. This next part of her autobiography is hilarious:
After years of spending my life following a somewhat traditional script: earning degrees in Economics and International Marketing, working for large corporations, starting my first company in my early 20s, traveling the world, raising two beautiful children and two dogs, and calling many places home along the way…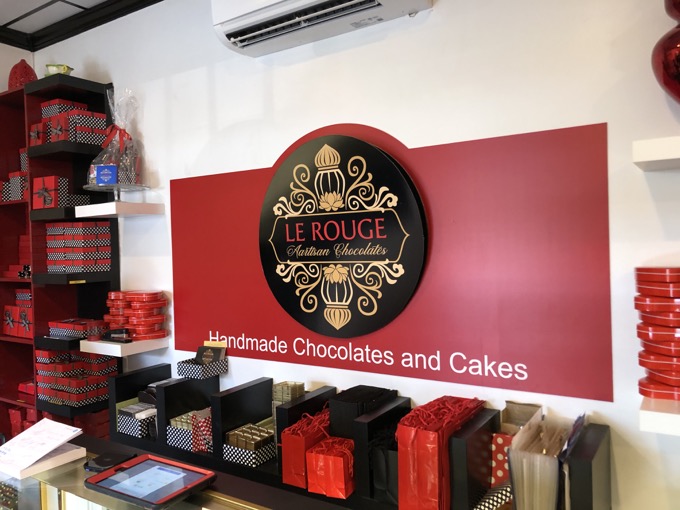 I love this woman! I guess I am "somewhat non-traditional" because I've only done one of those things (raising two children). The shop opened in late 2014 after building up the business through farmer's markets, chocolate shows, and an online shop. What began as an effort to capture the exciting flavors of Indian desserts in her chocolates, has expanded to include flavors from around the world.
The storefront is not in an ideal location. You pretty much have to know Le Rouge is there to find it. (And hey, it's a couple hundred yards from the Wheeler House Museum and Westport History Center, so now you have a morning planned.)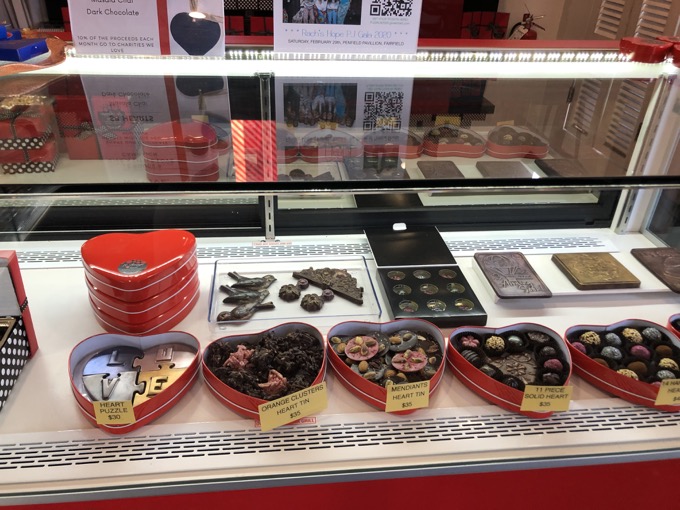 The shop is small and while Aarti made it "cute" and homey, the fact that this is a production facility is not hidden. The woman's gotta work. The woman is also super nice. I imagine that it's probably somewhat difficult to work hard in the kitchen and then greet random customers like me with a genuine smile and helpful attitude, hour after hour, day after day.
Or is that just me? Probably just me. Aarti allowed me to hem and haw about my choices – which were pretty much for my wife rather than me – and offered me a freebie treat despite my dilly-dallying and picture-taking.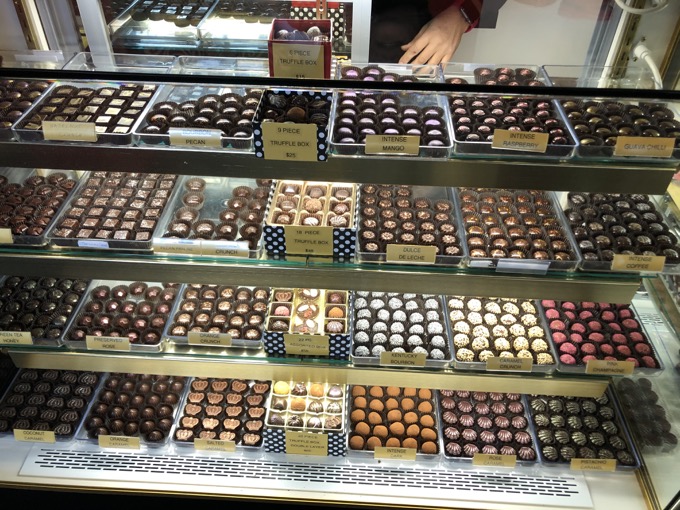 Aarti uses fair trade dark chocolate and each creation is hand-painted and hand-decorated. That's the crazy part. This one woman, as far as I know, hand-paints all of these things. And since everything is made in small batches, the ever-changing line-up of varieties makes Le Rouge even more exciting.
There is a cafe here as well, specializing in various hot chocolates. Think high-end, creative hot chocolates that you wish you could make at home. I didn't stick around to enjoy any, but I was certainly tempted. I was tempted by the free sample of ruby chocolate.
Ruby chocolate is a variety of chocolate introduced in 2017 by Barry Callebaut, a Belgian–Swiss cocoa company. Some claim it's a fourth type of chocolate (dark, milk, and white are the others but since white chocolate is gross and ruby is said to be a cross between white and raspberries… I wasn't a fan and I don't think it's chocolate so there.)
I bought six truffles that Aarti insisted on tying up with a nice bow. I went with Intense coffee, Intense mango, Pink champagne, Coconut caramel, Intense dark truffle, and Dulce de leche. I gave them to my wife and then proceeded to eat the coconut and dark ones.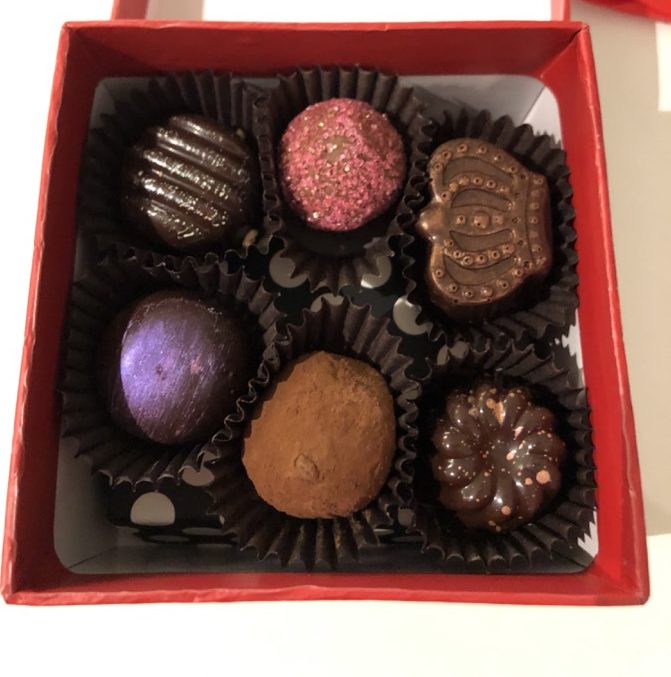 That's how I roll. Aarti is not shy with the flavor additions, but doesn't go overboard. I'm still stuck on her painting gold dust designs on all these things. Hoang reported that her chocolates were "super good" and having tried a bite of most of them, I am going to agree.
We have several excellent chocolatiers in the state. My only regret from my visit to Le Rouge is that I didn't but one of Aarti's signature chocolate ganache cakes. I'm sure they're ridiculous.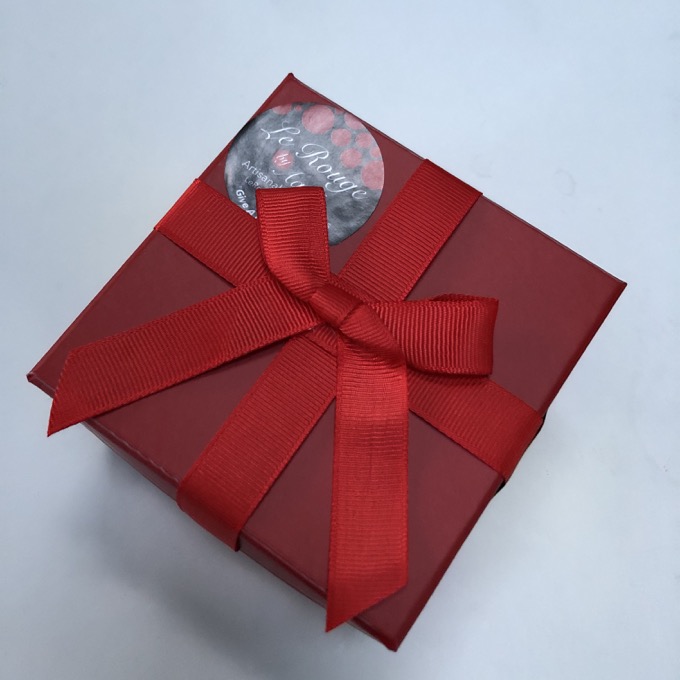 Le Rouge Chocolates by Aarti
CTMQ's Connecticut Chocolate Trail