Lakes Leakalot and Leakalot More
Eastford
If you happen to be reading this and haven't read much else on this website, I promise you that this page isn't indicative of the typical high quality content on CTMQ.
Okay, that's not actually true. Sure, I've been to hundreds of museums and I sometimes use big words, but let's be honest: it's pages like this one that we all enjoy the most. Someone at some point named two small side-by-side lakes Lake Leakalot and Lake Leakalot More.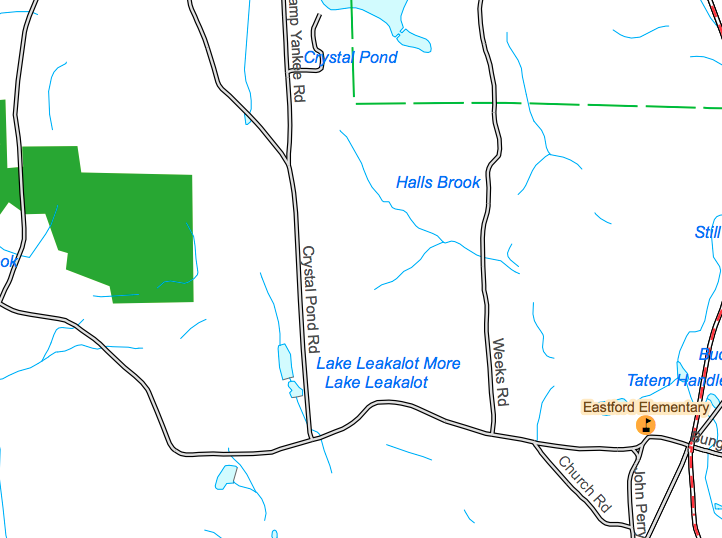 Noticing its proximity to the local elementary school, perhaps that has something to do with it. Because it's just the dumbest thing, and I love it. Back when I found and wrote about Beetle Bung Pond in Middlebury, there was a whole story on the name and even a trail that took me to and from it.
Here? Nothing. I noticed the lake names during one of my totally normal and cool map reading sessions. And I thought it was funny and filed it away in my totally normal and cool brain. And the next time I found myself up in Eastford, I unfiled it, and found my way to the lakes.
They can't really be seen from Crystal Pond Road unfortunately, so I had to be a bit more intrepid and drive a bit onto a private driveway to experience the leaking lakes.
I took the risk. For the good of CTMQ and for you, my friends. The lakes are mere ponds and were entirely unexciting. I envisioned the property owner asking me what I was doing and me answering, "Ma'am/Sir, these little ponds have the dumbest names and I wanted pictures of them." And since this is Eastford, I'd probably have been ushered away at the end of a long gun.
I'm left wondering about the names though. All lakes "leak," don't they? Was there actual thought put into these names? Like, "More" presumably feeds "Alot" so that makes some sort of sense I guess.
Certainly more sense then that fact that I made the effort to get these pictures (which could be from almost anywhere), write this page, and hit the publish button.