The Other Fabulous Baker Boys
Litchfield Distillery, Litchfield
March 2016
The Spirit of Hard Work®
The three brothers behind Litchfield Distillery actually registered that phrase as their trademark. It's their thing. And that's not a bad thing. In fact, David, Jack, and Peter Baker are pretty much all near or over retirement age and yet they decided to start a new business in 2014.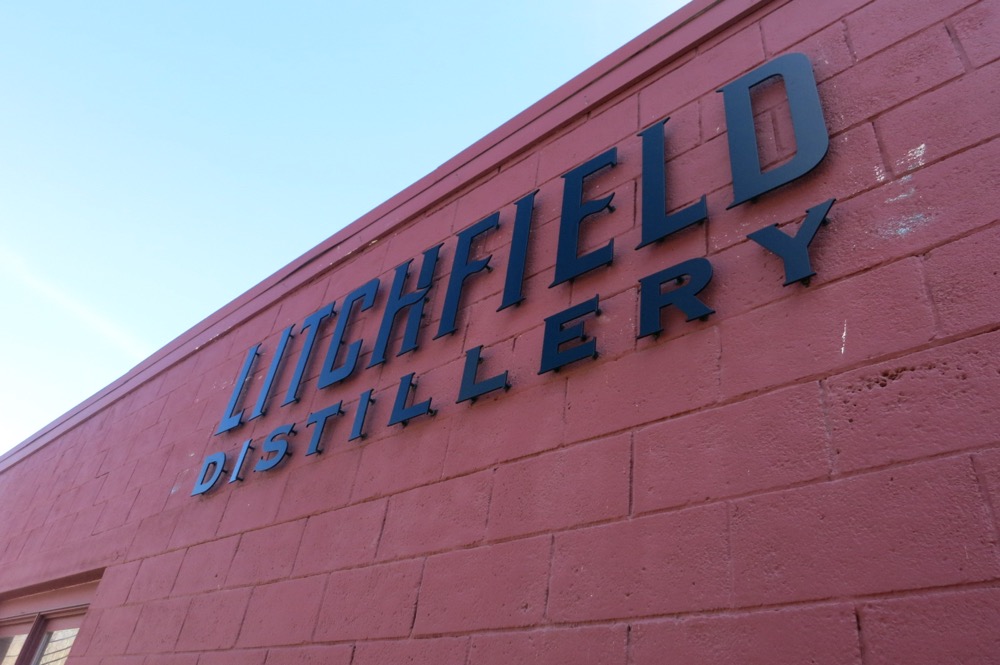 In the "craft spirits" industry. In Connecticut, which was never the most friendly state to distilleries. These guys needed more than The Spirit of Hard Work®, they needed the Holy Spirt of Hard Work™.
After eight years of plugging away, Litchfield Distillery is still growing and expanding their footprint around the country. Clearly these Baker boys are pretty fabulous and they knew what they were getting into way back in 2014.
I didn't know what I was getting into the first time I visited the distillery in early 2016. They hadn't been open for tours for very long and I had my son Damian with me. (There is/was a nice little sort of reception area with seating, so he was fine during my visit.) I happened to be driving by and saw that they were open – at a time when that wasn't a guarantee. So I threw caution to the wind, rolled up my sleeves, and decided to show 'em my Spirit of Hard Work®.
I don't know which Baker brother showed me around that day, but he was great. I explained that I had no need for the full-on tour, but was certainly curious if the distillery here was actually distilling, as opposed to some other Connecticut "distilleries" that have never actually distilled a drop.
If Litchfield is importing their spirits, they've sure spent a lot of money on equipment to fool people. In other words, yes, Litchfield Distillery is an actual distillery.
Of course, at least for several years at the beginning, Litchfield had to bring in juice from one of the large purveyors in order to help their "aged" whiskeys along. I used to care about these things, but I no longer do – and I no longer have any idea what percentage of what Litchfield produces is distilled in-house versus elsewhere.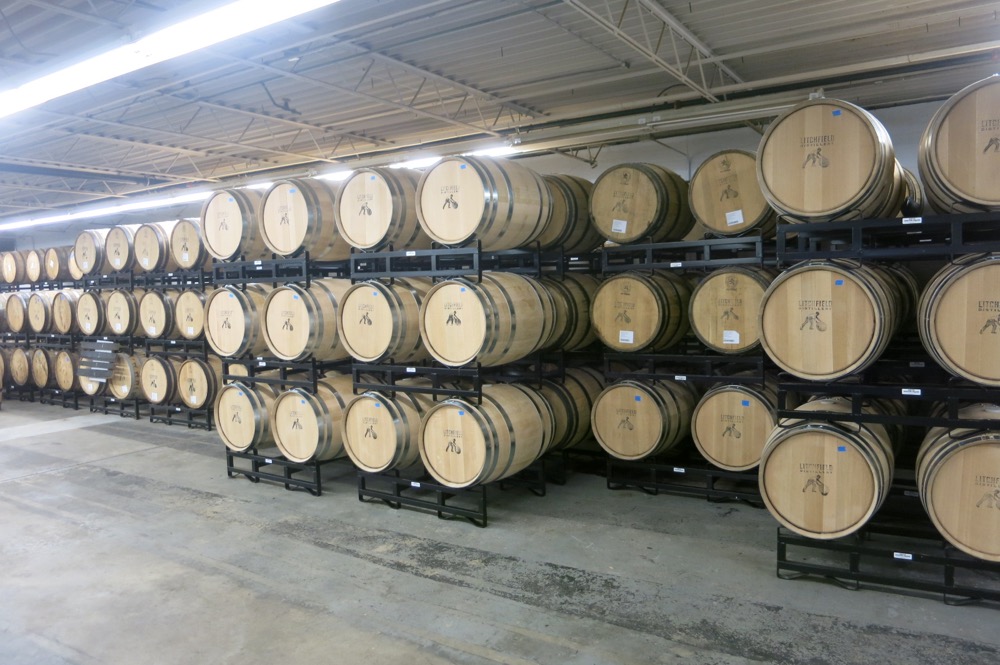 Our commitment is to distill the finest spirits in small batches sourcing the best ingredients our local farmers have to offer. And the taste of that commitment can be found in every sip of our award-winning Litchfield Distillery spirits.
Their product line has grown to be rather huge for a Connecticut distillery, so based on sheer volume alone I'd guess they're getting some help. If you care.
You know what? I suddenly care. I see they attach "Connecticut Grown" and "Connecticut Made" to their products and I know enough to know that sometimes is nuanced language. Their product line in 2022 is huge and includes all sorts of infused vodkas now (blueberry, apple, strawberry, and peach). They offer nearly a dozen bourbon variants. Some of them aged. There's also a canned cocktail line. My bugaboo is that when an outfit pushes the "Connecticut Thing™" so hard, that thing may not totally be a Connecticut thing.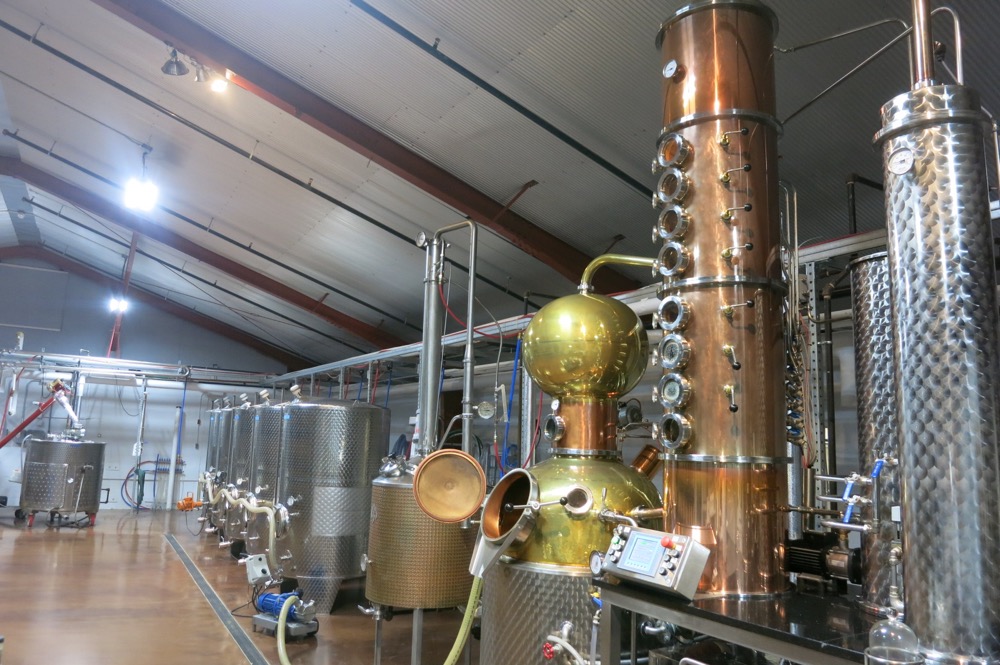 I'd have ignored all this if they didn't have this on their website, describing one of their bourbons:
The result is a delicious and complex bouquet of caramels, vanillas, fruits and spices that linger and evolve on the palette [sic.].
Guys, leave the Palate/Palette/Pallet Mistake™ to the breweries. That's their thing and they've owned it for a decade at least.
Okay, where was I? Oh yeah, I was saying how accommodating and cool the Baker Brother was who showed me around his distillery. And then I wrote several paragraphs showing that I'm not cool or kind. Sigh.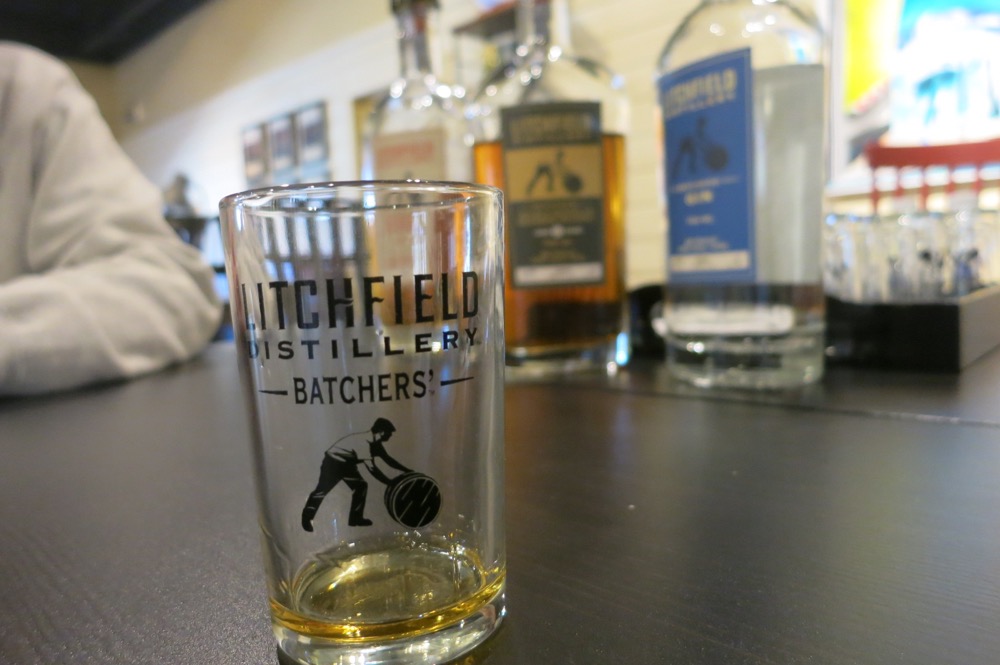 At the time of my visit, they were making gin. And maybe vodka. They had their first bourbon as well and despite my telling my guide that I do not generally like brown spirits, I was offered a taste. Baker Bro, I just want the gin. So we talked gin and botanicals and it was pretty cool because Baker listed off a bunch of them and I could geek out for a minute.
I also appreciated his honesty about the cost of building a distillery. He wasn't shy about the risk his family was taking and how expensive all the equipment was. I found his vulnerability charming and real and had grown to appreciate the same with all of the brewery owners I had come to know.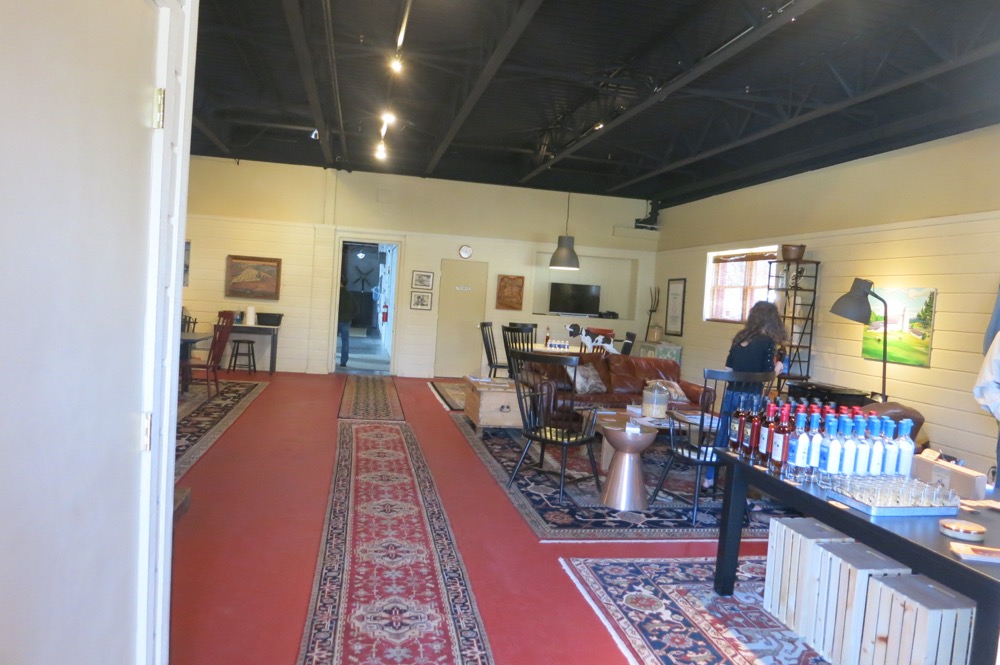 The Baker family isn't a bunch of paupers though. For three generations, they have been bottling Crystal Rock water. Crystal Rock began as a delivery company in 1914 in Stamford by Henry Baker, Sr., and… wow, they have whole slew of brand names now and are nationwide. So perhaps my guide was just being pragmatic at the time and the investment in the distillery wasn't really the massive financial hit I was led to believe.
Nothing exceptional ever comes easy. We honor good old-fashioned, roll-up-your-sleeves effort and remain steadfast in our belief that hard work is the only path to greatness.
Man, who knew a visit to a distillery could be so inspirational? You know what else is inpirational? Making a "craft cocktail" for my wife or friends. Helpfully, Litchfield's website provides a slew of recipes and even has a monthly feature wherein Connecticut bartenders share their stories and a special recipe of their own.
Here is my favorite: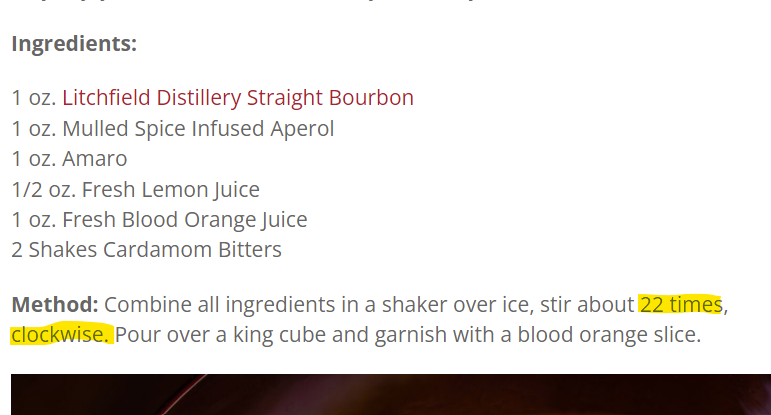 I'm not sure I ever want to meet the person who came up with this. They terrify me.
Man, what is wrong with me today? The people I met here were fantastically nice! I've never heard a bad thing about Litchfield Distillery! They've given and sold barrels to local breweries and have developed nice partnerships around the state! I think they did that thing during Pandemic Year One™ where they gave away alcohol for sanitizing purposes! There is no reason for me to impugn them in any way!
Let's change the tone here. Litchfield began canning cocktails in, I don't know, let's say 2019ish. These aren't really something I would drink, but I've bought a few over the years and they're pretty good.
They make three as of 2022: The Litchfielder (bourbon, maple, and lemon), a spiked lemonade (vodka and "natural flavors"), and Batcherita (spirits distilled from agave, lime juice, agave syrup and natural orange flavor). I've had two of the three! I even have a branded tasting glass!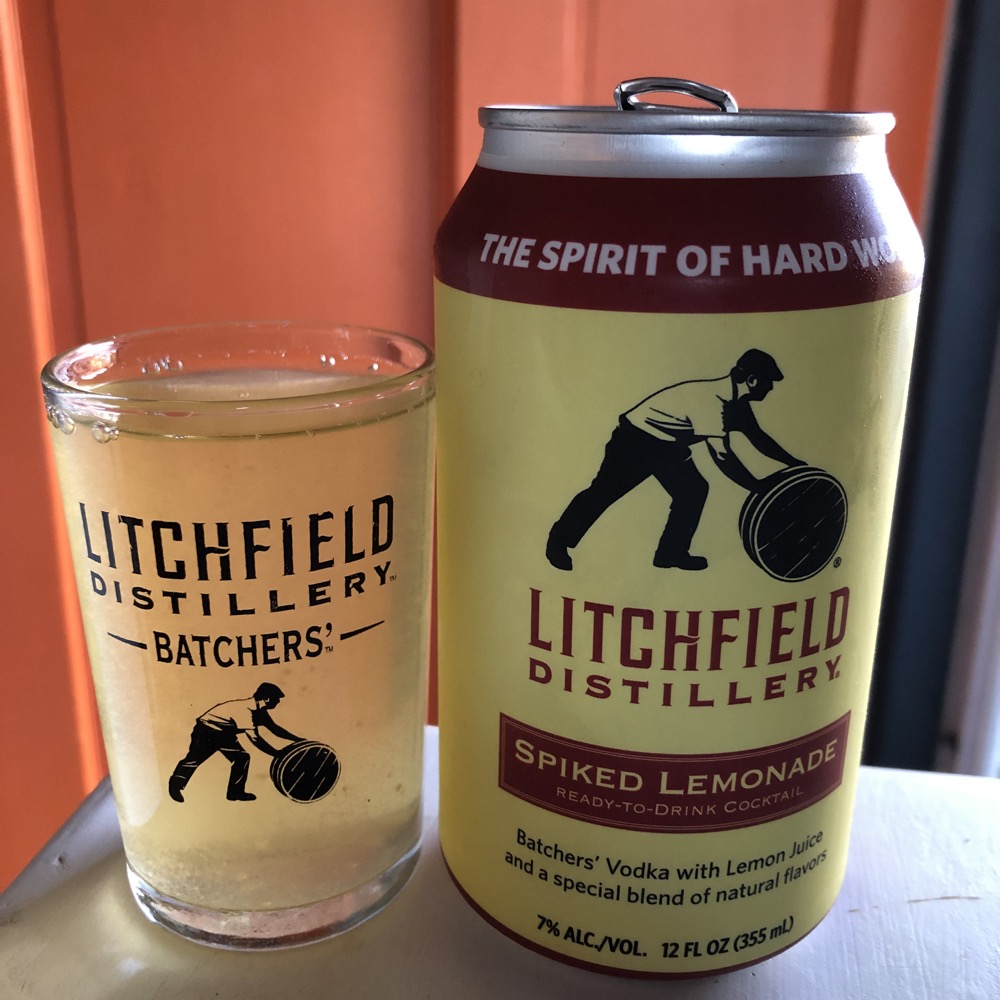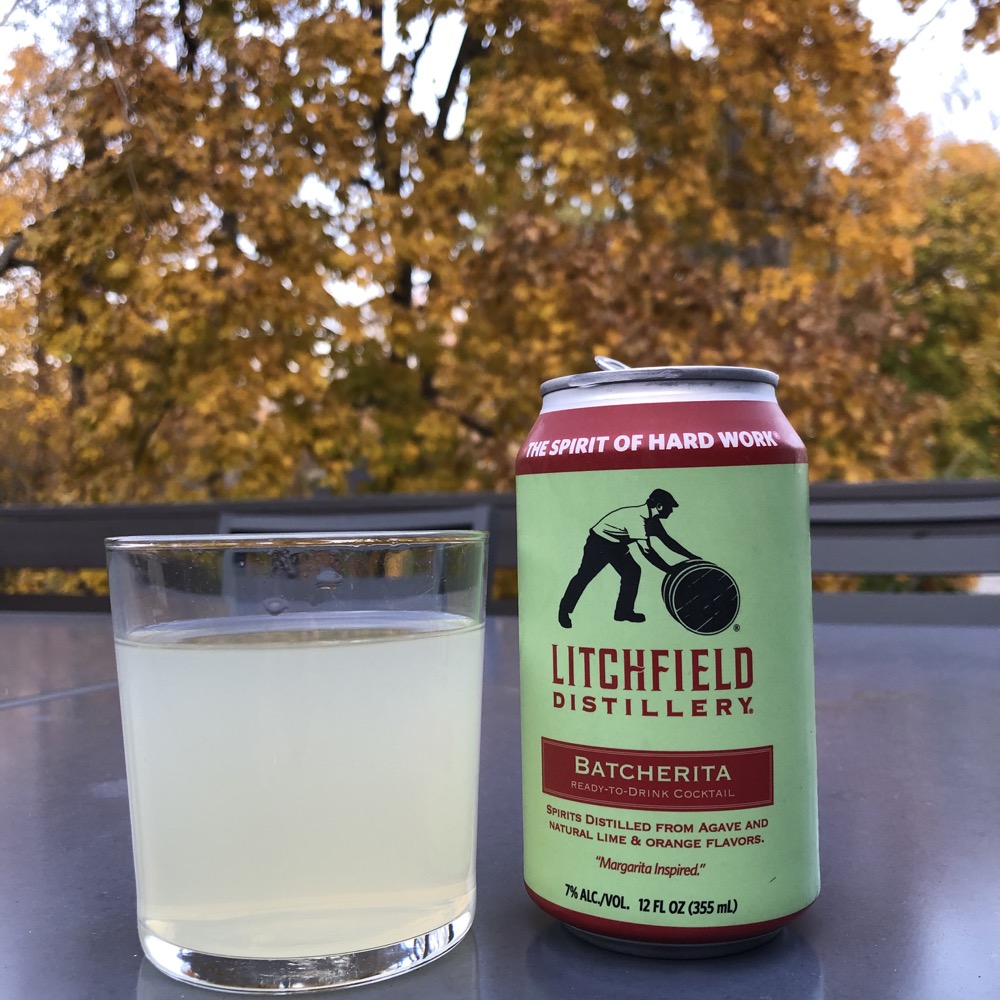 I support The Spirit of Hard Work®! More than once or twice! I like Litchfield Distillery!
I swear!
Gin gin mule! Classic gin and tonic! In my (old) kitchen!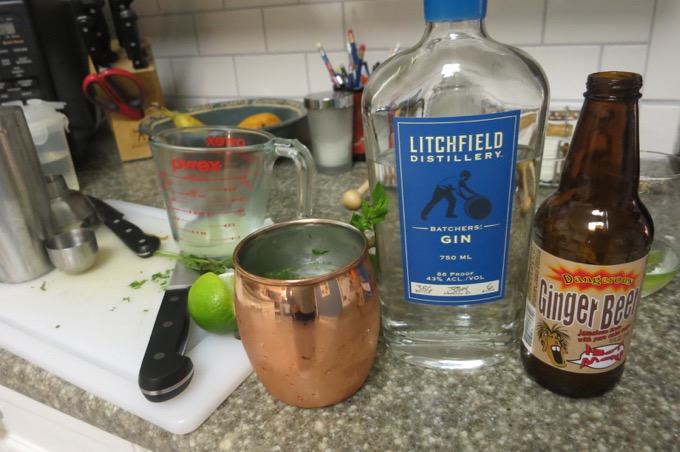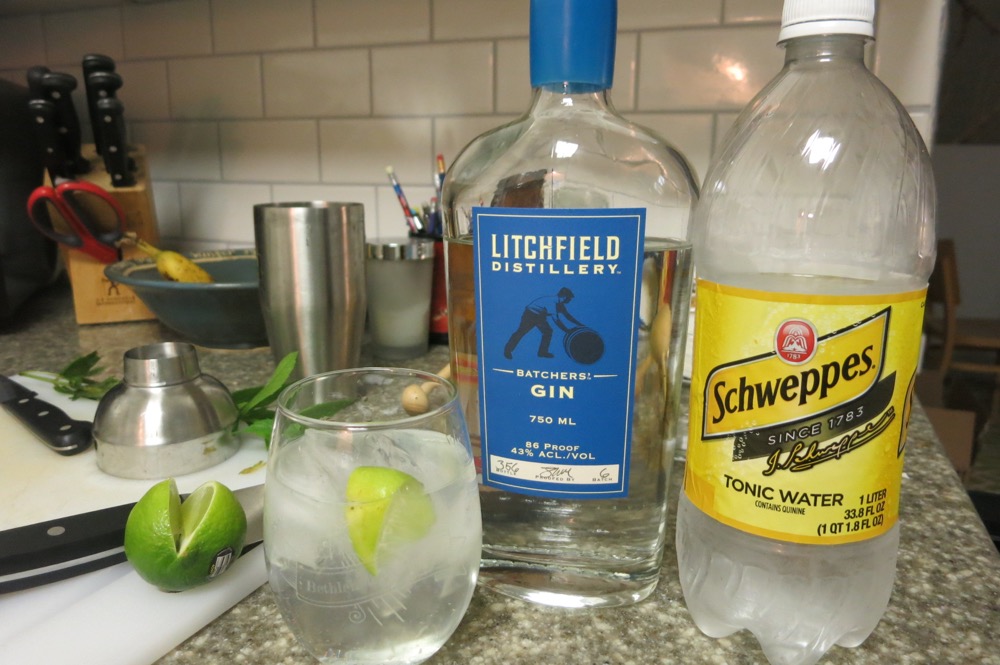 I really have no idea why I was somewhat salty on this page. The guy showing me around was super nice and they've grown to be one of Connecticut's largest, most productive, and arguably best distilleries. And on top of all that, their facility is nice and a cool place to visit.
So go do that already. Litchfield Distillery provides a great spot to wind down after a day of doing some of the other cool stuff to do in Litchfield. Just do it responsibly.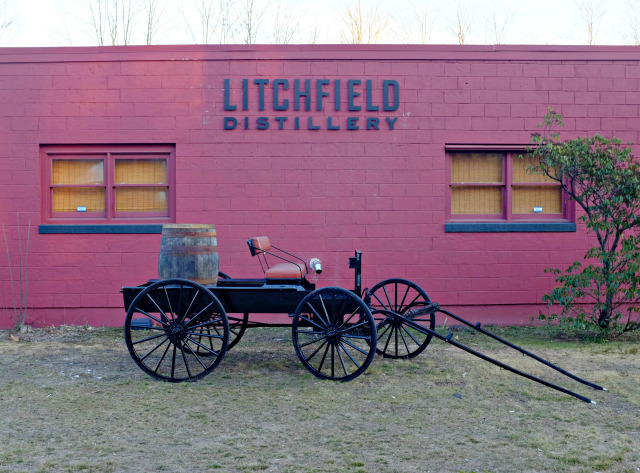 Litchfield Distillery
CTMQ's CT Distilleries