Thanks For The Memories
Windsor Locks, (Google Maps location)
October 2017
Because I couldn't differentiate between Memorial Hall Museum and the Edward Sobatka Civil War Museum, I've combined the two but have published two separate pages.
Memorial Hall is a striking building, right in the center of Windsor Locks. Three stories tall, it is built out of gray granite in the Richardsonian Romanesque style. (Actually, the hall is clad in two-inches of granite veneers, which hides the brick superstructure, but don't tell anyone.) It is covered by a gabled roof, and has a round tower at the northeast corner, capped by a conical roof. There's a handsome arch over the front entrance and, well, it's a lot of building for what it is. The building was designed by the same architect who designed the Linden Apartments in Hartford if you are familiar.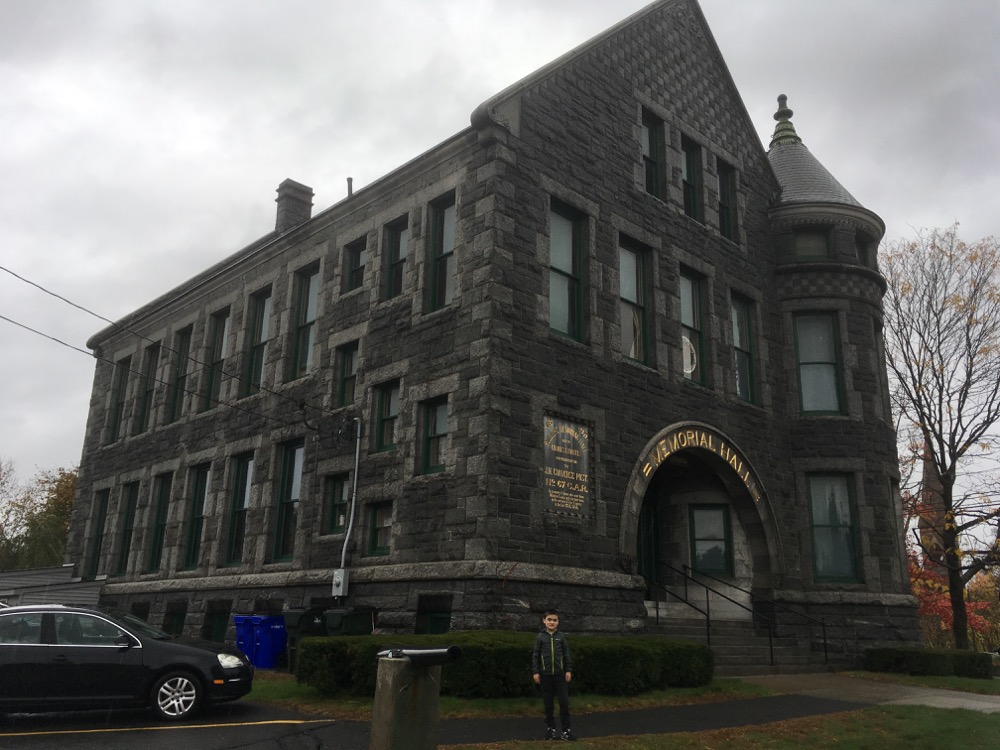 The building was dedicated in 1890 in honor of the town's Civil War veterans and was pretty much entirely funded by local businessmen. A Grand Army of the Republic post gathered here, beginning in 1884. And since then, the Hall has always served as a meeting place for veterans organizations.
And that's unique in and of itself. Says Wikipedia:
It has been maintained by the nearby Congregational church, under a unique preservation restriction placed at the time of its construction requiring its continued use as a space for current and past soldiers. This restriction prevented its repurposing as town hall after World War II, by which time the GAR chapter had closed, and the church had taken over the building ownership. It is now used by a variety of veterans organizations.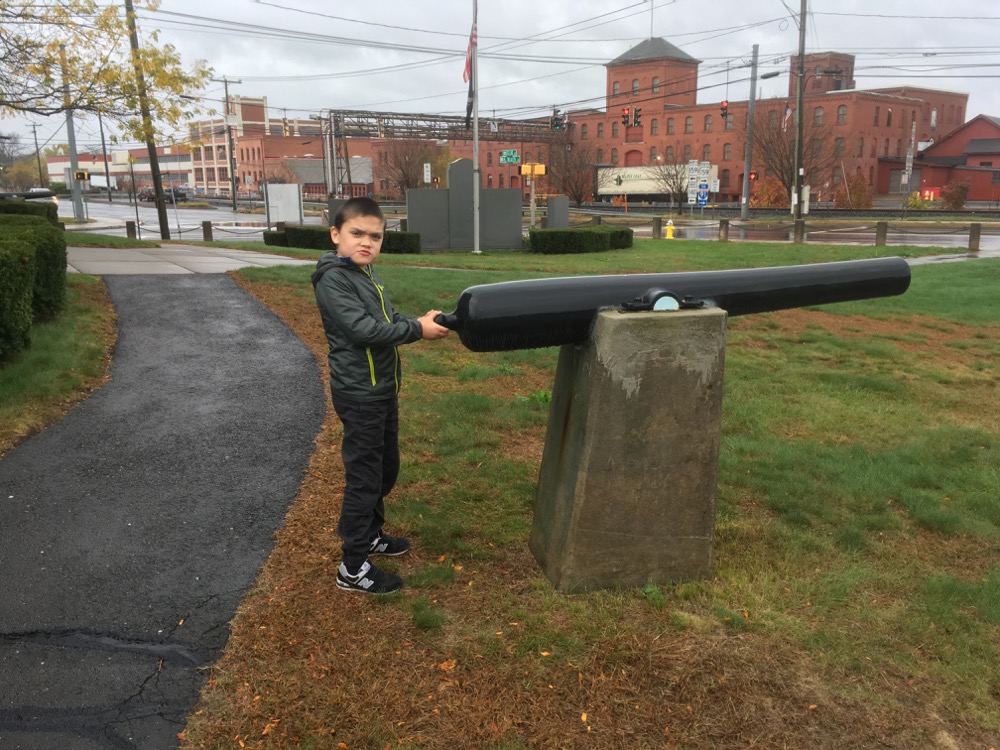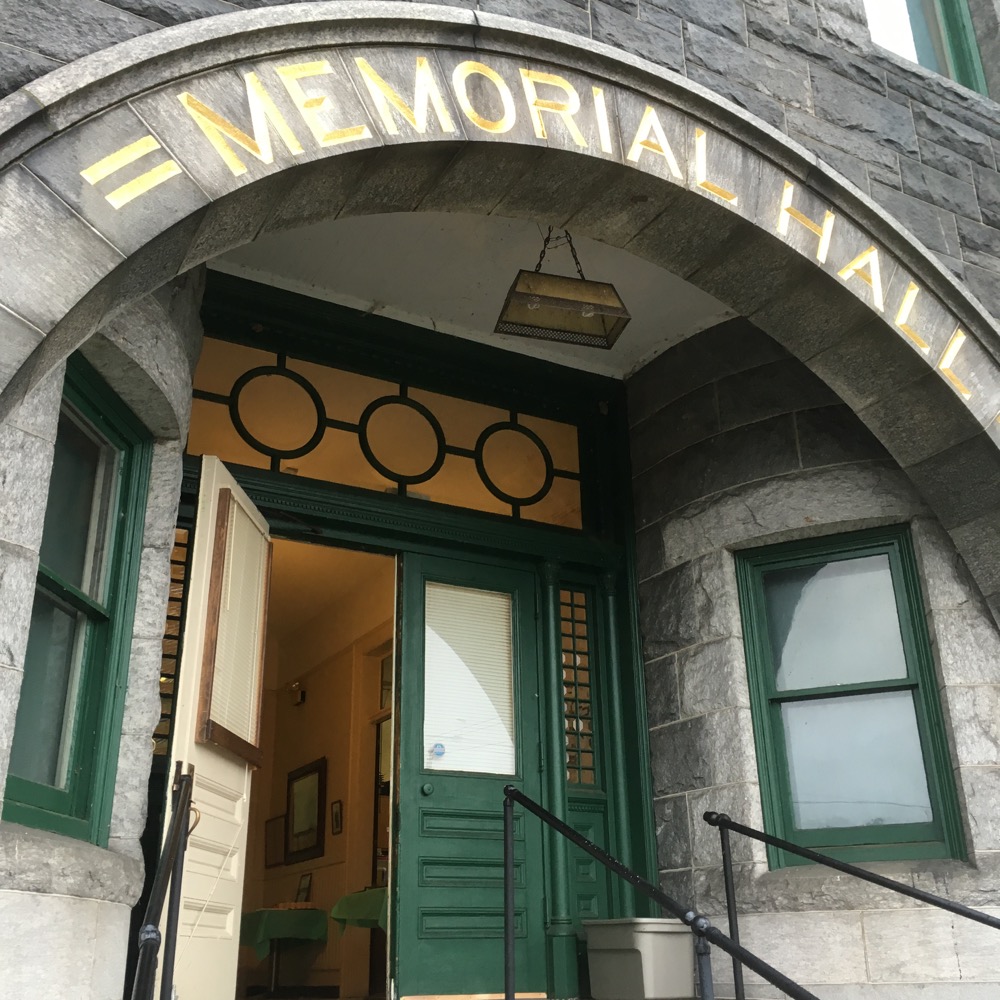 And, as you've correctly guessed, the museum inside the Hall now honors Windsor Locks veterans of all wars and the building hosts the town's American Legion post. A noble cause. Earlier I mentioned how the building was funded, but apparently it wasn't as easy as all that. The planners did a 19th century Go Fund Me and came up short of the funds needed. That's when Charles Chaffee from Monson, MA stepped in (he owned lots of Windsor Locks land) and covered the $12,000 needed.
Since that's like half a million bucks today, so when Chaffee demanded full control of the building's design, they town gave it to him. Fortunately, he hired his boy Frederick Newman, also from Monson, and he did Windsor Locks' veterans right.
When Damian and I visited, a group of folks were gathered, including a docent or two. Typically, visitors are given a guided tour, but typically, visitors don't bring 11-year-old atypical kids with them. But the Windsor Locks Crew had a secret weapon: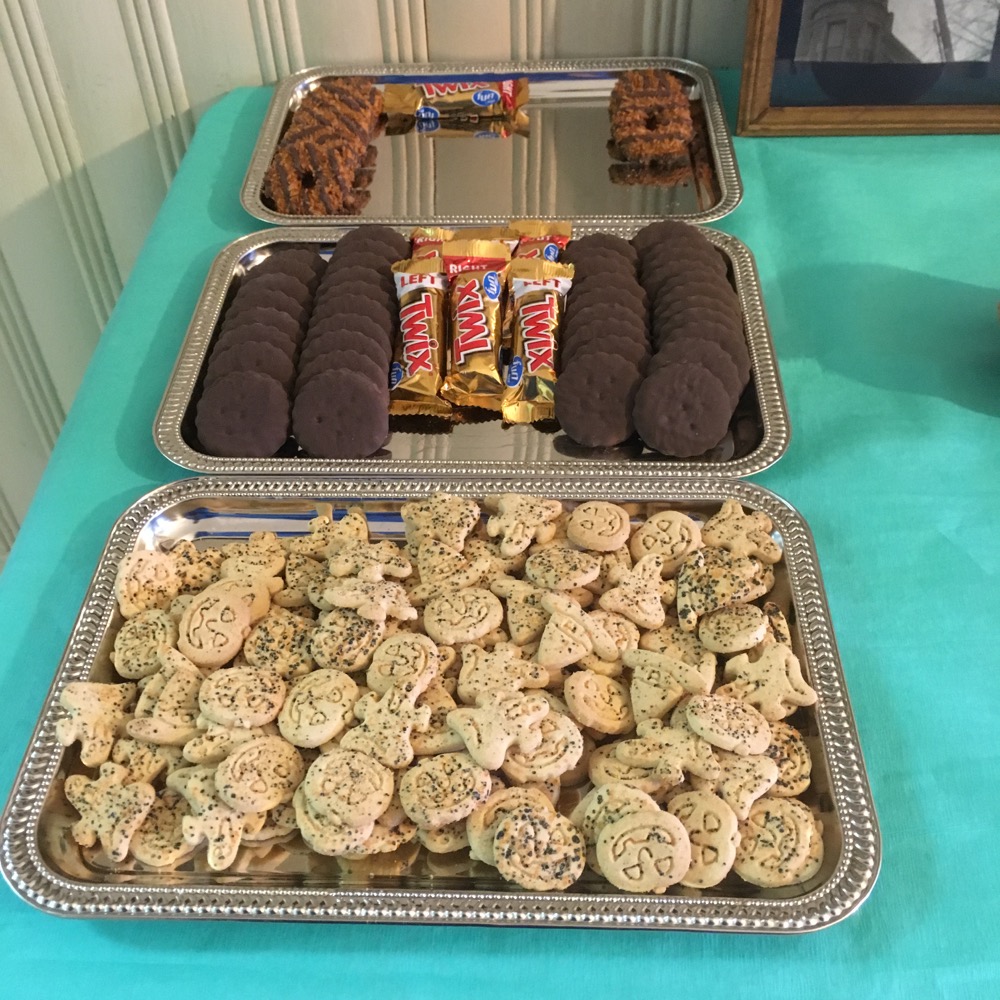 Damian: satisfied.
Me: confused.
You see, this is one of those awesome museums with a museum within the museum. Except here, the Edward Sobatka Civil War Museum is indistinguishable from the Memorial Hall Museum, since they focus on the same exact thing. In fact, there's a good chance that my confusion is such that I've confused the entire "thing" here. In other words, maybe it's the Edward Sobatka Civil War Museum within Memorial Hall and I shouldn't be separating them.
But nah. I would never make such a mistake.
Actually, I'm going to go on record to say that I didn't make that mistake and there are two distinct museums here. My evidence? This sign above this photo collage and the one on a door is all I need: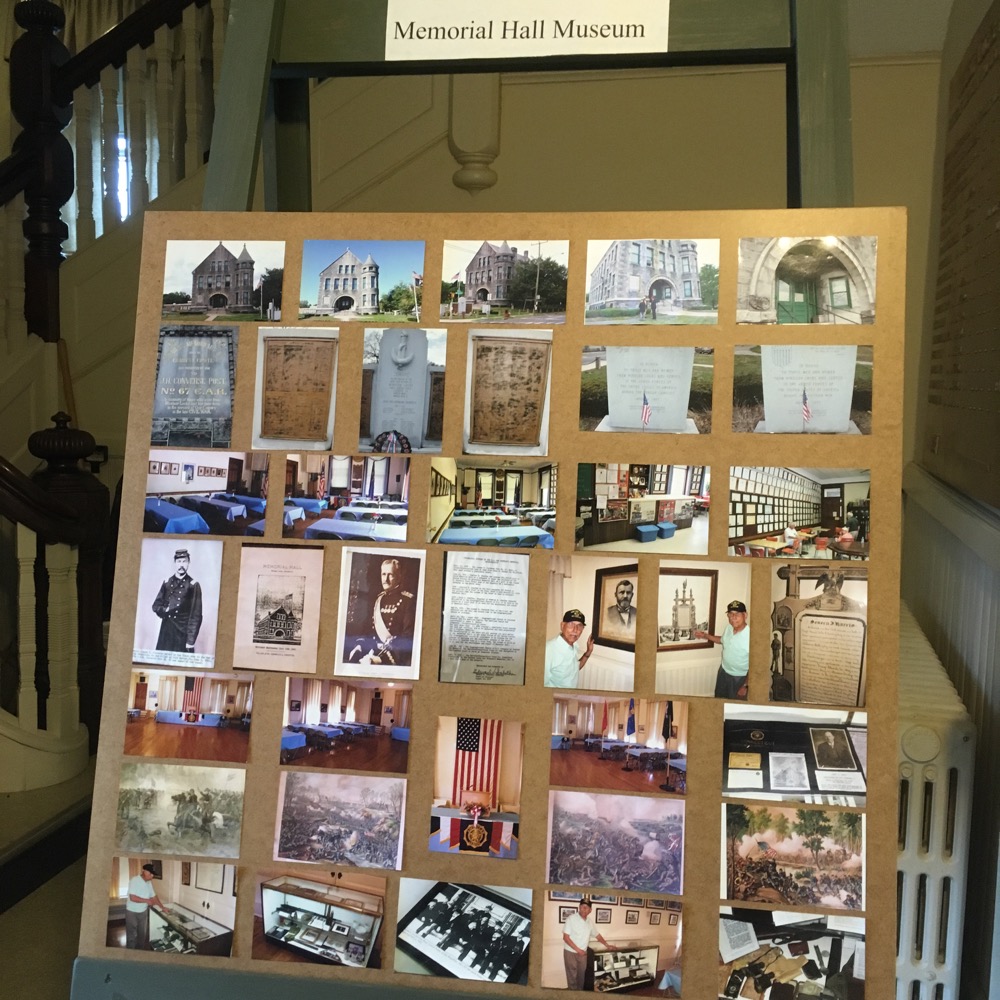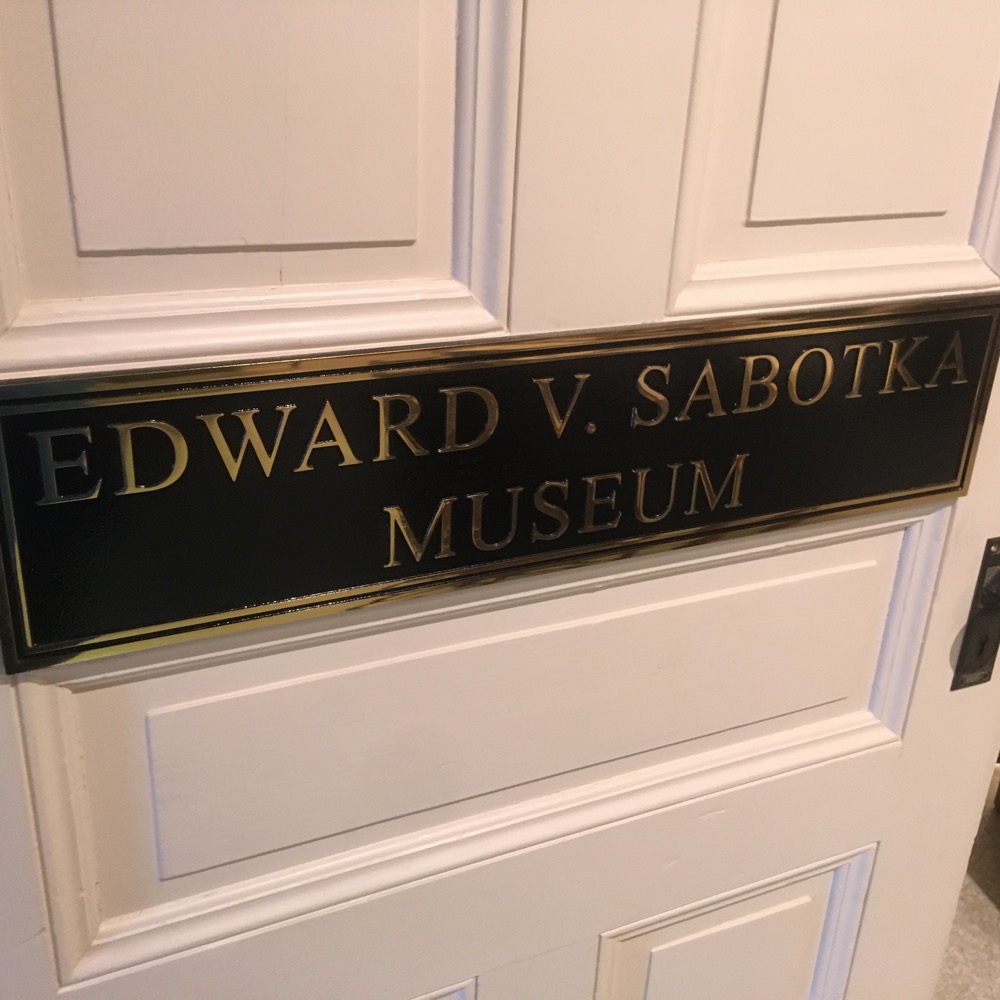 Two museums here. Fight me.
Anyhoo, back to Ed Sabotka. He was integral in restoring, cataloging, and displaying a lot of the Civil War materials and artifacts here. Heck, he restored the gold leafing above the entrance arch out front. Then Sabotka went ahead and turned a room on the second floor into a museum, which includes an homage to Abraham Lincoln. There's also a small collection of Civil War muskets displayed in a case, along with other war memorabilia.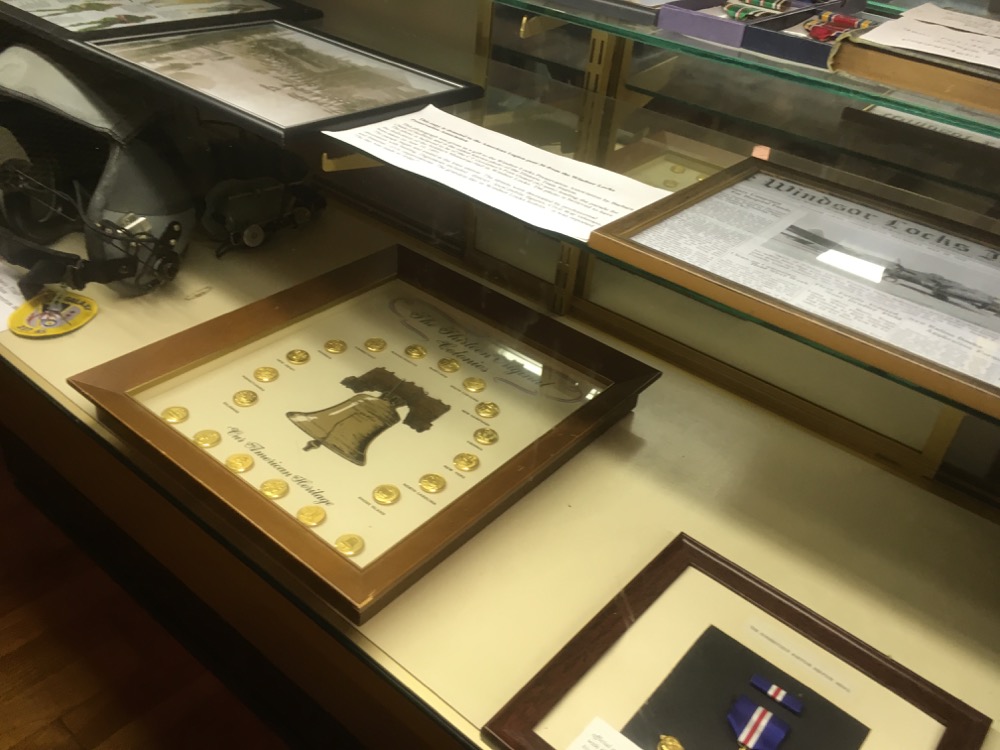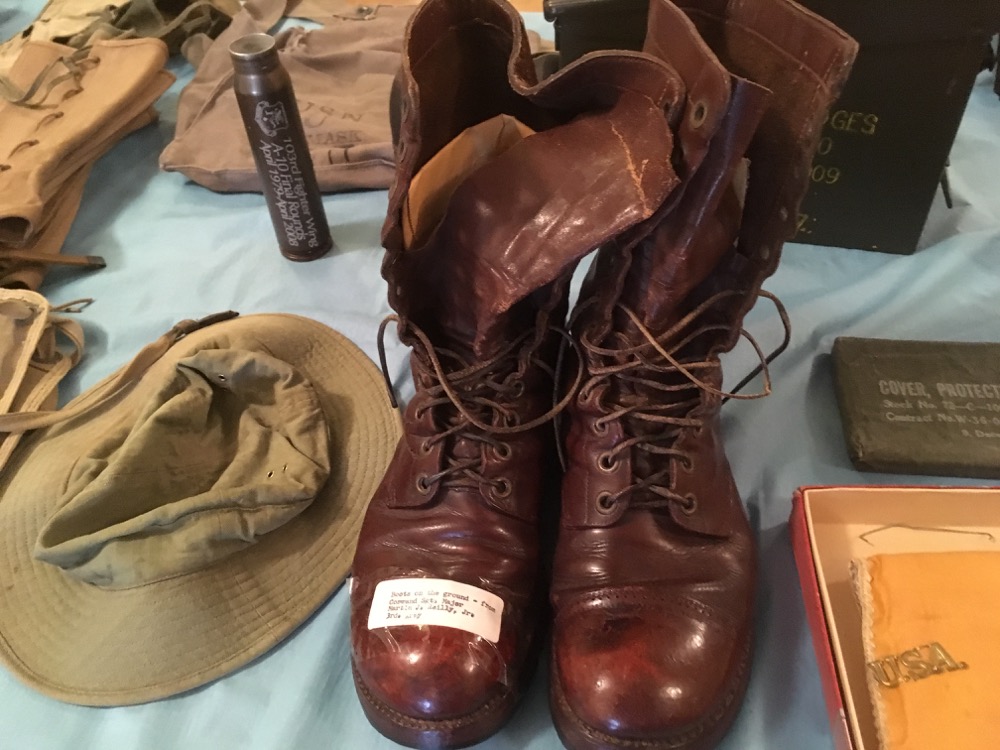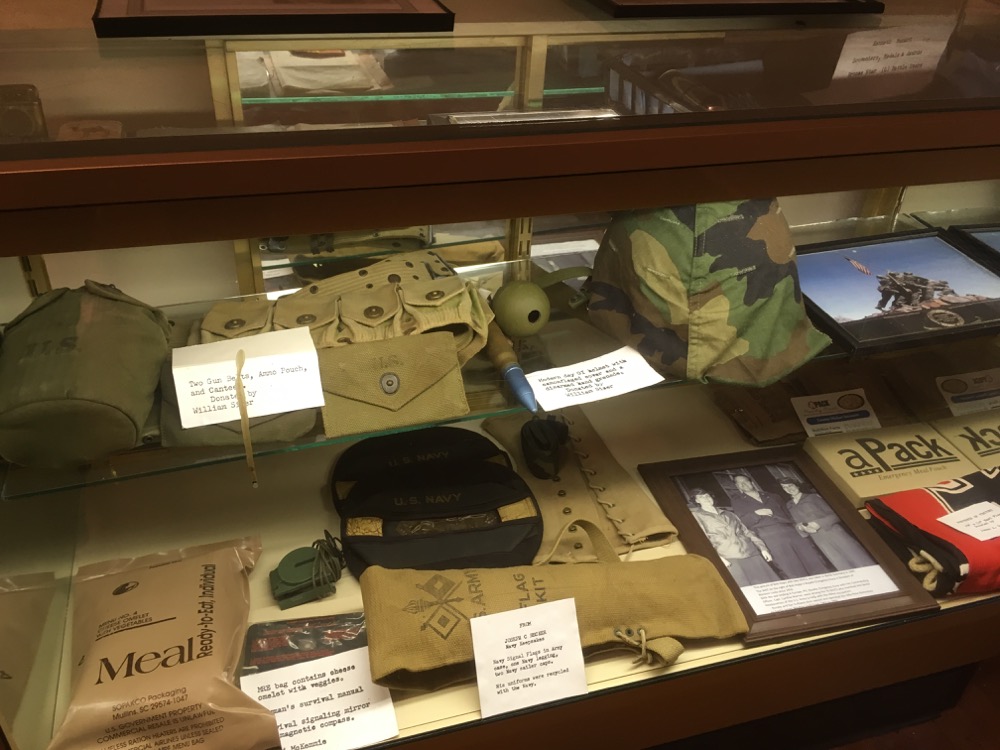 But hey, the first floor of the Hall has exhibits too and the building holds many historical artifacts and… While Damian ate too many free treats, my guide showed me a small lamp that is lit every night here as a way to let service members know they are not forgotten. The lamp has been lit for generations of returning veterans. That's a cool touch.
And for those who don't return from the endless battlefields our country occupies, I was shown a tri-corner US flag. Check this out: Back in 1909, Windsor Locks, our little airport town began the tradition of presenting the flag to families of fallen service members rather than burying it with them. The federal government made this type of presentation official in 1918.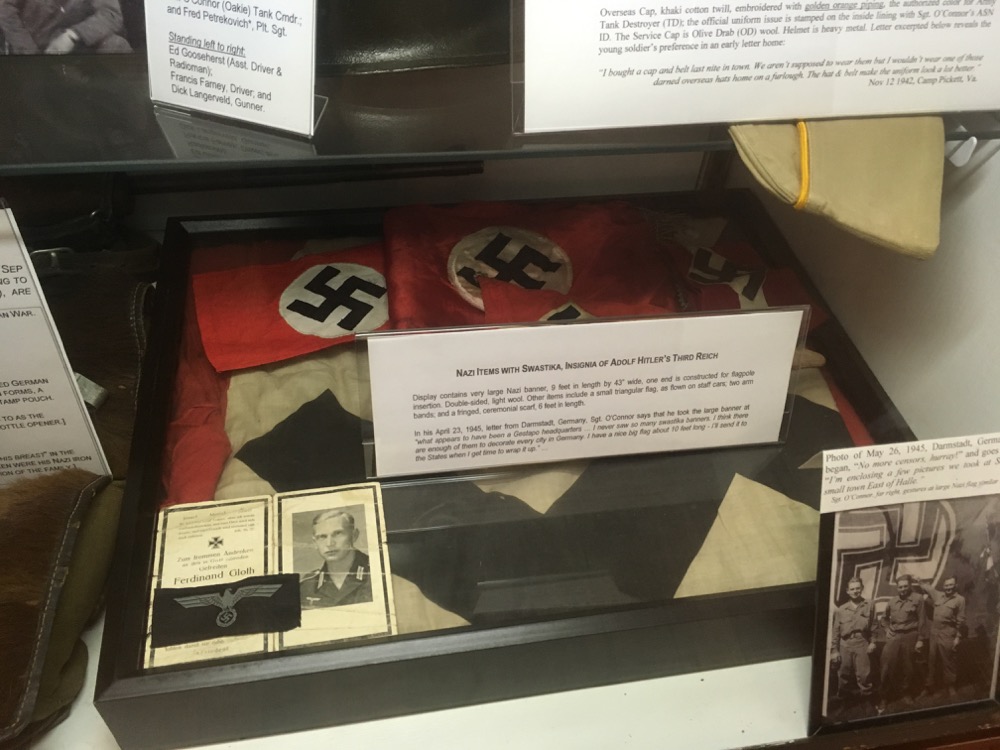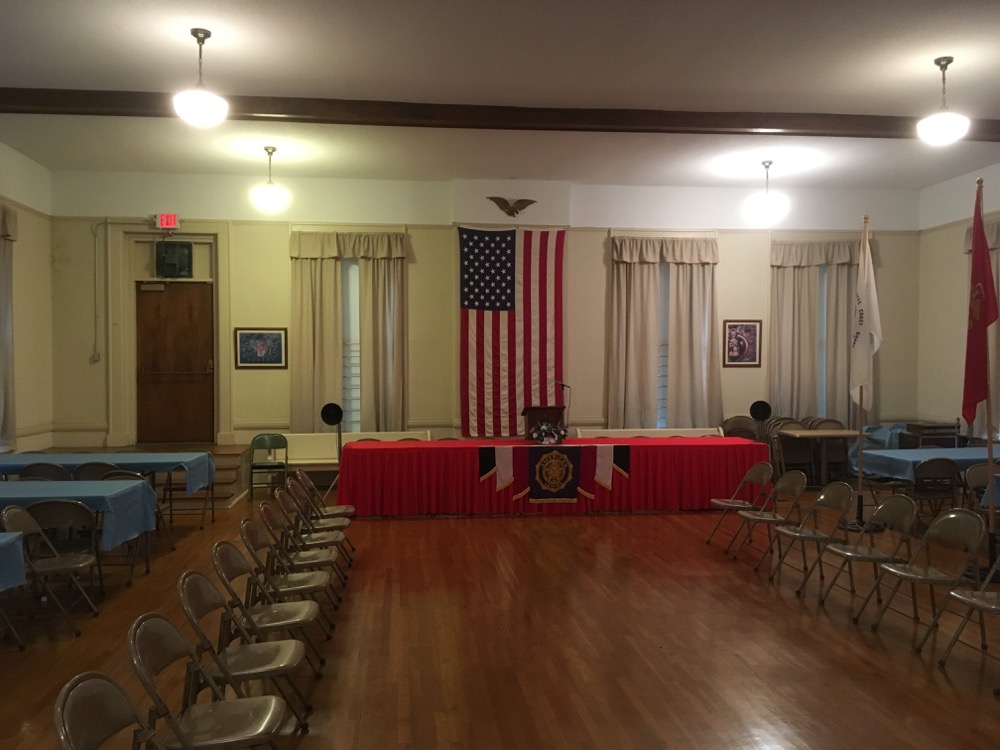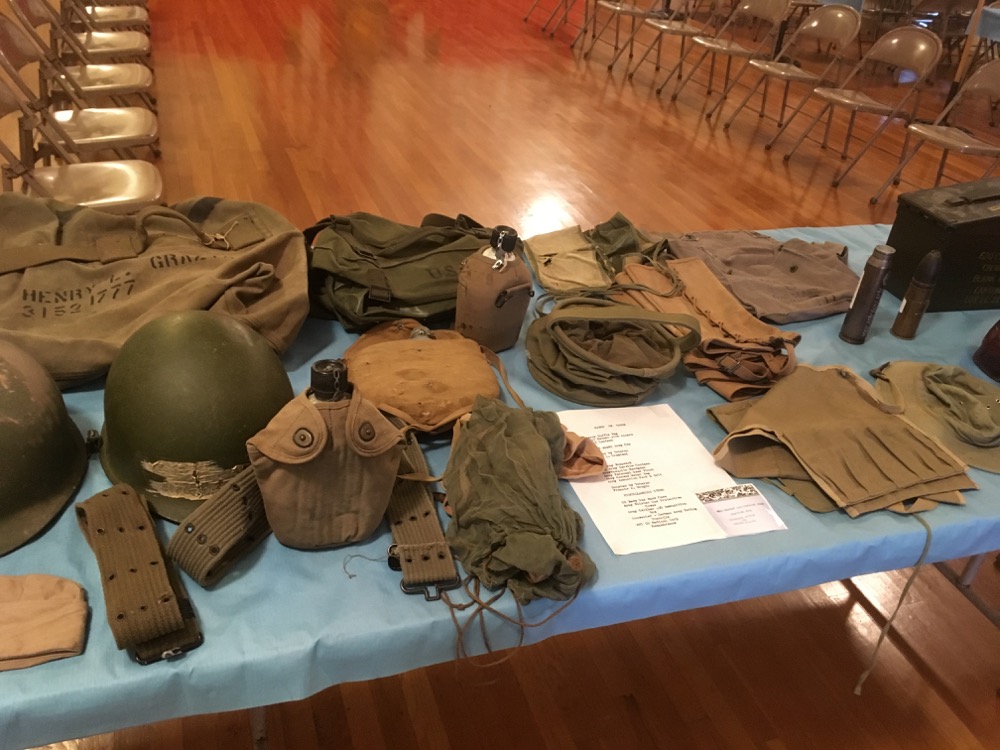 Now, I'm not saying this was a Windsor Locks thing… but maybe it was a Windsor Locks thing. Let's go with that. Shout out to early 20th century Windsor Locks fallen veterans' families for starting one of the nation's most moving traditions to honor our military dead.
The museum itself contains a trove of artifacts from a bunch of different wars, but I guess the Sabotka section is all Civil War stuff. Look, if you're into war history and especially if you knew someone from Windsor Locks who is a veteran – or if you just like Richardsonian Romanesque style buildings, this is the place for you.
And maybe you'll get lucky like Damian and get some cookies out of the deal as well.