"By George!"
Modern Library # 79
1908, E.M. Forster
If you're reading this page you've probably seen the acclaimed movie version of this book. I have not seen the acclaimed movie version, nor do I intend to see the acclaimed movie version. It's not that I'm some kind of weirdo bibliophile weirdo, it's just that… those Merchant Ivory films… I just can't watch them.
But the book! The books I can read. Even if they begin as a slog through character development, ridiculous elocution, and frustrating moral and etiquette lessons for English teenagers of a certain class. A Room With a View most certainly begins that way.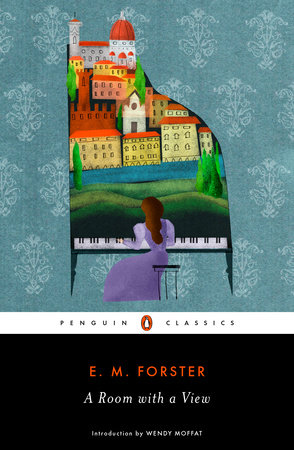 But as I was reading it, a few things became quite clear to me. The book is often billed as a comedy of sorts; it's more of a condemnation of aspects of "civilized" English society. All the "good stuff" – the romance, the excitement, the slight improprieties – happen in Italy. The main character, Lucy Honeychurch (seriously) wanders the streets alone(!) and is kissed by one Mr. George Emerson. Scandal!
It's a whole thing with ministers and crotchety uptight old aunts and mischievous brothers. And slightly scurrilous novelist and some other unmarried older women, and a suitor and another suitor (George) and his father.
I don't like writing recaps of the plot for anything more than a paragraph – Lucy goes to Florence with her aunts and runs into all the people in the previous paragraph. She's young, but finding her way in the world and finding that she's a bit of a rebel; a budding feminist of sorts. George kisses her and she runs away. Back in England, she becomes engaged to a one-dimensional fop named Cecil. He's whom she's "supposed" to marry. Then George reappears and steals another kiss and Lucy dumps Cecil and lies to everyone in different ways but then ends up with George in the end. There you have it: A Room with a View.
Forster was gay, although wasn't quite "allowed" to be gay during his life. Even if a reader doesn't know that, it was clear to me that Cecil certainly may have been trying to be something he wasn't. The social progressiveness of this early 20th century novel was fairly stark.
There are hints of atheism, clear moments of feminism and female independence, and George's progressivism with regards to Lucy is ultimately what sets him apart. Sure, he kissed her without consent, but mentioning that now seems sort of tacky. Which is weird, I know.
Overall, the book is great; following the life of a girl discovering her voice, freedom and strength in a restrictive family and society. The last third is borderline thrilling. I just wish that the first two-thirds were a bit more free-flowing and enjoyable for me.
Hoang Completed 2014, Rating: 7
Steve Completed: 2019, Rating: 6
CTMQ's Top 100 Modern Library List