Don't Get Board, Man
New Milford
May 2019
A few things here at the outset: The New Milford Historical Society folks have updated a lot of the property since my visit, my visit was too short and somewhat odd because there was a tag sale going on in one of the museum buildings. Also, I think I harbored some fantasy of revisiting during a non-tag sale weekend at some point, but finally reached peace with the idea that I'd seen enough in 2019 to call it a completed visit.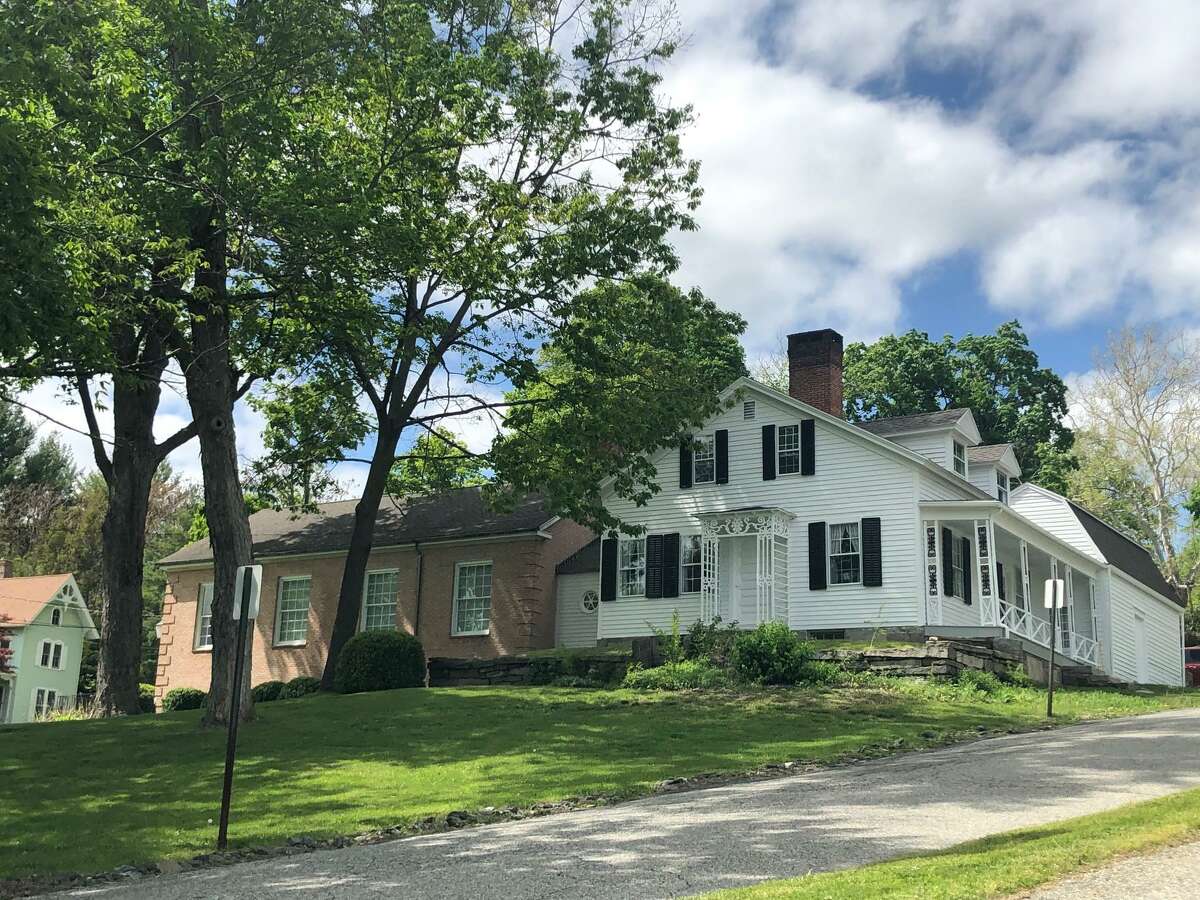 Which puts us here… with me writing up this joint that I visited with Damian. The New Milford Historical Society owns four buildings that they use as museums. Three are more or less connected in the center of the large western Connecticut town, and I'm considering all three buildings as one museum on this page. The fourth, a one-room schoolhouse is a standalone little space that I'll visit at some point.
I'm sure you're all waiting with bated breath.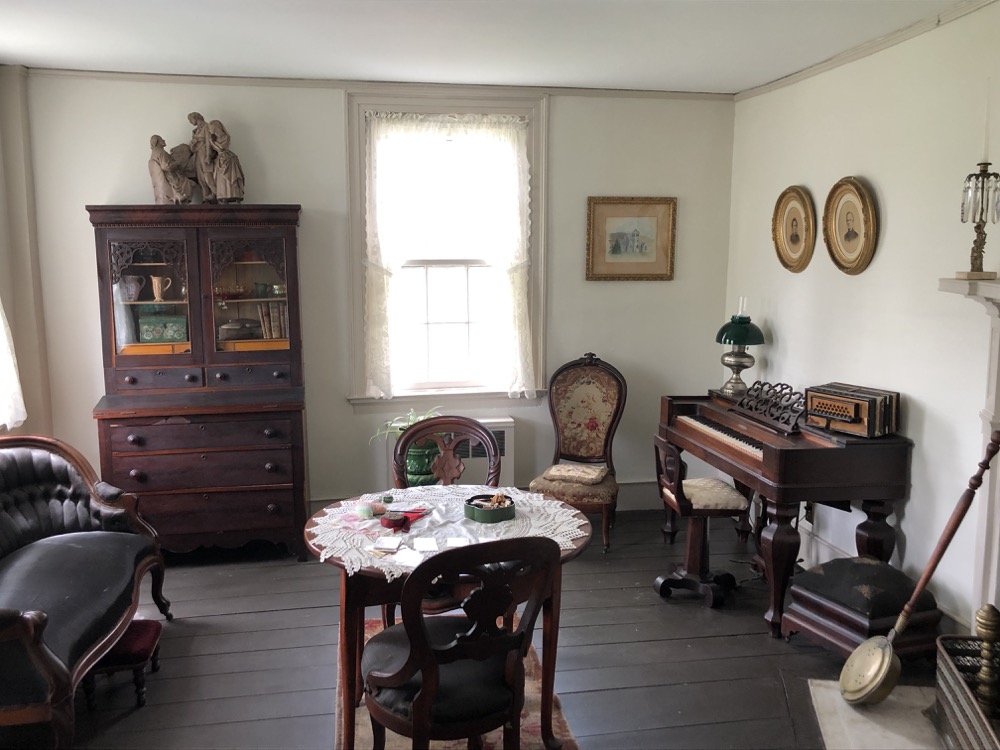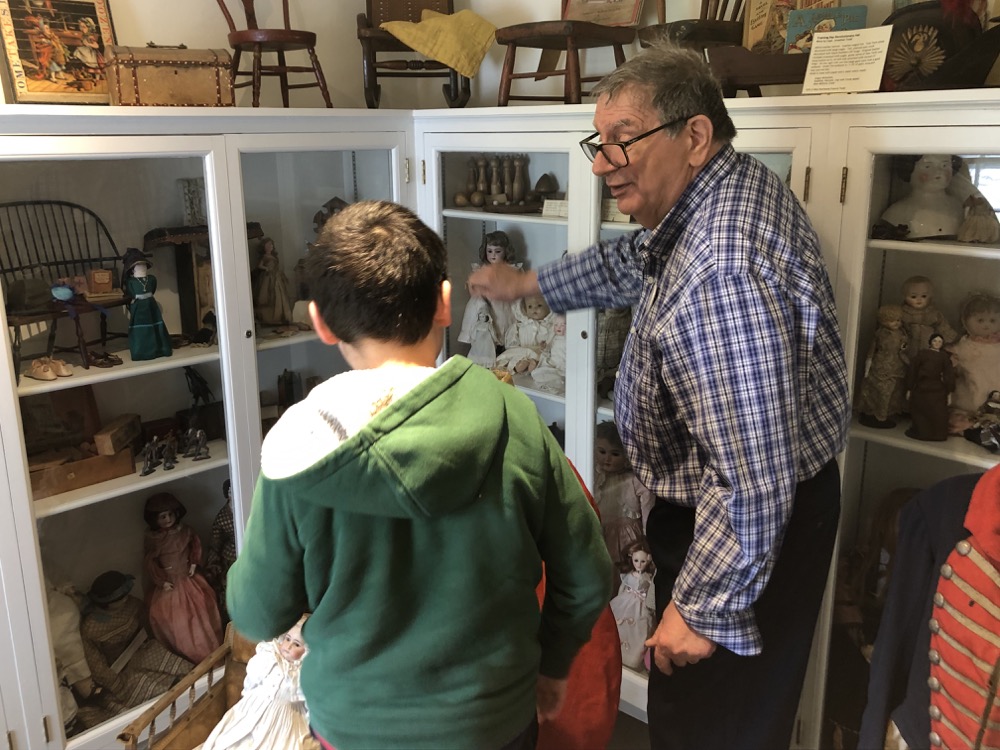 The Society now presents the three connected buildings as a "Museum Collection," and the showpiece building has recently been restored and upgraded: The Knapp House.
The 253-year-old Knapp House, part of the Historical Society's collection, was originally built in 1770 by Daniel Burritt. It's namesake, shoemaker Levi S. Knapp, bought the property from Royal Davis in 1838. Parts of the house dates to 1770, while later additions and renovations date to 1815. Through volunteerism, hard work, and state grants, the Society was able to restore the house and its now a showpiece for the town. A fresh paint job and new lighting and the whole place has a new lease on life.
The society has permanent exhibits and of course they also host seasonal displays. They have a lot to choose from as the Society's collection contains well over 8,000 items. The most permanent of their permanent exhibits is all about the town's most famous son: Roger Sherman.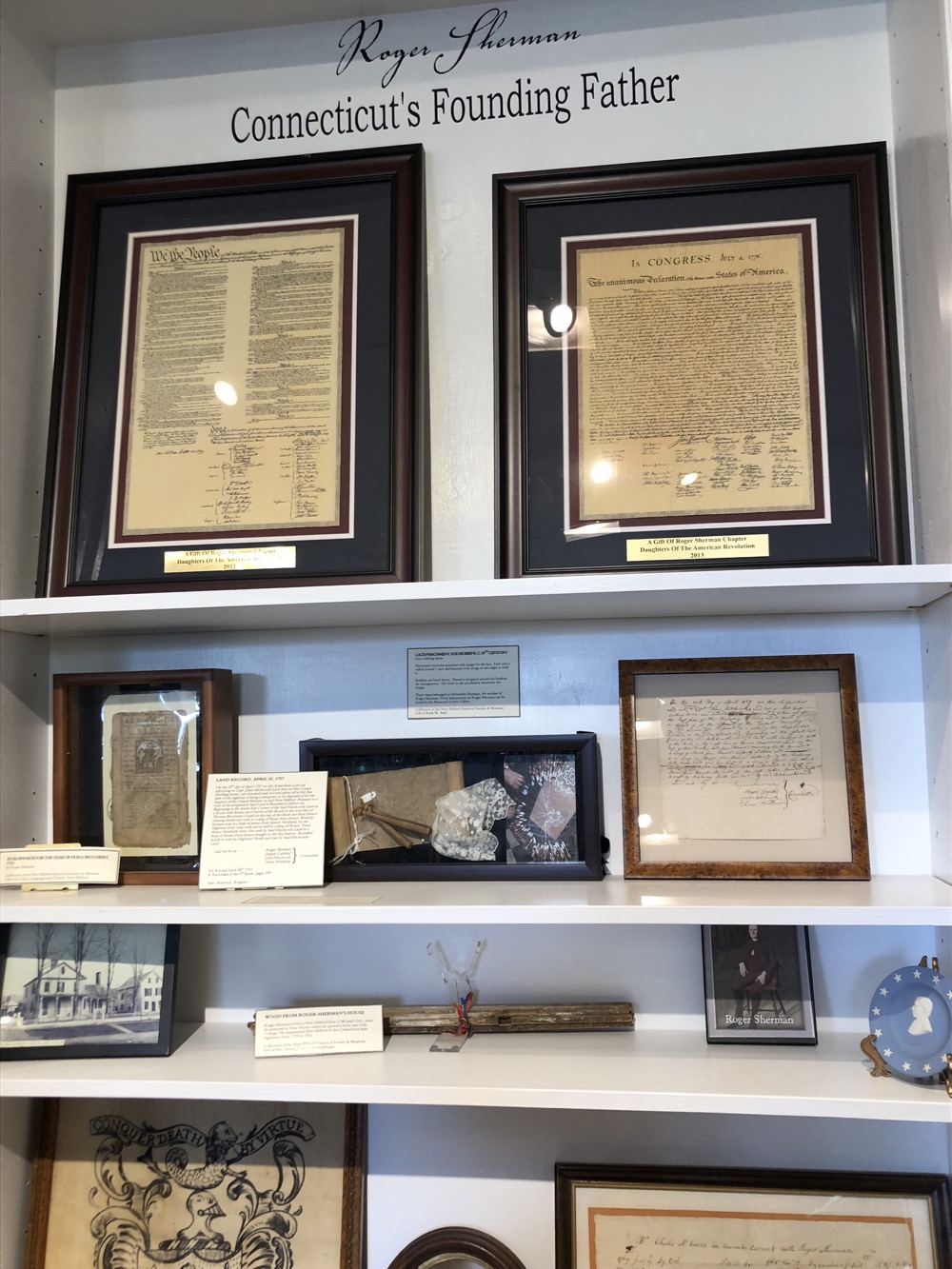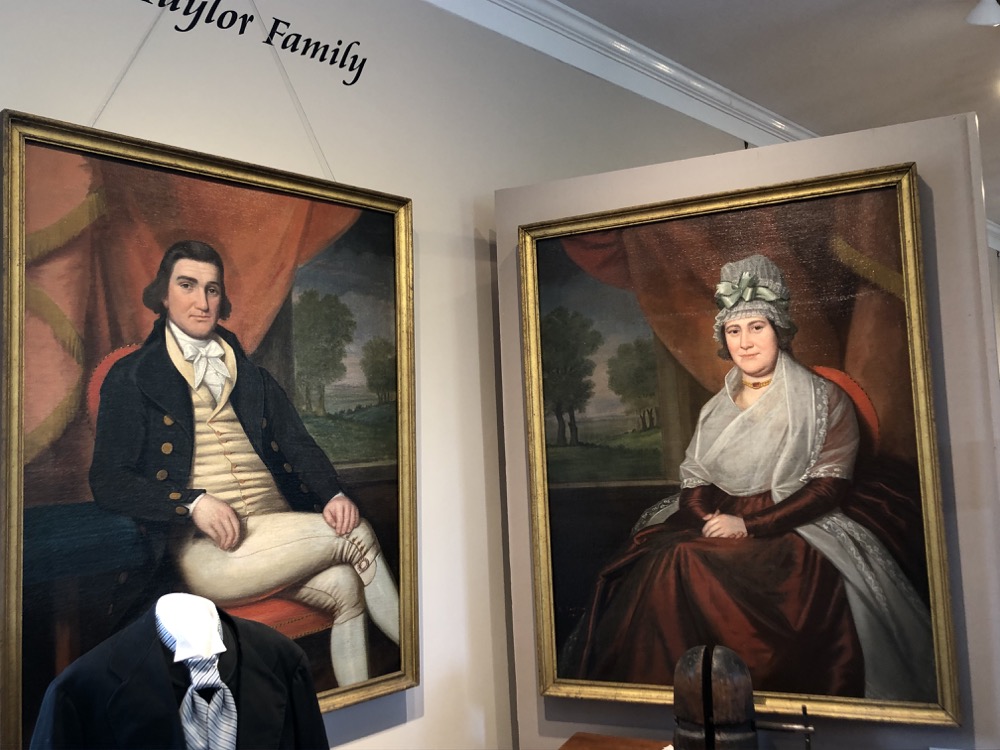 Sherman is the answer to one of the best CTMQ (and Connecticut) trivia questions: he was the only man to sign all of the "Founding Documents" creating the United States of America. He signed; The Articles of Association of the First Continental Congress, The Declaration of Independence, The Articles of Confederation, and the Constitution of the United States. In addition to copies of these four documents, the exhibit includes a copy of a portrait of Roger Sherman, and a timeline of his life in New Milford, reflecting his work as a shoemaker, surveyor and lawyer.
There are also exhibits that you'll find on the local Native Americans as well as the role of Black residents through time. Lots of good stuff on the history of New Milford as well.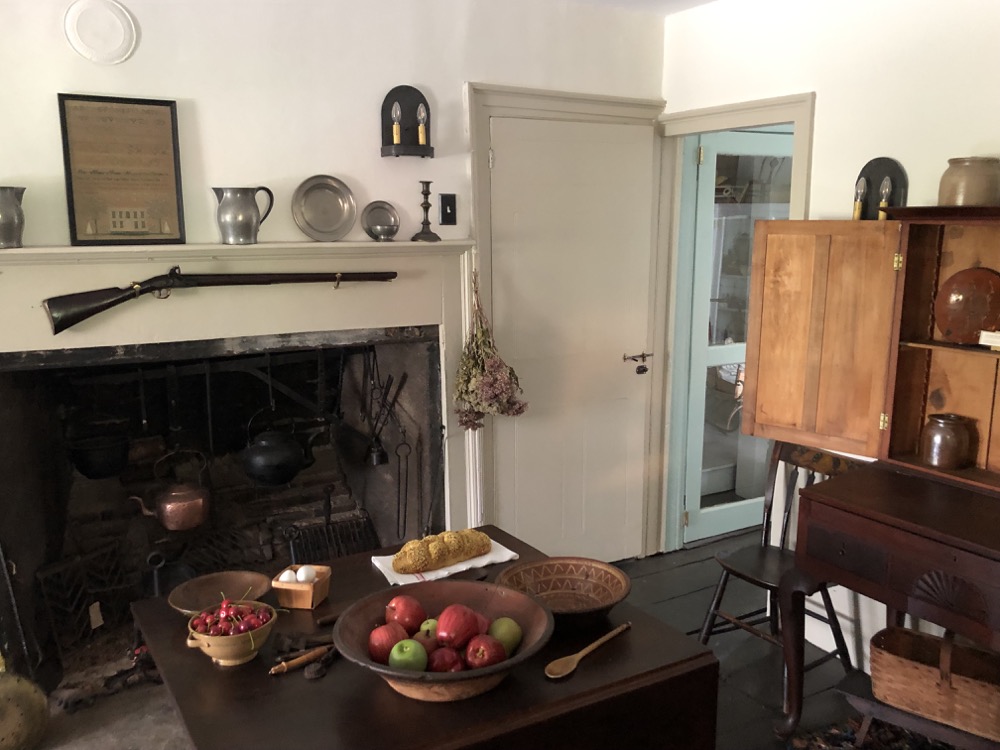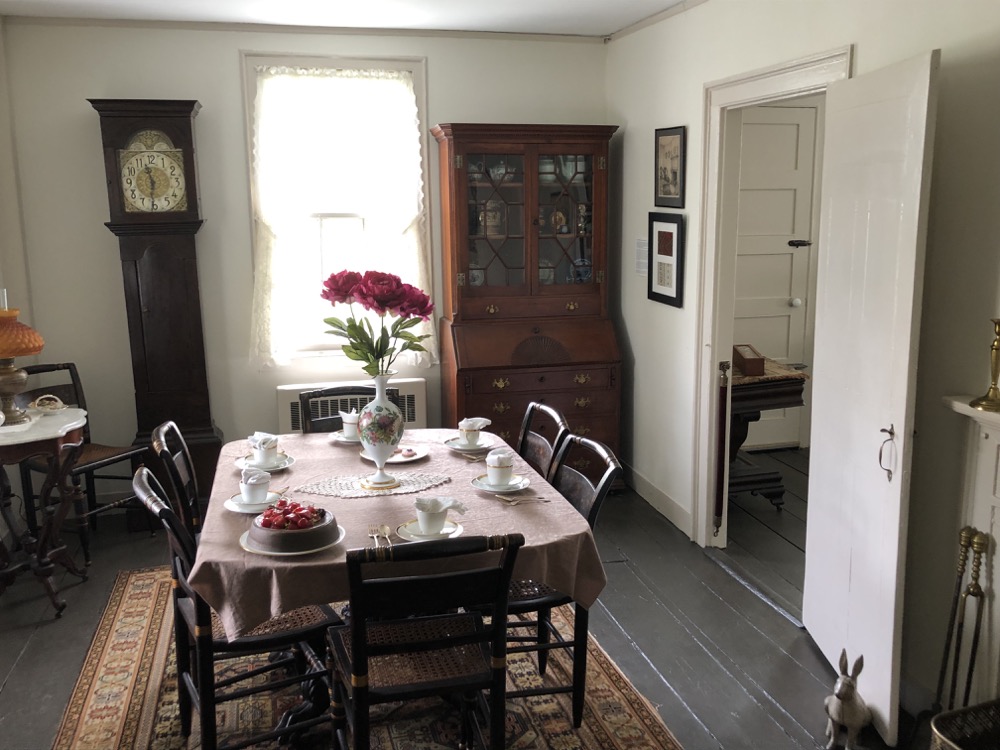 And in 2019, there was a docent who had the patient of a saint with my son Damian. With some elderly folks, convincing them that children like mine exist and that it might be best to just let them do their thing unbothered is often an impossible task. This guy didn't care that Damian was not responding to his questions. He didn't care that Damian obviously has special needs. He just kept hassling him to participate in some way.
And goshdarnit, he got through to my son! (This is always a slightly terrifying situation, as Damian lacks impulse control and often does not take kindly to invasions of his personal space.) Well, "got through" to him as much as anyone he doesn't know can I suppose. Hats off to that guy. A true gem.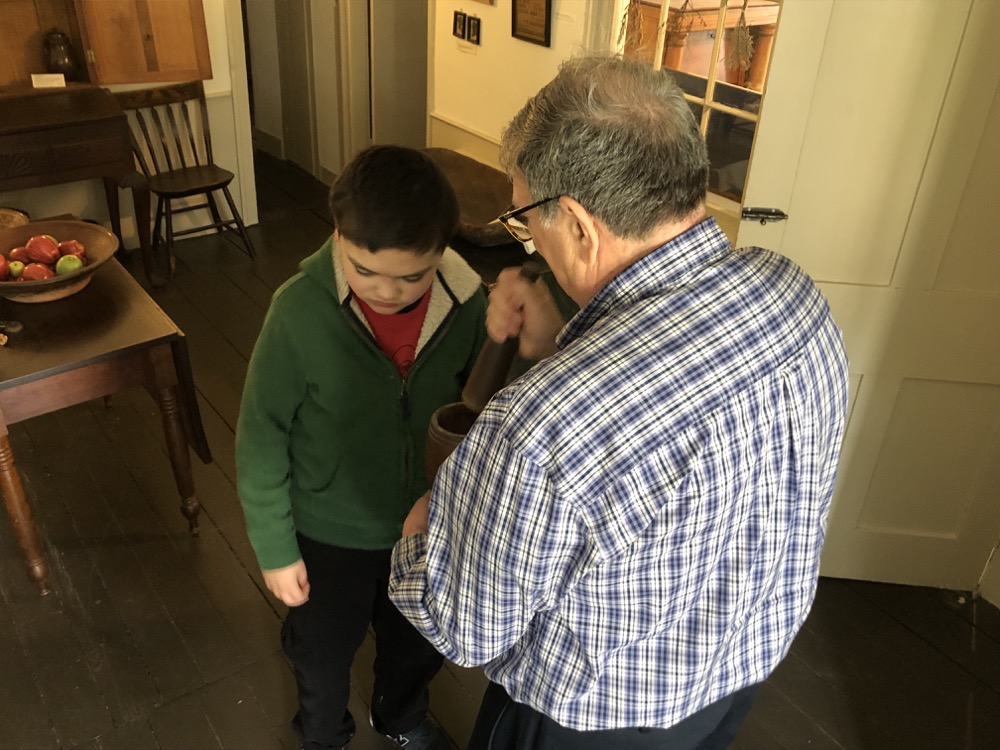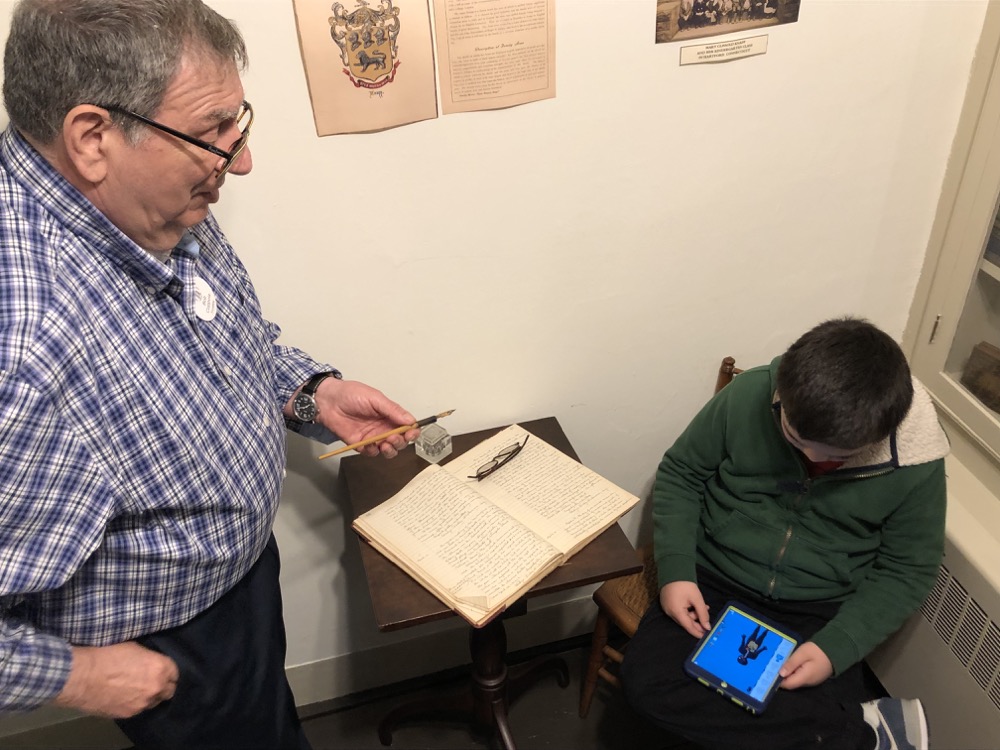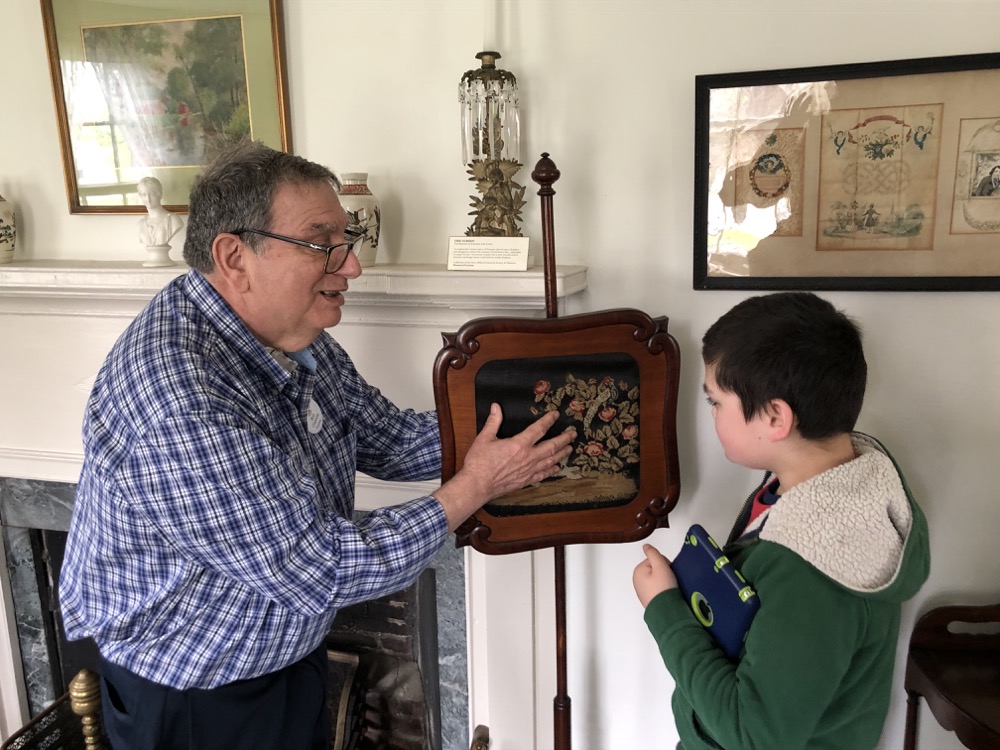 Meanwhile I just wanted to check out the three distinct buildings and move along with my day.
As I noted, one of the buildings had been taken over by a tag sale. But I still went in, being the museum completist that I am. This was the Boardman Store. I could give you several paragraphs of details containing things like, "Elijah Boardman (1760-1823) was the third son of Sherman and Sarah (Bostwick) Boardman. Elijah would later be elected to the U.S. Senate in 1821. After his service in the Continental Army was cut short due to illness, he moved to New Haven where he clerked for Elijah and Archibald Austin, two established merchants. After two years, he moved back to New Milford…" but I like you readers too much to do that to you.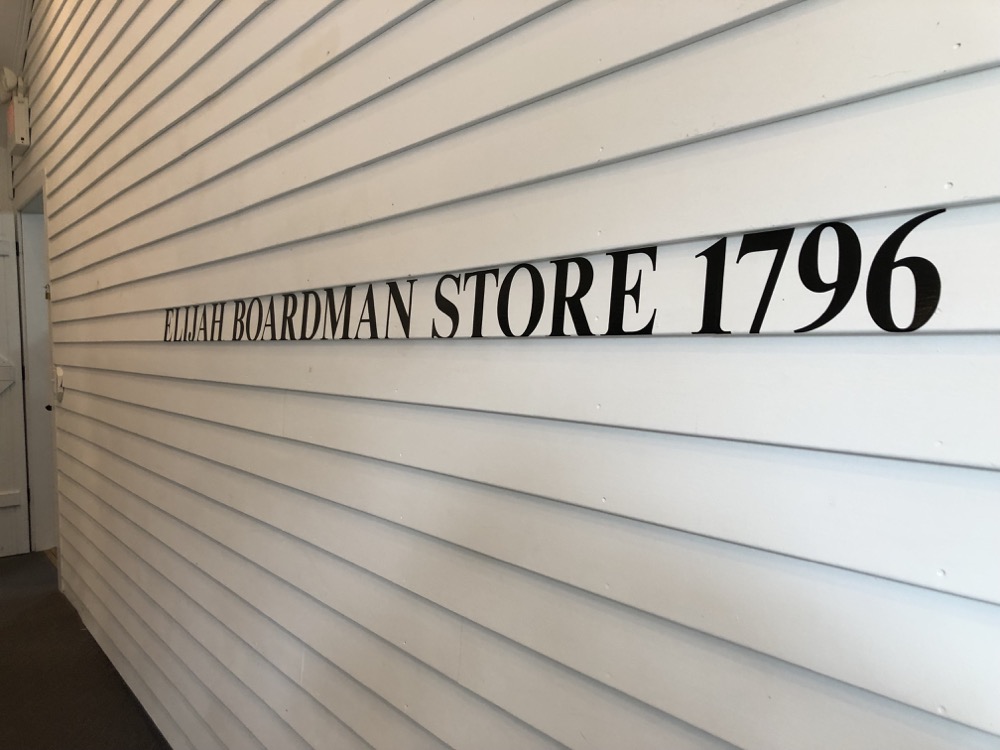 This "Boardman Store" is a recreation, based upon a painting of the original and knowledge of the time period's materials and architectural styles.
There's a little from the original in today's structure: its original post and beam framework and sheathing, hidden under countless additions made to the building over the years. In the fall of 1994, a crew dismantled the patchwork store, piece by piece, numbering and labeling the wood, which was stored until it could be reconstructed. Some of the original saved pieces of wood were signed by the original workman and can be seen today.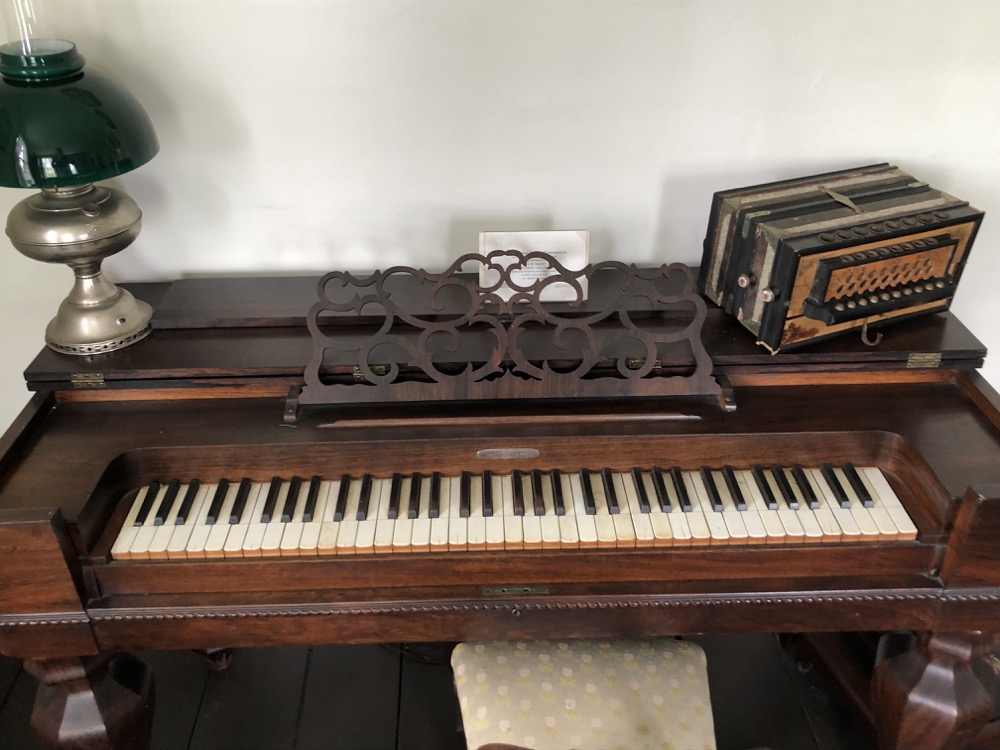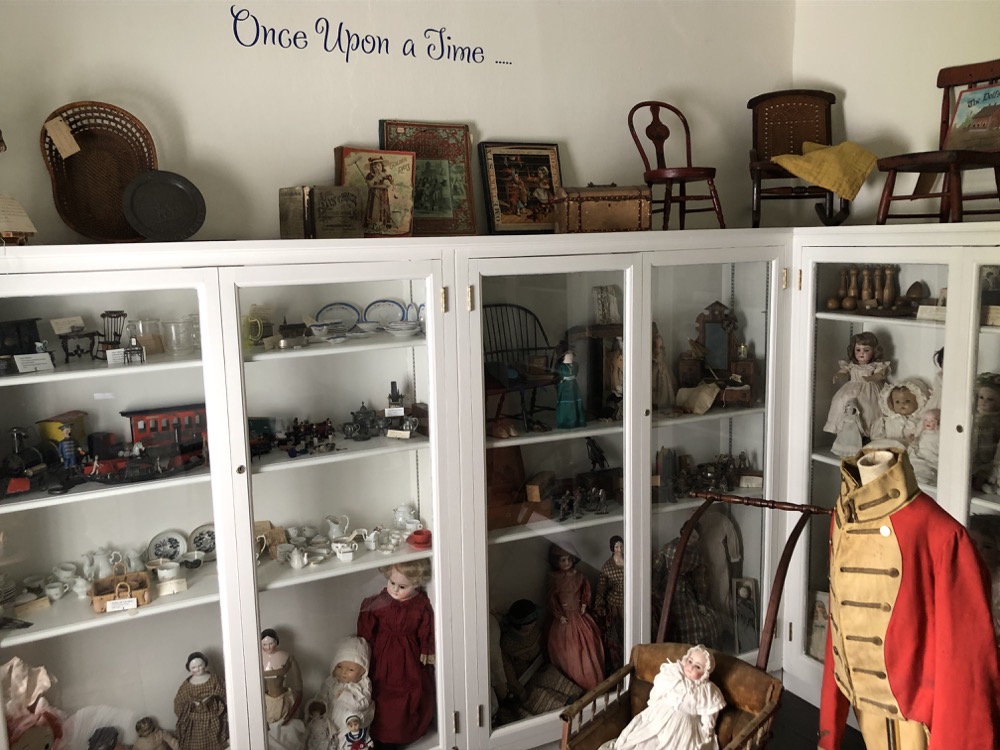 It was "re-completed" in 1996 and operates as an exhibition space, meeting room, and apparently tag sale quarters once or twice a year.
The other building on site is the Bank Building, also built by Elijah Boardman around 1820 and was moved to be part of the Society's collection in 1964. This was Litchfield County's first bank building. I don't know if that means it was the first bank building in Litchfield County… or if it was The First Bank Building of Litchfield County.
I did not go inside the Bank Building, nor do I think many people ever do. The museumy quality about it is… just it: a small brick building that was built in 1820 to be the first/First bank/Bank in/of Litchfield County.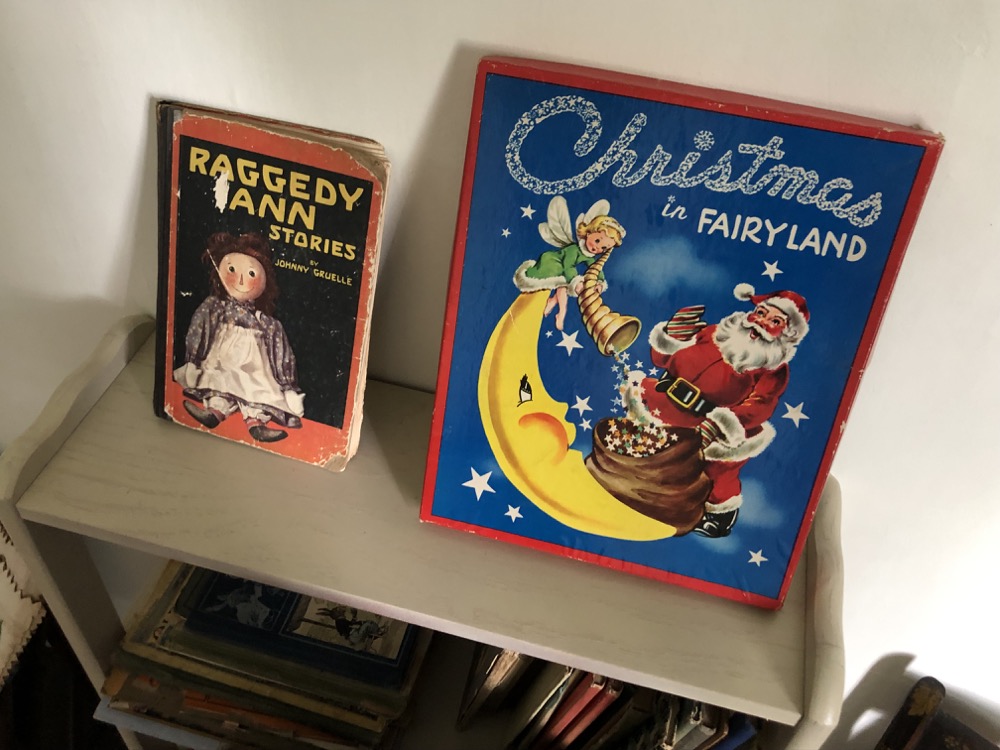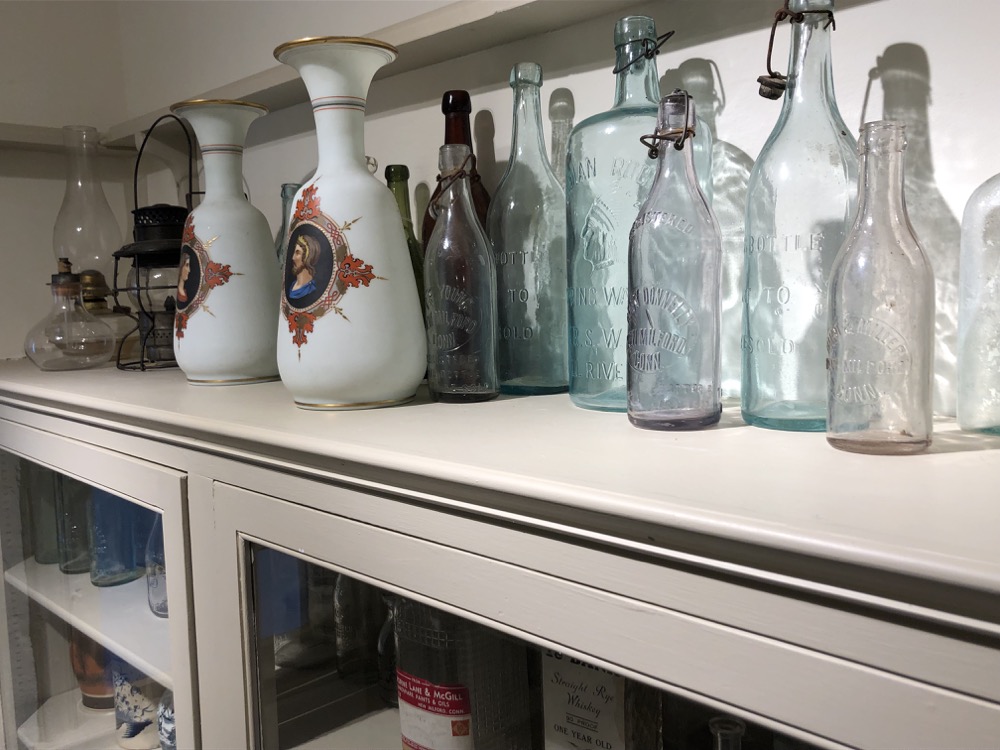 The item(s) that the Society displays that they seem most proud of are the "concealment shoes" they found in the walls of the Knapp House.
Little is known about this tradition. It was brought to America by early settlers, mostly from England and Western Europe. Shoes have been discovered in houses dating back to the 1600's, and in Europe shoes have been found from as long ago as the 14th century. In fact, the Northampton Museum in England has an index that lists over 2,000 concealment shoes.

Often only a single child's shoe was hidden, but shoes belonging to women and men have also been found as in our case. A total of four were found. They could have been hidden during the original construction of the house or during a later renovation.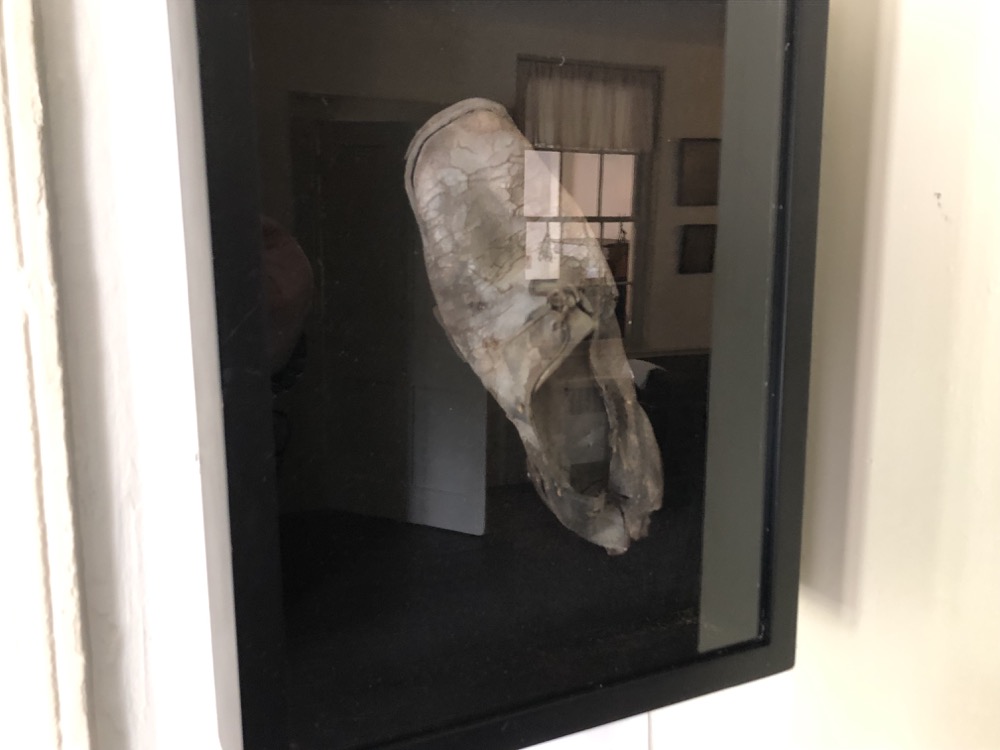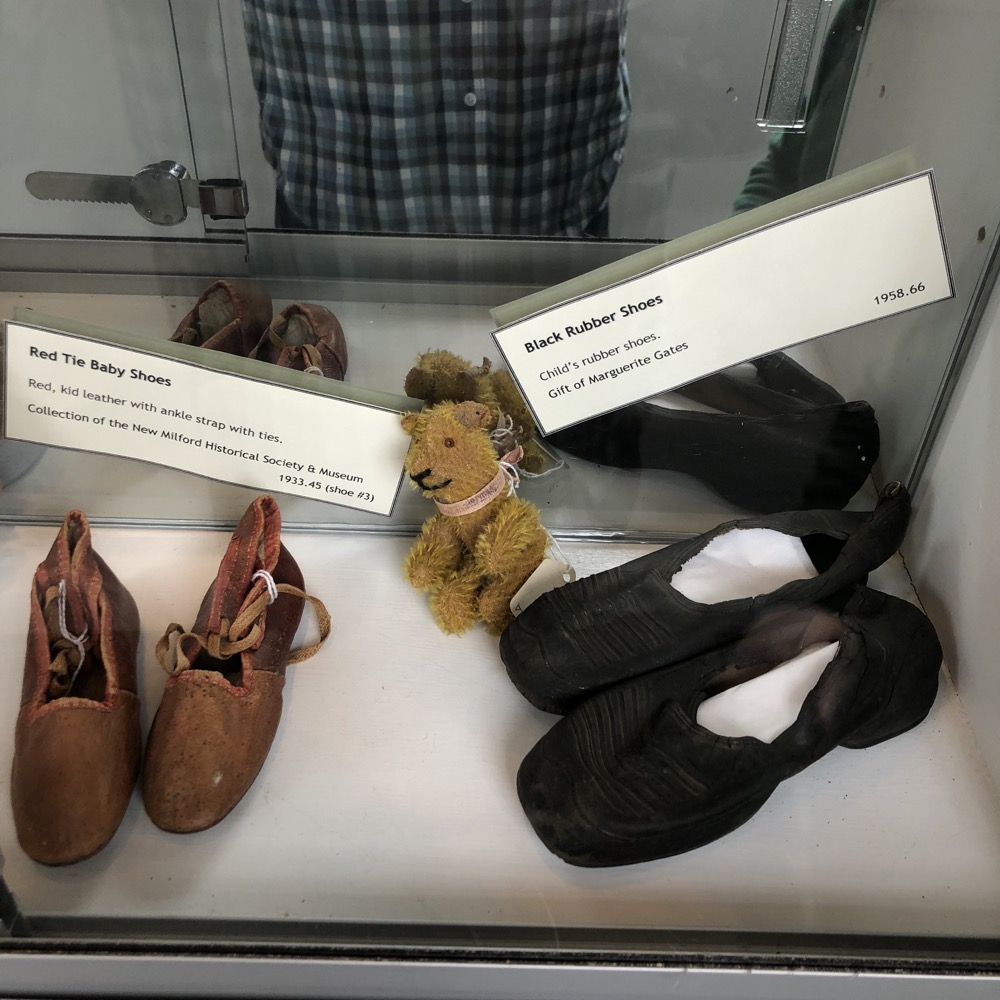 Historians think that people may have hidden shoes for the protection and good fortune they could offer. Many people of the time believed that mischievous spirits could enter a house. What could stop these spirits? A shoe molded to the shape of its owner's foot. If the shoe was hidden near a place easy for spirits to enter, such as a chimney or window, the spirit would think it found the shoe's owner, and leave the rest of the house alone. It was a superstition, but life in early times could be harsh, and people then, as now, worried about the future. Perhaps they needed to believe in the protection and good fortune a hidden shoe could bring.
It's both creepy and cool that they found these shoes and put them on display.
For those of us not from here, who rarely get "over here," New Milford is a bit of a mystery. It's Connecticut's largest town by area and yet, it's such an unknown. The Historical Society is a good introduction to the town for anyone and I promise that you won't get too Board, man.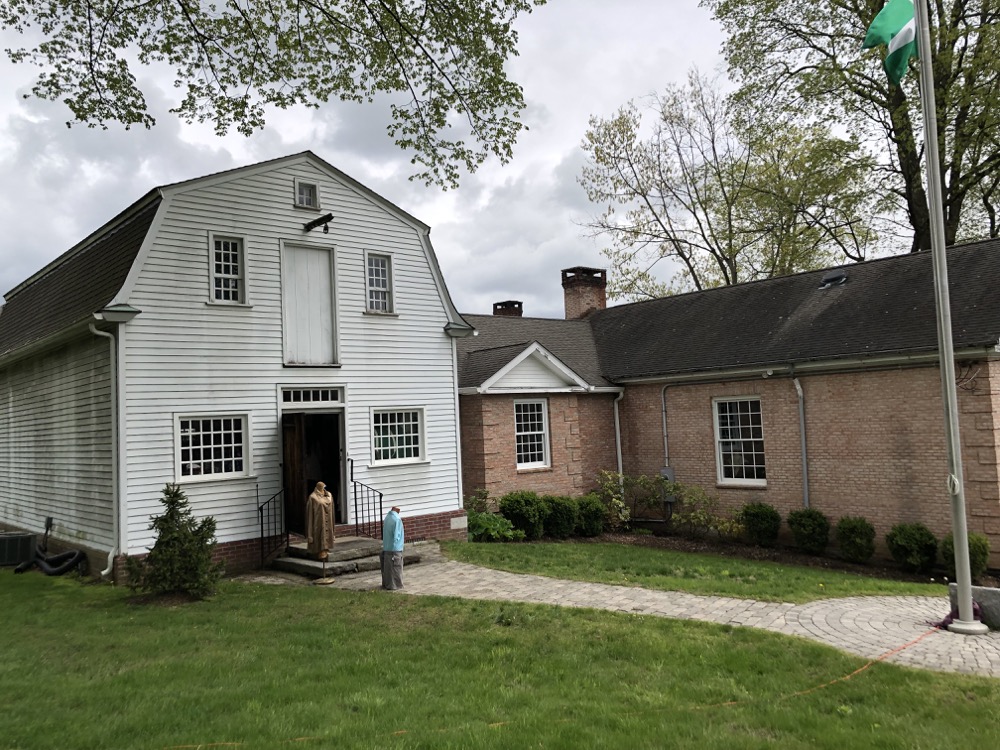 The Knapp House/New Milford Historical Society
CTMQ's Museum Visits