Everything New Milford
I've been exploring and writing about Connecticut since 2006. After a decade, I began compiling CTMQ guides for each town in the state. I plan on "completing" New Milford CTMQ-style… as well as the other 168 towns, cities, and boroughs in Connecticut. That is the ultimate goal of CTMQ.
If I've missed anything in town or if anything has closed or changed, please let me know.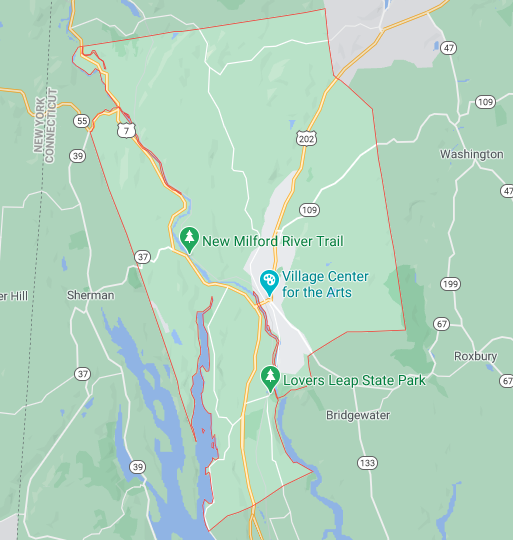 Museums
New Milford Historical Society Museums
Gaylord District Schoolhouse
Hill and Plain School
Knapp House/New Milford Historical Society Museum
Northville Schoolhouse
Brown's Forge Museum
Gallery 25
Harden House Museum
John J. McCarthy Observatory & Exhibits
Memorial Hall/Local History Room
Merwinsville Hotel
The Pratt Center
The Skitch Henderson Museum & Art Gallery
Hikes & Bikes
Lover's Leap State Park – Intro
CFPA's Housatonic Range Trails
CFPA/Nature Conservancy's Sunny Valley Preserve Trails – Intro
Audubon Trails – Intro
Jane and George Pratt Valley Preserve
Eversource Land Trust – Intro
Northwest Connecticut Land Conservancy Trails – Intro
Candlewood Mountain
James Morrissey Family Nature Preserve
Kahn Preserve
Mildred Strauss and James Morrissey Family Nature Preserve
Mount Tom Preserve
Tory's Cave & The Eleanor and Howard Hunt Nature Preserve
Roxbury Land Trust – Intro
New Milford's Town Trails – Intro
Andrew Gaylord Barnes Park
Baldwin Park
Carlson's Cove
Clatter Valley
Dike Point Park
Harrybrooke Park
Helen Marx Park
Lynn Deming
Nostrand Trail
Pratt Center
The Reservoir
Sega Meadows Park
Sullivan Farm
Multi-Use/Rail Trails
New Milford River Trail
Food & Drink
Roadfood's List: Burger at Clamp's Hamburger Stand
CT Diner Trail: Windmill Diner
CT Diner Trail: DinerLuxe
CT Unique & Historic Restaurant: Three Brothers Family Restaurant
CT Cheese Trail: Kimberly Farm
CT Homemade Ice Cream Trail: Kimberly Farm
CT Beer Trail: Bad Dream Brewing (Closed)
CT Beer Trail: Candlewood Brewing Company (Closed)
CT Beer Trail: Housatonic River Brewing
Looking for your favorite restaurant? Here is an explanation as to why it's not here.
Everything Else
ASME & ASCE National Landmark: Rocky River Hydro-Electric Plant
Historic Great Falls
Harrybrooke Park Falls
Pratt Valley Preserve Falls
Candlewood Lake
Kelly's Slide
Tory Cave
The Washington Oak (Gone)
Gaylordsville Spite House
Irish Road Bowling
The Courage of Sarah Noble, Alice Dalgliesh
New Milford Wrap-Up
Completion Celebration TBD