Clamping Down on This Roadfood List
Clamp's Hamburger Stand, New Milford
Clamp's! I did it! For years I tried to get to this place on trips out "west". It takes pride in not being open very much and (previously) being somewhat secretive about its location.
This makes no sense, of course, but that's how they operate. Today, in 2015, we finally have an address available, so the only thing making it difficult is its far-flung location in New Milford.
And so, on a lovely summer's day, Damian and I stopped here for lunch in between two Sky's the Limit Challenge hikes in New Milford and Kent. I kept driving north on route 202, out of the center of New Milford and found myself saying, "We passed it. We must have passed it by now. Are you kidding me? I'm HERE! I'm so close to finishing this stupid list! I MUST FIND CLAMP'S [redacted] HAMBURGER STAND TO BUY A [redacted] HAMBURGER THAT I WON'T EVEN [redacted] EAT COMPLETELY!"
Damian just stared at me from the backseat.
It is accurately located on Google Maps now in 2015. Again, this was NOT the case in previous years. (It's at the intersection of Sawyer Hill Road and 202.) Just don't be confused by the nearby Sawyer Road or the North Sawyer Hill Road just, um, north.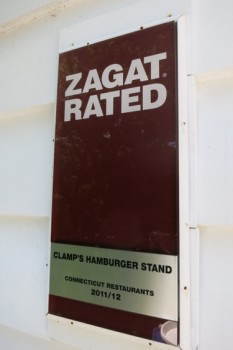 It is tiny. It is a little bit banged up. It is popular.
There are a bunch of cheap plastic tables for outdoor dining (which isn't a knock, as this type of seating is perfect at such places) and a good amount of parking space. I ordered my cheeseburger, got Damian some chicken fingers and watched as the crowds came in.
Keep in mind, this place is pretty remote, and this was a weekday. But there was a fairly constant line.
We got our food and… this is where I recuse myself. I don't eat beef. I've suffered through a few steamed burgers for the good of this list and this website, and this one was better than those atrocities. But it was nothing more than a roadside cheeseburger. I just don't understand the allure, other than quick calories and fat.
Damian's chicken was quite good, and he continued to eat it over the course of the next hour while we visited with the great guys up at Kent Falls Brewery (not yet open to the public at the time). Barry at Kent Falls effused about his love for Clamp's, but it almost seemed like a "Thank goodness they are down the hill, as there's literally nowhere else to buy a quick lunch out here" rather than a "OMG, that place rules!"
Then, as Damian ate his chicken fingers while we checked out the farm's chickens, it got… a little weird.
I usually edit the following for brevity, but wanted to keep this one intact, as it makes the point about the ethos of this place better than I did.
Roadfood says:
The business card of Clamp's Hamburger stand says, NO SIGN, NO ADDRESS, NO PHONE, JUST GOOD FOOD. In fact, there is a sign about the size of a license plate on the side of the wood-frame hut: "Clamp's Est. 1939." Despite the lack of a billboard and a street address, you will have no trouble finding this place because there are cars and people crowded around any time it's open … which is late April to early September, every day from 11am to 2pm and from 5pm to 8pm. (Note: those hours are precise.)

Edwin and Sylvia Clamp started the business way-back-when, and now their great-nephew, Tom Mendell, is the boss. Tom told us that since 1939 Clamp's has never advertised and never had a phone (and therefore was never in the phone book), and while it did have a prominent sign, when the sign blew down in a windstorm back in the 1960s, it was not replaced.

Located on a pretty stretch of Route 202 at the uppermost edge of New Milford, Clamp's has been a favorite destination for generations of Connecticut summer people and year-rounders. There is no seating inside, but grassy, tree-shaded groves to the right and left of the building are arrayed with wooden picnic tables. You place your order at one of two windows, pay for the meal, then wait for your name to be called. Meals are presented on round white trays.

While the menu lists many drive-in dishes, from chicken tenders to chili dogs, it's hamburgers that have earned Clamp's its reputation. Made fresh daily by a local butcher and cooked the way you request, they are modest-size patties with plenty of flavorful juice that leaks out and flavors the tender bun. Their edge slightly crisp, the fibers of the meat infused with a smoky taste that sings of summertime pleasures, they are quintessential picnic food. All condiments are available, but we highly recommend fried onions, which are cooked until caramel-sweet, as well as a sprinkle of salt and pepper to accent the flavor of the beef.
The CTMQ experience:
It was a burger. Not really any different than the burger your friend cooks on the grill at his annual summer backyard party. But, this being my very last burger for this Roadfood list, it did taste a little sweeter than the others.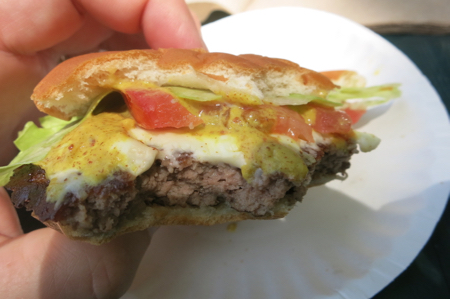 And yeah, I must admit. I didn't eat any more than what you see here. Oh well.

CTMQ's Best, Unique, & Historic Restaurants & Foods