CT National Historic Landmark
Bush-Holley House
Greenwich
The Bush-Holley House is very deserving of its landmark status, but I must mention that it also appears on a few other "trails" and such in Connecticut. It is part of the CT Women's Heritage Trail and the CT Art Trail. It is also a museum, of course, and Hoang and I visited in 2014 – this yellow building below is not the actual house… that can be seen at the bottom.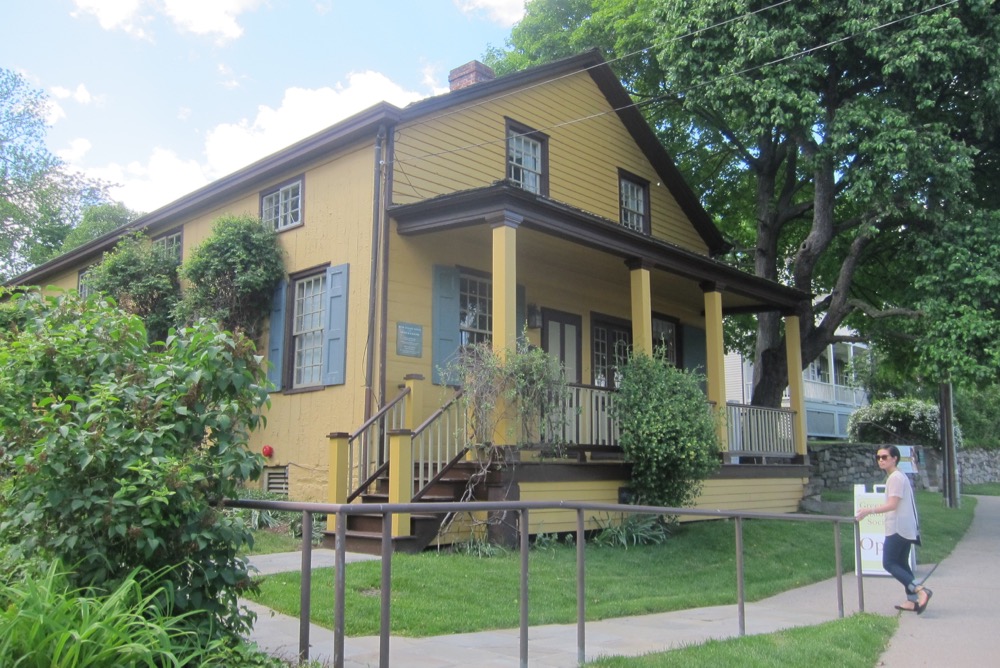 The Greenwich Historical Society now owns and operates out of the Bush-Holley House complex on Cos Cob Harbor in Greenwich. It was awarded National Historic Landmark status in 1991 and has grown to be one of Connecticut's most important museums since then.
When you visit, you visit two distinctly different time periods in the life of the house – the "New Nation" period around the turn of the 19th-century, and then a hundred years later when the house became home to the Cos Cob Art Colony.
Eight rooms feature art, furnishings and objects from these two periods including exemplary works by American Impressionist artists Childe Hassam, John Henry Twachtman and Elmer MacRae. Similar to some other National Historic Landmark slash Connecticut Art Trail slash Women's Heritage Trail sites like Hill-Stead in Farmington and the Florence Griswold Museum in Old Lyme, the art collection is displayed as it was when people lived here rather than a classic museum setting.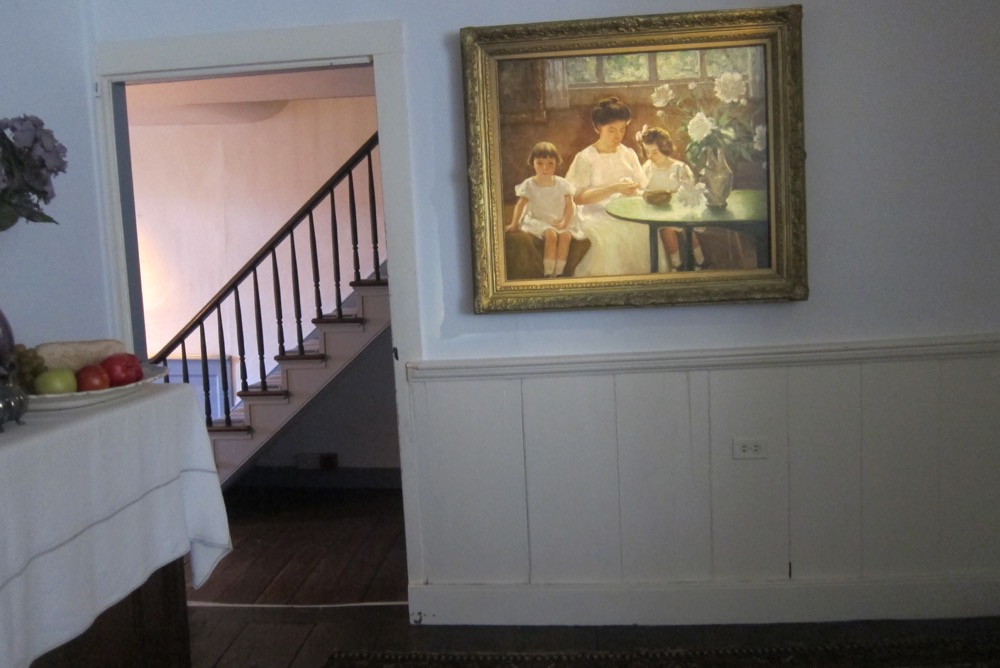 I've learned that with impressionistic art, that's the proper way to display and view it. As the artists intended and all that. Also intended here is the evoke the Cos Cob of old; when it was a bustling, bohemian hub of intellectual and artistic creativity and ultimately the cradle of American Impressionism. (And it was also on a beautiful harbor, now eliminated by I-95.)
The Bush–Holley House was built in stages beginning 1728–1730, with a one-room, two-story structure on a hilltop overlooking the harbor. I'm trying to wrap my head around "one-room, two-story," as that makes for a weird house. Anyway, the main "salt box" house was completed a few years later. The Bush family owned the house for about three-quarters of a century from 1777 onward and largely expanded and improved the house over that time. They needed to, as many, many people lived in it. Check out this paragraph from the museum's website:
In 1777 a widowed David Bush married his sister-in-law, Sarah Scudder Isaacs (b. 1742), adding five of her six children to his five, and fathering five more before his death in 1797. His household also included 10 enslaved adults and children, making him the largest slave-owner in town. David Bush's son, Justus Luke Bush, inherited the home and bought out his brother Ralph Isaac Bush's share of his father's estate.
Now read it again. Wow. (Although the Presidents Bush lived in Greenwich, I don't think they descend from this virile Bush family.)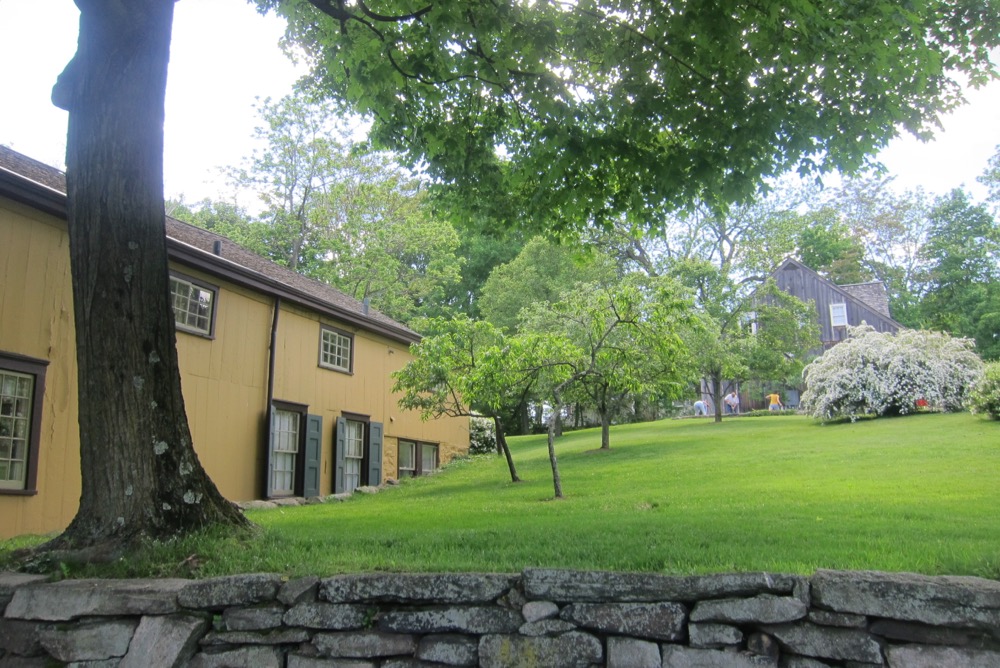 After the Bushs were done overpopulating the town and enslaving humans, the Holleys took over the joint in 1848. The Holleys added new windows and a second-story porch, and in 1882 began operating it as a place of lodging for visiting artists and writers. In the summer of 1896, Elmer Livingston MacRae visited Cos Cob for a class in outdoor painting. While there, he fell in love with Emma Constant Holley and eventually moved into the house full-time in 1899.
That was during the years the Bush-Holley House ran as a boarding house and the center of the Cos Cob Art Colony, Connecticut's first art colony. Yes, as I've mentioned, the house was a gathering place for artists, writers and editors, and scores of art students came to study with leading American Impressionists. The museum experience really focuses on Childe Hassam, but I'm more of a John Henry Twachtman fan.
Actually, I'm just a fan of our small state's 60-something National Historic Landmarks. They're actually a pretty eclectic mix of sites and are not all old houses and museums. So there.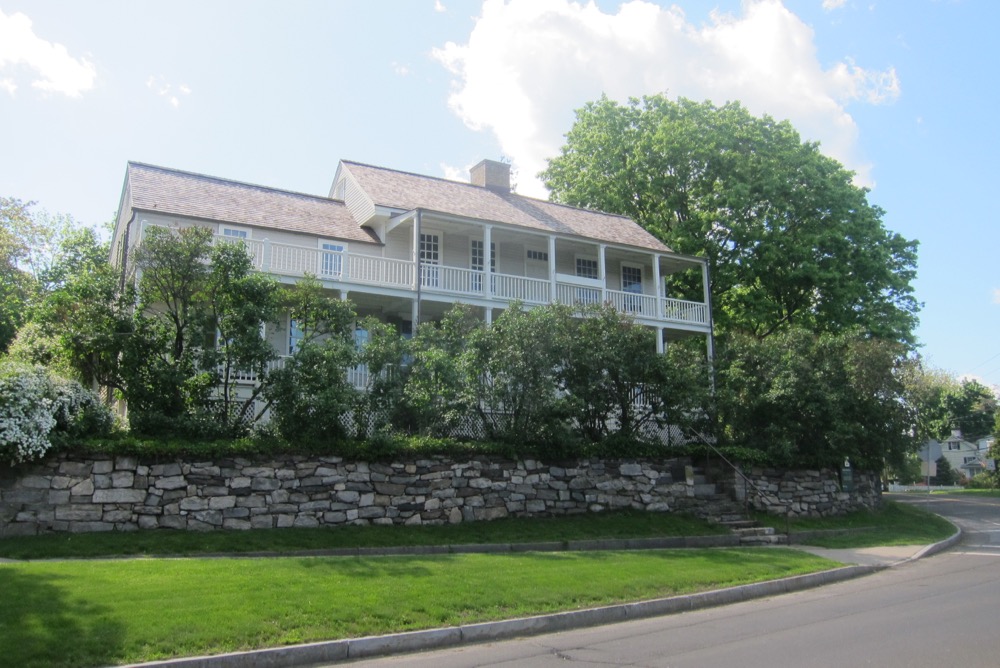 Bush-Holley House/Greenwich Historical Society
CTMQ visits CT's National Historic Landmarks
CTMQ's CT National Designations
My visit to the Bush-Holley House
CT Art Trail
CT Women's Heritage Trail