An Ode to a Wolfe
Paul Ode Trail & Fred Wolfe Park Trails, Orange
January 2020
Ah yes, January 2020. Temperature in the 60's, whispers of some new virus in the hinterlands of China… not a care in the world. Such innocent times. And what better to do than head down to Orange for some quick walks around the town?
(I see you snickering. Don't snicker. This is what we do.)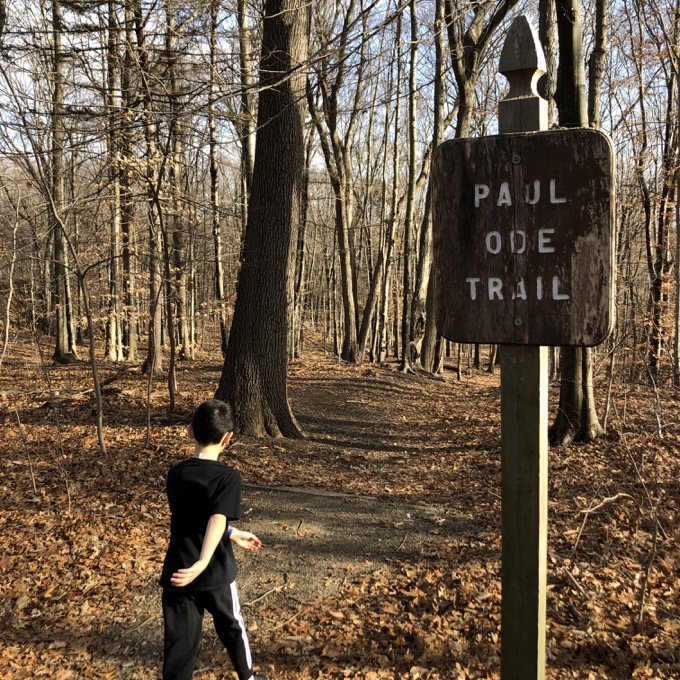 Calvin and I first hit up the Paul Ode Trail in a tract of hilly woods behind the High Plains Community Center. One never knows what one is going to get with these little town-maintained trails.
Like, for instance, we had no idea that we'd have to drive down what appears to be a walking path rather than a road to get to the picnic pavilion and parking area at the trailhead. We didn't expect there to be a woodland disc golf course criss-crossing what we assumed was the trail we set out to hike.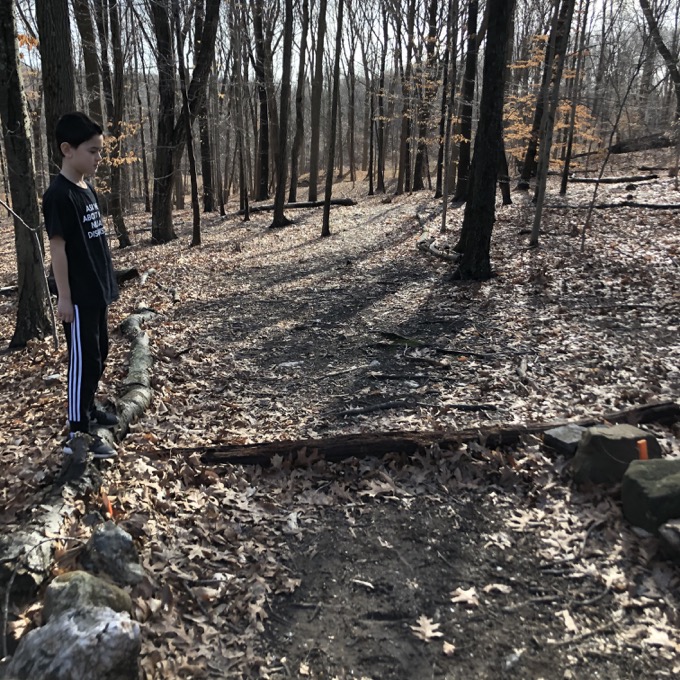 And we certainly had no clue who Paul Ode was.
The Paul Ode Trail is named for Paul Ode who, as Chairman of the Orange Conservation Commission, was responsible for organizing the development of this trail behind the High Plains Community Center.
Oh. Okay. Now we know that. I don't know about you, but if I was a trailblazing trail blazer in Orange, I'd make all my trail blazes orange. But people don't often think as I do, so let's see…
The orange trail starts behind the Rotary Cuzzocreo Memorial Pavillion and drops steeply to the Indian River through a mixed hardwood and hemlock forest. Near the bottom it bears left and returns to the pavilion up the exit to Lambert Road.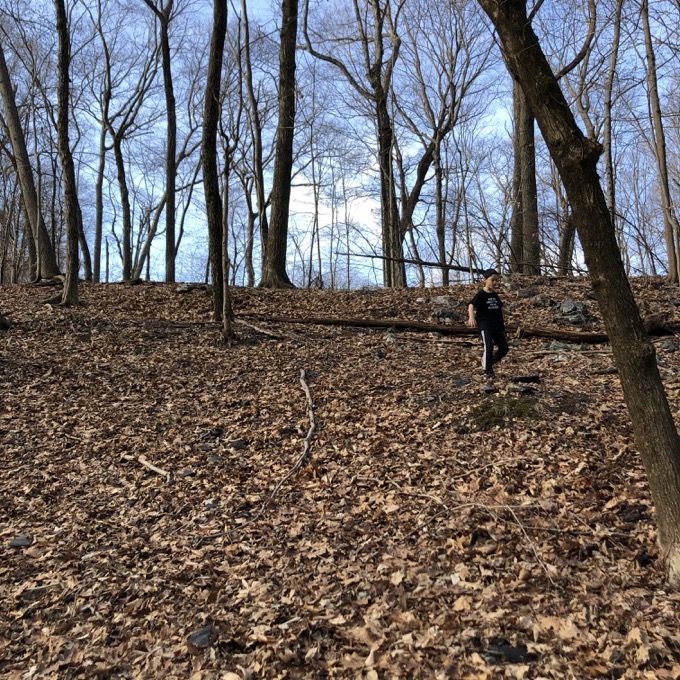 Awesome. I am now comfortable with naming a trail after Paul Ode. The problem with the Paul Ode Trail is that it barely exists. Or at least was incredibly difficult to follow on that blissful January day in 2020. Another problem? The only blazes we saw here were red.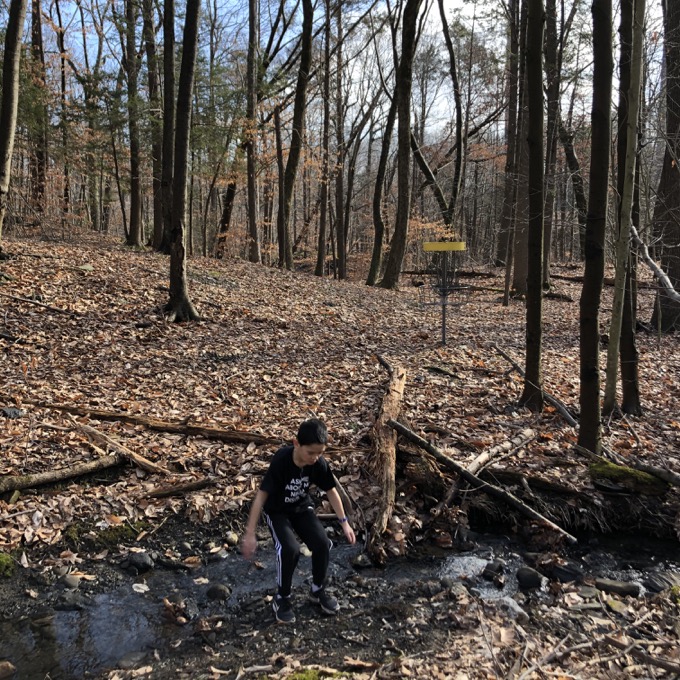 Calvin and started out on the trail and quickly lost the blazes and wound up over there. Then we walked a trail that turned out to be the disc golf trail over here. A-ha! An red blaze down the hill a bit! Then the disc golf trail. Then nothing. Then a trail. Maybe? Then the Indian River.
We scoured the hillside for evidence of the orange trail to no avail. Every time we picked up a trail, it disappeared. Like, look at this – surely looks like a handsome red-blazed trail: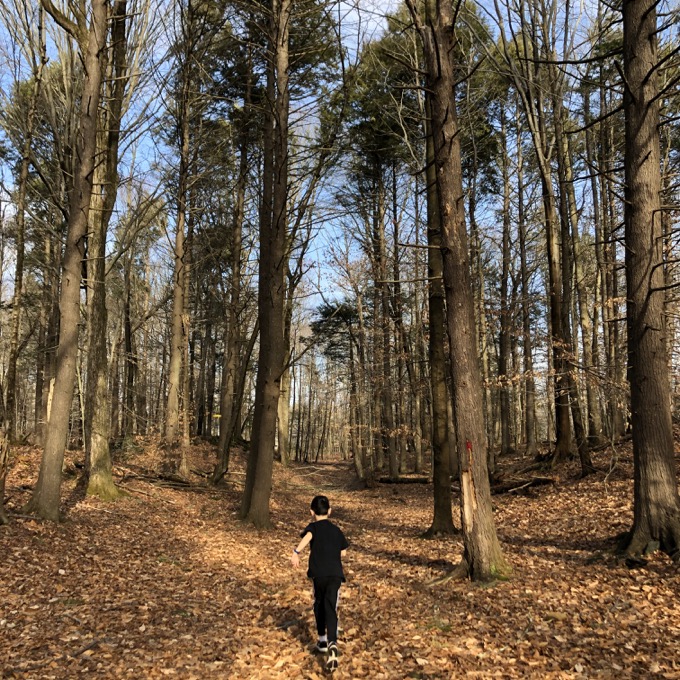 – Nah. I took that picture simply because that blaze existed. We bumbled around here for a while; sometimes on a trail, just as often not. It's a nice little piece of woods, and I'm sure the trail exists and will be reblazed someday, so don't let my experience scare you off. On to the next place!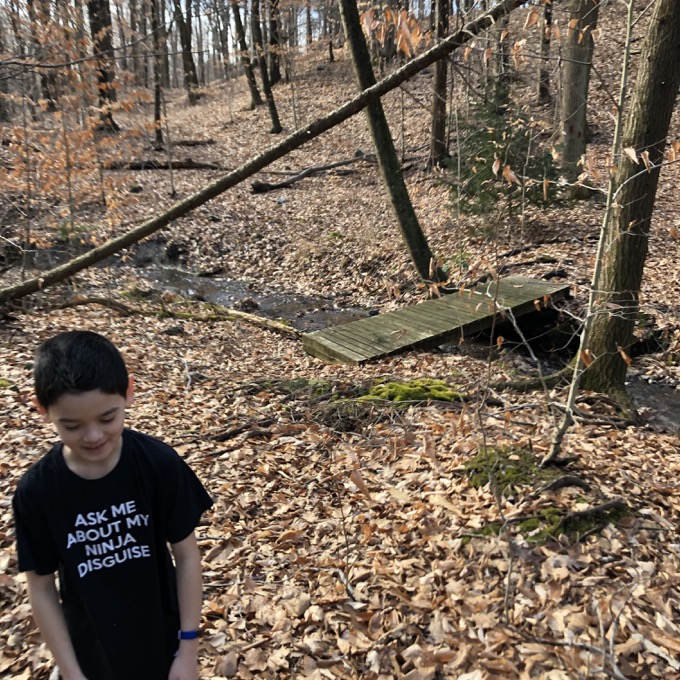 Fred Wolfe Park
Paul Ode's trail needs some work. It was on to see about what Orange had in store for us in honor of Fred Wolfe. Good ol' Fred Wolfe.
I drove to the town's soccer fields and Calvin immediately thought we were there to play soccer. Yes, Calvin, I drove you to Orange to these giant soccer fields without a soccer ball in an effort to play soccer with you. Sigh.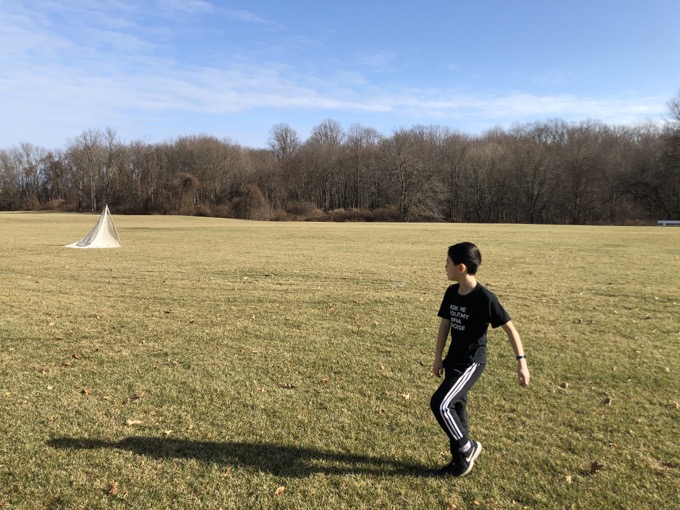 Once he figured we were there to hike and got over his abject disappointment, we crossed the fields and hit the trail. A trail that simply took us through the woods around the soccer fields.
Fred Wolfe Park, named for a man who spent many years in public service in the Town of Orange, is an example of an old farm which was not maintained. For approximately 25 years, it was held by the school district as a possible building site. Soon after acquisition by the Town, four soccer fields were built close to the parking area. The trail begins at the end of the parking lot straight across the end of a soccer field to the green sign. The trail is through a mixture of immature growth and mixed hardwoods. The trail heads in a northerly direction and emerges into a field cultivated by a local farmer.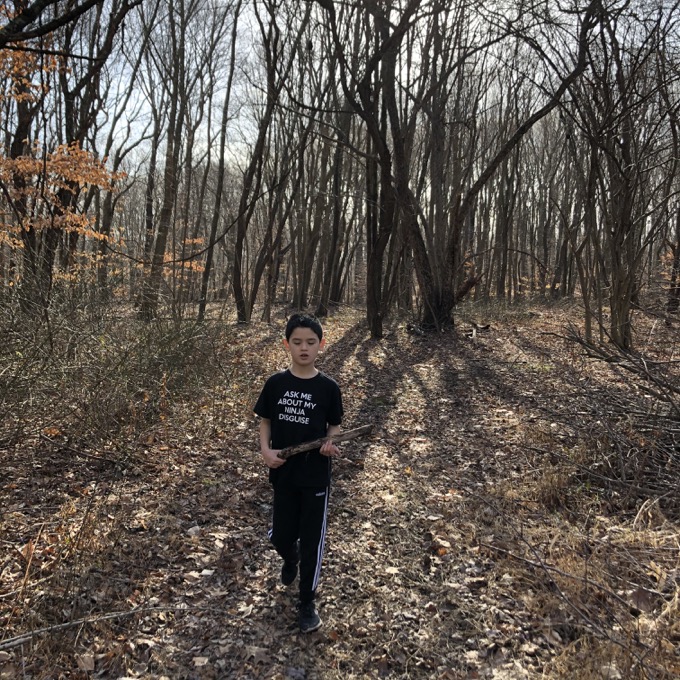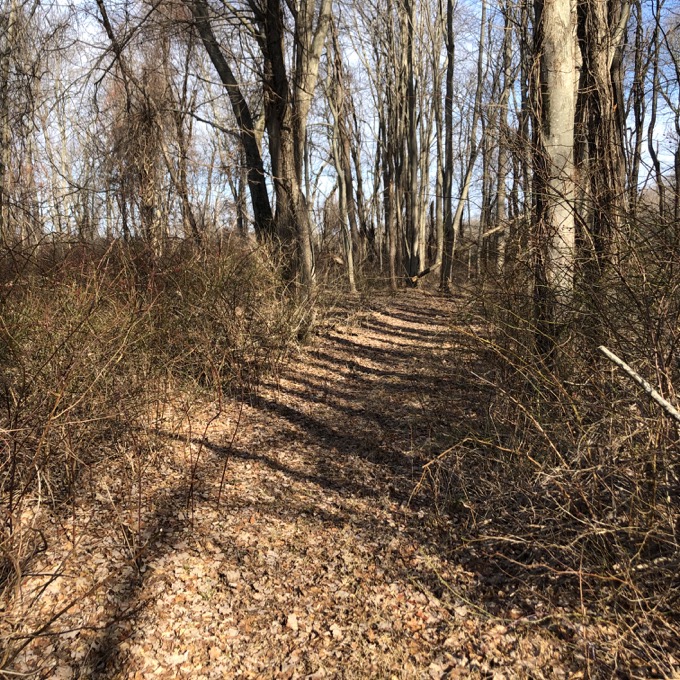 The trail here was very well cleared for us. For a weird trail that doesn't really need to exist (after all, couldn't one just walk around the edges of the fields?), it was amazingly well kept. And it is inundated with garbage invasives like multiflora and bittersweet, so I can't promise the same upkeep in the summer.
At the northern end, we were thrust into a still-farmed field, but not before passing what Calvin deemed "Butt Rock."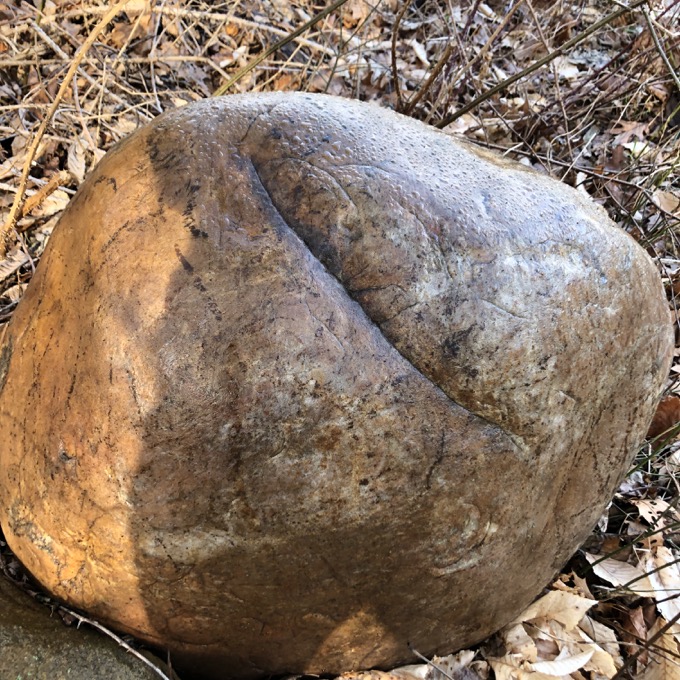 I can see it.
Once into the field, we were kind of left to our own devices to get back across the field to the car, but since we aren't idiots, it wasn't hard to figure out. (There is a path cut through the woods at some point, we just had to be a bit patient to find it.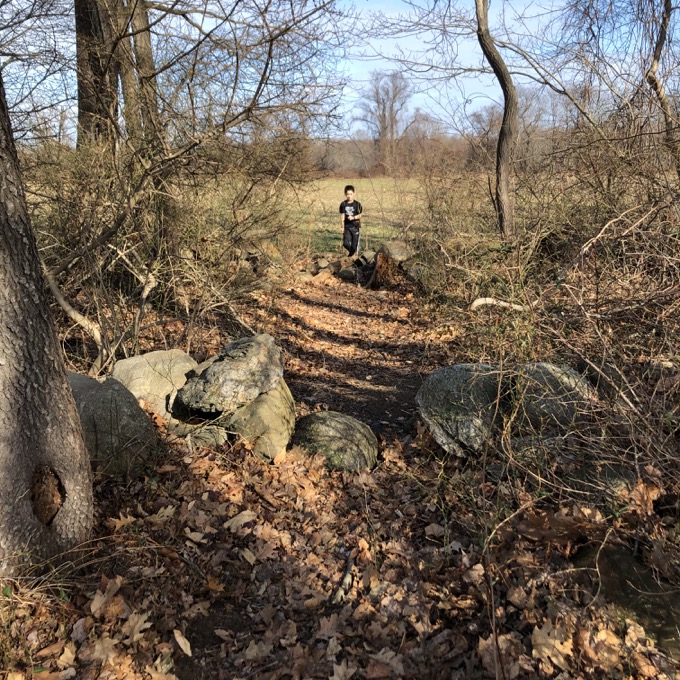 Neither trail is worth driving down from West Hartford to hike, but I'm glad we did and now I feel better connected to the former farms of Orange.