Since 2012?! A True Connecticut Relic
Relic Brewing, Plainville
Updated December 2017
Ah, Relic. So much to say about Relic and its eccentric owner/brewer Mark Sigman. While there are 10,000-words worth of stuff to say about Relic, I will do my best to limit myself.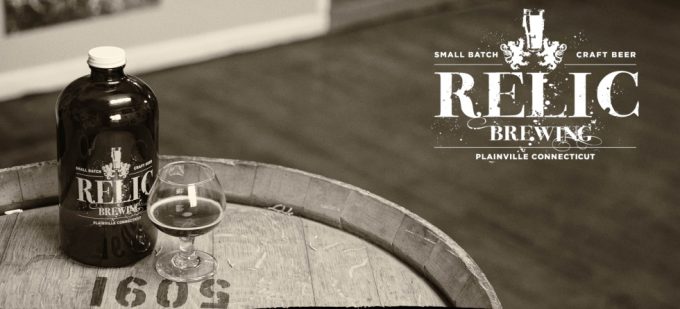 There are many things with which to begin any discussion about Relic: Birthed in 2012, Relic is actually one of the oldest breweries in the state. When they (and I say "they" when Relic was and still pretty much is only Mark Sigman) opened on a crappy late winter's day in 2012, the only other breweries in operation were Cottrell, Cavalry (RIP), Hooker, Olde Burnside, and New England. That's it… and that's crazy to think about today.
They were a true "nano" operation too, as Relic began as what literally looked like some guy's homebrewing operation in his garage… no, make that his closet off his garage. In effect, that's pretty much what Relic was. Mark deserves props for taking the plunge and making a go of what was then a pretty crazy idea in Connecticut. He brought the now-standard 32 ounce growlettes to the fore. He was, as far as I know, the first to self-distribute in the state.
And he absolutely was the first Connecticut brewery to utilize Twitter to build buzz and business. All this stuff is standard now of course, but a "Twitter using, 32-oz filling, self-distributing, nano-brewery" in early 2012 was a gutsy and slightly crazy thing. Props.
In the beginning, Mark didn't give a hoot about the "visitor experience." The "tasting room" was, literally, about 10 square feet. I don't feel like searching back for all my old pictures of it, but if you never saw it, trust me, it was crazy small. And littered with buckets and sacks of malt and stuff. There was a punk DIY atmosphere there that superseded all other DIY punk attitudes at the 10,000 other breweries who co-opt that now.
Relic grew beyond that teeny tiny space and expanded to a larger (but still small) space right next door. The parking lot has always been cratered like the moon, but a visit now is a rather pleasant experience. A full bar with whiskey and other liquor was added in 2016. As were full pint pours – finally.
There are even little couches and real seating at Relic now. How far we've come.
Mark brought a different philosophy to his brewing. It was pretty unique in Connecticut for Relic's first four years or so. From, say, mid-2012 up until, say, early 2015, Mark brewed, man. Like, insanely brewed. Relic pumped out so many different beers it seemed impossible. Not only that, but they were putting an absurd number of them into bombers for sale and distribution. All done on his tiny little rig.
By my count, Relic put out over 40 beers into 22-ounce bombers. Probably around 43 or 44 I think. For a three-barrel brewery in three years… Amazing. Relic never had a flagship beer, something I've always felt hindered the brewery's growth.
That was something else I was wrong about. Nowadays, a huge percentage of breweries don't have flagship beers. Relic was the first in Connecticut with that strategy as well.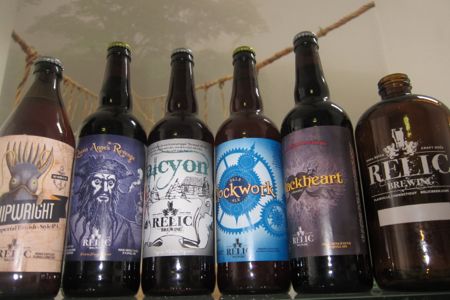 Then in 2015, the model changed along with a lot of what Relic has always been about. Relic began contracting at the much larger Hooker Brewery in Bloomfield. This gives Relic greater distribution, better consistency of product*, and trendier/hoppier offerings**.
*I should tackle this last, but whatever. Quickly, Relic suffered in the past from its size and lack of, how do I say this, quality control? The tiny set-up lacked proper temperature controls for one, and I'm not sure sanitation was of paramount importance. This resulted in a few undrinkable beers over the years. Infected beers with phenols that tasted like Band-Aids; again, to be clear in the past.
The beers went far beyond the "farmhouse funk" that (old) Relic often went for in their 67 iterations of Belgian ales. This, plus the "Relic taste" that many of their beers have had, has resulted in tiny Relic being quite a polarizing operation. Lots of lots of people – knowledgeable people – LOVED (old) Relic. Like, really, really loved it. Just as many dismissed them as a quirky, yeast factory with prettily labeled bottles.
To that latter group, I say: give Relic another try. I've had no issues with a Relic beer since early 2014.
But since then, there has definitely been a change in philosophy in Plainville. In fact, the entire operation has completely turned upside down. (See below)
**Trendier! Hoppier! Mark has told me, many times over the years, "I don't like hoppy IPA's." And that's cool. I don't like spiced beers. But the market has spoken and now, again thanks to Hooker to a large degree, Relic did an IPA and a DIPA and they did well. Not only that, the tasting room suddenly always had "double dry hopped" whatever. This isn't a knock at all; I have no issue with changing one's business to match market conditions and a tiny brewery like Relic simply must do this to survive.
The relationship with Hooker is working out pretty well for Relic into 2018. In fact, as the contract was entering its third year, it's working out beyond anyone's imagination. (Hooker, experiencing a rebirth of sorts of their own, cut all contracts except Relic in 2017.)
If Phase One of Relic was a "Belgian Farmhouse" nanobrewery, and phase two was a "Belgian Farmhouse brewery dipping their toes into the consumer-focused market of IPA's and DIPA's, then Phase Three is "All in."
As before, Relic is releasing a new beer every week or two. However, they are almost ALL IPA's, pale ales, and DIPA's – with a stout or a porter thrown in once in a while. The volume of different beers with the Relic imprint is staggering. And now they are all mostly brewed and canned at Hooker.
Mark saw the writing on the wall and he paid attention to it. He completely changed his business model and his entire "beer philosphy." In a way, that's genius. Releasing a new IPA every other week that is barely discernible from an IPA with a different name/can Relic released two months ago? The way the market is, that's brilliant. And I have a feeling Mark is laughing about it all.
And good for him.
Relic is a fun little brewery to visit. It has changed much over its first several years – but that's to be expected. The "feel" of the place is still the same. Relic still hands out free samples and Mark is always more than willing to share the stories behind each beer. He's traveled the world and I always enjoy chatting with him about travel and recent great meals at local restaurants. There is always cool local art up on the walls and the crowd at the bar are always pretty chill and interesting.
Relic filled a niche in our state that needed to be filled at the time: Belgian, unique, funky, low-key, free samples, actual marketing and focus on labels (some examples)… it had a lot going for it.
Relic is now a fanboy favorite. In fact, a large percentage of "New Relic" fans have absolutely no idea what Relic was from 2012-2014. A large-bottle format Belgian funkhouse, y'all, that's what Relic was and what Mark wanted it to always be. Believe it or not.
New Relic is entirely different, but still filling a niche – and filling it really, really well. Who knows what the future will bring to Plainville and Relic, but you can be sure it'll be ahead of the next wave and done in that "Mark way" we've come to appreciate.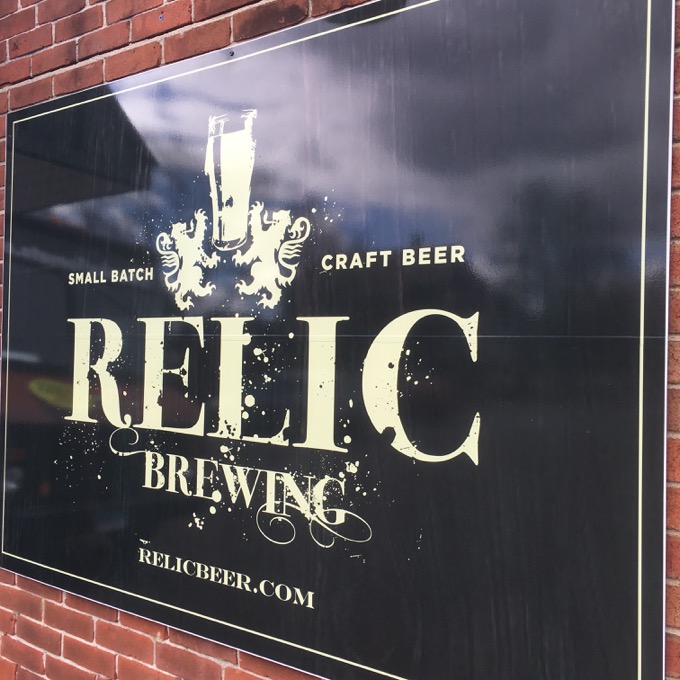 Relic Brewing Company
CTMQ's CT Breweries and Brewpubs