A Right Pleasant Pheasant
Windsor
Multiple Sightings
Okay, so a ring-necked pheasant isn't the most exciting thing to see. But to be able to walk right up to one is pretty darn cool. They really are beautiful birds.
Interesting pheasant note: I take a walk whenever I can during lunch at work. I work next to some tobacco fields, a large marsh, and a decent tract of woods. As a result, I get to see some wildlife fairly frequently. In fact, we have a neighborhood bobcat which I've had the pleasure of watching (no picture as of now) up close. A few days after I saw our bobcat for the first time, I came across this guy: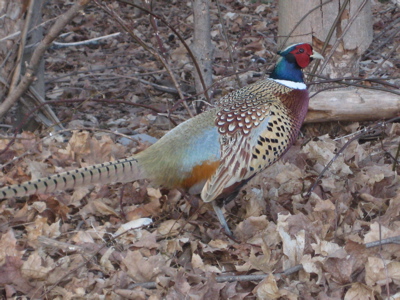 Something tells me if this thing let me take this picture, it won't last too long with Mr. Bobcat around.

CTMQ's Animals (Aquaria, Farms, Wildlife and Zoos)