Rockin' the House
Rockhouse Hill Sanctuary West, Oxford
November 2020
Over my many years of hiking and writing about many hundreds of trails in Connecticut, I've had a few bad takes on mountain bikers. My thinking on the topic has evolved over the years and I've come to respect and appreciate what the New England Mountain Bike Association (NEMBA) has done around the state.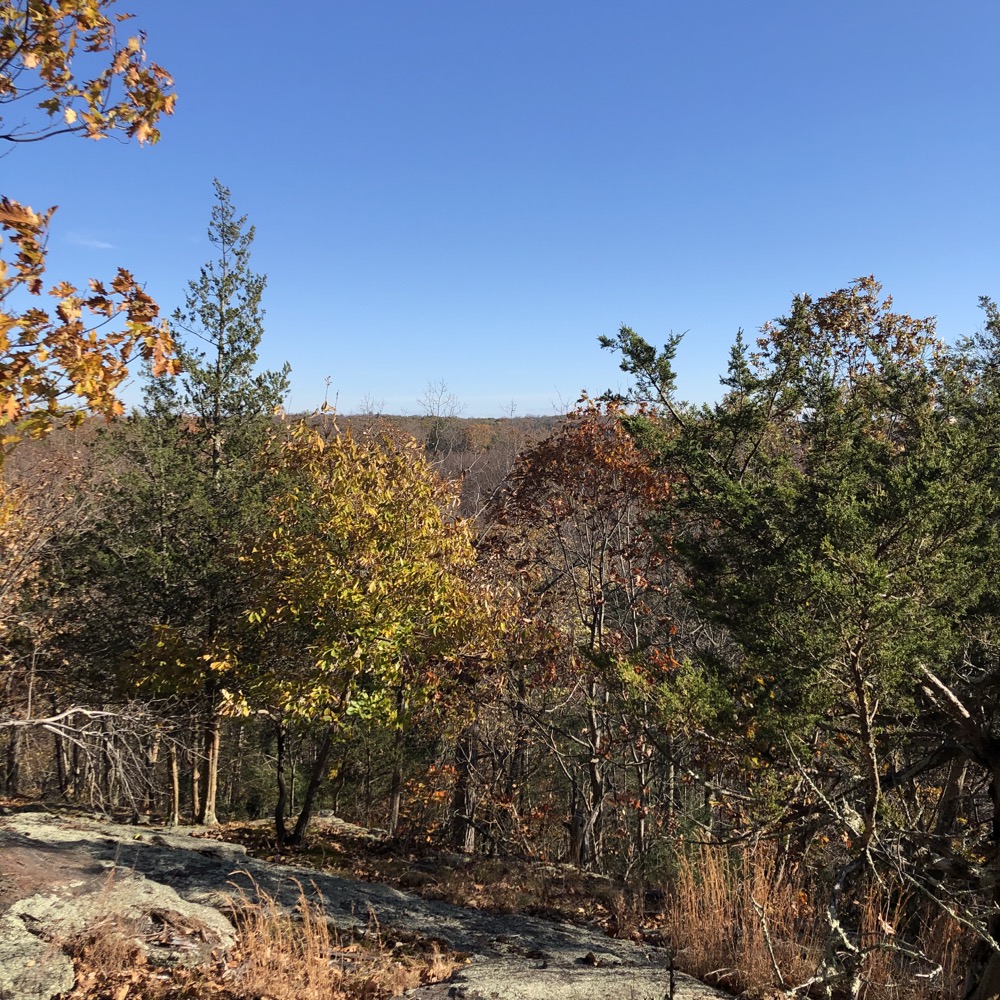 They're still not supposed to ride CFPA's blue trails (for the most part) and I'll still defend CFPA's stance, but I've softened a bit. (ATV riders on hiking trails though… I'll never get soft on.)
Out here in the wilds of Oxford, the NEMBA has partnered with the town and other organizations to help clear and blaze an impressive network of trails at Rockhouse Hill Sanctuary. There are a few parking area from which to get going, two along Quaker Farms Rd (Route 188) just south of Oxford High School.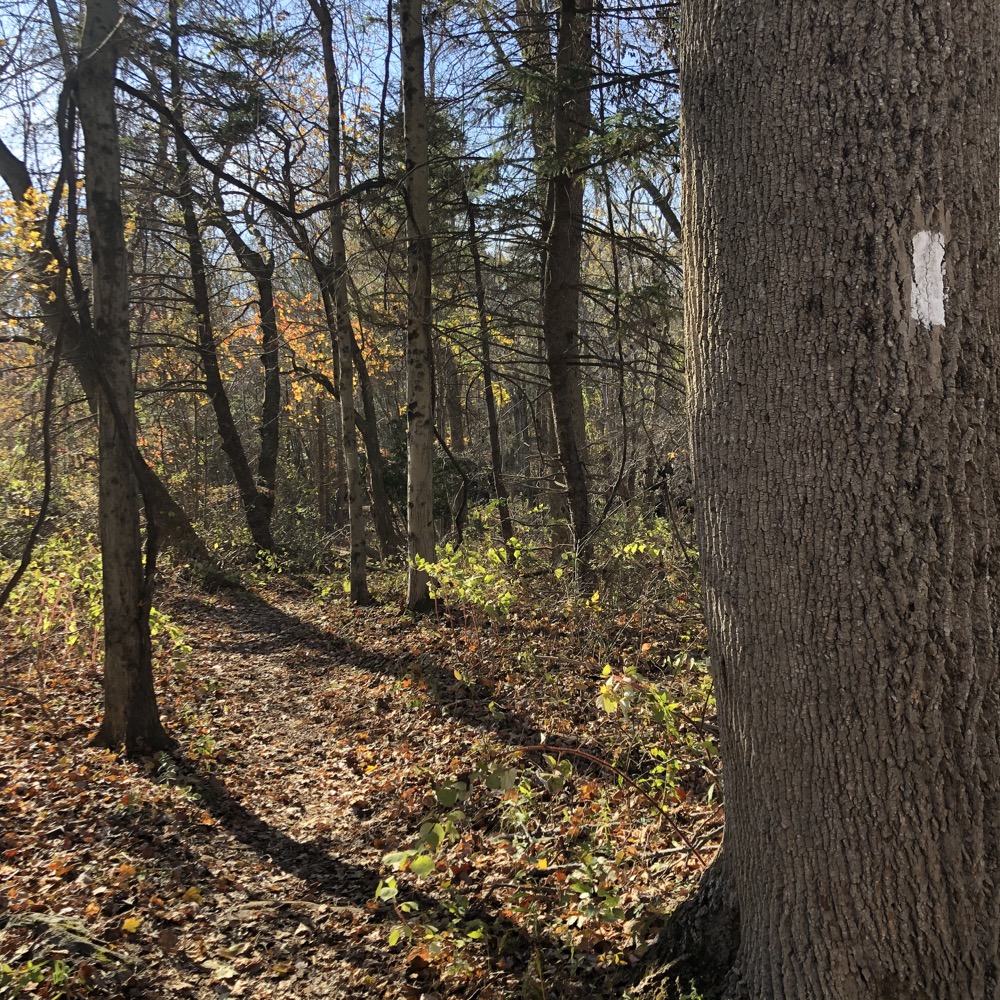 The high school itself is perched on Rockhouse Hill, which is a cool place-name for a high school. (Rockin' the House and all that.) Trails head both west and east from the parking areas and either side makes for a good hike – and apparently an even better ride. Taking in both in one day on foot would take a few hours for an average hiker I'd guess.
Housatonic Valley NEMBA is currently working with the Oxford Conservation Commission and the Oxford Youth Conservation Corps to make the trails more sustainable, build more purpose built single track, and make the existing trails more mountain bike friendly.

Rockhouse is CT's new fun house!" We all agree! The Housatonic Valley Chapter (CT) while small and new, applied for and was granted a NEMBA Signature grant for $10,000 in 2019 to build 9 new miles of bike friendly single track in Oxford CT.
Even mountain bikers have rules though: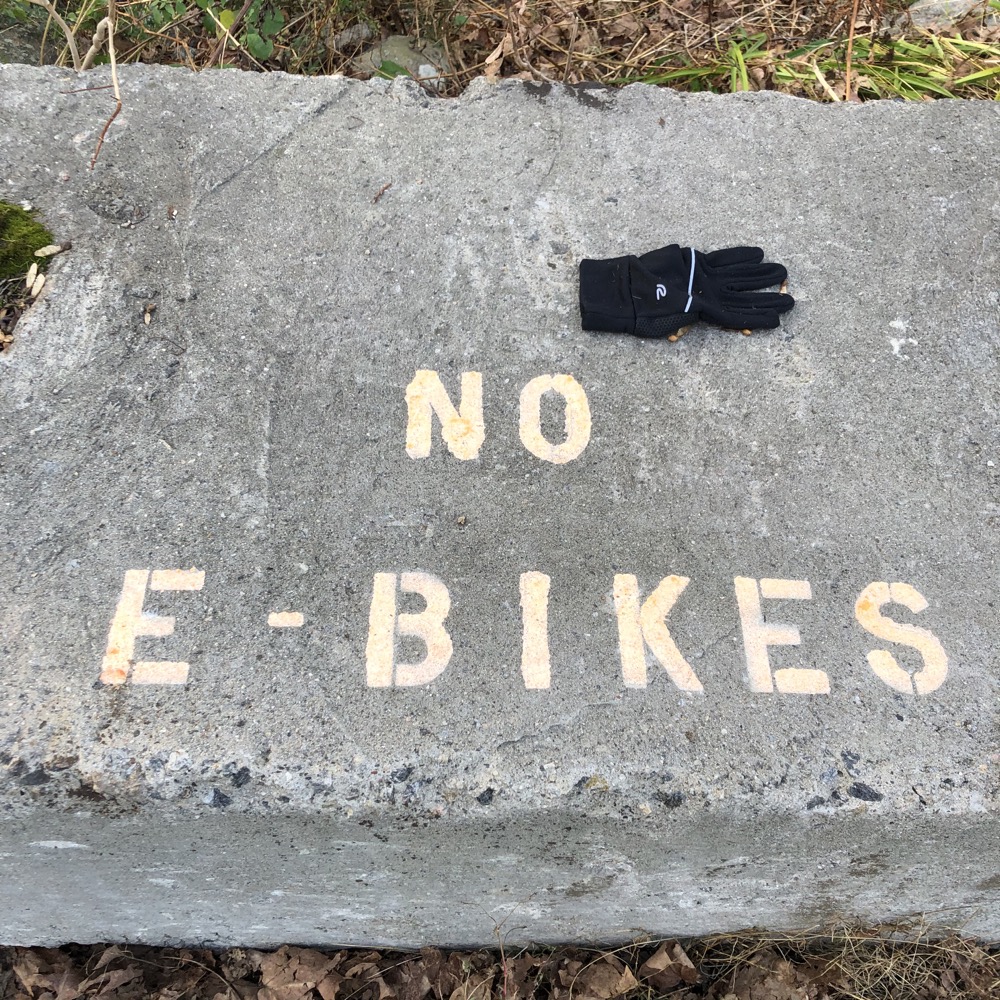 The chapter of NEMBA has partnered with other organizations and they've come together to build out one of the state's premier mountain biking trail systems. And yes, of course, hiking these trails on foot is welcomed and encouraged.
So that's what I did.
Starting out on the 2-mile yellow loop below the high school, I was lulled into a sense of calm. The trail is generally flat and weaves among some water features. I came here not having a clue of what to expect. That's my new thing.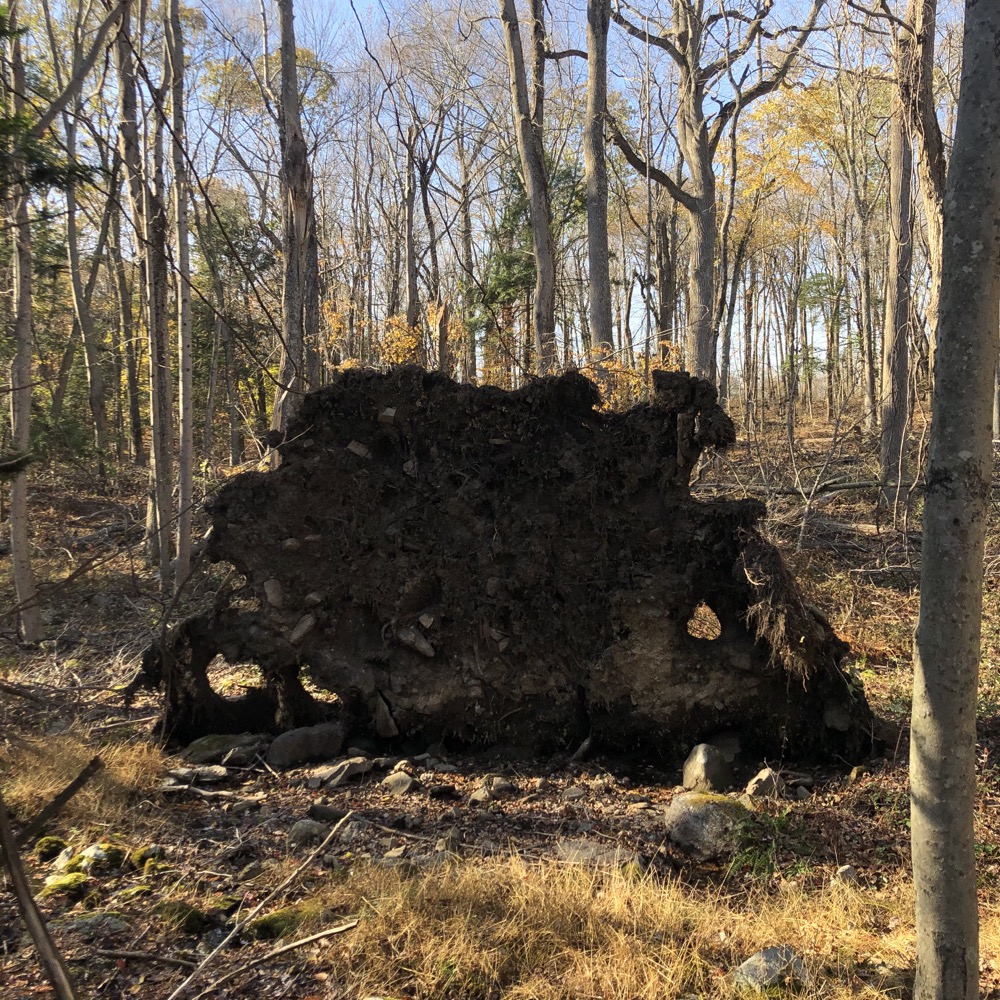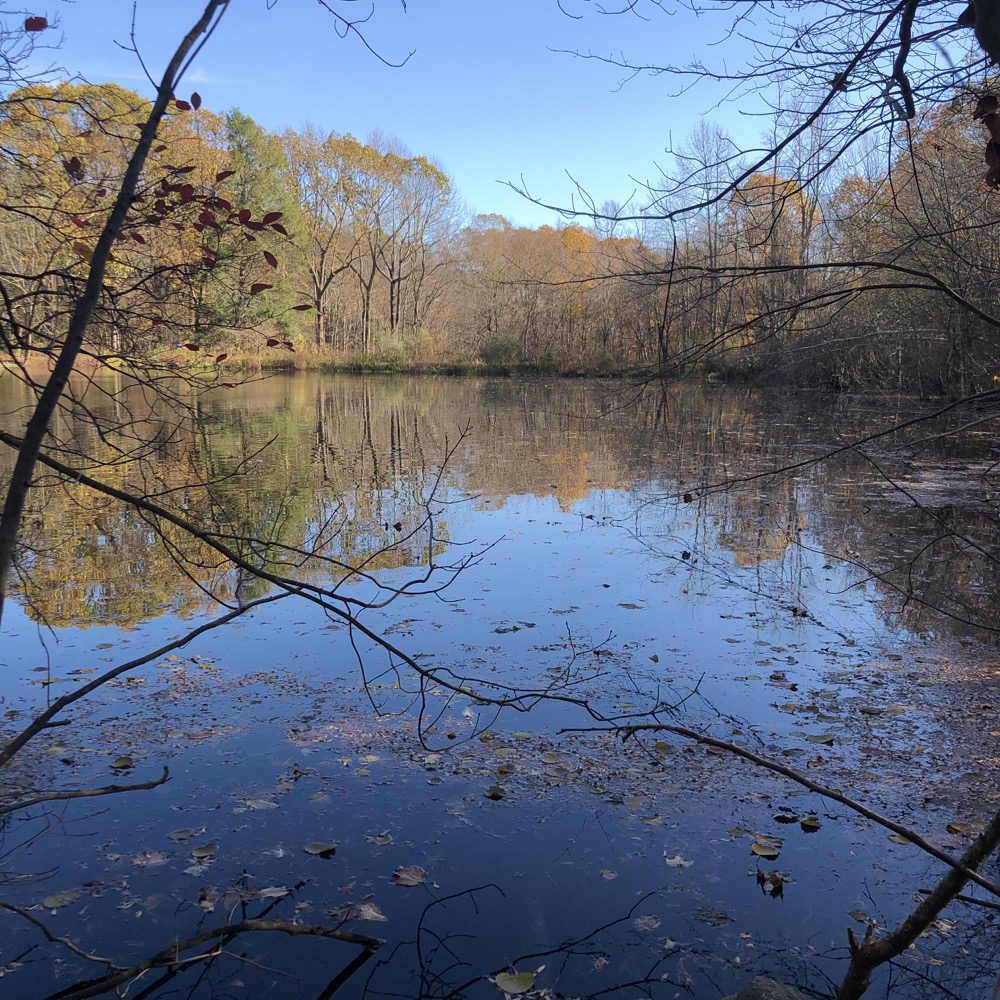 Note: the blaze colors seemed to not match up with the map. Or they named trails "Blue Trail" but blazed it white. They are also always adding trails here, so just be wary. Everything loops back to the lot eventually at least. (Well, there were some unmarked trails here and there, like up to Oxford High School or down to some houses at the southern end, but you guys are all pros, so I'm not worried.)
There are kiosks throughout the woods, but… they can't always be trusted. At least that was my experience in November of 2020. I quickly came upon a white/yellow blazed trail at which point things became more interesting. It twisted and turned and took me out to the far western reaches of the property.
A new trail called "On the Rocks" – mountain bikers always give their trails more fanciful names than hikers – was partially under construction, and seems to exist to challenge bikers' technical climbing and descending skills.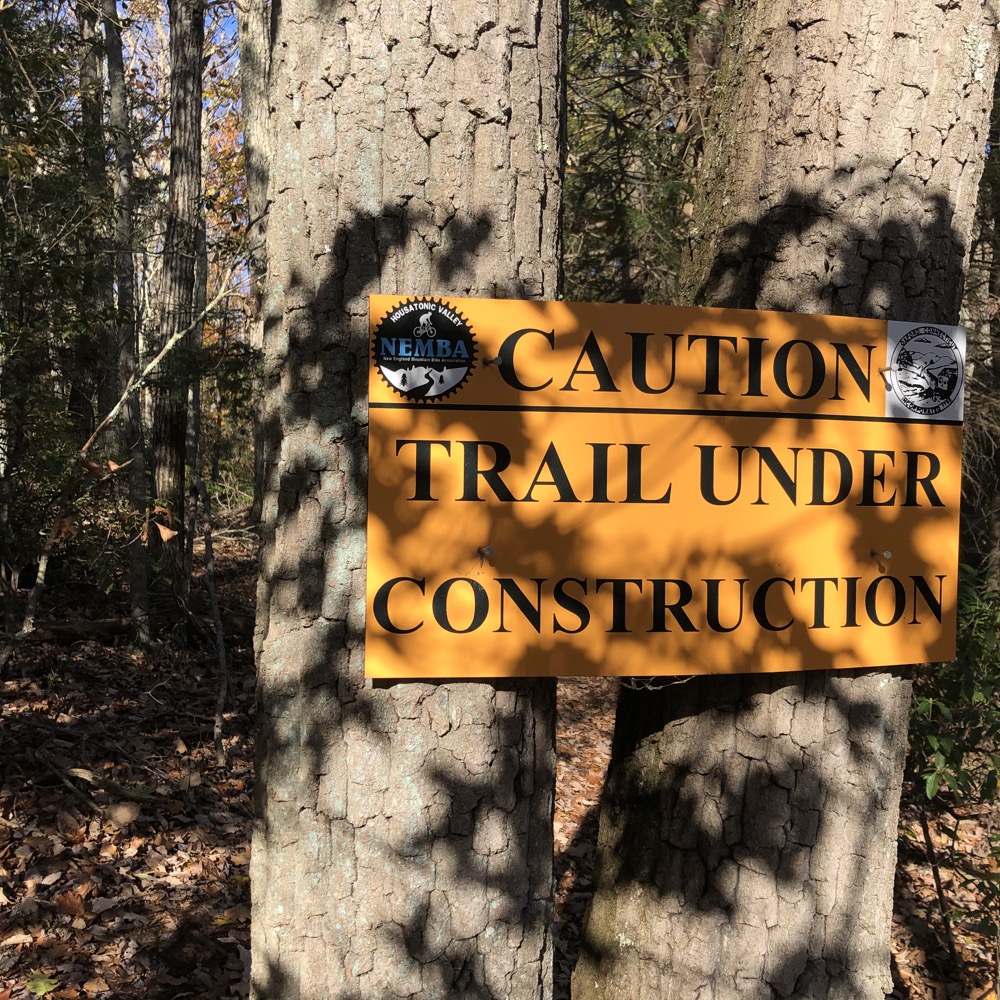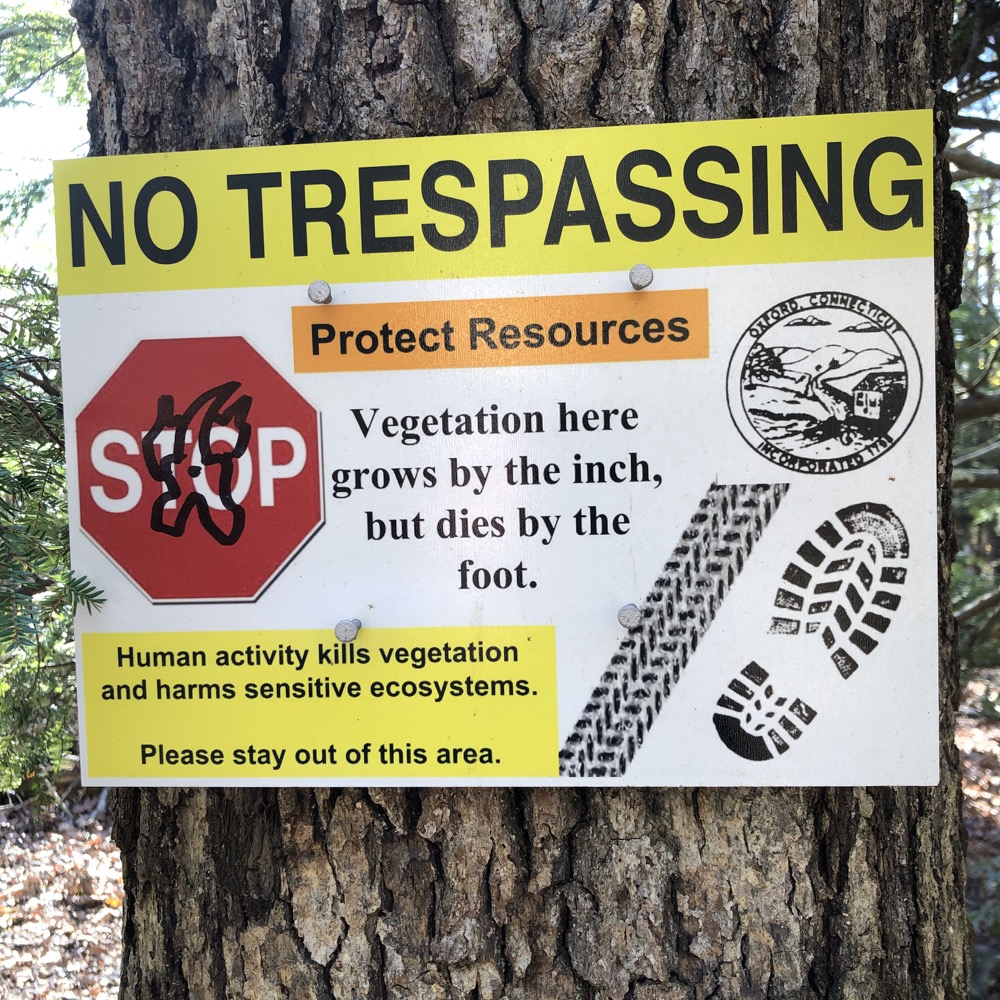 I wandered along the trail for a while, ultimately looping around and then through some really cool boulders and rock features. Several signs throughout these woods warn visitors to stay on the dang trail. I guess this is another biker thing, as they can be a bit rogue and attempt new and exciting lines through the woods off the designated trails.
The trail out here was really nice, despite that mountain biking thing of adding all sorts of ridiculous squiggles and switchbacks all over the place. Then, all of the sudden, I was gazing out across the Housatonic River and Valley. Wow, I was not expecting this: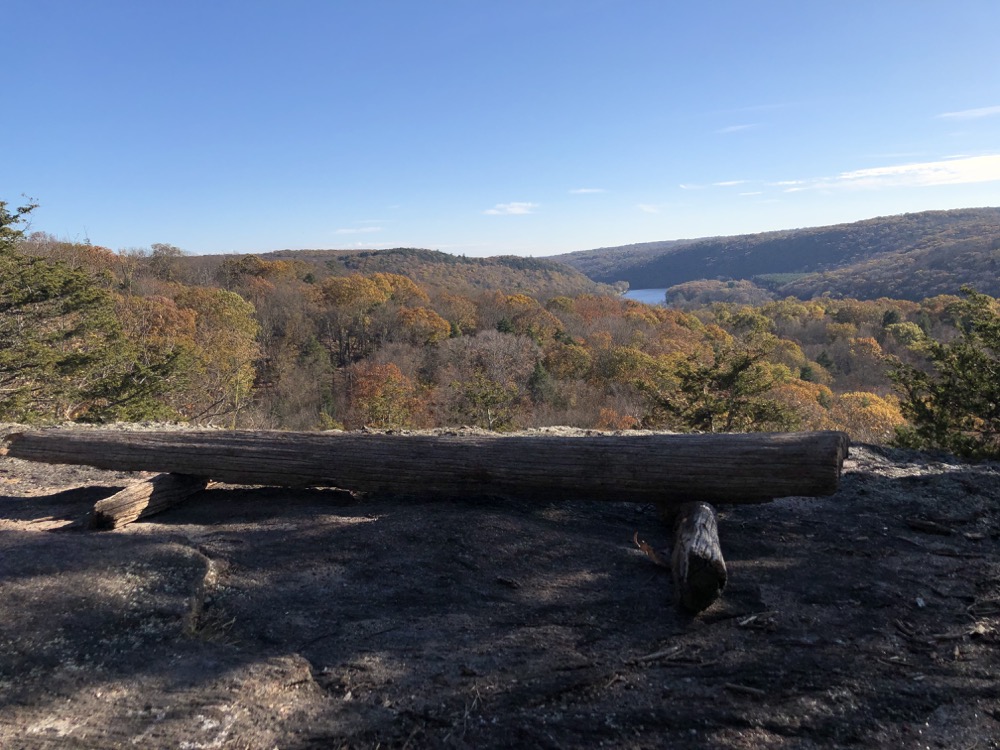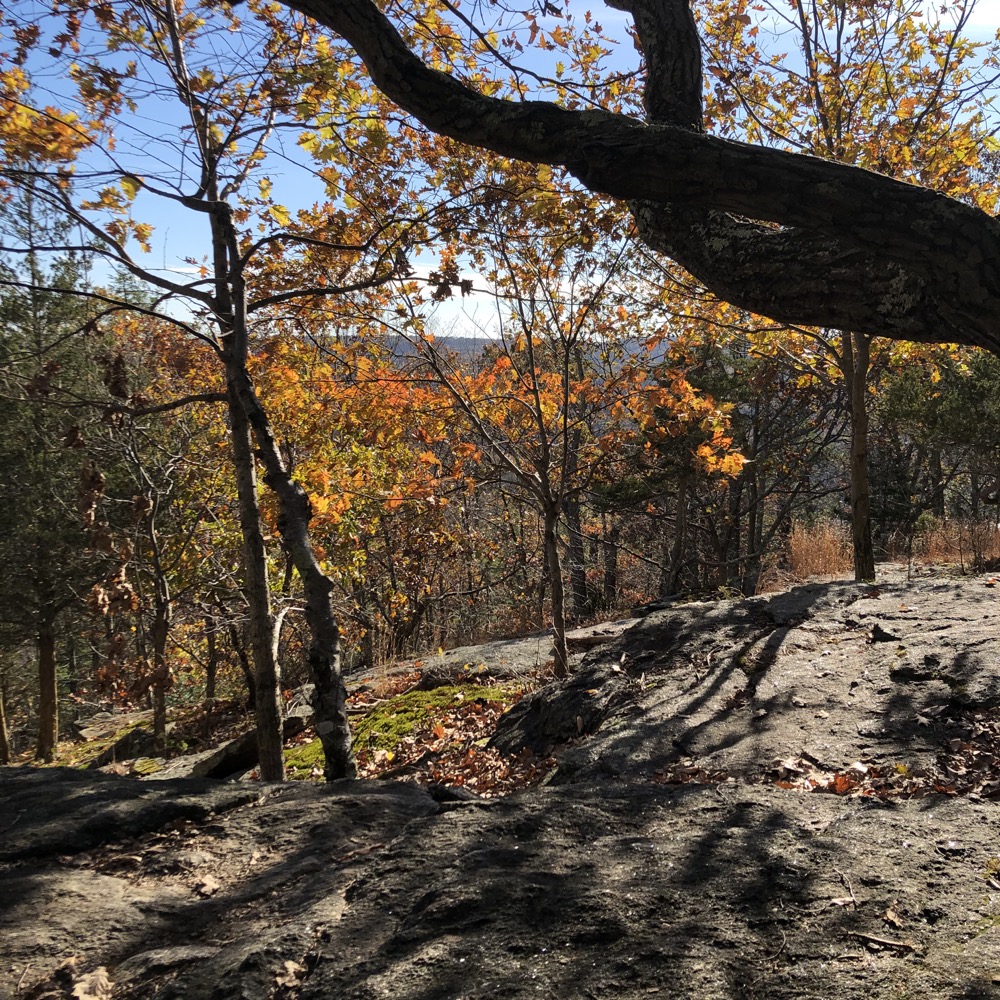 A bench and everything. It was very nice, and I had it all to myself for a while. From there, the trail sort of skirts the cliff's edge, in and out of the laurel thickets at the edge of the woods. Really, just an enjoyable area.
I lost track of which trail I was on and circled around to where I'd already been (it happens, but it was so pretty here I didn't mind too much). There are some steep climbs out there as well, but I finally found myself back on untrodden trail heading back east.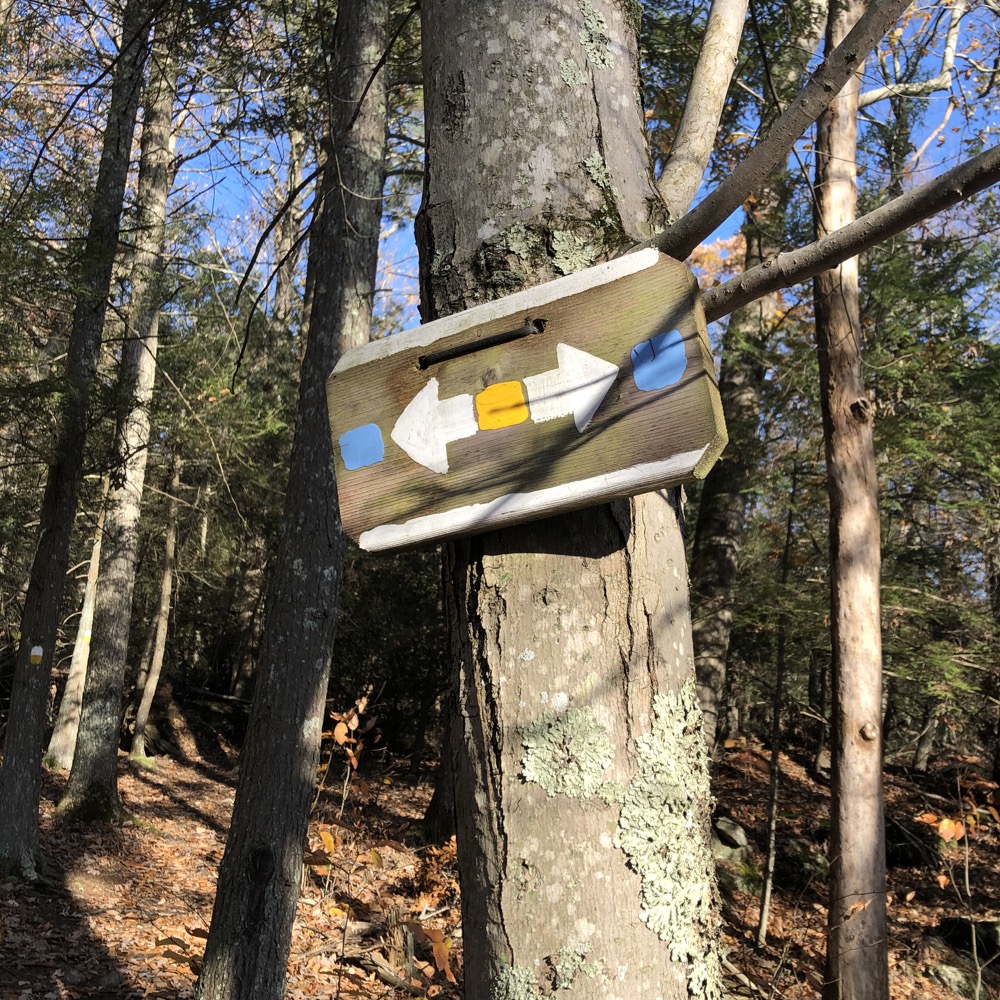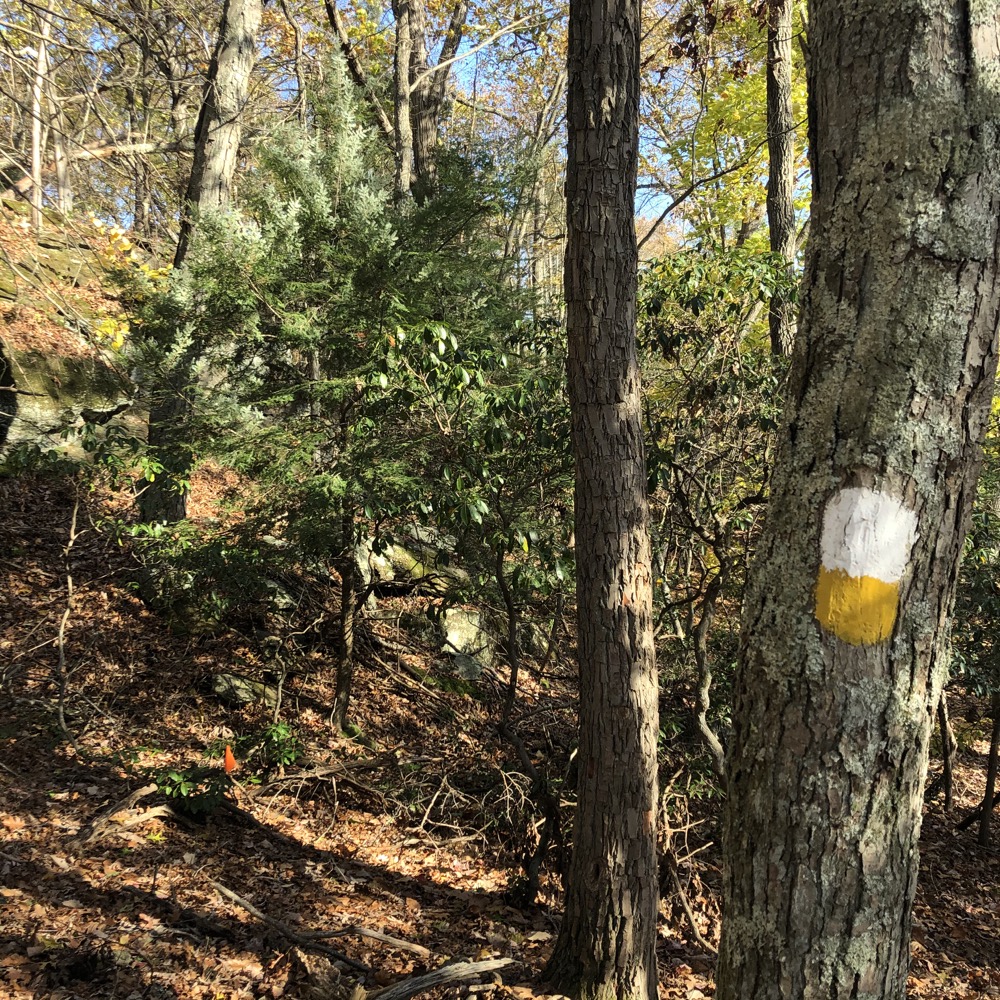 Once I reached the initial loop I'd started, I headed south towards another loop below the one with the overlook. Here, I fully expected more views, but… there were none to be found. Instead, I spent the majority of that detour looking up at the massive cliffs from whence I'd just come.
The trail down below is technical (for bikers), but really quite fun. I looped around, and then looped around the other loop, once again bringing me back to the initial loop. (If you've been here, that sentence makes more sense than it appears, trust me.)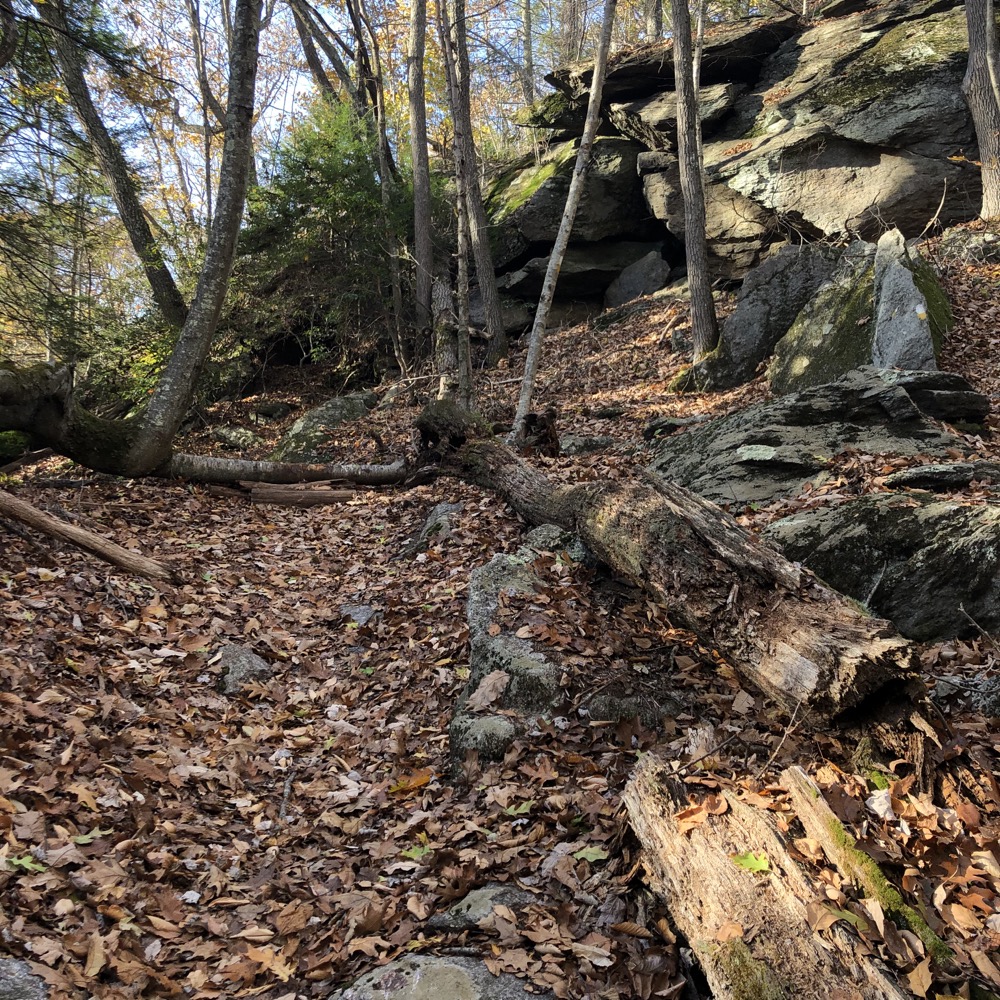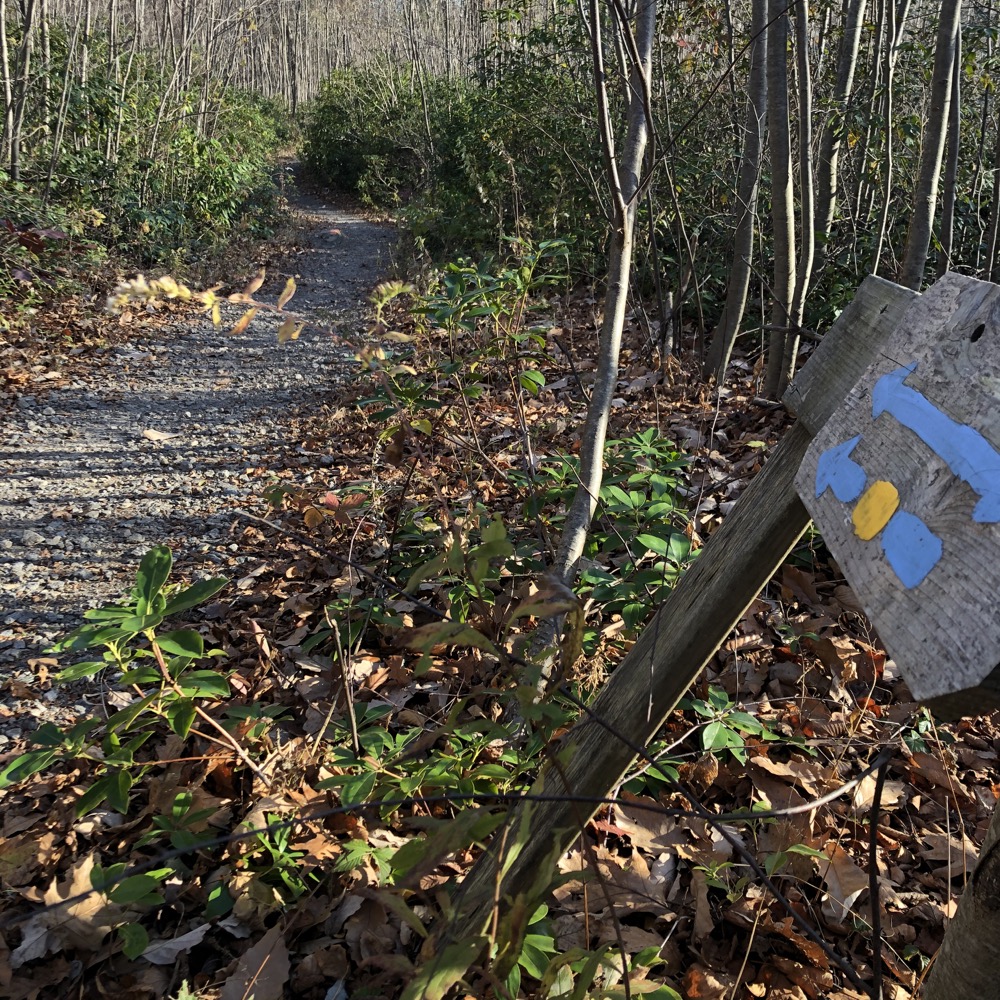 This allowed me to then complete the intial loop, which is much wider and flatter for than the western loops. Feeling loopy? Welcome to hiking mountain bike trails. I found an unmapped red-blazed trail that I walked along for a while and I'm glad I did.
I goes to a sort of open rock face plateau, but since it wasn't on any map I had access to, I made my way back to the green? Yellow? Yellow-green? trail which brought me down to the lowest point of these western Rockhouse trails.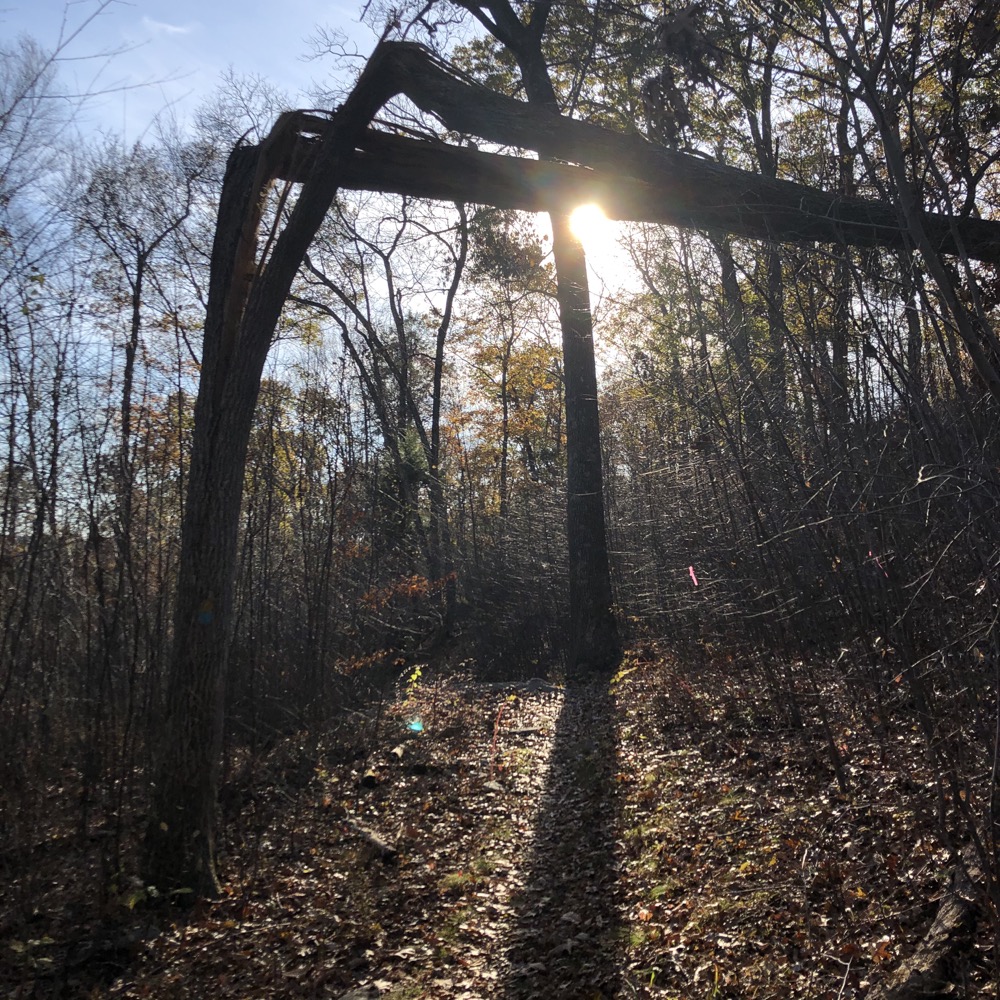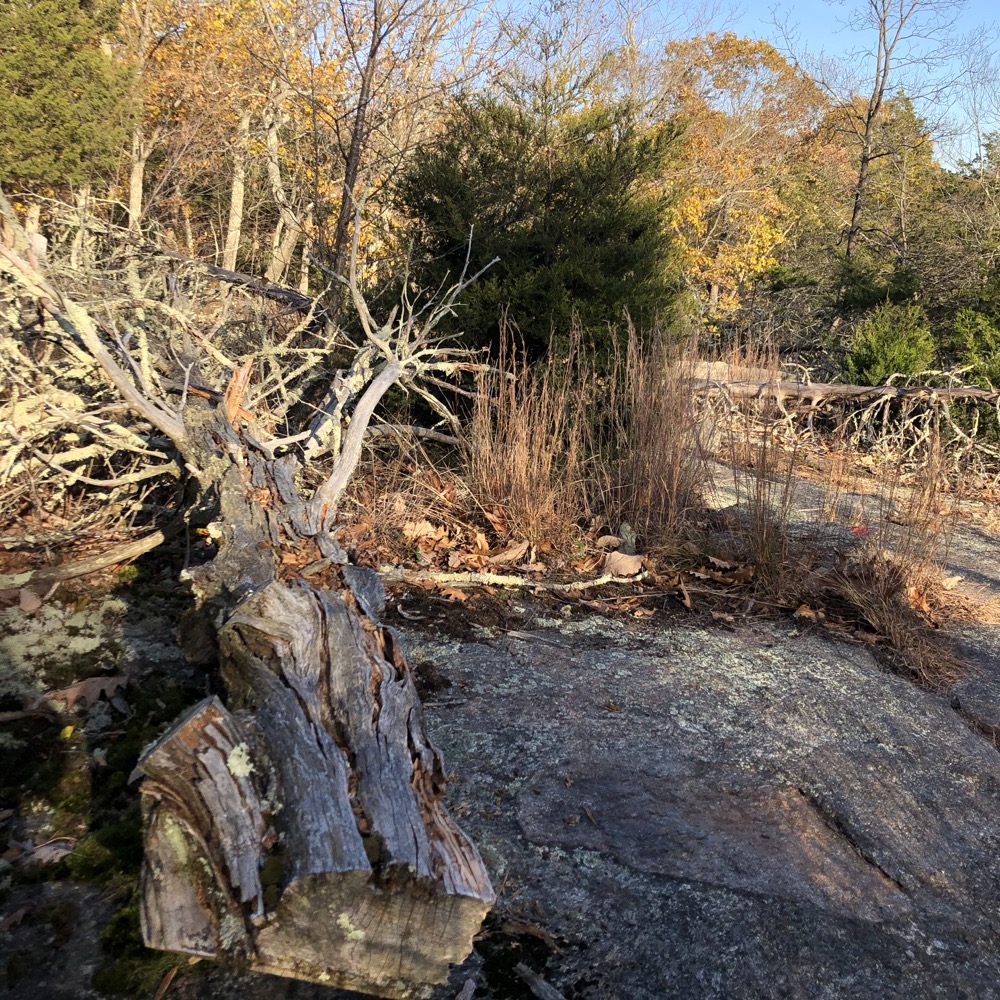 This area is completely different from the rest; eastern hardwood forest, old stone walls, rocky streams and brook crossings. The trail brought me all the way out to route 188 and then turned 90-degrees north back up the hill towards my car.
But Rockhouse had one last mountain bikey wrench to throw my way. The trail hilariously switchbacks about 20 times in an eighth of a mile. I'm sure it's very fun on a bike, and I encourage those of you who ride to check this place out.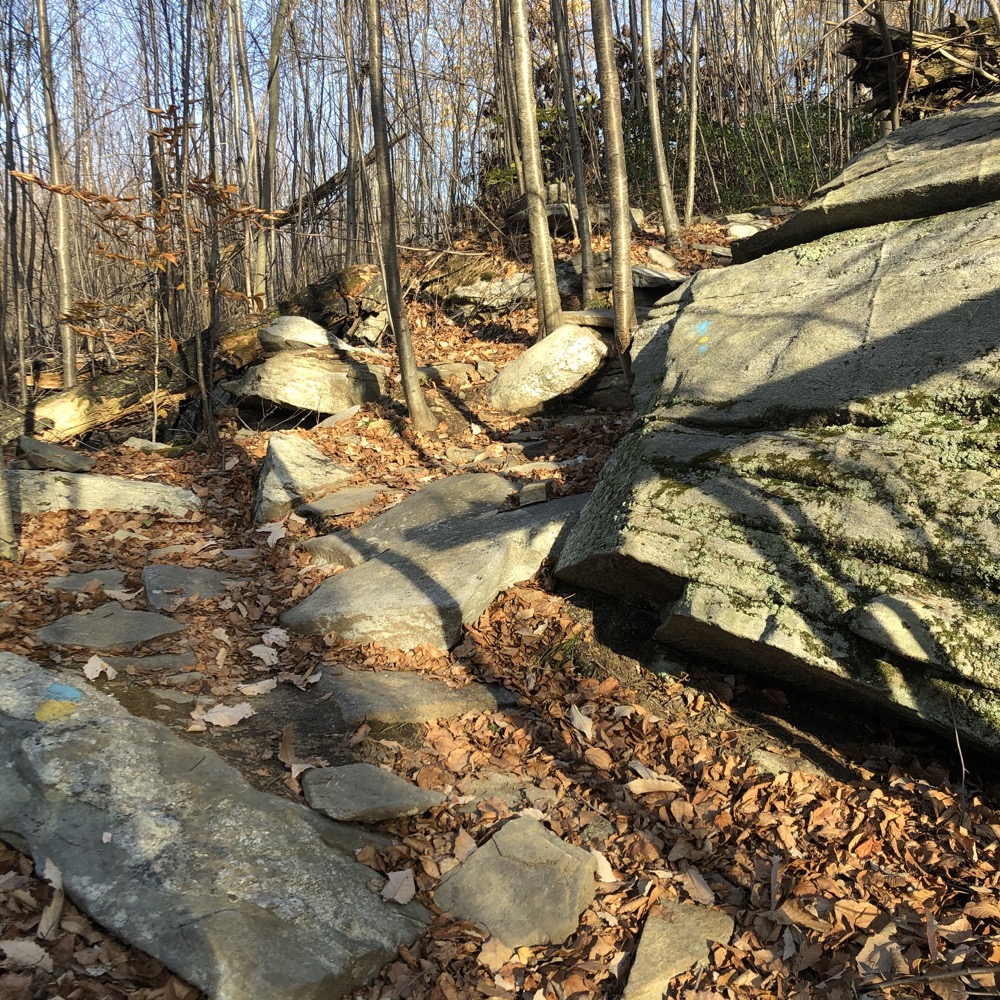 n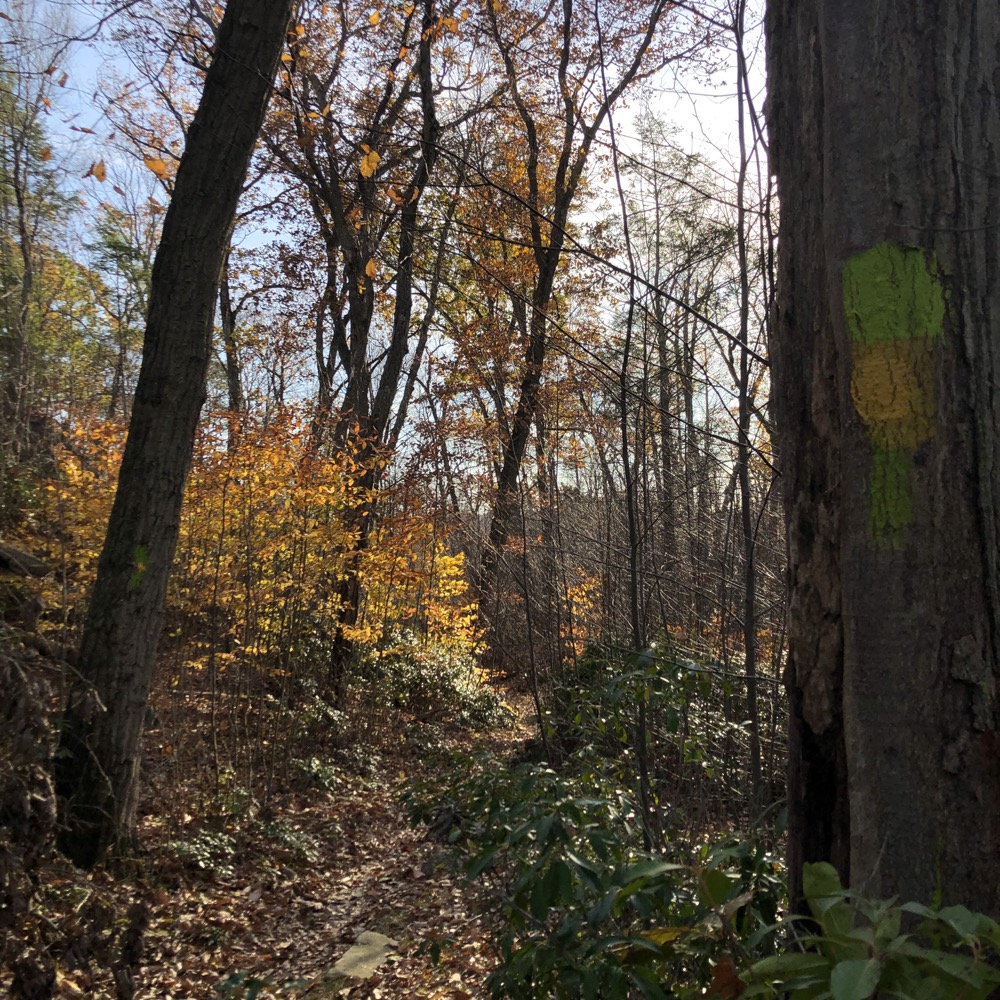 Whatever biases I've had against mountain bikers 15 years ago have all but disappeared. I've explored several trail systems now built and maintained by NEMBA members and Rockhouse Hill is the best. They could work a little harder on sensible blazing and accurate mapping, but I can say that about a lot of smaller hiking organizations too.
Rockhouse provides a lot of rugged beauty – or an easy woodland stroll. It's very much a Choose Your Own Adventure place… which is great. Well done, NEMBA, well done.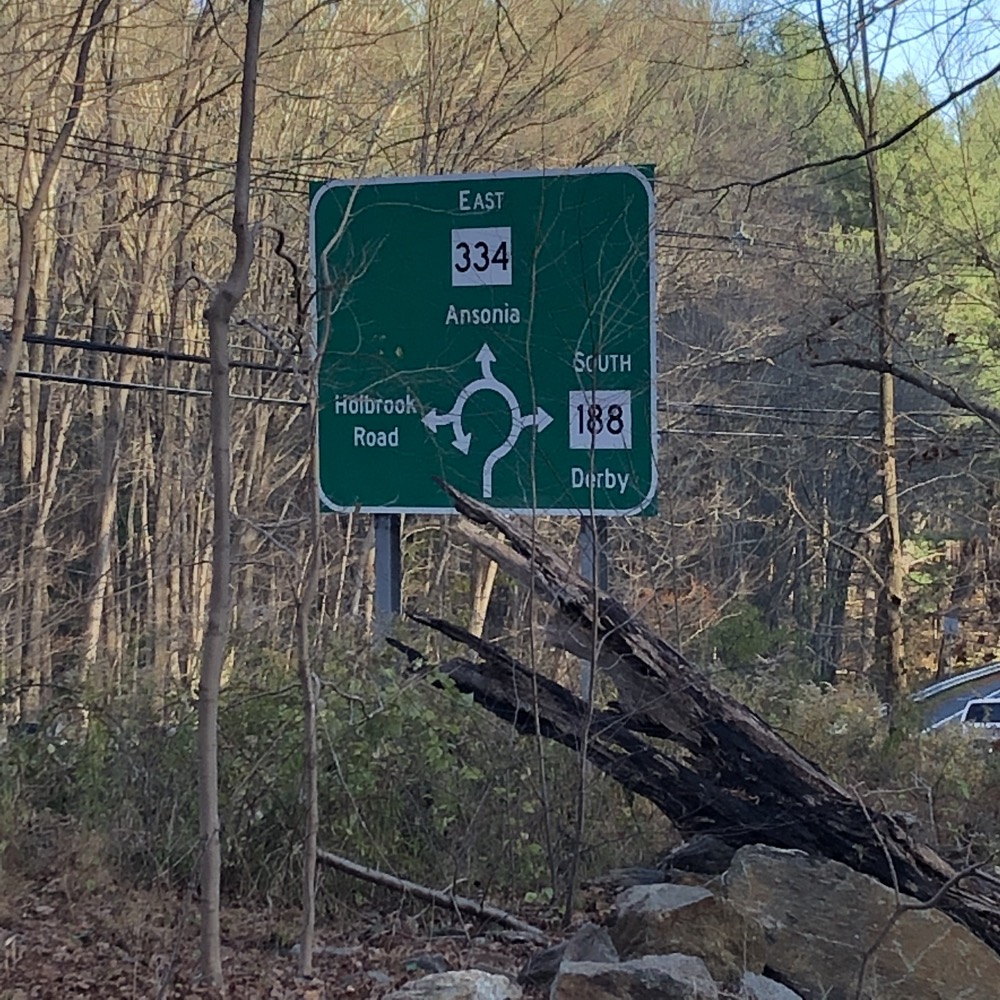 Rockhouse Hill (NEMBA)
Trails Map
CTMQ's Oxford Town Trails
CTMQ's Town Owned Land Trails Page