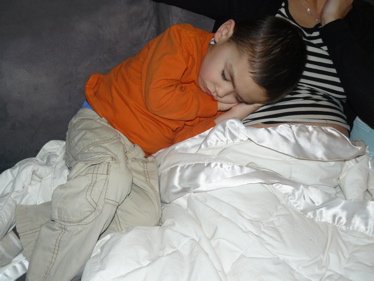 So, you're wondering, how can you help the SMS community? Easy. You can poke around these Damian pages and click on a few links and learn about one of the many rare chromosomal syndromes that exist. (Hey, since MY kid has SMS, that's the one I happen to care/know about the most.) Also, you can talk to your friends with special needs kids. Learn about the kids and their families. Don't be afraid; they're not monsters. You can stop calling things and people "retarded." My son is clinically retarded. Know that, respect that.
(Hoang and I both used to toss around the word freely before Damian's diagnosis, so I'm not one to be a jerk about its usage. Though I WILL bring up my discomfort with it most times.)
As we SMS parents begin to mobilize and connect more online, several groups are fundraising for SMS. ALL are worthy and if you're feeling donate-y, these are all good places to help out.
The SMS community is very tight, thanks to the Internet. Unfortunately, SMS robs most parents of the time and energy to write much about it. I used to have a list of blogs and sites about SMS experiences, but they're all pretty much inactive. Here are a few, though, that plug along…
Strength for Syndey, written by my friend Jen Iannuzzi who started the SMS Research Foundation.