Boing-Boing!
Spring Park, Windsor Locks
September 2022
There I was, smugly proud of myself for "completing" the town of Windsor Locks. All museums and places of interest and trails done and written up. After telling the world, I was almost immediately reminded why I try to always put "completed" in quotation marks – because someone often comes along and tells me that I've missed something.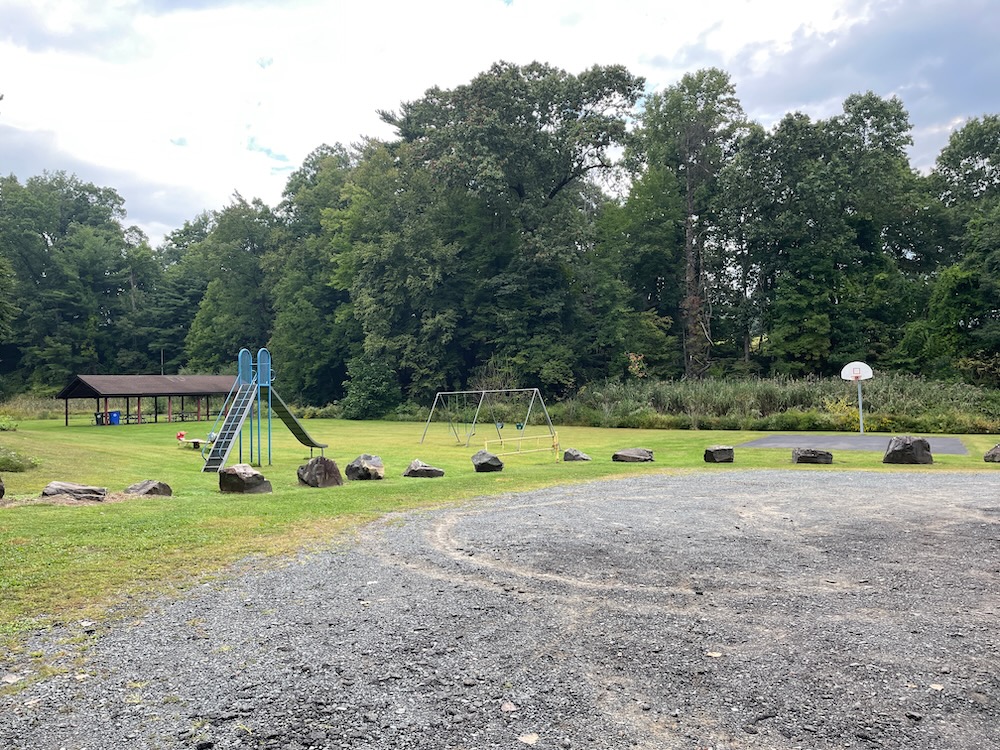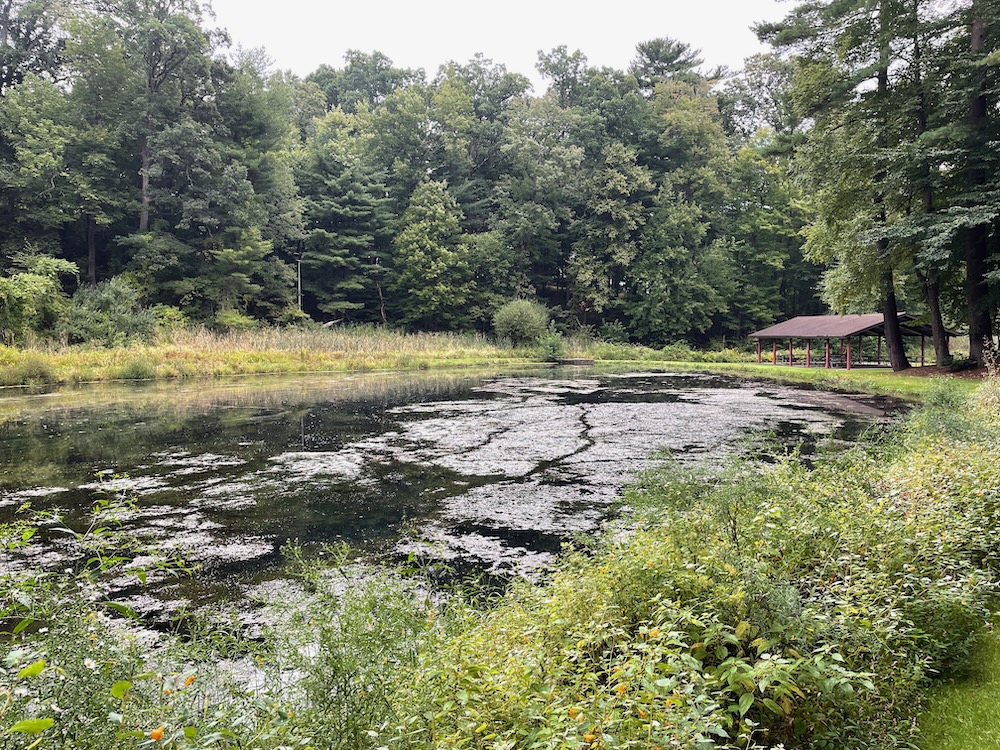 In the case of Windsor Locks, I can be forgiven. The small trail system at the tiny town park in the teensy town isn't noted anywhere – except on my helpful friend's blog. A blog wherein the writer takes his cute little dogs on hikes all around New England, with an emphasis on Connecticut. He poses his compliant pups, Mandy and Lexi, throughout their hikes. And he'd been to Spring Park with his dogs. And he let me know about it.
Fortunately, I'm very near this park five days a week, so I hustled my butt up there and righted my wrong. Windsor Locks is "complete" again.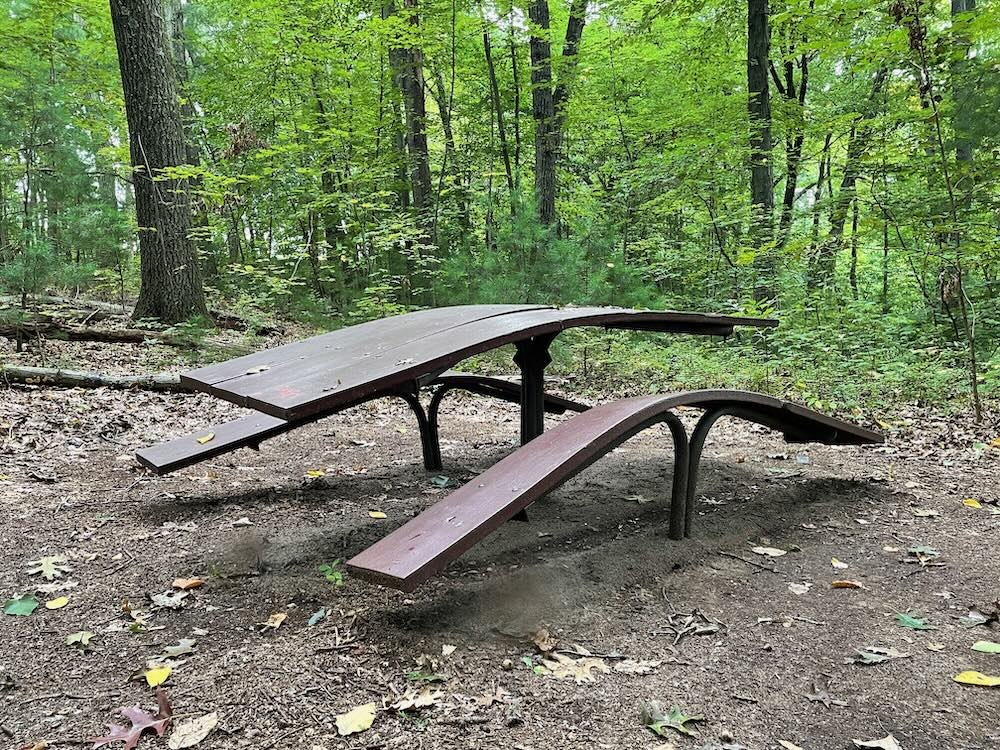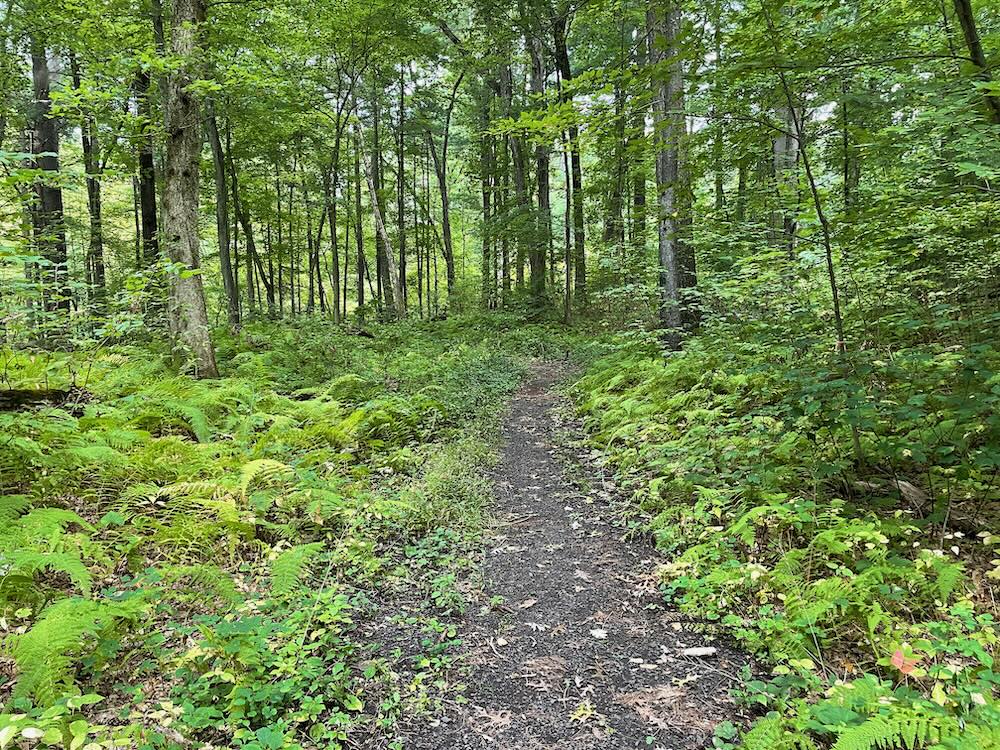 Unfortunately, I can't really recommend any of you do the same – unless you're going there to attend a gathering at the covered picnic pavilion or something. The main area, at which I assume 99.9% of visitors limit themselves, is very nice. The trail system, however, has seen better days.
There's no map to be found, but that's okay. A main trail, that appears to have been paved at one time, took me west and away from the parking area. I wandered the first side trail I encountered which took me over to the pond on the other side of the pavilion and its collection of artfully warped (and utterly useless) picnic tables.
Back to the main trail which took me to Kettle Brook and the back of an auto repair junk shop. I believe there used to be a bridge across the brook, but that's long gone these days. In fact, the brook itself seems to have caused a huge scar and some significant damage. It would take a serious bridge to crossover these days and I'm pretty sure that's never going to happen. I noted that Windsor Locks is getting a new police headquarters west of here and lots of those woods will be gone soon enough.
On my way back, I took another side trail that was actually blazed! Pink blazes! One branch took me to a discarded industrial barrel and other took me to… nothing. It just ended in the woods.
Back to the parking lot.
I noticed another trail that entered the woods southeast if the ridiculously skinny driveway into the park. It looked promising and had been freshly mown. After a couple of minutes, the trail split; the left option ending abruptly in a mess of overgrowth. The right split took me across Kettle Brook, up a hill, and through some freshly cleared Japanese Knotweed.
Again, promising.
I crested the hill and… found myself at the end of a road and next to someone's suburban yard. Hm.
Back down the hill, across the brook, and over to my car. Done.
The trails here might have served a purpose 20 or 30 years ago, I have no idea. But I now know why this place doesn't appear on any hiking sites and its trails are not mentioned on the town's list of park amenities. I will forever be fascinated by the pink blazed trail to nowhere (I assume it used to cross the long gone bridge and continue westward) and the fact that this place is bounded by a cemetery and a funeral home.
Okay, I'm reaching. The only interesting thing here are those pictures of the blogger's dogs. And the ridiculous picnic benches.