Cockamamie
Stafford Cidery, Stafford
August 2017
I don't know where to begin or what to write on this page. I guess the very most important thing is that I know NOTHING about cider. The alcoholic and carbonated version of cider, anyway. As of today, Connecticut has two cideries that produce this type of booze – and I know of at least two more coming.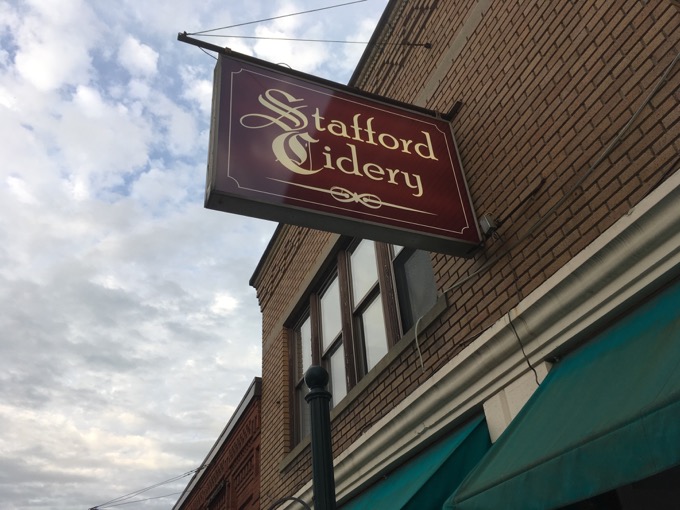 I also was pretty sure that I don't really like these kinds of cider. But I was hoping to have my mind changed. (My point is that I came here with a preconceived, unfair bias.)
I had brought Calvin up to downtown Stafford Springs to join me in "completing" the town. This would be an exciting night for me, because it would not only mark the completion of Stafford, but it would also serve as the finish line for my first town completion project!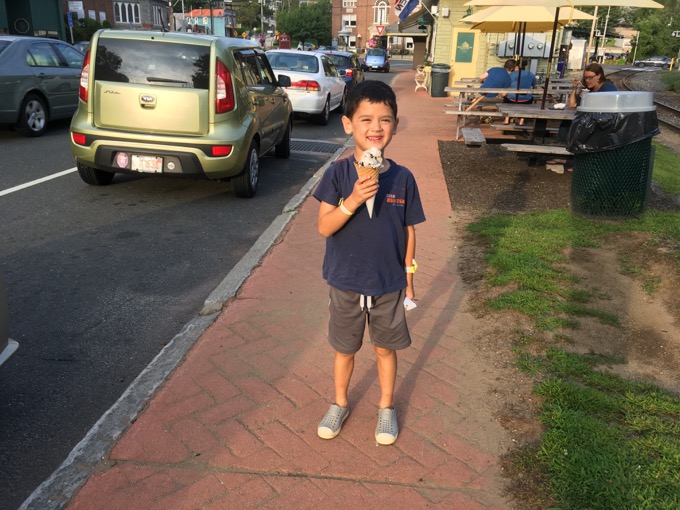 We started off with some (delicious) ice cream at the Ice Cream Depot. Main Street was lively and full of people out for the evening as I believe it was one of Stafford Springs' Art Walk nights. A band was playing in the park, several artisans were showing off their wares and, well, this was small town America at its finest.
I allowed Calvin a stupidly large waffle cone because I would be drinking alcohol while he ate it. And I wanted to enjoy myself for a few minutes at least. We walked up to the Cidery and got one of the last tables.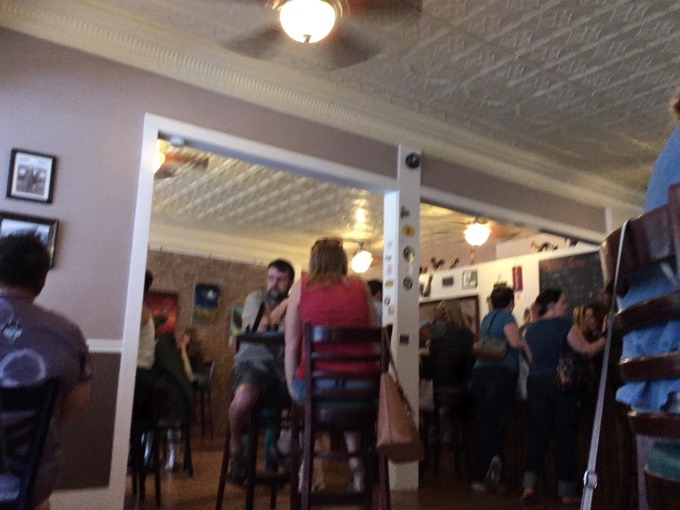 Whoa! This place is a completely different vibe from the breweries I'm used to. It's quaint and cute. It reminded me of an ice cream parlor – and the fact that Calvin was chowing down on his cone here just made sense. Let's be honest, some breweries tend to be a bit dour. Stafford Cidery is not that. At all.
Everyone was happy. Groups of friends had cheese plates and charcuterie they had brought from elsewhere. A large majority of patrons during my visit were women. People laughed and freely entered conversations with neighboring tables. The place was full and lively.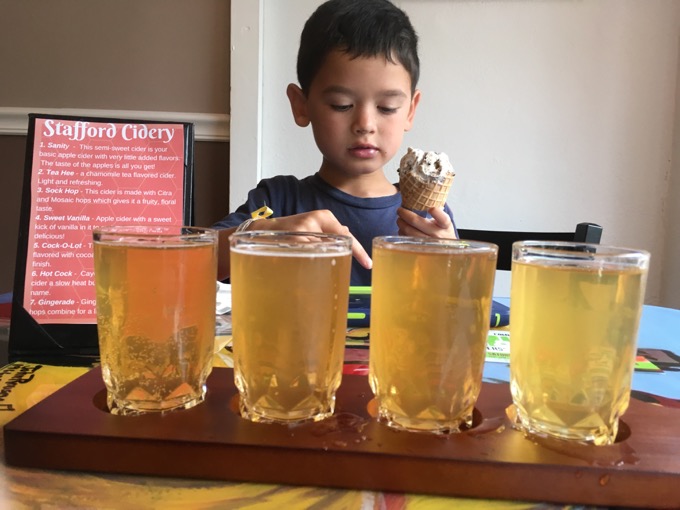 The bathrooms are fun in that they have chalkboard walls. As you can imagine, some creative folks have drawn cocks that resemble… cocks?
I ordered a flight. Again, I have no idea what a good cider vs bad cider is, so forgive me. Stafford Cidery had 7 on tap. Before I tell you what I had, some background on this place is in order.
Stafford Cidery began as "Crazy Cock Cider." Their site's URL is still "crazycockcider.com". And that's fine. The owners just really, really love cocks. And cock wordplay. The window display at the cidery is stuffed with cocks. Cock art is a major theme. Cock tap handles even.
Update: Since publishing I've been told the owners raise chickens.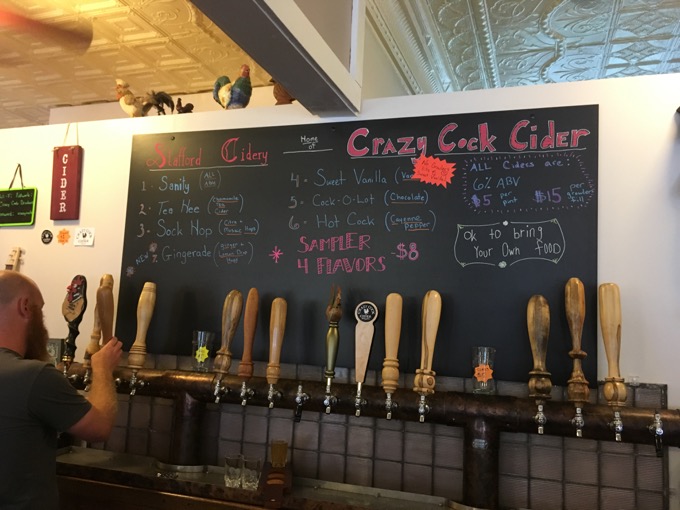 I don't know what happened, but at some point shortly before opening in late spring 2017, their name changed to Stafford Cidery. Well, it's "Stafford Cidery, home of Crazy Cock Cider."
It's just their thing.
I ordered 4 ciders in my flight: Sanity (a normal hard apple cider), the Sock Hop (one that tries to be like an IPA I guess with Citra and Mosaic hops), Gingerade (ginger root and lemondrop hops), and…
And…
Hot Cock. Yeah. Cider with cayenne.
Of course I felt fine ordering a "hot cock," but it just seems like an overwrought gimmick that will make a few people laugh, sure, but is just, well, kinda lame. Note: I didn't order the "Cock-o-Lot" which is a "chocolate cider."
Which sounds, um, horrifying? To me. Can I say that?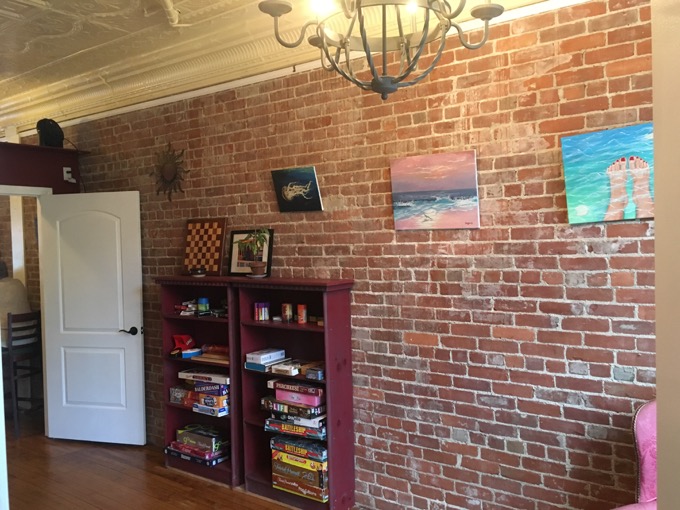 Have I driven home the point that this place was doing a brisk business all night long, the proprietors were super nice and friendly, and I had a good time during my visit. I have? Good.
The normal cider tasted like slightly fizzy apple juice that sat out for a few days.
The "IPA Cider" tasted like slightly fizzy apple juice that sat out for a couple weeks.
The ginger/lemon cider tasted like slightly fizzy apple juice that sat out for a few weeks next to a lemon and a piece of ginger root. I was happy it wasn't too gingery. I got it expressly to see if they over-flavored their stuff, but was impressed that they didn't here. All the flavors they impart are done with a deft hand here.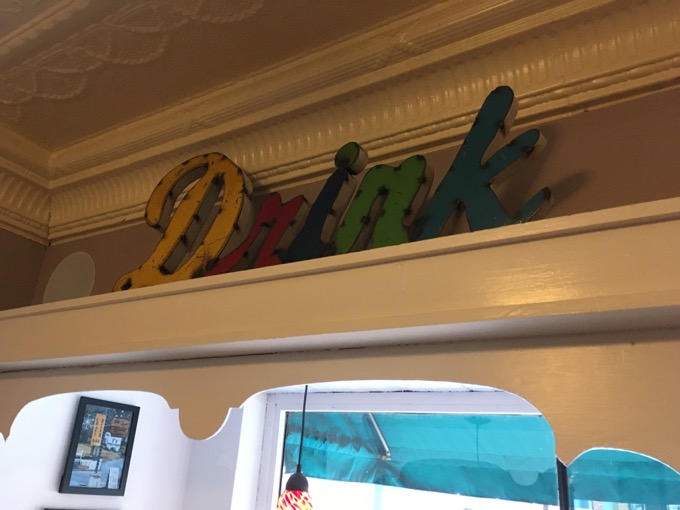 The Hot Cock, which is called "Hot Cock," was my favorite by far. Not too much heat from the cayenne, and it just worked for me. Each of my four ciders were clearly discernable from each other on the palate. So even though they all look exactly the same, they do not taste the same, I promise.
And like I said, if you're a cider person – don't listen to me.
Stafford Cidery features local artists (I think) on the walls and a bunch of historical photos and things like menus from 100 years ago from the town. There are tons of games to play as well.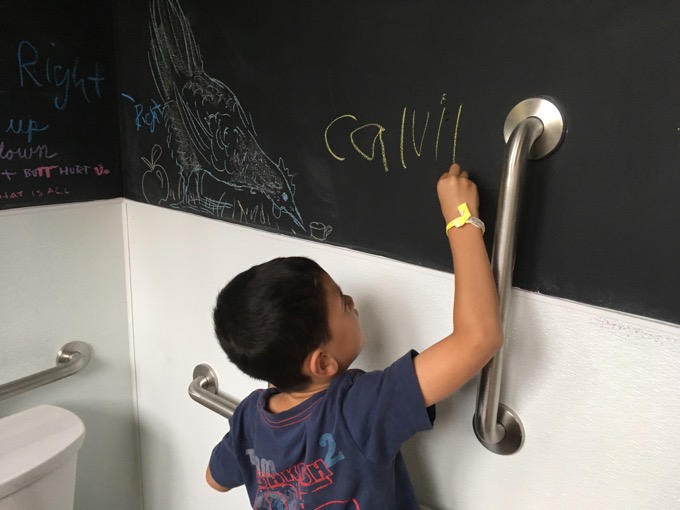 To sum up:
Great atmosphere, friendly employees!
I'd rather have beer or wine!
The cock stuff is a bit silly!
And most importantly (for selfish me), Calvin and I only had one more thing to do in Stafford for me to get the checkered flag for the town!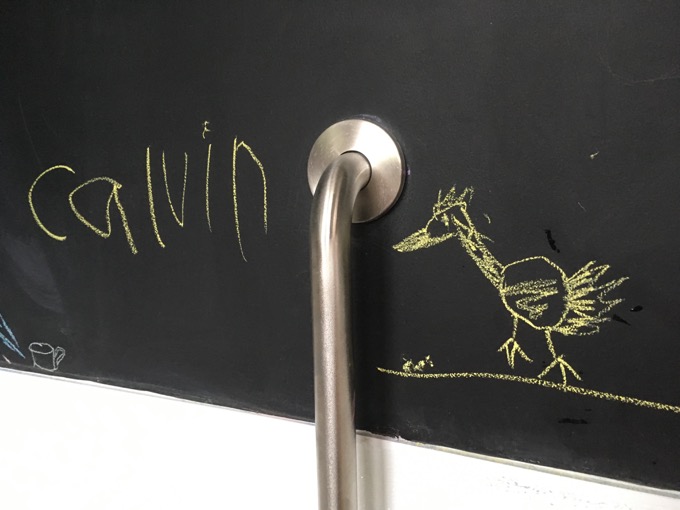 Stafford Cidery
Stafford Cidery's facebook page
CTMQ's page on CT Breweries and Brewpubs (and cideries)