A Swift Kick in the Butt
Taylor Brooke Brewery, Woodstock
August 2019
Sigh. Like… a deep, heavy sigh.
We've hit the wall, folks. Here we are in September 2019, nearing 100 breweries in our fair little state and we should all be rejoicing in that fact. But we knew this would happen, right? No way can you have 100 of anything and have all 100 be great. Or even good. Or passable. I think we could at least hope for palatable… maybe?
While there have been several breweries to open in 2018, 19, and probably 20 that have been excellent, it just seems like the current spate have been anything but. Enter Woodstock's Taylor Brooke Brewery.
And then turn around and leave cause you'll be doing yourself a favor, know what I'm sayin'?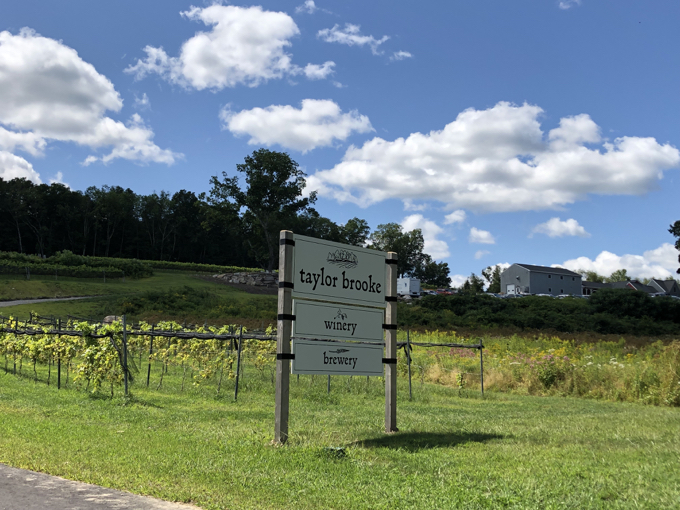 You are somebody that I don't know
But you're takin' shots at me like it's Patrón
And I'm just like, damn, it's 7 AM
Say it in the street, that's a knock-out
But you say it in a Tweet, that's a cop-out
And I'm just like, "Hey, are you okay?"
I hear you, Taylor, I hear you. I don't know anyone at Taylor Brooke personally and I'm sure they are well-meaning and wonderful people. (And most of you don't know this, but I do usually publish my new pages to facebook at 7 AM… damn.) I never feel good about writing negative opinions about any entity in Connecticut, but… damn, be it 7 AM or 11PM, sometimes these things just need to be said.
Taylor Brooke sits on a beautiful piece of property in the beautiful town of Woodstock in the beautiful Quiet Corner of Connecticut. They've had an operational winery up there for many years and the owners were super kind during previous visits. Unsatisfied with making and serving only one kind of libation, someone up there had the idea to open a sister brewery as well.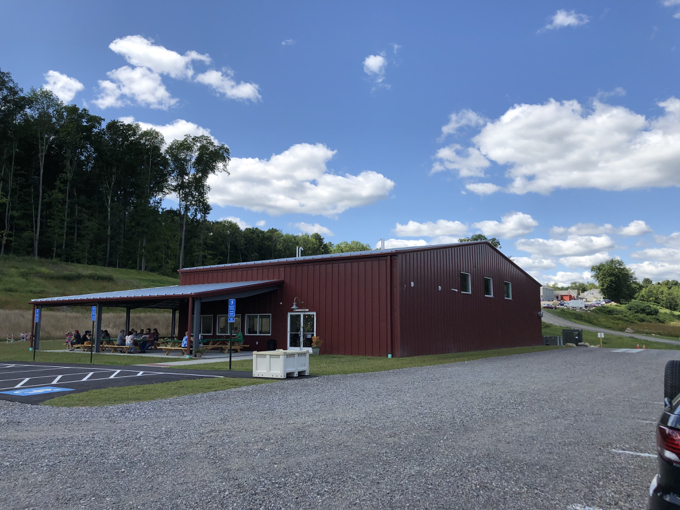 But we'll let Taylor Brooke speak for a second.
Taylor Brooke Farm is comprised of Taylor Brooke Winery and Taylor Brooke Brewery, located in the heart of historic Woodstock, CT. The family owned and operated company first opened its winery in 2004, with a small tasting room on just 4.5 acres of farmland. Over the last 15 years, it has grown in size to over 17 acres, with wine production of about 3500 cases annually. The new beer production and taproom facility sits on 27 acres of land adjacent to the winery and vineyard. Taylor Brooke Farm consists of expansive vineyards, a small hop yard, and a growing apiary. Future farming will include fruit trees, herbs, and more vines and hops. Taylor Brooke Farm intends to open a distillery in the future, creating small batch craft spirits from the wine and beer produced from the farm.
They certainly are ambitious if nothing else. And good for them. Taylor Brooke announced they'd be opening a brewery quite some time before actually opening, but all of the sudden in the middle of 2019, they went from near zero to 100 and opened up. I had the thought that the race to the grand opening was spurred on by the fact that Tree House Brewing is opening a cidery right up the road in the same town and they wanted to be established when that happens.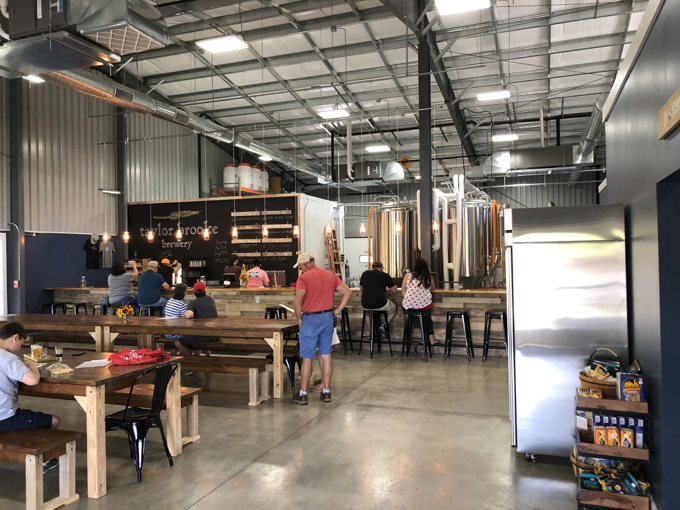 I've no clue if my made up rumor is true. But it's smart if it is.
The head brewer is a guy named Ralph Fiegel. He's a chef who studied at the Culinary Institute of America in New York and spent most of his culinary career working at a fancy restaurant in Boston. Ralph was also, of course, a homebrewer. He parlayed his experiences and opened the tiny Saltbox Brewery in a restaurant in Massachusetts. Then he came to Woodstock.
Which only makes sense because Ralph is married to Taylor Brooke Winery's winemaker, Nikki Auger. Well that's pretty cool. They plan to start incorporating fruit and herbs grown at Taylor Brooke and other nearby local farms into the recipes that "will create some fun and unique flavors that will appeal to beer and wine drinkers alike."
Okay then. I must mention that my experience was my singular experience, very early in Taylor Brooke's existence. As such, I may have hit an off day, sure, but more importantly they can certainly improve and grow over time – and I hope they do.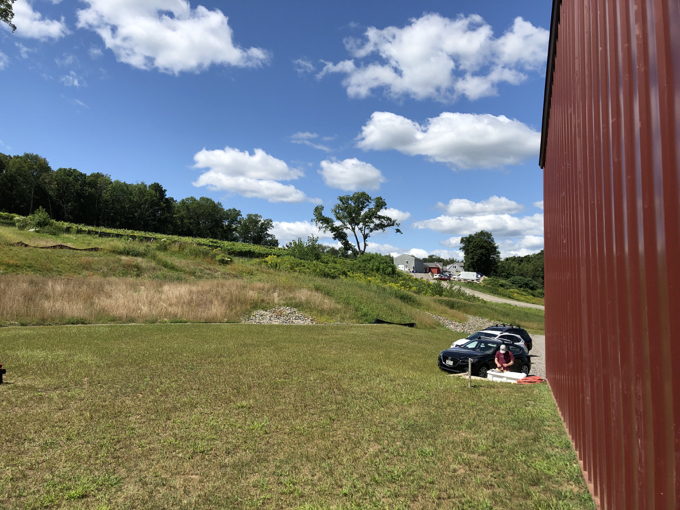 The brewery has its own parking lot and vibe, almost out of site of the winery. The taproom and grounds match up with the elder winery's standards, though far more industrial. Cause it's beer and not wine, you see. It's a nice spot with a very nice wrap-around patio. And while I didn't get any of the the forthcoming fruit or herb beers, I had a sample flight of five. Let's get to 'em.
Oh-oh, oh-oh, oh-oh, oh-oh, oh-oh
You need to calm down (you need to calm down)
You're being too loud (you're being too loud)
And I'm just like oh-oh, oh-oh, oh-oh, oh-oh, oh-oh (oh)
You need to just stop (can you stop?)
Like can you just not step on our gowns?
You need to calm down
Oh-oh Taylor Looke, I have to do this. I am calm. I can't stop.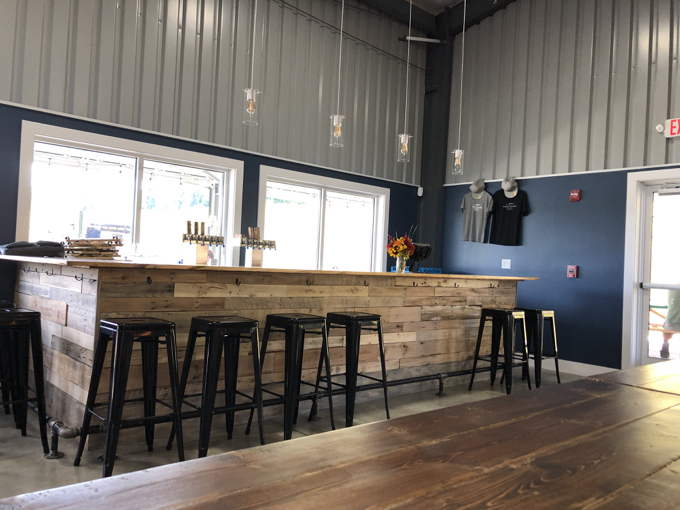 Bulrush, the Belgian saison. Holy cow, this is a SAISON on steroids. SUPER banana, massive clove, and dry as the Sahara. Please dial back literally everything on this beer. Wow.
Stoggy Hollow, the milk stout. With citrus/pine forward Cascade and Centennial hops. I'm not a brewer or a chef but please change that hop bill. And beef up the body a bit. This was stout water with an acrid and weird aftertaste. No.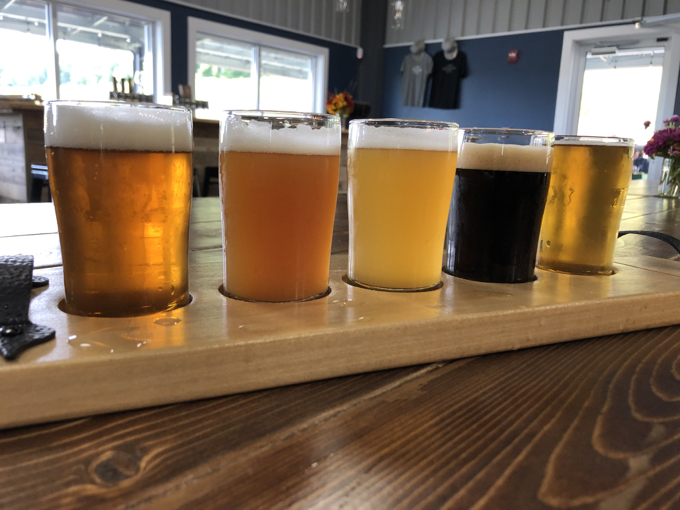 You Bet Your Bippy NEIPA. Okay, now I need to calm down. Because this beer made me angry. If your brew schedule is such that you're brewing your NEIPA after your saison, please (ideally) use different equipment or at least clean your lines and tubes and tuns and faucets and… everything very, very thoroughly. Otherwise, you end up serving customers grotesque New England IPA's that taste like your not-very-good saison.
But the worst part? The description on the tasting menu touts the notes of "grapefruit, lemon, and… BANANA!" The question is whether this clear mistake was one borne of ignorance or butt-covering. You bet your bippy that this beer was awful in every way.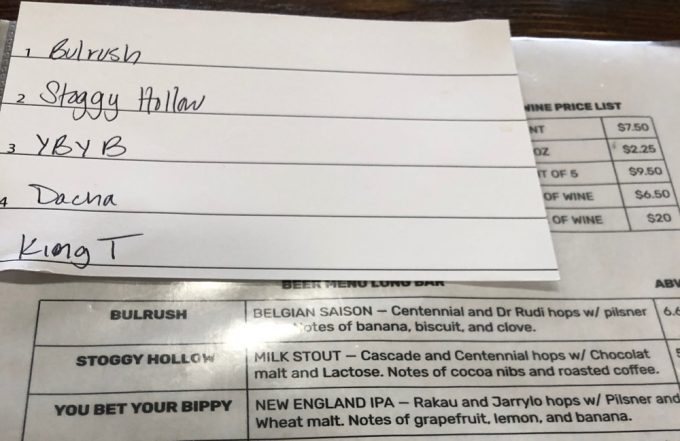 The Dacha Pale ale was… drinkable?
Which brings us to the King T IPA. I can only assume the T stands for Terrible. My god. What was this beer supposed to be? I've had a lot of bad beer in 2019, and this one is in the running for the worst. Why do so many newer brewers never use aroma hops? Please use aromatic hops! I can't describe what this beer tasted like. At the brewery, the note I wrote was "Meconium" because I thought it sounded appropriately awful.
Meconium is fetus poop. So I'll stick with that.
My visit on a sunny Sunday in August lulled me into a sense of satisfaction that was unfortunately destroyed by my flight of beer. I want to make it clear that I did visit in only Taylor Brooke's fifth or sixth week of operation – far sooner than I like to do, for the sake of fairness.
But hey, I was coming back from the Cape and purposely took a route through Woodstock, so that's just the way it is. The beer needs to be better than this on Day One, man. C'mon.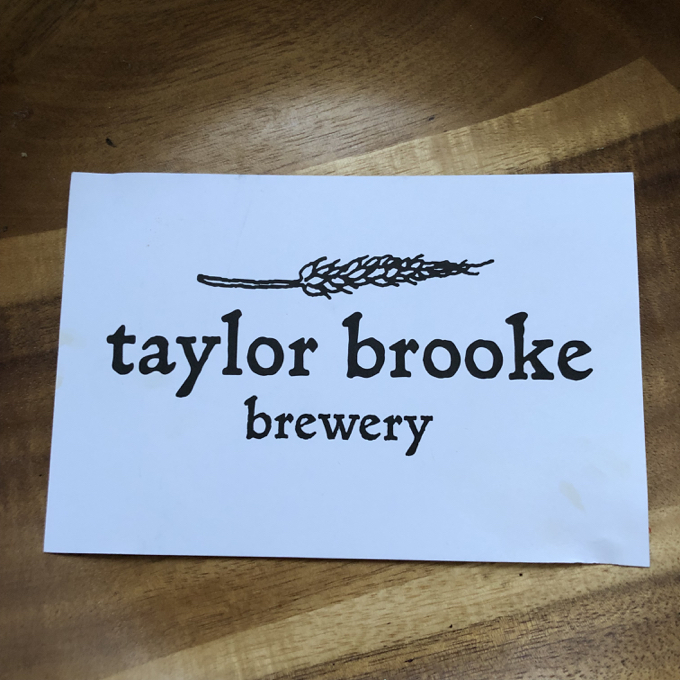 Taylor Brooke Brewery
CTMQ's Breweries & Brewpubs