A Connecticut Yankee in Hee Haw's Barnyard
The Haunting in Connecticut 2: Ghosts of Georgia (2013)
I can't think of too many movies where you absolutely know going in, based on the title alone, you will hate yourself for watching it. Such was the case with The Haunting in Connecticut 2: Ghosts of Georgia. Not only is this not a Connecticut movie that doesn't take place in Connecticut or have even the tiniest sliver of a reference to the Nutmeg State, it has nothing in the world connecting it to 2009's Haunting in Connecticut. So why, you ask, is the movie titled as it is?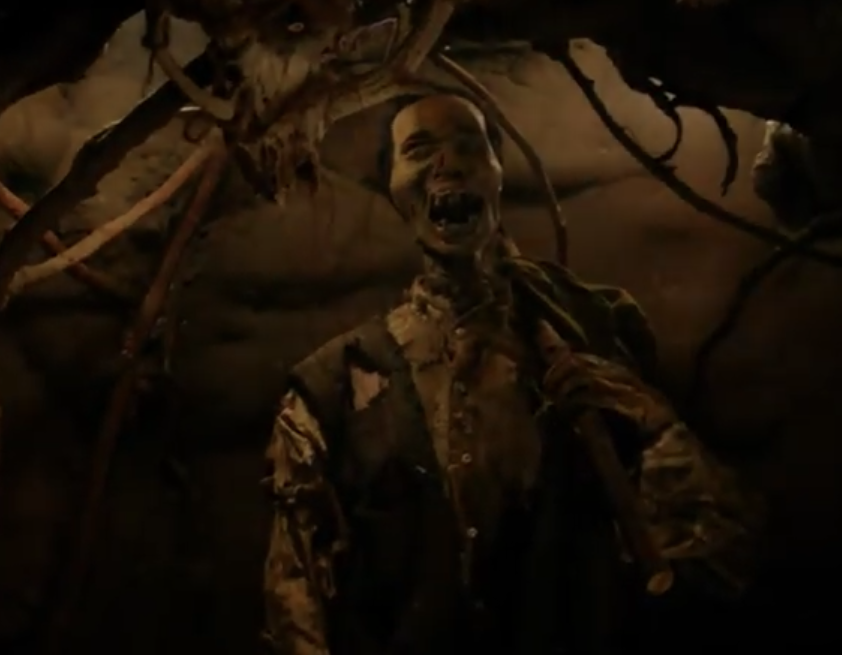 According to screenwriter David Coggeshall, this movie was never intended to be any kind of sequel to The Haunting in Connecticut and they only became "related" when Gold Circle, the studio behind both movies, decided they wanted to try and capitalize on the success of the first movie. I was going to joke that "David Coggeshall" must be a pseudonym because if I was responsible for this dreck, it surely would be. But then… "the success of the first movie?! Man, Americans have terrible taste.
The movie is a mess. It's really hard to keep track of what's supposed to be happening and why. It's not terrifically scary, and the scenes intended to provoke a jump scare are so clichéd that you know they're all coming before they do. Heck, they even have the one or two swerves in the beginning (a raccoon going bump in a closet, for example) to get you primed for the next time when it's a… ghost!
The movie begins, as so many of this genre do, with a lie: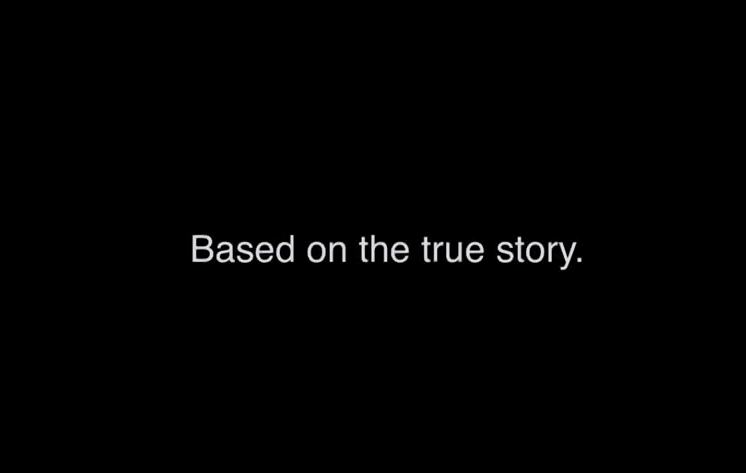 This is like the guy saying, "I'm a nice guy, I swear!" Anyway, the attractive Wyrick family has bought an old house in Pine Mountain, Georgia on the cheap. It comes with tons of land and a long manicured driveway. Spanish moss gently blows from the stately trees that dot the land. It's all very lovely, aside from the broken down trailer across the lawn. Andy the dad (the impossibly handsome Chad Michael Murray), Lisa the mom (the impossibly beautiful Abigail Spencer), and daughter Heidi (the impossibly cute Emily Alyn Lind) move in and we immediately learn all is not well, despite their beauty.
Lisa has scary visions of ghosts and her dead mom and whatnot. She takes pills to help quell her visions, but little Emily is not similarly medicated. And little Emily sees ghosts too. The first one we meet is a stoic old man named Mr. Gordy. Jumping around, we learn that Mr. Gordy was a former resident of the house. We learn that Lisa and Heidi see ghosts because they are "veils." What's a veil? A veil is a person born and immediately covered with a veil which results in them being able to see ghosts. That's just a fact. Part of the "true story" this movie is based on. You see.
Lisa's sister Joyce, down on her luck, moves into the beat down trailer. She's also a veil. She embraces her veil-ism whereas Lisa tries to run from it. This is a theme throughout but it doesn't matter. They all see dead people. Lots and lots (and LOTS) of dead people in the house, in the yard, in the field, and in the woods. There are a lot of ghosts and invisible corpses around. Sometimes they sort of float. Other times they walk like you and me. Many appear to be slaves. Some seem innocuous. Others downright evil. What is going on?
For one thing, little Heidi has a really bad habit of wandering into the woods alone. Keep in mind the woods keep scaring the crap out of her, but goshdarnit if she isn't intrepid. Over and over again she wanders into the woods. Morning, noon, and especially at night. Oh, and speaking of night, despite the fact that the events in this movie play out over a two-week span, there's a full moon every night. Night after night, clouds are seen rushing past a full moon. For two weeks. This is the kind of stuff I just can't abide.
We learn that the house was a former station along the Underground Railroad. The Stationmaster is credited with saving hundreds of slaves in the 1860's and is heralded as a local hero. He was also a taxidermist, which matters because the Wyrick's dog got trapped in one of his 150-year-old wooden traps that somehow survived intact for all those years. This taxidermist "hero" was a Gordy ancestor.
Several useless scenes with milquetoast scares pass by and… it's pretty weird that the dad just goes about his life even though his wife, daughter, and sister-in-law are being ruined by constant visions of ghosts. He's just like, "hey man, I'm super handsome and my crazy wife is super hot, so whatever." He's more upset by the real people that visit his property; a well-intentioned local minister and some slave descendants who have set up sort of shrine in the woods. A shrine which has papers thumbtacked to it. Out in the Georgia woods, exposed to the elements. But remain readable and intact for years. Sigh.
One of the visitors is an old woman named Mama Kay. Let's have a look at Mama: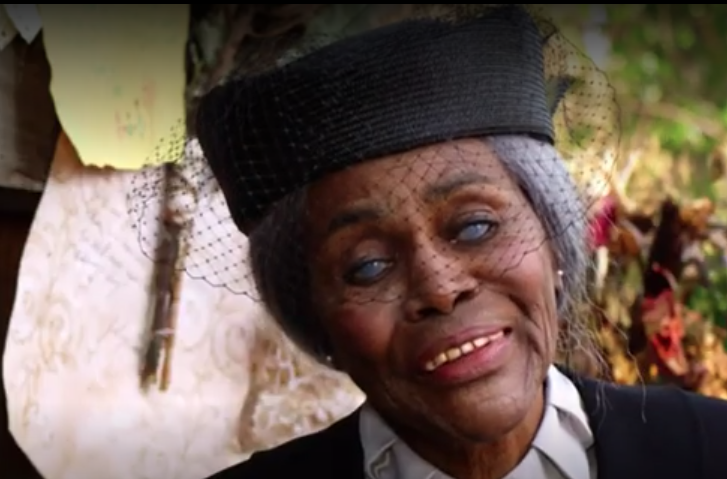 Oh my. That's Cicely Tyson! I have no idea why she needed clouded eyes and horse teeth, but there you go. Mama Kay is onto Heidi though. She knows that the child knows. Nothing comes of this revelation, but I'm sure the writers thought it was cool.
Not cool? When Heidi tells her mom that they have to move because bad thing are about to happen and mom ignores her. Like, Mom knows her daughter has "the gift," so why would she argue with her? Especially after experiencing a lot of the same scary stuff? What a terrible mom. She gets her just desserts when Heidi almost drowns in the bathtub and then when choking out the water, she vomits out this: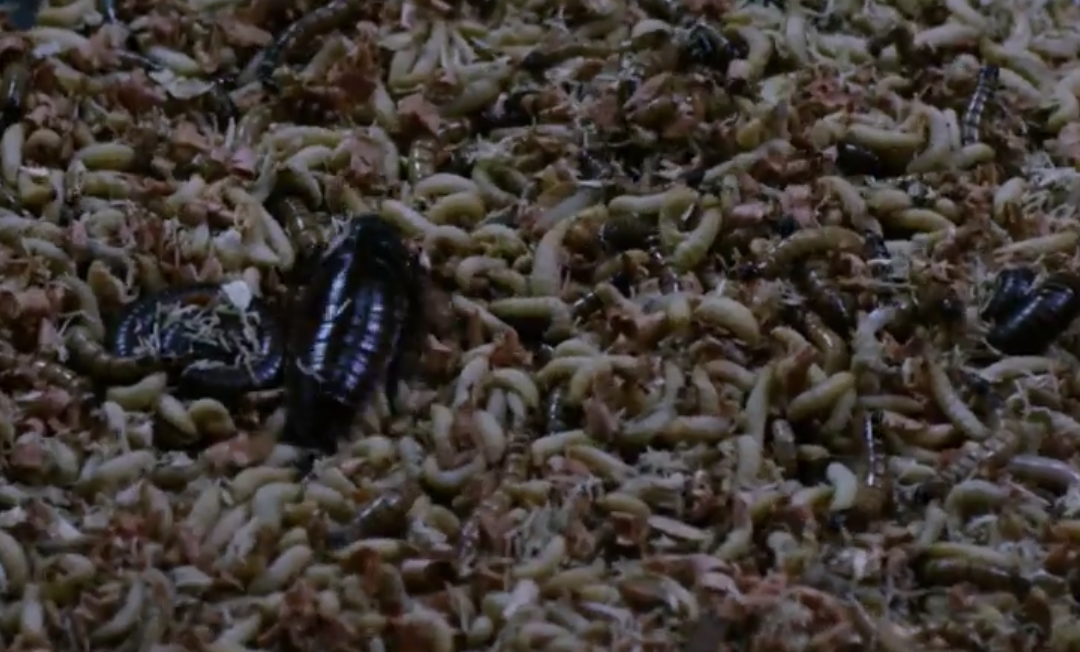 Mealworms and a few Madagascar hissing cockroaches. Meal worms also featured in the original Haunting in Connecticut, in another gross-out scene. (Later, the sister-in-law also vomits up the same. Actually, she's lying on her back after being sewn to her trailer room by the ghost of the taxidermist station master with a mouth full of worms and sawdust but her sister doesn't think to clear her airway. People, when someone is out of it and vomiting and on their back with a mouth full of whatever – whether it be actual vomit or large cockroaches and mealworms, clear their dang mouth with your fingers!). Anyway, I don't know what the deal is with the cockroaches or how they got to Georgia, but the director seems to like the look of them.
I just realized I'm making this movie sound better than it actually is. Or at least more sensible. If I've been unclear, this movie is neither good nor sensible.
Did I mention yet how Heidi wandered into the woods by herself at night for the 18th time and somehow wound up at the bottom of a 25 foot shaft unhurt? That happened. And she was scared. Handsome dad rescued her and in so doing discovered some of the former underground railroad tunnels. And skeletons. He also discovered that after the 37th incident in week or so, perhaps this wasn't the safest place to live.
He tells his wife to pack and after everything, she's hesitant.
In the final scenes, doting dad leaves little Heidi alone. At night. During the 14th straight full moonlit night. Lots of ghosts are running around and as I mentioned, the evil one strings up the trailer lady by her lips. Heidi is of course stolen away, back underground into the tunnels for what felt like the 90th time… even if was only the second or third. I forget. Please end.
Slave ghosts and slave skeletons surround Heidi and she screams and things happen and her mom somehow finds her underground and they find more skeletons and then an incredibly well preserved taxidermy studio from the mid-19th century. I mean, I guess taxidermy is all about the preservation of things, so I guess I can suspend disbelief here.
Oh, gee, the taxidermist stationmaster actually was the bad guy and I think we're led to believe he… I don't know? Let escapees die in his tunnels on purpose? And saved a bunch still? Taxidermied the humans? All of the above? And now not only he but all the slaves AND the descendant Mr. Gordy ALL haunt the property that three people happened to move to that happen to be able to see dead people?! Have I got that about right?
The mom whispers some mumbo-jumbo to herself about accepting her "gift" and all the ghosts swirl away into the dank air and disappear forever, the end what?
The tortured aunt lady is fine. Because her lips were sewn to the ceiling by ghosts that disappeared so her situation wasn't real what? The family stays in the house and Heidi is seen receiving a helpful push from the ghost of Mr. Gordy at the end even though the 95 other ghosts all disappeared.
I might as well mention that the DVD's cover picture (below) features a woman in a pink dress floating in the air. There is neither a pink dress nor a woman floating in this movie. Also, the dad Andy sadly died just a few months before this movie was released. I am unclear if supernatural forces were to blame.
In one final assault on our intelligence, the real life Wyrick family is seen as the credits begin. Two thoughts: LOL at them actually associating themselves with this nonsense I hope the three women all received the proper mental health care they clearly need(ed).
And now I feel like I need some after this movie.
CTMQ Rating: 0 out of 5 thumbs up
Connecticutness: 0 out of 169 Nutmegs
Filmed in Connecticut? No
Wealthy Caucasian with a Big House? No