Boooo!
The Haunting in Connecticut, 2009
Straight up: I'm not a horror film fan. Sure, there are a few I've liked. From the campy fun (Evil Dead) to the cool (The Ring) to the not-really-horror (Get Out). By and large, they're all terrible. I simply don't enjoy torture and gore and cheap scares.
The Haunting in Connecticut has some torture, not much gore, and attempts several cheap scares… and it still stinks. It even has recognizable actors like Virginia Madsen. I recognized the dad from somewhere I guess but the best is none other than Amanda Crew! Pre-"Silicon Valley's" Monica Hall!
Alright, so there are decent actors. Good. As for the story… which the movie bills as "based on a true story…" the story is idiotic. But it's a horror movie, informed by Connecticut's own ghosthunting clownshows, Ed and Lorraine Warren.
This movie is supposedly about Carmen Snedeker and her family in Southington, based on a book by Ray Garton called In a Dark Place: The Story of a True Haunting. The Warrens had Garton write the book and since the movie's release, he has publicly distanced himself from the veracity of his book. Gee, really?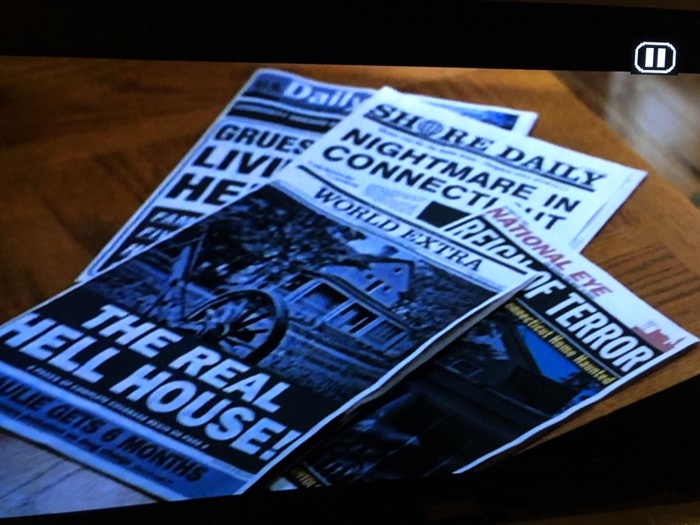 In the movie, the family's son, Matt, has a terminal cancer and is submitted to an experimental treatment in some hospital in the fictional town of Goatswood in Connecticut. The one "smart" thing the movie does is having the cancer doctor say that the treatment may cause violent hallucinations – which gives Matt some leeway in reporting what he begins to see after they move into the new house.
A house that was… A FUNERAL HOME! Dunh-dunh-dunnnnnnnh.
Shortly after the family moves in, Matt begins seeing creepy stuff. Each one is accompanied by a high-pitched "scary sound." My favorite one, hands down, was when he tripped and caught himself on the siding, his hand went through it to find what appeared to be ground beef, mealworms, and maggots.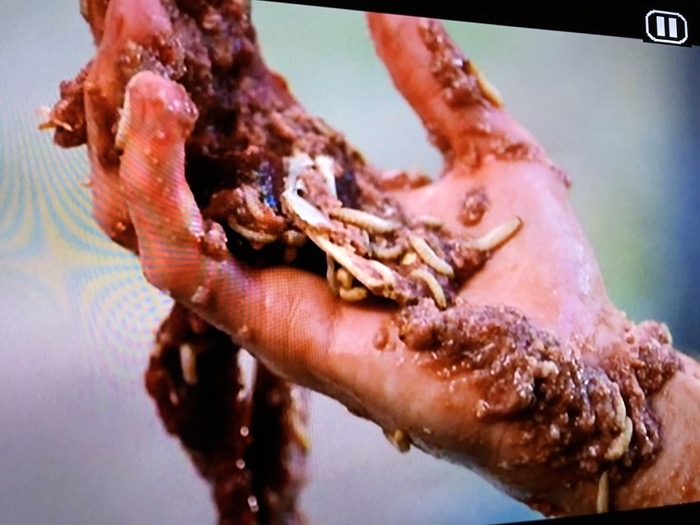 Ok then. It gets progressively scarier for Matt, who somehow keeps these visions and experiences to himself for a while. Cancer kid doesn't want to be more of a burden and all that. He befriends a priest at the cancer center who understands though. You see, terminally ill cancer patients live in between life and death so they experience that netherworld. Or something.
After seeing himself via old-timey sepia toned film footage being tortured at some sort of seance, he's had enough. Looking up at the star-filled sky with his alcoholic father he says, "you know most of the stars we're seeing are already dead." Sad trombone.
Yeah, the dad abuses alcohol which isn't germane to the story at all, but we got a scene of him drinking vodka playing guitar and getting mad at his lot in life.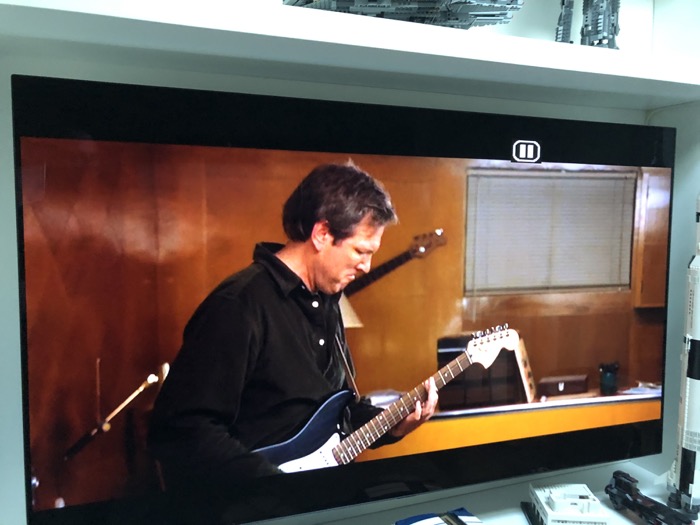 My notes say, "can I fast-forward?" No, Steve no you may not. You need to see how this plays out. The terrifying visions begin to affect Matt's siblings and cousin (Amanda Crews!) and mother. They mostly center around the group of sepia-toned people doing seances, cutting eyelids off of cadavers, and having protoplasm escape their bodies in awful ways (see movie's promotional material).
A man named Ramsey Aickman ran these seances, but one led to everyone dying except for a boy named Jonah, who disappeared. It also seems that Aickman may have been a necromancer. All the dead people now haunt the house because that's just what they do. They need to be freed! By torturing a child suffering from cancer for some reason.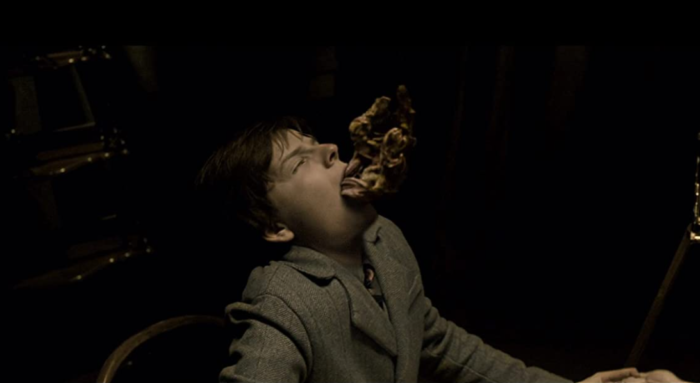 The mother prays, the younger siblings are just sort of hanging around, the dad is… I don't know, and the cousin does try to help. But it's of no use. The experimental treatment hasn't worked, so Matt goes home and cuts open the walls and a bunch of mummies tumble to the floor. He drizzles some alcohol based liquid on a few of them and sets them ablaze! What a finale!
The whole seen is terribly directed. The cleansing fire is… a few small hotspots here and there. Matt sits there taking it all in while his family desperately tries to save him. Eventually they do, because the fire he set is like a small campfire in the corner, and I guess he's freed from their torment. I also think he was then cancer free if the final words on the screen said what I think. I wasn't really paying attention.
This is another movie touched by the hands of Connecticut's own Ed (RIP) and Lorraine Warren. They are the ones that claimed that the Snedeker house was "a former funeral home where morticians regularly practiced necromancy and that there were powerful supernatural forces at work that were cured by an exorcism."
There is the claim that the aforementioned author Ray Garton was employed by the Warrens to write the story, instructed by Ed, "You've got some of the story – just use what works and make the rest up… Just make it up and make it scary." This was supposedly a bombshell revelation, but isn't that literally how every single bit of the Warren's legacy was created?
This movie is not good. And neither is The Haunting in Connecticut 2: Ghosts of Georgia.
CTMQ Rating: 1 out of 5 thumbs up
Connecticutness: 96 out of 169 Nutmegs
Filmed in Connecticut? No
Wealthy Caucasian with a Big House? Not wealthy, but big house