Crazy Cat Lady (and Damian) Paradise
The Last Post Cat Retirement Home, Falls Village
April 3, 2010
In early November 2011, this place suffered a terrible fire which destroyed at least one building and killed a bunch of the cats. They have no web presence in 2020, but I can't confirm if they've closed.
I have no memory of how I found out about this place. But it has intrigued me for a couple years, so I was glad to have the opportunity to get out there with avowed cat-lover Damian to check it out – and to figure out just what the heck this place was.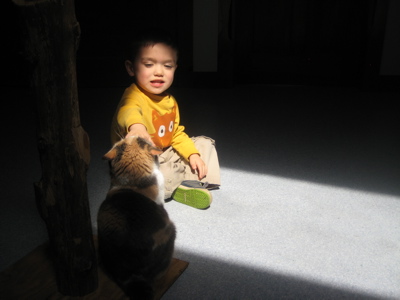 Hoang had to tend to some business at the homestead (hey man, she wanted to paint the kitchen cabinets, not me), so Damian and I had a guy's adventure. A cool little hike to an awesome waterfall in Norfolk, a manly old school diner lunch in North Canaan, and of course, what kind of Man Day would it be if we didn't surround ourselves in a bunch of … um … cats?
Ahem.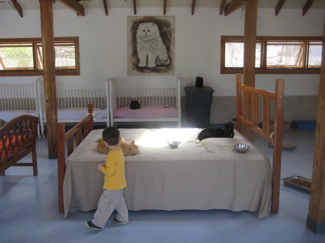 The Last Post is located off of Belden Road in the beautiful hamlet of Falls Village in Canaan. Down, down, down a winding gravel driveway, The Last Post is set in several buildings and fenced in areas. It is inviting to visitors and signs guide the way to the parking lot and the tame cats we came to visit.
My word, there are a LOT of cats here. Amazingly, while of course it did smell like "cat," it wasn't too bad at all. All the cat rooms we saw (4 of them) were large and clean. There's not much more background to add… So here's what they said about themselves on their (now long gone) website:
The Last Post is an animal sanctuary and cat retirement home located in Falls Village, CT. It has been in operation since 1982, and currently is the home to more than 200 cats, several dogs, and a pair of pigs as well as a goat.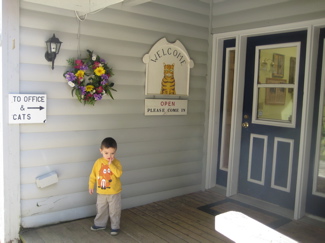 Many of the cats are available for adoption and all are kept up to date with vaccinations and medical examinations.

When you come to visit, you will be able to walk through the main day rooms for the cats, and on the deck just outside of the day rooms. The cats may be a little shy at first, but they usually warm up to visitors, and like to get attention from them.

Located in Falls Village, the Last Post has 37 acres of a natural wildlife preserve. Many people bring cameras to capture some of the beauty of the setting, as well as the cats themselves.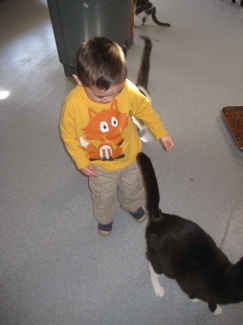 I'm not sure it's an actual "wildlife preserve," but you know how cat ladies sometimes get a little fantastical. The Last Post was founded by Pegeen Fitzgerald, a New York radio personality, advertising executive, author and animal advocate. It is a project that is sponsored by The Vivisection Investigation League and The Millennium Guild, both organizations which Mrs. Fitzgerald had been President of until her death in 1989.
The Last Post's primary purpose is to provide a safe, homelike surrounding for animals whose previous owners have died or gone into nursing homes. Animals are left to the Last Post in wills, or special arrangements are made by contacting our attorney.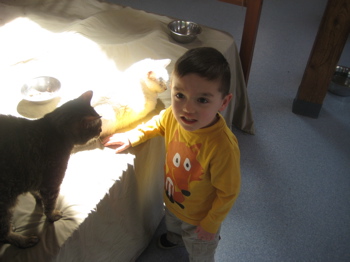 Now, I happen to love cats and Damian does too. (Hoang's rather allergic, which is a bummer.) Do NOT go here if you don't really like cats. They are very friendly and there are a billion of them – and they are not shy either. Most of them are very cute and cuddly and all appear pretty healthy, despite being fairly old. (Many of the less friendly ones are kept in different areas of the compound.)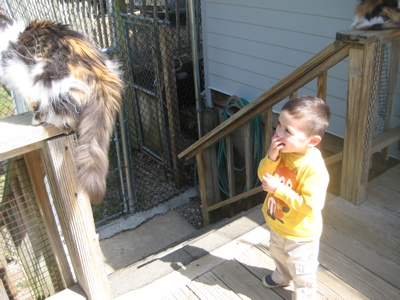 I want to point out how well taken care of these cats are – they get regular checkups, all of their shots, and are all digitally tagged in case they escape the compound.
Damian and I had a lot of fun here. Only one cat swiped at him which is amazing when you realize he's a curious and impolite little boy sometimes; pulling on tails, waking from slumbers, touching noses – all that good stuff.
In the end… Yeah, okay, just another excuse to post a bunch of pictures of Damian. And just for that eye-roll, I'm throwing in some extras: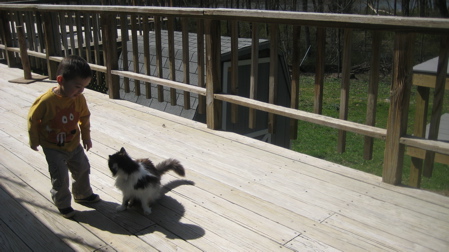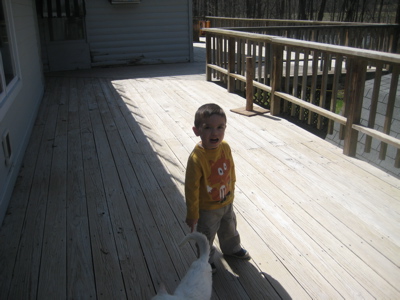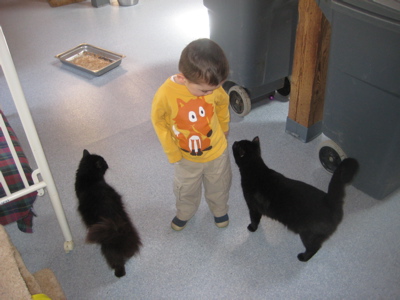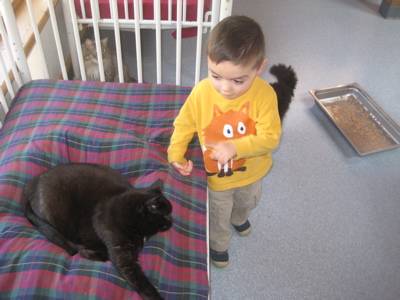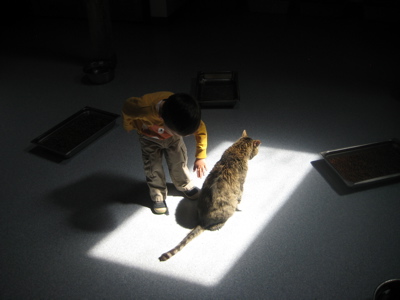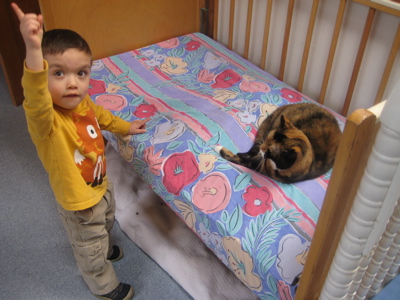 Oh yeah… There's also a goat there: