Not Even 50 Cents on the Dollar
The Sisti Mansion, Farmington
The pictures are from The Courant and William Ravies Realty.
I guess, in a sense, it shouldn't be surprising that I live near two of the largest private homes in America. I do live in Connecticut after all, and if I've learned anything about living in Connecticut, people who don't live in Connecticut think everyone in Connecticut lives in giant houses, is white, and drives German SUVs.
I only check off only one of those boxes.
It has been reported that Arnold Chase's mansion in West Hartford is the largest private home in the US. I doubt this is true, but I'm sure it's certainly close. And it's also very close to where I live, even if I live a world away in a metaphorical sense.
I'm pleased to tell you that Mr. Chase is a good person and has decent reasons for the size of his house. In fact, I now count him as a friend (it's a crazy story, don't ask, but he's a fan of this very website). I have never met any of the various owners of the Sisti mansion, however.
Whereas Mr. Chase is rather quiet, the various owners of the Farmington mansion who have actually lived there have not been: Benjamin Sisti, Mike Tyson, and 50-Cent. Benjamin Sisti is one of Connecticut's most infamous sons. Our very own Bernie Madoff. Oh look, he was even able to scam a particular very stable genius.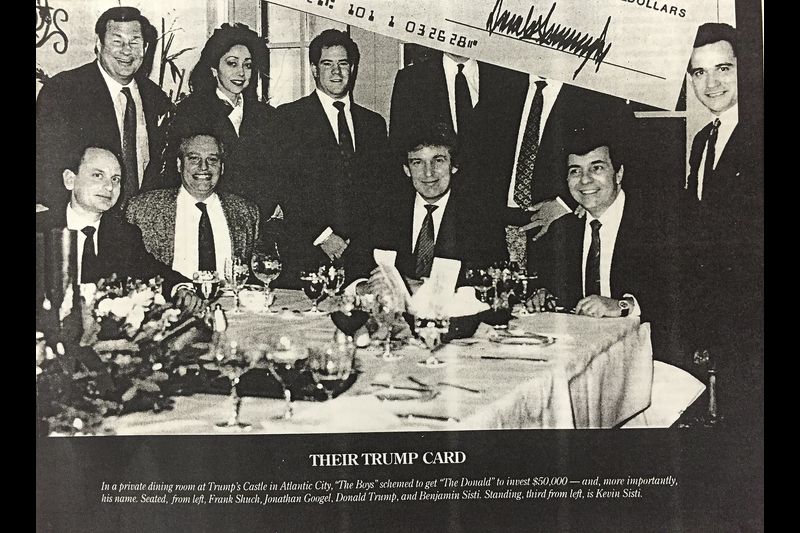 But I'm getting ahead of myself. To recount Ben Sisti's sins here would take far too long. The Hartford Courant wrote a series of long-form investigative articles about Sisti and his West Hartford based company, Colonial Realty, in the early 1990's. I'm not going to link them, because you probably don't have access and even if you do, the URL will change next month anyway. Use Google. It's the best.
Sisti grew up relatively poor in New Britain, got into property management, did pretty well, and then decided to become a criminal. He started with simple insurance fraud and the like, but in the end, he ran a full scale Ponzi scheme that bilked 7,000 people out of their savings. And in the midst of his criming, he built himself a ridiculous mansion in Farmington. Said the Courant at the time:
Seeking the admiration and respect of others, he was extravagant enough to build himself one of the largest private homes in the United States, complete with a movie theater, indoor shooting range, racquetball court, and glass-enclosed elevator. But as Colonial was sinking, he was also cheap enough to have cases of toilet paper and other cleaning supplies clandestinely removed from The Summit Hotel in Hartford, a Colonial property which had been repossessed.
Hm. Sounds like his Stable Genius friend. Grossly ostentatious while stiffing every contractor possible. What is it with these kinds of guys? And real estate?
Things quickly went south for Sisti. In 1990, Colonial Realty was forced into bankruptcy, as was Sisti. Investigators soon discovered that Colonial Reality was a Ponzi scheme, and nearly 7,000 investors lost their money – some their life savings. Colonial's CFO killed himself before facing trial.
Sisti would claim in bankruptcy court that he had less than $15,000 cash to his name. This was true, but only because he had spent the months leading up to the bankruptcy filing transferring assets to family members. For this, Sisti pleaded guilty to bankruptcy fraud, among other charges, and was sentenced to nine years in prison. Several other key players went to prison and like I've said, you can read all about that elsewhere. Let's get back to the dumb house.
Sisti probably had it built as a sort of advertisement for his investing acumen. Like, "Hey look at how much money I made, come invest with me!" Of course, after his scam fell apart, the mansion went into foreclosure and was sold to People's Bank for $3.5 million in an auction. The bank then sold it to Romas Martsinkiavitchous, a Lithuanian import-export business owner according to the Courant, for $2.7 million in 1993.
Might as well start counting bankruptcies and losses on this place. There have been a lot. I don't know if this Martsinkiavitchous guy ever actually lived in Farmington, but a year after he bought it, he put it up for sale at $3.5 million. Why? Because he was facing bankruptcy at the time.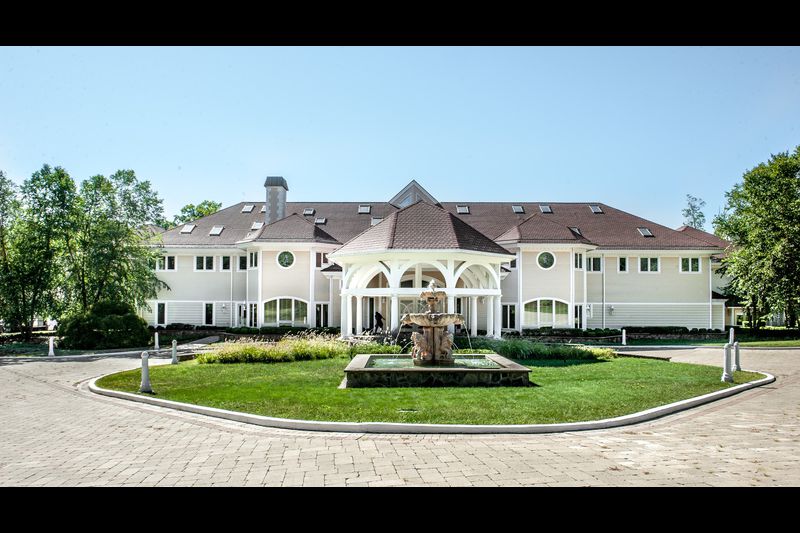 It was finally sold to boxer Mike Tyson for 2.8 million just before going into foreclosure. Tyson promptly spent millions to make the home his own. According to the Wall Street Journal, it featured:
… an indoor discotheque designed for 1,000 people, where a giant neon sign reading Club TKO casts a faint aqua glow on the blond-leather lounge chairs. One upstairs bedroom is entirely pink, from the pink twin bedspreads to the pink sponge-print walls and the TV set encased in pink Formica. Another room features a four-poster bed that juts out of a black-and-gold lacquer headboard in the shape of five huge banana leaves.
That's fantastic. Some other finer Tyson touches included:
… an indoor gym; an indoor shooting range; a racquetball court; 110 phone extensions; and an NBA-regulation-size basketball court on the site of a former tennis court. Mr. Tyson also built the disco, complete with a smoke machine and computerized DJ booth …
Just the kind of place anyone would want to buy. Which is what Tyson thought because he put the house back up for sale almost immediately after "fixing it up" for $22 million. You may find this surprising, but no one bought it. Here's the thing… this house at the end of a normal Farmington dead-end residential road, near a normal intersection that now features a gas station and one of those dual Subway-Dunkin things. I-84 is right there. I pass by the neighborhood to take my son to winter soccer practice.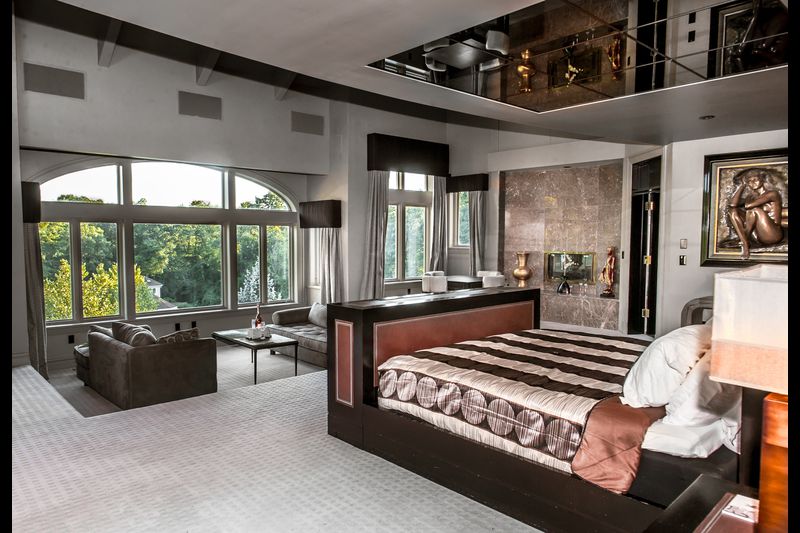 Even better? The CFPA's Metacomet Trail used to, literally, take hikers right along the mansion's property line and right across its driveway. The cul-de-sac was a designated parking spot for the National Scenic Trail. And yes, we used it as a car spot when my wife and I hiked this section.
What I'm saying is, this is not a secluded house. Beyond its profligate superficial stupidity, its location makes it rather undesirable for the type of person who would want – and can afford – such a monstrosity.
In 2003, the home was awarded to Tyson's ex-wife, Monica Turner, as part of a divorce settlement. Tyson then declared bankruptcy. (Still counting?) Months later, 50 Cent purchased the home from Turner for $4.1 million. 50 then promptly spent $6 million renovating the property, adding an infinity pool, a grotto, a movie theater, and a helicopter pad and more. Like stripper poles.
50 hosted parties and from what I heard, ingratiated himself to his neighbors as much as possible. He would join Hartford's local hip-hop station morning teams and invite listeners to the mansion for contests and stuff. I can't really recall any issues with him or his parties during his tenure, but man… imagine being a long time resident of Poplar Hill Drive and living through all this nonsense.
After initially listing the home for sale for $18.5 million, the price would be cut and the home would be taken on and off the market. By the time Oprah Winfrey filmed a segment in the home in 2012, the asking price was $9,999,999. 50 told Oprah that he was conscious of Tyson's financial downfall and that he'd be sure that didn't happen to him. He said, "I never understand how artists get in a great situation and then not have time to count money. Like, I have plenty of time. I'll sit down and count the money with the accountant."
You know what happened next.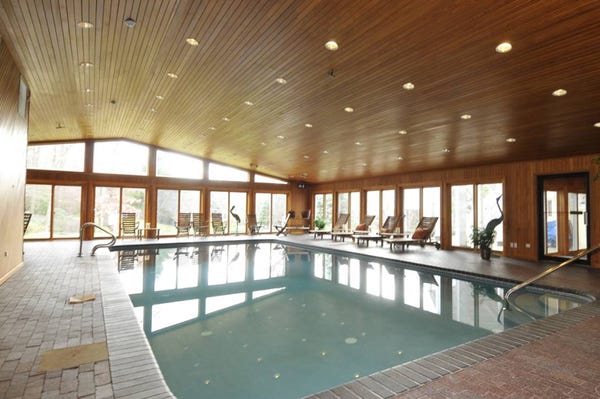 In 2015, 50 Cent filed documents in a Connecticut bankruptcy court, showing that he was spending $72,000 a month to maintain the home. He was spending $5,000 a month on gardening – which I find rather touching to be honest.
The house sat for years. Empty and symbolic of all that is wrong with guys who come into a lot of money quickly and don't know how to manage it. Finally, in 2019, some guy from Florida bought it for $2.9 million. Here we go again…
A Florida businessman who is the new owner of the Farmington estate sold by Rapper 50 Cent said Wednesday the property will be used by his family and for business retreats, after a major renovation that could run into the millions of dollars.

"It gave us something of the magnitude to be functional for the business and the family," said Casey Askar, who closed the sale of the 50,000-square-foot mansion Monday. "We saw an opportunity as far as value and size."
Yeah. Okay.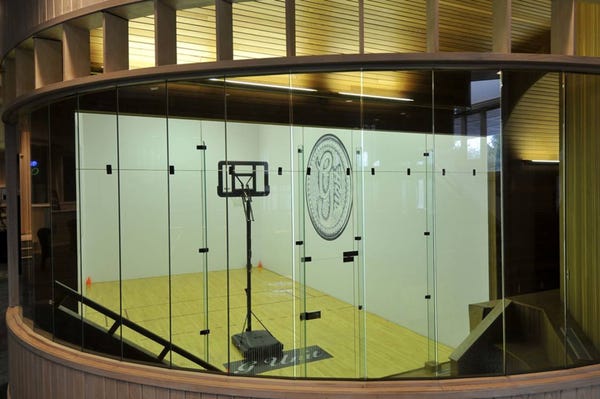 Askar said his business is family run and has two components: investments in commercial real estate and restaurant chains that include Papa Romano's, Papa's Pizza, Breadeaux Pizza, Blackjack Pizza, Mr. Pita, Stucchi's and C.J.'s Brewing Co. Askar is president and chairman of Askar Brands, which oversees the restaurants.

Askar said he doesn't plan to relocate from Florida to Farmington, but his family — Askar is the father of six with a large extended family — will likely visit summers and for holiday gatherings. The mansion, with 21 bedrooms and 25 bathrooms, also is large enough to accommodate retreats for his businesses that are attended by teams and their families, Askar said. The mansion is an attractive alternative to booking hotels, he said.
Yes. Seems like a wise way to avoid booking hotels.
Of course this Askar guy will run into problems and the house will be on the market again in a few years. Honestly, it should just be a home for special needs adults or something. It could probably be converted to have 35 bedrooms or so and it has everything else necessary, including an ADA compliant elevator.
That is my solution. And hurry up, as my disabled son is now 15 and we'd love for him to have an affordable housing solution other than living with us forever. Yes, I somehow made this about me.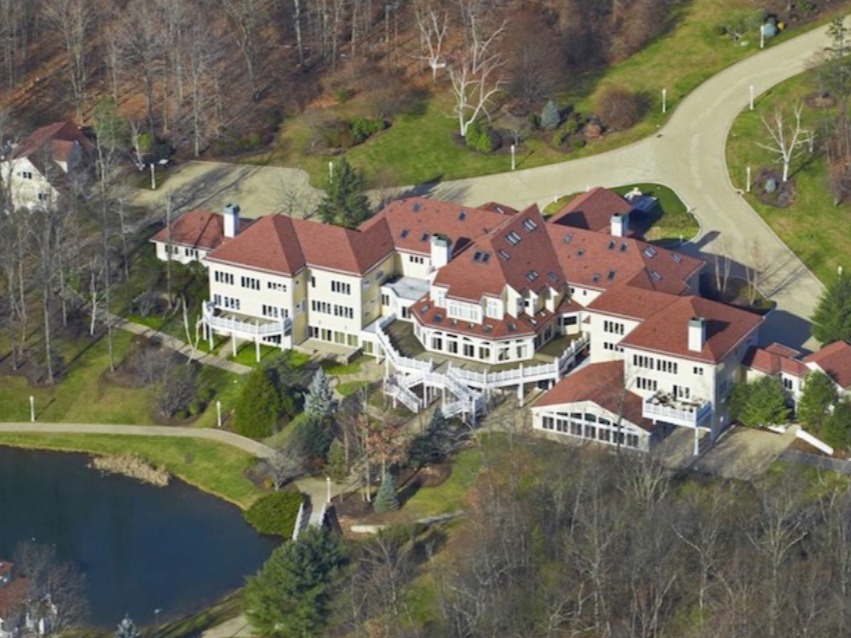 CTMQ's Houses, Ruins, Communities & Urban Legends