By The Time They Got to Woodstock…
Tree House Orchard & Farm Fermentory, Woodstock
October 2022
Tree House began brewing beer here in September 2023, so a revisit is in order.
I'm at a bit of a loss here. On the one hand, there's too much for me to say about Tree House The Company but on the other hand, I want to keep this page relatively simple and clean. That's how this outpost of the Massachusetts brewing juggernaut operates, and that's what makes it so great to me.
But there's no way I can write about a Tree House property without giving some background on Tree House Brewing Company. Many articles have been written about the brewery over the years and you can go spend hours reading about their success. Books will be written about Tree House. Future MBA's will study their meteoric and unique rise.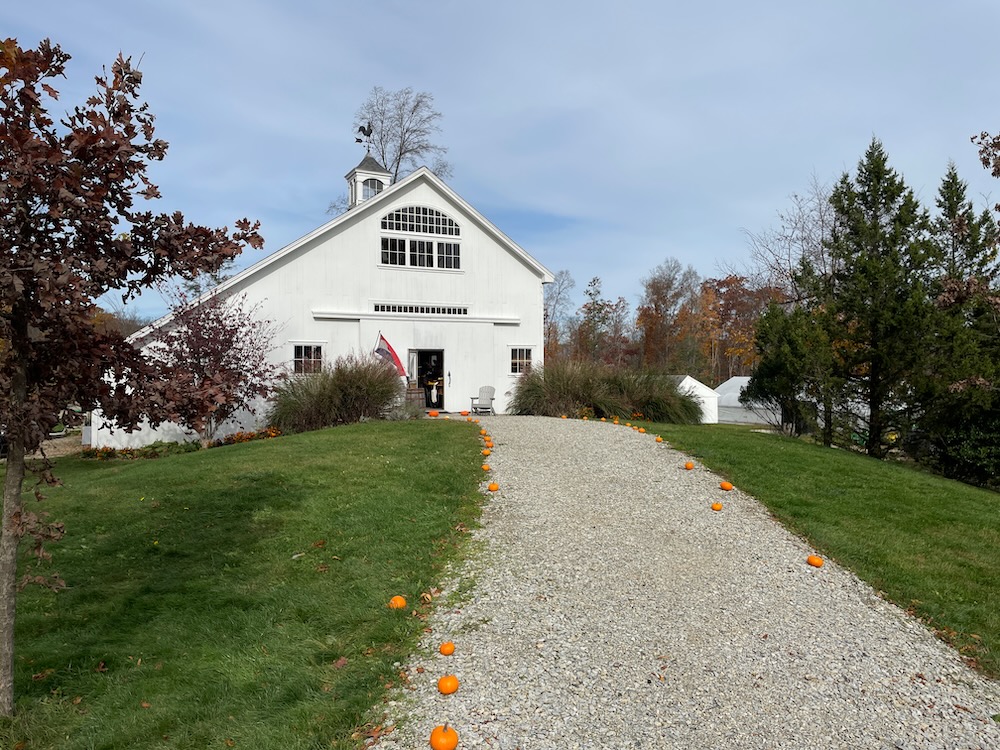 I say that with absolute sincerity. The Tree House story is, quite simply, incredible. This will likely surprise many readers, but the only time I've ever visited a Tree House brewery was in 2012. Ten years, and many millions of dollars of profit for them later, I visited their farm and cidery in Woodstock.
The story of how they got from there to here is worth telling. (Although I'm hardly qualified to be the one to do it.)
Skip to the Woodstock farm. You hate all things Massachusetts.
Tree House started on barely two acres in 2011 at Damien Goodreau's house on a residential street in Brimfield, MA. There was an awesome tree house on the property. A true homebrew operation that went pro with a couple guitar playing friends with day jobs. The retail operation was only open on Saturdays. Typical 2011 startup brewery story, actually.
Damien and Nate Lanier made good beer. Really good beer… just as the craft beer "thing" started to really take off in 2012. They made true-to-style stouts and such, but what they did – arguably before anyone else and inarguably better than anyone else at the time – was essentially invent the style of beer that helped propel the entire craft brew industry into the stratosphere: The New England IPA.
Or at least what became known as such. In fact, it became known as such because Tree House (and The Alchemist I guess) is in New England. There are basically two ingredients that we can thank for this: the Citra hop and flaked oats. The Tree House boys decided to add more hops than others were doing, and they decided to use flaked oats to give their beers and entirely different look and feel. (There's a little more to it than that, but you get the gist.)
Most Tree House IPAs were not bitter. At all. They were less transluscent and soft and juicy. These were new descriptors at the time. Their Julius IPA, which is still made today, vaulted to mythological status almost immediately. A higher ABV IPA that was orangey in color and was easy to drink and… just tasted… really, really unique citrusy and delicious.
There were rumors – for real – that they were adding orange juice to their beers. I heard this from a brewery owner back in 2012 or '13. People just couldn't believe what these new southern hemisphere hops could add to a flavor profile.
Tree House outgrew Brimfield and opened a much larger space in Monson, MA in 2013. It was too small for them before they even opened it. The word on Tree House was out and people from all over New England were descending on the brewery hours before opening every day. Traffic jams and 3 hour long lines were the norm. For beer. Very limited amounts of beer. Every. Dang. Day.
If you're not familiar, I cannot begin to give you the full picture of what Tree House Monson was like when demand outpaced supply – a situation that went on for years. Because Tree House made the decision forever ago to simply never distribute their beer to bars, restaurants, or package stores. Save for a couple very early forays onto a top line here or there, and their recent availability at some Patriots games now a decade later, their beer is only sold at their Tree house locations. No stores, ever.
That single "no distribution" decision had industry-changing effects across the nation. New breweries would look at Tree House and say, "Hey, I can be successful without entering into distribution contracts. I can make all the profit on my beer and not have any middlemen!" The "Tree House Model" will take up at least two chapters in that future business book. Heck, there may be a paragraph on how their all-in decision on the 16 oz can format led to future aluminum can shortages.
I think the initial decision to not distribute was because they simply couldn't make enough beer fast enough to do so. Then, once they did make enough, they simply said "why bother?" So when they opened their massive $20 million resort-looking Charlton, MA brewery in 2017 – and then when they added on to it later – they still didn't distribute their beer.
And when they opened locations in Sandwich and Deerfield, MA, they still didn't distribute their beer – except to their Sandwich and Deerfield locations. And Tree House makes a LOT of beer. Tree House packaged and sold the most beer in Massachusetts in 2020 — not including Boston Beer Co./Sam Adams and Harpoon Brewery who distribute internationally — selling 41,500 barrels out of its Charlton brewery, according to data from the U.S. Brewers Association.
Those sales figures make Tree House the top-selling taproom in the country. And yes, it all started in one guy's garage in 2011. People have tried to run their numbers and their profits and, well, they've done very well for themselves. And, notably, you can't find anyone saying a bad thing about the brand or the owners. Ever. They've managed their astronomic success incredibly well and they deserve it.
They've remained humble and have always tried to be stewards of the land and their cheeky hippie vibe has never wavered. When Nate used oats and added the hops into the whirlpool (or whatever) and didn't flinch at the hazy look of his early beers like Julius (originally called "Citra" by the way) and Haze because he liked the way they tasted, he had no idea that his beers would sell for $60 on the secondary market. That a new language and gig economy would pop up in the driveway of the Monson location. "Mules," "hauls," "secondary"… Dudes would bring disguises to try to roll through the line twice to double their allotment in order to sell them on the secondary (black) market. (Mules were friends that were brought along for the same purpose.)
Many, many hundreds of start-up breweries have tried to copy the Tree House model. NEIPA-heavy tap lists, 16 ounce cans with cute messages printed on the bottom, no distribution, etc. The non-bitter and slightly hazy qualities that Tree House perfected evolved elsewhere into overly sweet lactose NEIPAs and thick, pulpy beers. That's an evolutionary dead-end, but the mutation started in Brimfield. Of that I'm convinced.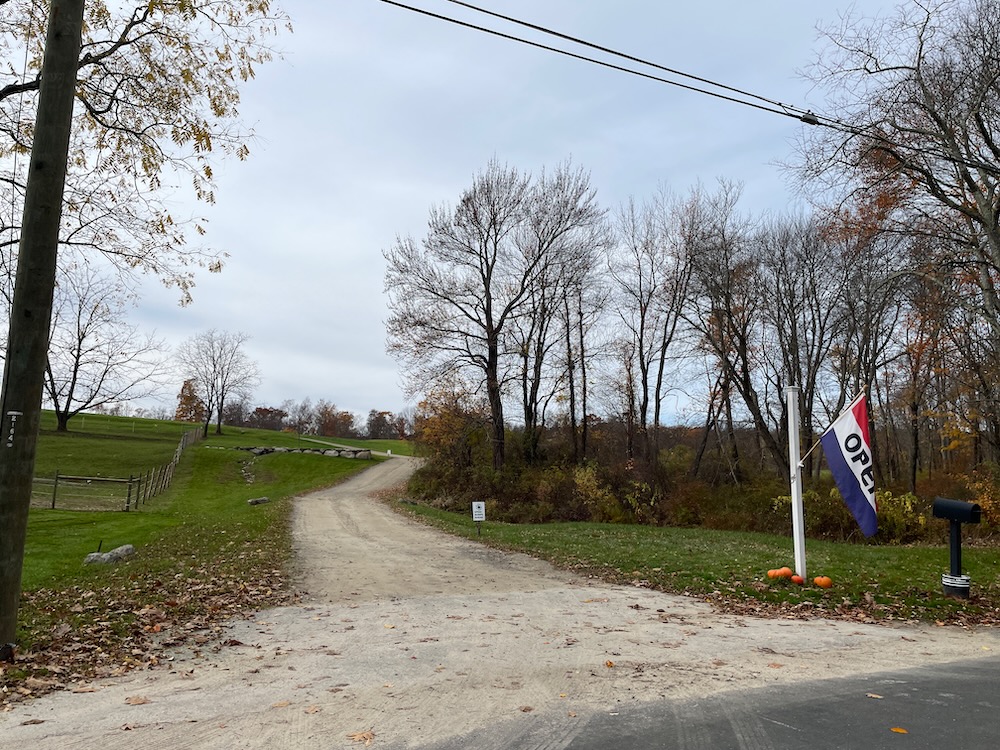 Today, you can visit Charlton and buy more Tree House beer than you could ever want. You can chill by a fire pit and enjoy conversation. Sandwich and Deerfield have alleviated the crowds in Charlton and when their expansive beer hall opens at The Tewksbury Country Club in Tewksbury MA, I think we may have peak Tree House.

Tree House Brewing Company is an impossibly impressive story. I don't care what you think about beer or how stupid it was for people to wait hours in lines for tiny allotments of $8 cans of beer… you must admire the company for what they've built.
Which brings us to the thing they've built in Woodstock. Because while the vibe is the same, the Tree House Orchard & Farm Fermentory is very different from the Massachusetts joints.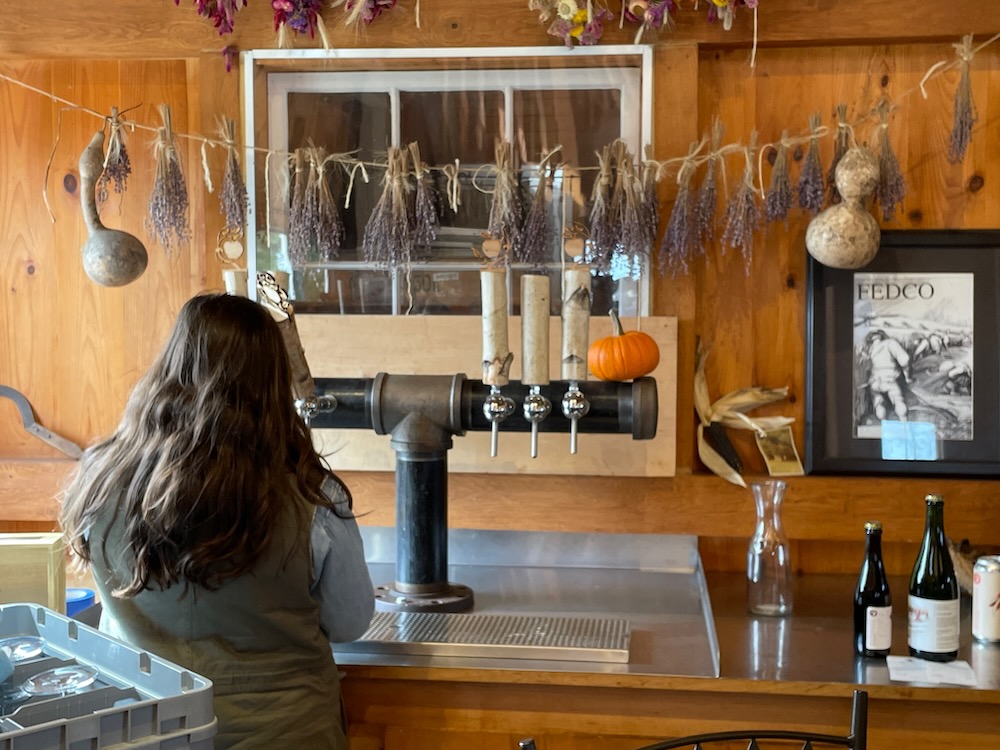 The farm in Woodstock is… let's call it a hobby. The former Devon Point Farm was purchased for $1.6 million dollars and is sort of a getaway for Nate and others. Nate apparently wanted to be a farmer and escape the insane pace and chaos of the brewery operation. What better place to do that than on 100 acres in Woodstock, Connecticut?
Tree House Brewing Company began it's mixed fermentation brewing efforts in 2013 by capturing a native culture of yeast in Monson, Massachusetts. During this time, we developed a set of tenets – one of those tenets was that we needed to control every variable of the fermentation process, including growing and caring for our own ingredients. After years of searching, we found the ideal location, just 25 minutes south of our Charlton Brewery in the quiet corner of Connecticut. Located on 100 acres of prime agricultural soil, Tree House Farm & Fermentory has a hypnotizing effect on the soul.
That last bit? The goofy part? It's true. The Tree House Woodstock Farm is otherworldly. If you are a Tree House veteran and have been in the long lines and rotted in the trenches and enjoy arguing about JJJulius versus Very Green, this is probably not the place for you. This is a real working farm with real working farm workers.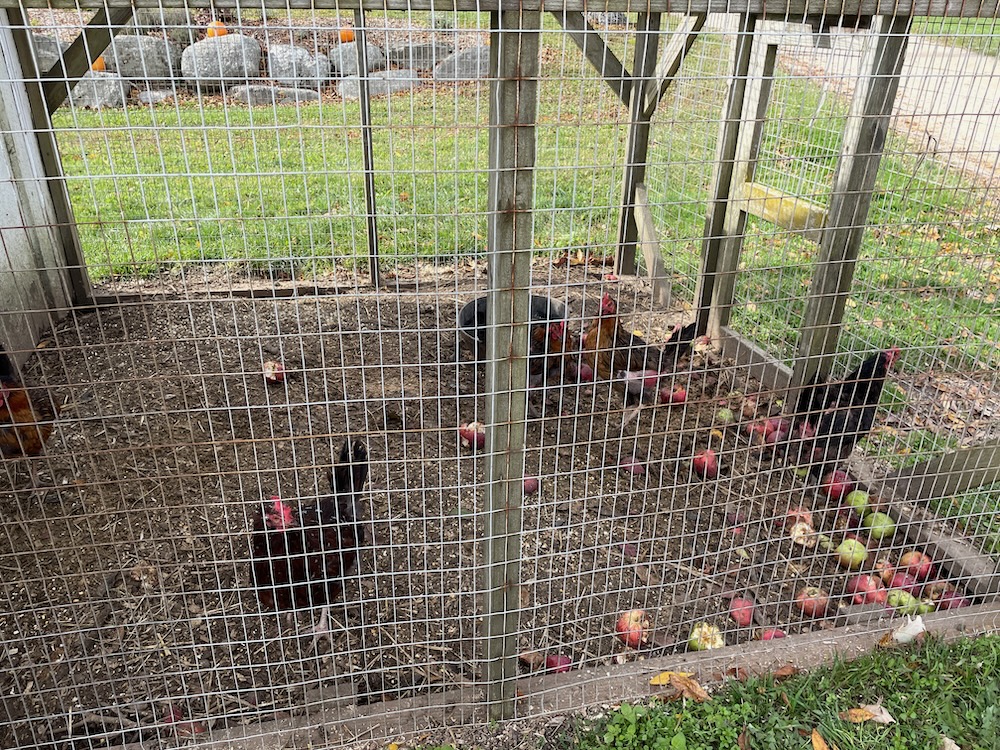 Tree House has sourced and planted over 6,000 berry bushes, including, but not limited to, blueberries, red, yellow, and black raspberries, gooseberries, champagne, pink, and black currants, cold hardy grape varieties, 2,000 heirloom apple trees, over 200 stonefruit, cherry, plum, and pears trees, and more. Heck, they have a farm share program where members get weekly allotments of organically farmed produce, eggs, flowers, and more. They specialize in heirloom varieties of fruits and veggies.
And of course with all this fruit and space, there's plenty of open fermentation and barreling going on here. You cannot purchase Tree House beer here and I don't think that will ever happen. You can buy various Tree House seltzers and cold brew coffees and such here, but the only alcohol you'll get here are the various farm-made ciders. And let me tell you, all that effort and money and care and time and study has led to… the best hard cider I've ever had.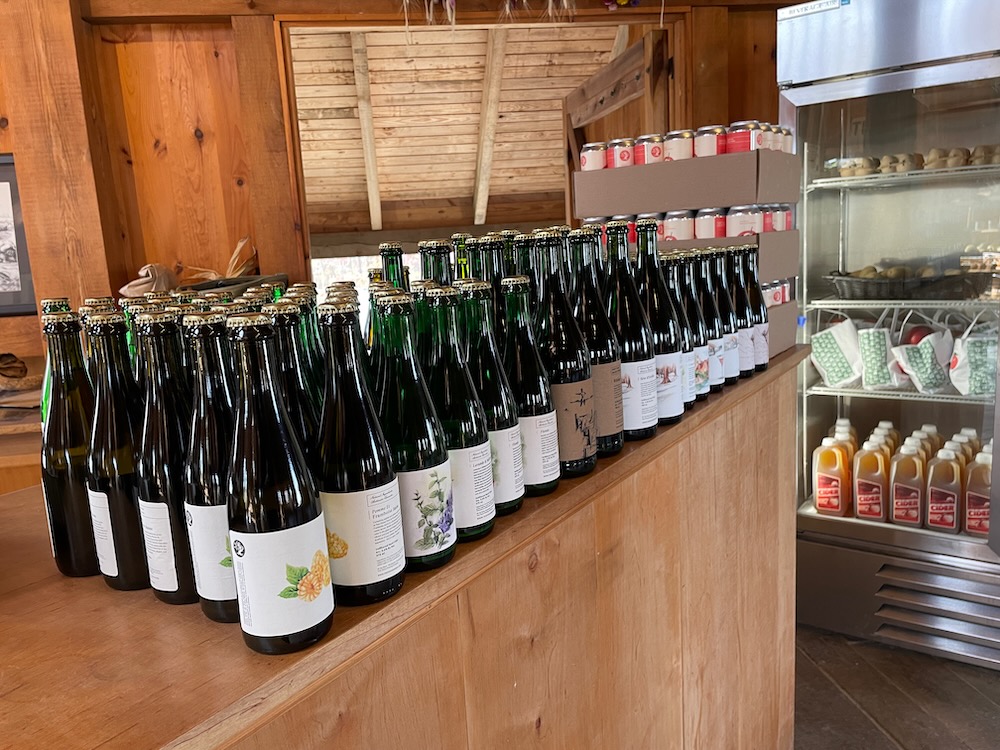 I almost feel bad saying that. Like, c'mon. It's Tree House. How could they also be successful at this!?
But I'll say it again: Tree House cider is the best hard cider I've ever had.
Not only that, but the whole experience of driving the long twisting driveway and talking with the women working there and sitting by the fire pit and walking the grounds is one of the best farm or brewery or winery – let alone hard cider – experiences I've ever had. I love it here. I was mad that my wife wasn't with me. I was mad it's an hour away from my house. I was mad that I had to leave at some point.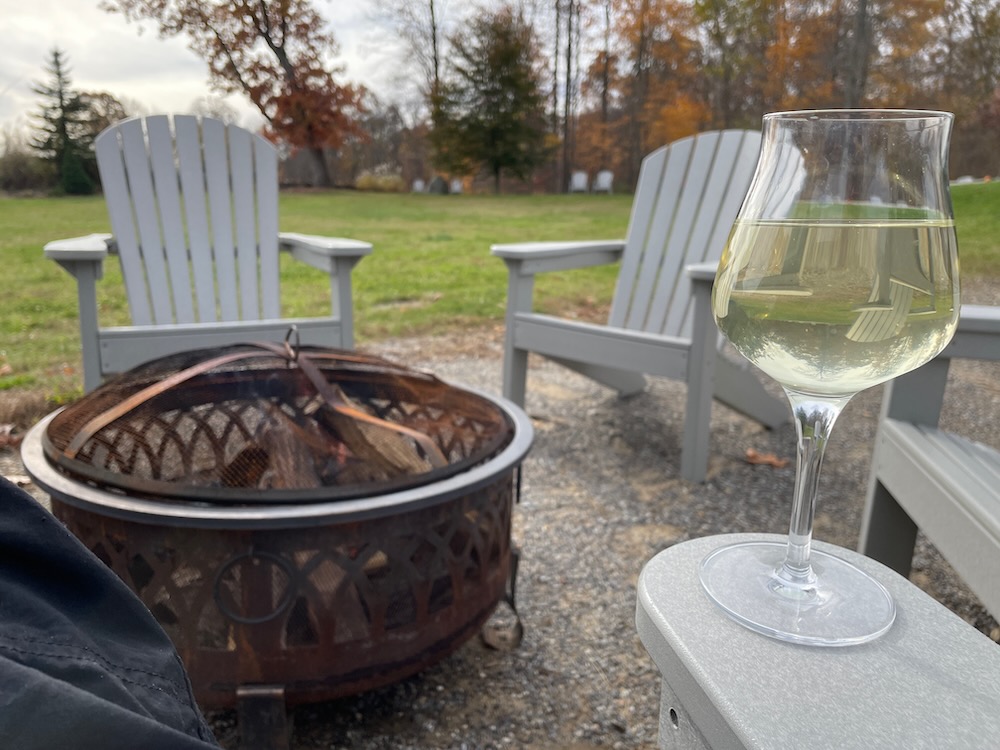 And in 2022, visiting the farm and cidery was a whole to-do. Tree House massively limits the number of guests during specified blocks of time. They say they want you to be relaxed, unhurried, and more or less alone in your thoughts or with your small group of friends or family. So you must reserve your time. How do you do that? By making purchases ahead of time online. So your ticket is your pre-paid purchase. Inventive. (And probably a bit off-putting to many, but… trust me. You won't care once you're here.)
I rolled up at my appointed hour and walked right in the open back barn door, right through the employee area. That's how it is here. It's a barn and it's cold and it's quiet. And they like it that way. (I did get a smile and was politely told that there's an actual customer entrance.)
I visited in October, shortly after they began offering draft pours. There were six varieties on offer and I went with the rosé barrel aged cider. "Tasty and elegant" according to the menu board.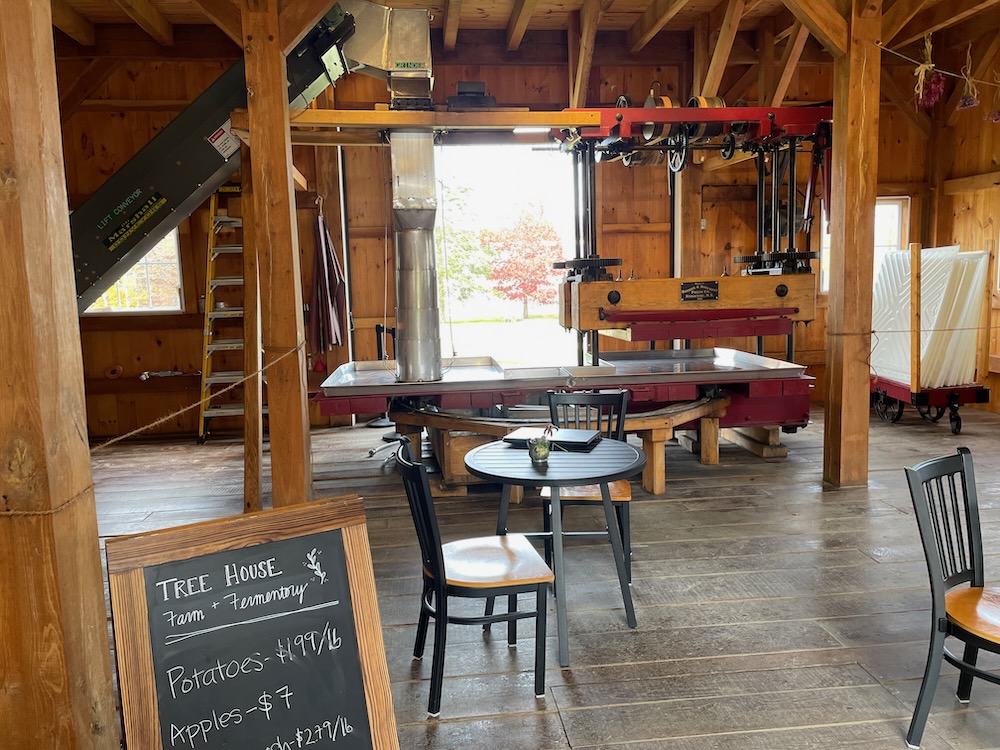 I took my glass and walked the grounds. There was one other customer there with me, and he was half a mile away in an Adirondack chair staring at a pond. I found my own chair and enjoyed my cider while I ate a sandwich from a nearby restaurant. No one talked to me. No one "Tree House Bro'd" me.
The cider was bright and effervescent. It tasted of apples and wine, just as it should. Not too sweet, not too winey, and in fact, it was perfect. I don't ever drink hard cider, but man, I'd drink the heck out of this. And with almost all of the ciders here under 6% ABV, I can drink the heck out of it.
So I got another glass. This time it was the Piment, fermented with estate grown hot peppers. I asked the server, "I like hot stuff, but is this stupid?"
She merely smiled at me and explained (paraphrasing), "nothing we do here is stupid; haven't you figured out yet that everything here is subtle and careful and intelligent? So, while we've imparted hot peppers, we did it in a measured way that results in an absolutely delicious cider, you idiot."
Sip. Drink.
She was right. Just perfect. The heat is there, but it's not hot. The cider had more of the flavor of heat than real heat. I loved it.
I mosied back outside and helped build a fire with another woman who works here. Our minimal conversation was easy and normal. She did not try to "Tree House Bro" me and in fact, neither of us even mentioned "Tree House". The fire was nice. Everything was nice. Life was good.
Alas, all good things must come to an end, so I picked up my bottles and cans to go and hit the road.
Sure, the day off from work and the crisp and sunny fall weather added to my enjoyment of this place. But I can tell you that I had never been more excited to get home and to crack open the cans and bottles to share some of my experience with Hoang.
I realize this page sounds like a fawning fanboy's love letter to Tree House. I assure you that it's not. If you skipped the introduction, I've never even been to a Tree House location since it was in a little building in Brimfield in 2012. This is simply a page written out of respect for the company and for their product.
And a thank you to them for coming to Connecticut. You should jump through whatever hoops and drive however long it takes to get up here. Trust me.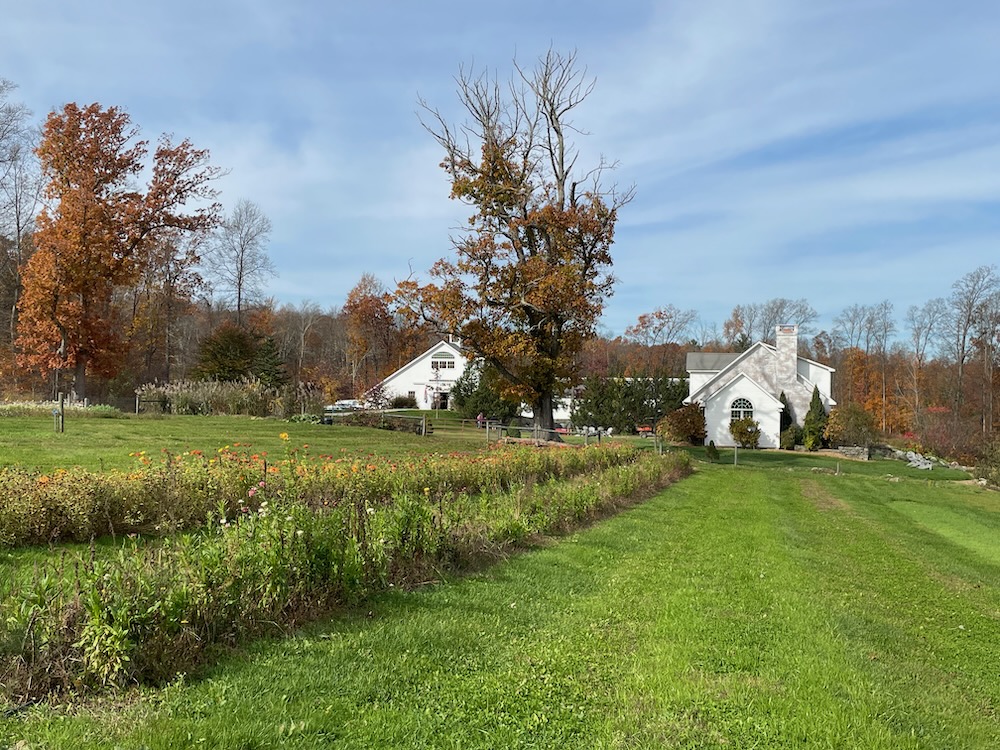 Tree House Orchard & Farm Fermentory
CTMQ's Cideries & Kombucheries