The Sky's the Limit. Really. It is.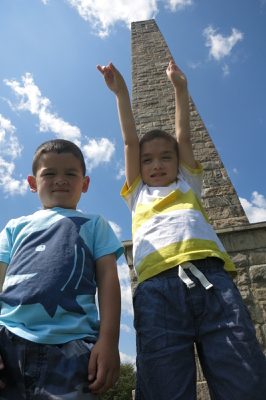 If you are the rare reader who has actually read through all 14 Sky's the Limit posts, you are probably expecting some long-winded paean to my son(s). And while that would be apropos, I'm going to try to not do that.
First, I'd like to thank the DEEP and the State of Connecticut for putting this whole thing together. I absolutely loved it, as it totally speaks to my interests and my particular brand of mild OCD. A list! With a reward! And hiking! I had this thing done the day it was announced. (In fact, I almost did as only a couple were new to me – but of course I redid them all in 2015 with my family.)
The Challenge highlighted 14 state parks and forests and brought people to some of my favorites like Dennis Hill, Macedonia Brook, and Mohawk Mountain. I won't harp on the fact that the Soapstone Mountain lookout tower has been closed for a couple years now either. Nope, not gonna do it.
I have no idea how many people will complete the list. As of late September, I heard that only 25 people have submitted all 14. Surely that will increase significantly during autumn which is, of course, the ideal time to hit these places.
It was a great mix of parks and terrain and towns. It was cheap, as only Mt. Tom and Sleeping Giant have entrance fees – though they can be avoided easily and legally. And a bunch provide a fun, yes fun drive to the summits/trailheads – Haystack, Dennis Hill, Mohawk, West Rock, Soapstone…
If you are reading this before December 2015, you still have time to complete the list. Or at least nab 10 for your medallion.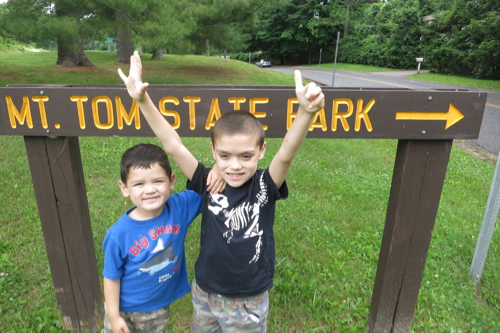 In order of difficulty, from easiest to most difficult, using the simplest approach to each. Note, you can (and should) make hikes out of all of them other than the Groton Monument:
14. Dennis Hill, Norfolk(drive-up)
13. Mohawk Mountain, Cornwall (drive-up a windy road)
12. West Rock, New Haven (drive-up a sketchy and windy road)
11. Soapstone, Somers (nearly a drive-up, tower officially closed)
10. Groton Monument, Groton (drive-up, 166 step climb)
9. Split Rock, East Hampton (easy, flat hike)
8. Mount Misery, Voluntown (easy, 2.4 mile hike total)
7. Mount Tom, Litchfield (easy, but up)
6. Lovers Leap, New Milford (a very short, steep section)
5. Haystack Mountain, Norfolk (a quite short, steep section)
4. Southford Falls, Southbury (a short, steep section)
3. Talcott Mountain, Simsbury (relatively long)
2. Sleeping Giant, Hamden (the longest)
1. Macedonia Brook, Kent (Moderately difficult hike)
Will the state do this again next year? I hope so. It's cheap and easy. Maybe waterfalls next year? Fake Connecticut caves? Lakes to swim? So many possibilities… And I can assure you, the boys and I will do whatever it is.
Okay, so… speaking of the boys. You really should read the TSTL posts from beginning to end. If only to gain an appreciation for what Damian accomplished. (I should note that yes, little Calvin did 10 himself and also deserves major props, especially since he hiked the longest ones himself (Sleeping Giant and Talcott Mountain).
Good job, buddy!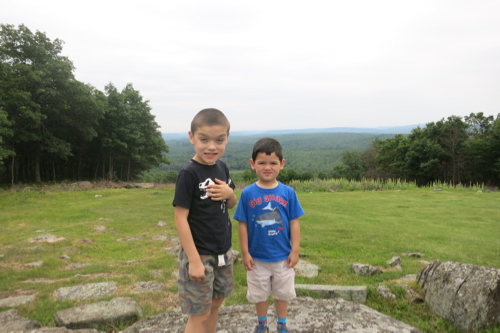 But Damian! During a summer in which some friends organized a flawless fundraiser brewfest that raised over $30,000 for the Smith-Magenis Syndrome Research Foundation… a summer during which I completed the seemingly endless "Roadfood Eat Before it's Too Late" list… a summer wherein I visited my 300th museum in Connecticut – my proudest moment, by far, was summiting the overlook at Macedonia Brook State Park, via the white trail, on June 25th with Damian.
I still get chills thinking back to the high-five he gave me at the completion of that hike, and my texts to my wife. The mere thought of Damian making that climb, just a year ago, would never have entered my mind. We were a team that day, me helping him up the steep inclines and over the boulders – and he making me realize how much he needs me now and for the rest of my life.
Damian is a great kid. Funny, personable, fascinating… trapped by a rare genetic syndrome that is just a miserable, unfair thing. To him and to those who love him. This summer (2015) has not been so great with Damian, as his behaviors have become very violent and disruptive.
But through all that, we got to all 14 TSTL points. Just like we do with his syndrome, we stuck it out. I pushed him when he needed to be pushed and you know what? He pushed me to be a better father in ways he has no idea. Patience and persistance, persistance and patience. Damian continues to test my limits of both, but I'm getting better.
And for his part, he's getting better at hiking and endurance. Who knows how far we'll go together, but I really hope we have many, many miles ahead of us.
CTMQ's State Parks and Forests Pages
CTMQ's Observation Towers and Views
CTMQ's Hiking Challenges