This is DEEP, man
Connecticut State Parks "The Sky's the Limit" 2015 Hiking Challenge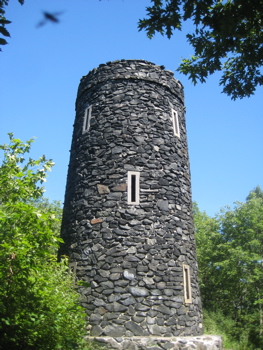 If I was an egomaniac, I'd write three paragraphs on how I influenced the state to create this challenge. After all, I've written over and over for years that things like this are fun and get people off their butts and into our woods.
Mount Tom observation tower, Litchfield/Morris
But I'm a realist and even though many people who work for the state (and perhaps the DEEP) do indeed peruse this site, this is hardly an original idea. Regardless, it's a wonderful idea and I hope whomever put this challenge together got one of those raises Governor Malloy handed out like candy in December 2014. (As a taxpayer, you're welcome.)
I've not yet sorted out in my head if I like the idea of a challenge that is limited to one year. As any reader of this site knows, I take my time with these things – owed mostly to have two little kids and a full time job and little things like that. (Of course, the idea of completing this challenge with said kids would be ideal, but one is not-yet-four and the other's special needs would make this somewhat difficult. But I do hope to include them as much as I can. After all, I do get them into the woods fairly often.)
Also, yes, I've been to almost every single one of the state parks and places in them required by this challenge. It's a pretty good list – good enough that I'll set about doing them all again, as necessary.
Here's what this thing is all about:
Connecticut's Department of Energy and Environmental Protection (DEEP) today announced a great opportunity to win prizes for hiking Connecticut's high peaks as part of a new program – "The Sky's the Limit" 2015 Hiking Challenge, designed to promote hiking in Connecticut's state parks and forests throughout 2015.

"What a great way to spending time outdoors hiking Connecticut's high peaks with family and friends and joining others in a friendly challenge to visit all 14 locations and win prizes along the way," said Robert Klee, DEEP Commissioner. "Connecticut has hundreds of miles of hiking trails all over the state, ready for you to hike any season of the year. Go have fun this year exploring the high peaks and seeing the spectacular views from the top of the mountains."

Participants in this friendly competition have the opportunity to receive a medallion for hiking up 10 designated locations. For hiking up all 14 high peaks, 50 families will receive a hiking staff. Names will be drawn from all who completed the 14 designated hikes on January 1, 2016.
A medallion! How could I live with myself if I missed the opportunity to score a medallion?!
To get that medallion, here's what you have to do:
Step 1: Hike at one of the 14 CT State Parks or Forests listed below.
Step 2: Snap two photos of yourself – one with a picture of the State Park or Forest shield sign and one at the location listed below.
State Park & Forest Photo Locations (not all locations are open year round, so remember to check to confirm and plan accordingly)
Visit 1: Talcott Mountain State Park, Simsbury/Bloomfield, May 2
Visit 2: Haystack Mountain State Park, Norfolk, May 24
Visit 3: Dennis Hill State Park, Norfolk, May 24
Visit 4: Southford Falls State Park, Southbury, May 30
Visit 5: Split Rock Vista (Hurd SP), E. Hampton, June 18
Visit 6: Soapstone Mountain, (Shenipsit SF), Somers, June 20
Visit 7: Sleeping Giant SP, Hamden, June 23
Visit 8: Lovers Leap SP overlook, June 25
Visit 9: Macedonia Brook SP overlook, June 25
Visit 10: West Rock Ridge SP Vista, June 27
Visit 11: Mohawk Mountain State Forest, July 4
Visit 12: Mount Tom Stone Tower (Mt. Tom SP), July 4
Visit 13: Fort Griswold Battlefield State Park, July 11
Visit 14: Mount Misery Overlook, August 12
Steps 3 and 4: This is the boring stuff about how you mail in your entries and stuff. So for that, just go here and/or here.
CTMQ's State Parks and Forests Pages
CTMQ's Observation Towers and Views
CTMQ's Hiking Challenges