The Sky's the Limit 2015 Hiking Challenge #11
Mohawk Mountain
Cornwall, July 4, 2015
Another drive-up! This makes two in a row for us. Although, I must tell you, if you only experience Mohawk Mountain by driving up it, you are lame.
Like, actually, physically lame like the old lady we saw up there, or, y'know, like, laaaaame. Mohawk Mountain is beautiful and the Mohawk Trail up it is one of the best hikes in the state.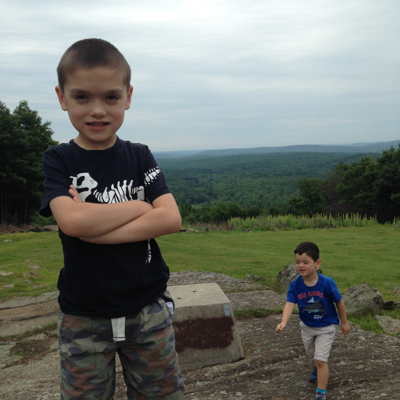 I love it out here. Give me Cornwall and Salisbury and Norfolk and Canaan any day of the week.
There's also skiing here, on the western flank of the mountain. An interesting note about the ski resort here – it was the first place in the world? In the US? To use artificial snow-making machines. It was also severely hit by a tornado in 1989 that destroyed many of the areas trees, including the incredible Cathedral Pines National Natural Landmark area.
I could go on and on, but I'll save it for future pages on the Mohawk Trail and the Pines.
For now, enjoy pictures of our 11th TSTL Challenge stop!
CTMQ's Sky's the Limit Challenge Page
DEEP's Sky's the Limit Challenge Page