The Sky's the Limit 2015 Hiking Challenge #13
Groton Monument/Fort Griswold Monument
Groton, July 11 , 2015
Holy crow! The penultimate TSTL Challenge point. It's funny, I just spent a few minutes Googling for other TSTL blogs and stuff, and while I found a few, I couldn't find any of completers. I'm sure there are plenty, but I really can't find any online.
One guy on Twitter did reach out and asked me the same thing – did I know of anyone other than myself who has done them all? No, actually I didn't. (Aside from this one guy, whom I don't know, who reached out to me on Twitter.)
I'll be interested in a final tally, so I hope the state puts it out there in January.
Anyway, the Groton Monument, also known as the Fort Griswold Monument, was a triple-whammy for me. I had never been up it before, so I got another "plain" tower completed. (I don't know why you would, but you can check out that page here.) AND there is a museum located at its base: The Monument House Museum!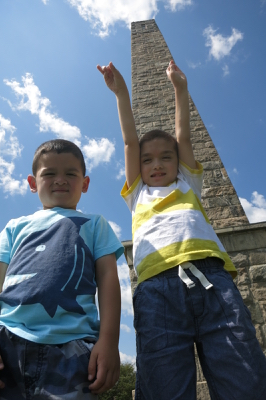 (Not only that, but there's also a small museum in the Bill Memorial Library right next door, which contains a MYSTERIOUS MUMMY HAND!) So yes, this tower is super awesome.
It's also super spirally. And hot.
But one does not need to hike but 30 feet to get to the tower. In fact, unlike the other drive-ups (Dennis Hill, West Rock, Mohawk Mountain), you don't have the choice to hike to the top. Of course you could start down at the Thames River if you want, but you'll just be walking up sidewalks and not through any woods.
And, unlike the other 13 TSTL Challenge points, you may have to wait in line here. The 166 steps to the top are very steep and very tight. It's impossible to capture that in pictures – at least for me – but trust me, it's tight. Passing others is not easy, and you must hope the other climbers are, um, let's say, nimble and thin. It's just a fact.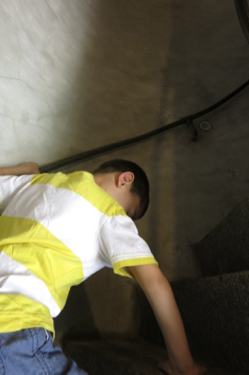 For his part, Calvin ascended the tower fairly easily. I was worried for Damian, but he did pretty well. Both boys essentially crawled up the thing, as that was the most efficient way of going about it. Damian sort of quit halfway up, but didn't need much prodding to continue.
The views from the top are beautiful, if a little hampered by the small windows.
Going back down was sketchy to say the least. Damian froze up a few times, and I had to hold one hand as he white-knuckled the handrail. And, even better, a family was allowed to go up as we descended. As I was ahead with Damian, I have no idea what Calvin did behind us to let them pass, but everyone survived, and…
And this was Calvin's 10th TSTL Challenge! He was now qualified to get his medallion from the state DEEP! Great job, buddy! I'm sure other 4-year-olds have done the same this summer, but who cares about them. Let them get their own website.
Even better, this meant that Damian and I only had one more hike to go to finish all 14 climbs!

More on the Monument
CTMQ's Sky's the Limit Challenge Page
CTMQ's State Parks, Reserves, Preserves, & Forests