The Sky's the Limit 2016 Hiking Challenge #6
Black Rock State Park, Watertown
May 15, 2016
As I drove into Black Rock State Park for 2016's sixth DEEP Sky's the Limit Challenge hike with my boys, it occurred to me that I'd never been to Black Rock before. I suppose that's no big deal to most of you, but it sort of surprised me. After all, one of the CFPA's best trails (the Mattatuck) cleaves the park. It also has a little lake for swimming, and I've been to most of them too.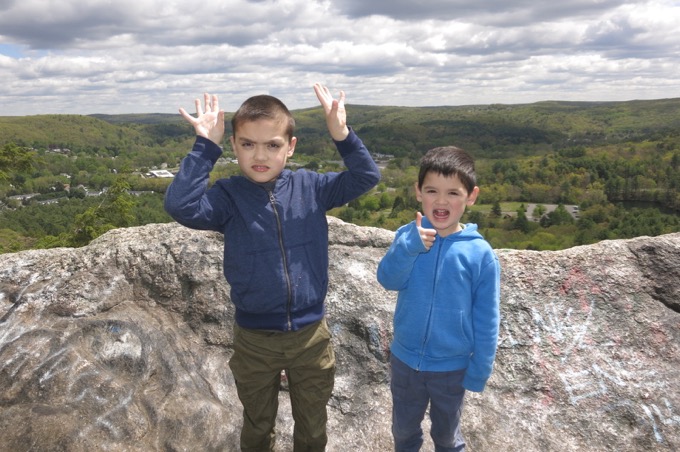 Black Rock is one of Connecticut's rare "camping" state parks. I've never camped in a Connecticut state park and don't really plan to anytime soon. The allotted spaces here seemed pretty darn tight to me, and I enjoy my solitude when camping.
This hike is noted as "difficult" on the DEEP listing. But when challenge pursuants take the shortest possible route, the total round trip hike is probably just under a mile. So really, who cares how steep the climb to the lookout is, as it's so short. And a good quarter of the hike is merely walking from (and later, to) the parking lot to the trailhead.
Of course, as always, I'd encourage any and all to make a longer day of it in the woods. Get two cars and hike a good chunk of the Mattatuck! Or at least make a decent loop hike.
Alas, with my just-turned-five-year-old Calvin and his special needs brother, we usually just try to do the bare minimum for our challenge. Plus, angry clouds were gathering to the west as we began, and my sons apparently think rain is equivalent to Sulphuric acid knives on their poor little swirly-haired heads.
The hike itself was fairly uneventful. It is very steep in places, especially for little kids. Of course, for Calvin, the hand-over-hand on all-fours stuff made the hike more fun. He loved it. But for Damian, this usually means more resistance and often more difficulty with his, um, unique behaviors.
But let me hijack this hike report to say a few things about our little Damian.
The day prior to our hike, Damian had several behavioral episodes. This resulted in him not getting the things in life that make him happy. We're finally at the point, as parents, when "punishing" him seems to actually have an effect. (He's 10.) Anyhow, the next day was one of Damian's best weekend days ever. I have no idea if he remembered that his behavior the day prior resulted in him not getting his beloved iPad time or whatever, but I'll pretend it did.
As this would be a significant milestone in his development. Trust me, when you have a kid who doesn't have the ability to process that terrorizing his brother (or more often, himself through self-injury), and "punishing" him results literally no change in behavior, it gets frustrating.
But Sunday! Damian was fantastic. He dealt with change, he shared his Leap Pad with his brother in the car and most significantly, he began the hike without a single Smith-Magenis Syndrome behavior. It was wonderful. Really and truly. And over the course of the hour or so of our time out in the woods, he was just great. He gave no resistance to my offers of help. He didn't argue anything. No self-injury. No feral screams for no reason.
All the way up and all the way down. And even at the end, when I made him use the restroom (which we must "force" every two or three hours, lest he wet his pants), he even did that with only a small episode. None of you understand this, but just know that this is very, very rare.
Almost as rare as Damian posing for the required TSTL pictures! Both of them! Who was this child?! I don't know, but I'll take him.
For his part, Calvin was also rather excellent. Maybe he was feeding off Damian's positivity or something, but he was happy to climb up the steep hill, happy with the snacks I brought, and happy to wait for Damian on the tricky descent. And on top of all that, Calvin didn't fall once! Or step in a puddle of mud!
Maybe it was just the promise of Oreos back at the car? All I know is I'm bringing Oreos from now on.
Well done, boys, well done. Let's look at some more pictures.
CTMQ's 2016 The Sky's the Limit Challenge
DEEP's Black Rock State Park
CTMQ's Black Rock State Park