Doo DooDoo Doo!
UConn Men's Soccer Game, Storrs
October 12, 2011
Note that this was written in 2011, and the basketball (and field hockey) teams had some national championships ahead of them.
It's not all about the basketball in Storrs. Nope. The men's soccer team has a longer and just as successful program. (Yes, I'm fully aware of the women's basketball successes and I think that's great.) The UConn soccer program has 3 national championships to their credit as well (1948, 1981 and 2000). Sadly, that 2000 national championship didn't get as much publicity here as it should have.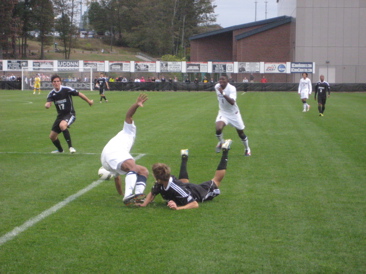 They've won 11 Big East Championships, including a run of 4 in a row from '98-'01. They've had 14 players drafted by the MLS. They are a juggernaut.
The team was ranked # 1 in the nation for a good chunk of 2011 but faltered in the playoffs, due to (fans, including me, say) Ray Reid's overly conservative offense.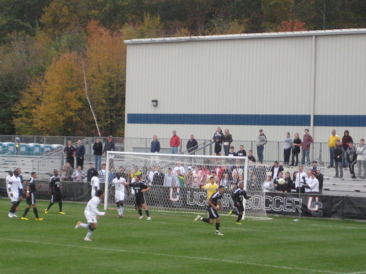 I made a pledge to try to catch Connecticut college sports action whenever a team is ranked # 1. I don't care what sport it is or at what level, it's about the relative experience. So far, I've checked out some Trinity squash action, some Yale hockey, and now some UConn men's soccer – all of whom were ranked # 1 at the time… None of whom won a national championship during that particular season (They all have at other times, of course).
I actually purchased my tickets before the game online – as I knew Morrone Stadium isn't super huge (4,500) and UConn soccer actually pulls in a decent crowd. In fact, according to Wikipedia, "UConn has the best average attendance in the nation for both men's and women's soccer." Do I believe that? I'm not sure. Does it mean that each separate program has the highest, or the two together averages to the highest combined? Or is it just a complete lie? I have no idea.
But I did just find (no longer available) 2007 article which seems to back up the assertion and goes on to say that the UConn student section (the "Goal Patrol") is the largest student fan club in the country.
The evening before the game, I received a call from the athletic department that the game time was moved up to 4 from 7:30 due to impending storms. I guess they can do this with mid-season non-TV soccer games, even if you're number one. Fortunately, I was able to squirt out of work early to get up to Storrs on a gloomy fall afternoon.
[Aside: Take the risk of not needing them to actually call you for a gametime change. Why? Because once they had my home number, the "UConn Foundation" has continued to hound me looking for donations. Nightmare.]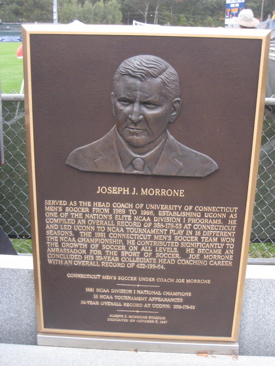 The game was against Providence (whose fans, I'm sure, were a bit upset about the game time change) and was to be an easy win on paper. But even so, there were other crazy statistics to keep track of during my 90 minutes of soccer fun:
UConn came into the game having not allowed a goal in a program record nine straight games. The Huskies were nearing the NCAA record of 11 straight shutouts. Freshman goalkeeper Andre Blake had not allowed a goal in an incredible 879:53.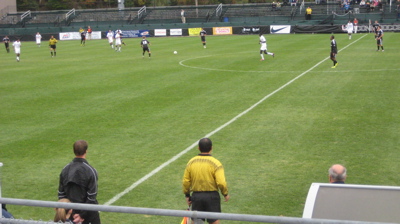 They had not allowed a goal since the second half of a 4-1 beating of then-No. 7 Cal on September 4. The Huskies were riding a 17-game unbeaten streak at home dating back to November 7, 2009 when – guess who! – Providence defeated UConn, 1-0, in the Big East Quarterfinals.
So it appeared that Providence soccer is to UConn soccer what Providence basketball is to UConn basketball. That crappy team that seems to have "our" number more often than it should. Friars!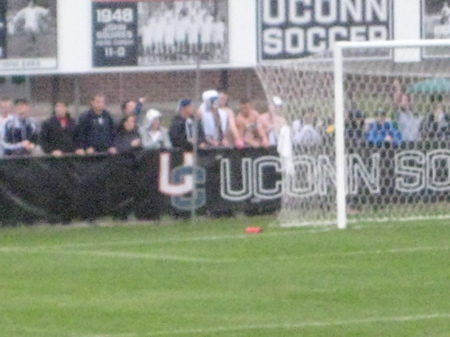 But back up… UConn's FRESHMAN goalie hadn't allowed a goal in nearly 900 minutes. That's insane. The game began with lots of empty seats, but far less than I'd expected considering the time change and the fact it was already being played in a drizzly rain.
I took a seat about 15 rows up from the UConn bench and could easily hear the coach yelling at the refs and his own players all day. The Goal Patrol took their spot behind the north goal and removed their shirts. They didn't impress me too much to be honest with you. But they were there and they were as loud as they could be, so I give them props.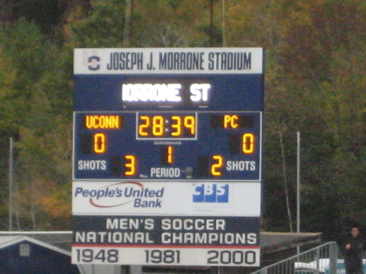 Soccer is soccer. While nowhere near as boring as the average American thinks, it's still not always scintillating. UConn dominated the first half and scored the first goal. I'm not going to regale you with a game recap, but after this first goal I was introduced to the best thing about UConn soccer right now: Mamadou Doudou Diouf. The kid is from Senegal and all three "dou's" in his name are pronounced "doo" so when he scores, and he scores a lot, the PA announcer gets to say, "MamaDOO DOO-DOO DIOUF!" It's wonderful. Just wonderful.
He went on to score another goal in the second half as well. MamaDOO DOO-DOO DIOUF! Perusing the current roster, the team has a couple Jamaicans, two Senagalese, and kids from Trinidad, Spain, France a few Canadians… but several from Connecticut as well. I think one starter at the game I attended was from Connecticut.
Halfway through the second half it happened. Some clown on Providence sent a shot that skipped unpredictably on the wet pitch and surprised goal keeper Andre Blake – ending his shutout streak at 961:32. It was sort of funny because Blake, Coach Reid, the loyal fans… All were SO MAD. A huge collective sigh left the stadium and the final 15 minutes or so belonged to the Friars.
In fact, with 20 seconds to go, a Providence guy had a wide open net and his shot was going in… until it was deftly saved at the last second by a defenseman.
UConn wins!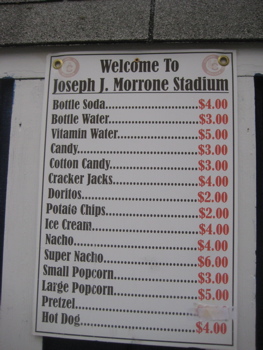 (They went on to lose their #1 ranking a couple weeks later and then got beat in the NCAA tournament by some lesser team. Soccer fans began grumbling that it was time for Ray Reid to hang it up. But here we are now, a year later and again a top 5 program in September…)
Mamadou Doudou Diouf was drafted by Vancouver of the MLS and played exactly zero games for them. His career fizzled out a couple years later after 8 games for a Finnish team. But the goalkeeper, Andre Blake, went on to be drafted by the Philadelphia Union of the MLS and has won many awards as pretty much the best goalkeeper in the league. He also is the starting keeper for his native Jamaica. My son, only six months old at the time of this game, is now nine and has trained with Ray Reid's staff and has dreams of playing for UConn someday.