Lift Me Up (To The Top of The Hill)
Valley Brook Church Trails, Granby
December 2020
As I begin to write about the trails at this large church in North Granby, I'm suddenly wondering how many mapped and blazed public trails exist at churches around Connecticut. Probably not too many, but I don't really have any way of knowing about them unless locals alert me to them.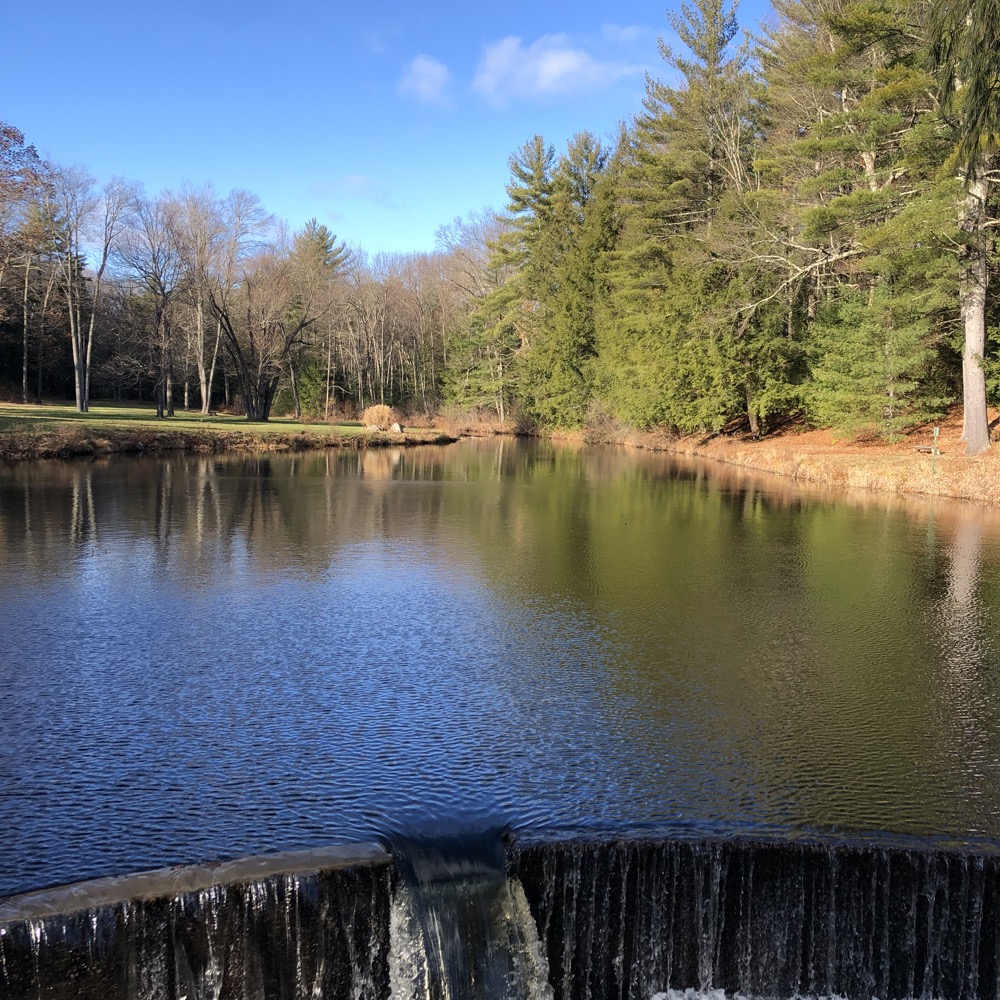 Such was the case here at Valley Brook Church. I like having readers who are keen to provide me with insider information about their hometowns that I may otherwise overlook. And I have a reliable insider for Granby and East Granby. Thanks Sarah!
Granby has a lot of trails and a lot of them are excellent. I wasn't expecting much here, although the property is located very near some Granby Land Trust land – though no trailed connections exist as of late 2020.
The church itself seems way too big for its location deep in the woods of a sparsely populated town. But apparently, God himself compelled a generous couple to donate the buildings and land to the church in 2013.
Praise God for answering our prayers for a building in an unimaginable way! Through the overwhelming generosity of a North Granby couple, God provided a new home for Valley Brook. In March 2013, Rod and Janice Reynolds, gifted their 85-acre estate, 30,000 sq. ft. equestrian center and 8,000 sq. ft. home to Valley Brook.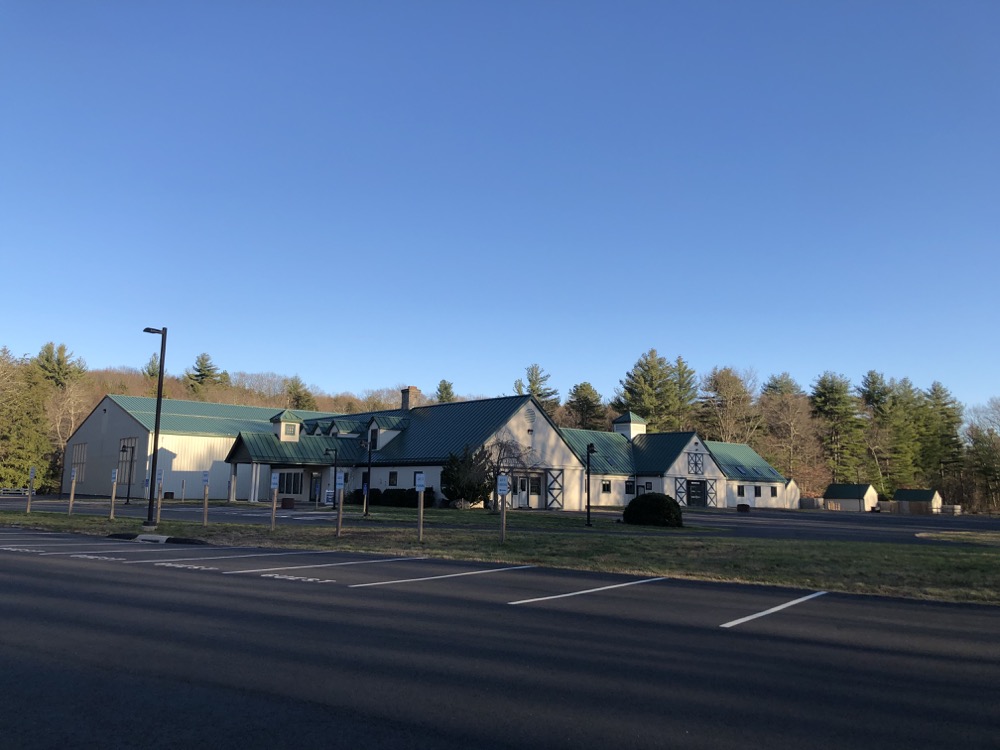 To me it seems like the church should simply be thanking the Reynolds. I've just read a bit about them and they are rather awesome people. The former equestrian center wasn't just any old horse farm. From The Hartford Business Journal in 2010:
Rodney and Janice Reynolds hold a special place in their hearts for individuals, particularly children, suffering from emotional and physical disabilities. The Reynolds have committed their lives to calling attention to the need to battle these disorders and in encouraging support from individuals and organizations to help fund ongoing treatment and research.

It is what compelled them 10 years ago to establish a therapeutic horseback riding program, called Equistrides, in North Granby for people with cognitive and emotional disorders. The program served many individuals, including patients from the Connecticut Children's Medical Center, who, together, comprised a group with more than 100 different physical and emotional disabilities.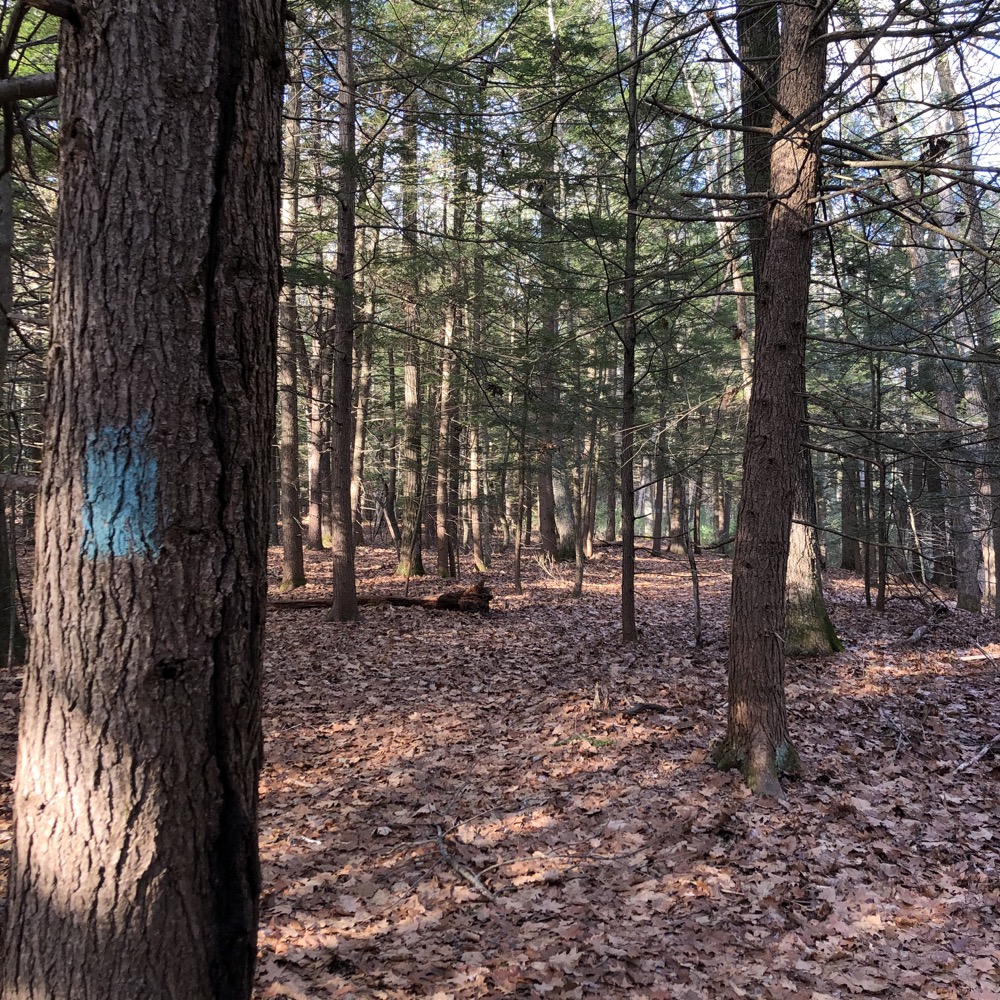 As many of you know, my son has "cognitive and emotional disorders." (In fact, I tried having him join me for a hike here a few weeks prior… he wasn't in the mood and that was that.) Not only did the Reynolds run Equistrides, not only did they donate the buildings and land to the church, but in 2009 they contributed a major gift to Hartford Hospital's Institute of Living to help launch the institute's Depression Initiative.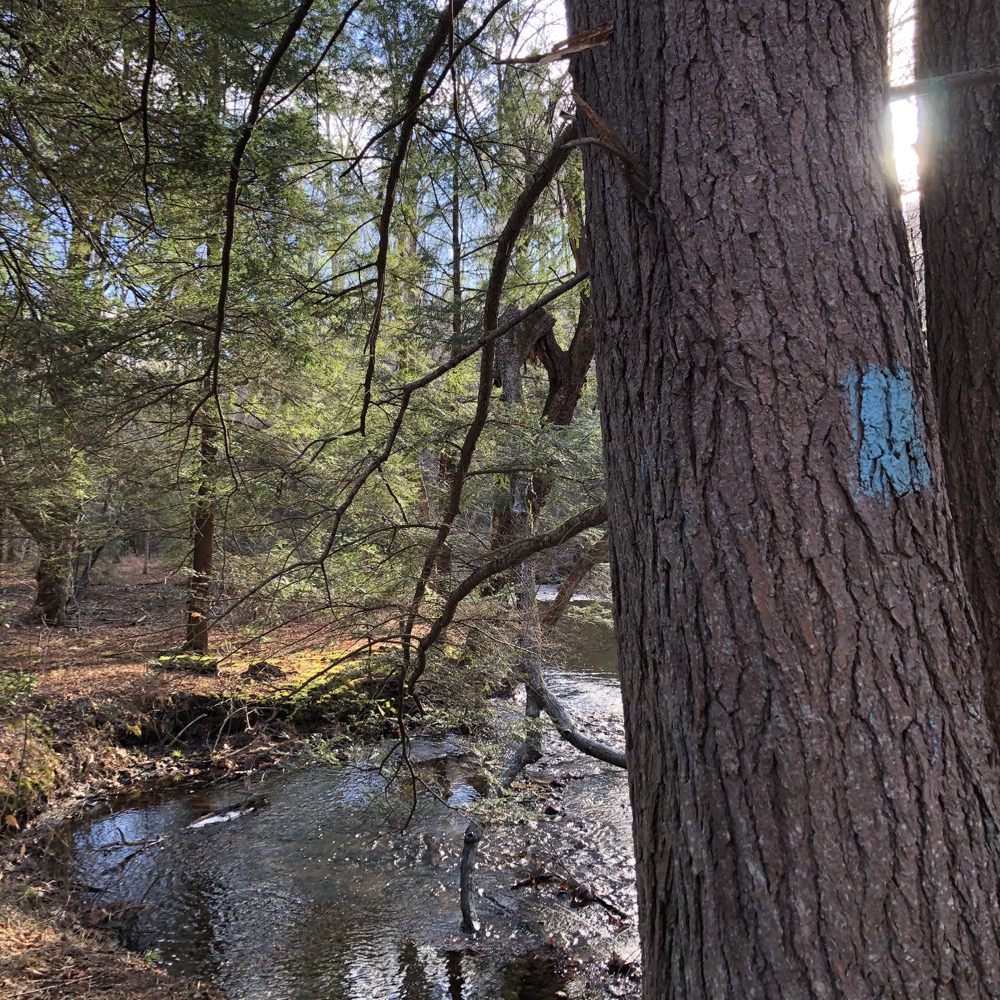 There are a lot of good people still in this world. I promise. And I'm sure many of them attend church in the converted equestrian center. This is one of those churches where you can wear jeans or shorts and listen to "contemporary" Christian music. In other words, a very different church than the one in which I grew up.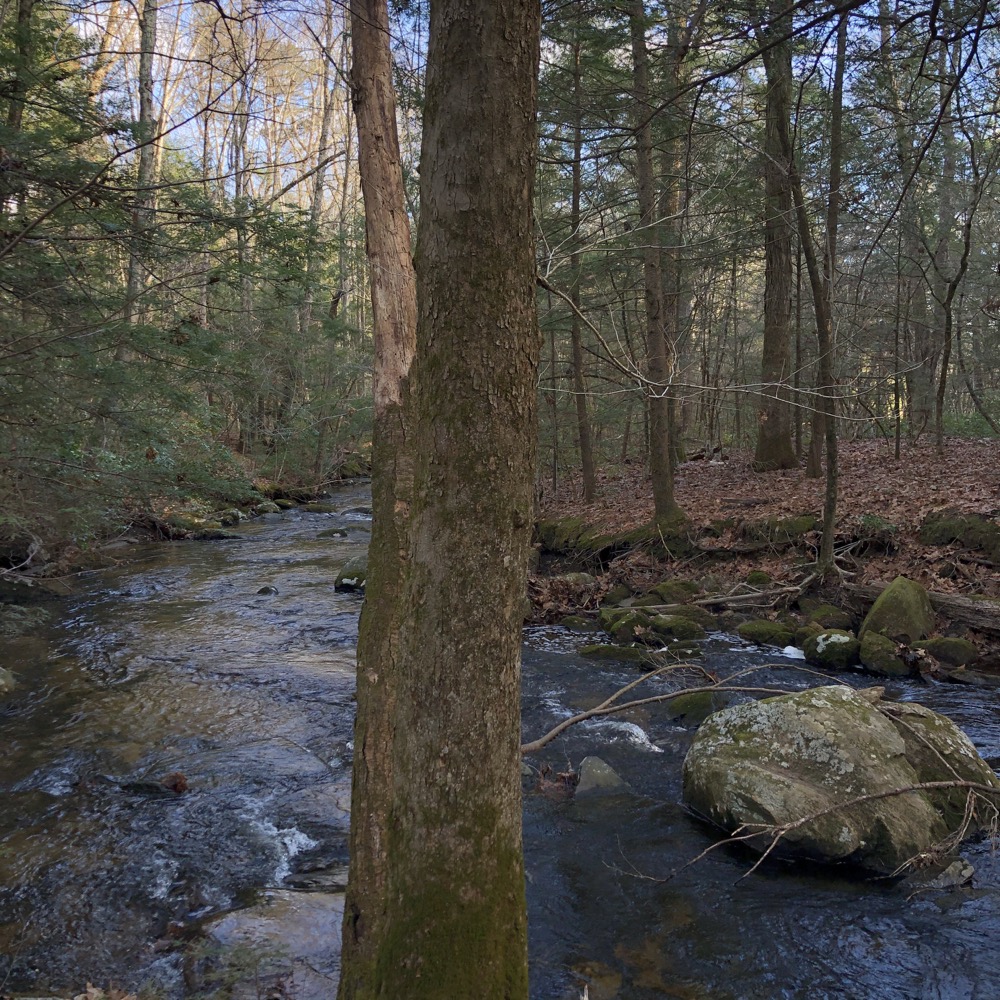 However, all the 'upbeat" contemporary music and welcoming messages of love and acceptance belie this answer about what they believe and teach from their FAQs:
We believe in the personal and visible return of the Lord Jesus Christ to earth and the establishment of His kingdom. We believe in the resurrection of the body, the final judgment, the eternal felicity of the righteous, and the endless suffering of the wicked.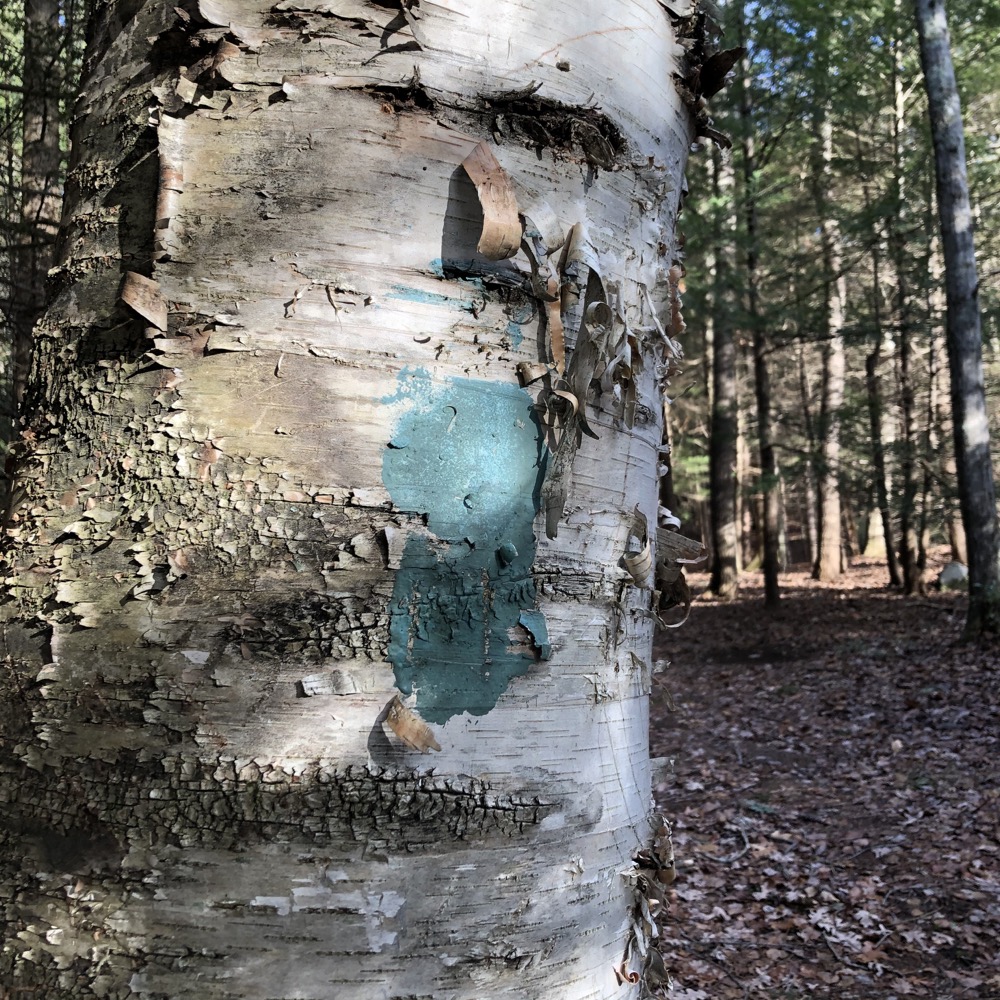 I would guess I'd be one of the "wicked," and, well… bummer for me I guess.
The lead pastor of the church is Clark Pfaff who grew up in North Carolina. His bio states that, "in his spare time, you'll most likely find Clark outside whether it's enjoying a hike (ask him about the Appalachian trail) or run, or snowshoeing in the winter."
Pastor Pfaff, did you thru-hike the Appalachian Trail? If so, when? Always happy to chat about that!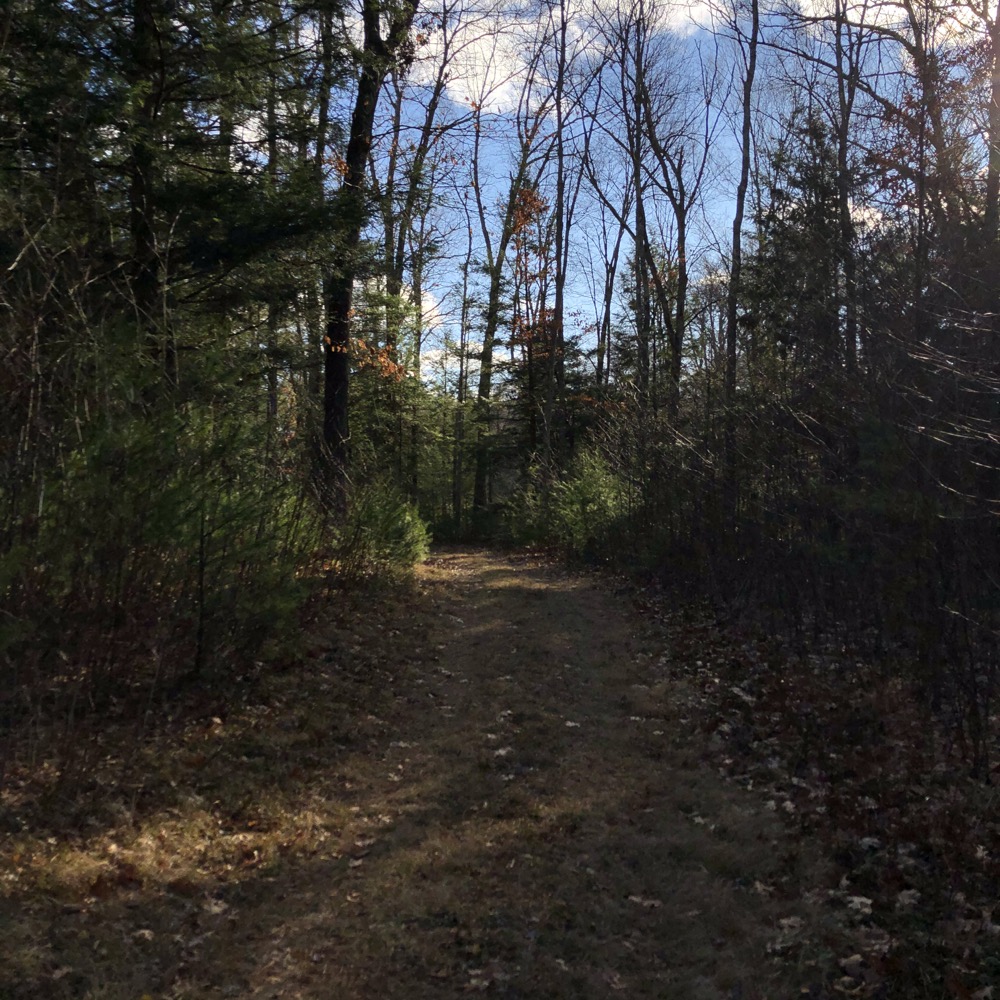 Okay. All this stuff and we finally get to the trails. There's a blue-blazed trail that starts near the rear of the church, heads towards the house, across a dam and into the woods. All the pictures on this page up to this point have been from this blue trail. It loops around at the base of a hill and travels alongside the East Branch of Salmon Brook. It's a decent little loop.
But the Appalachian Trail this is not.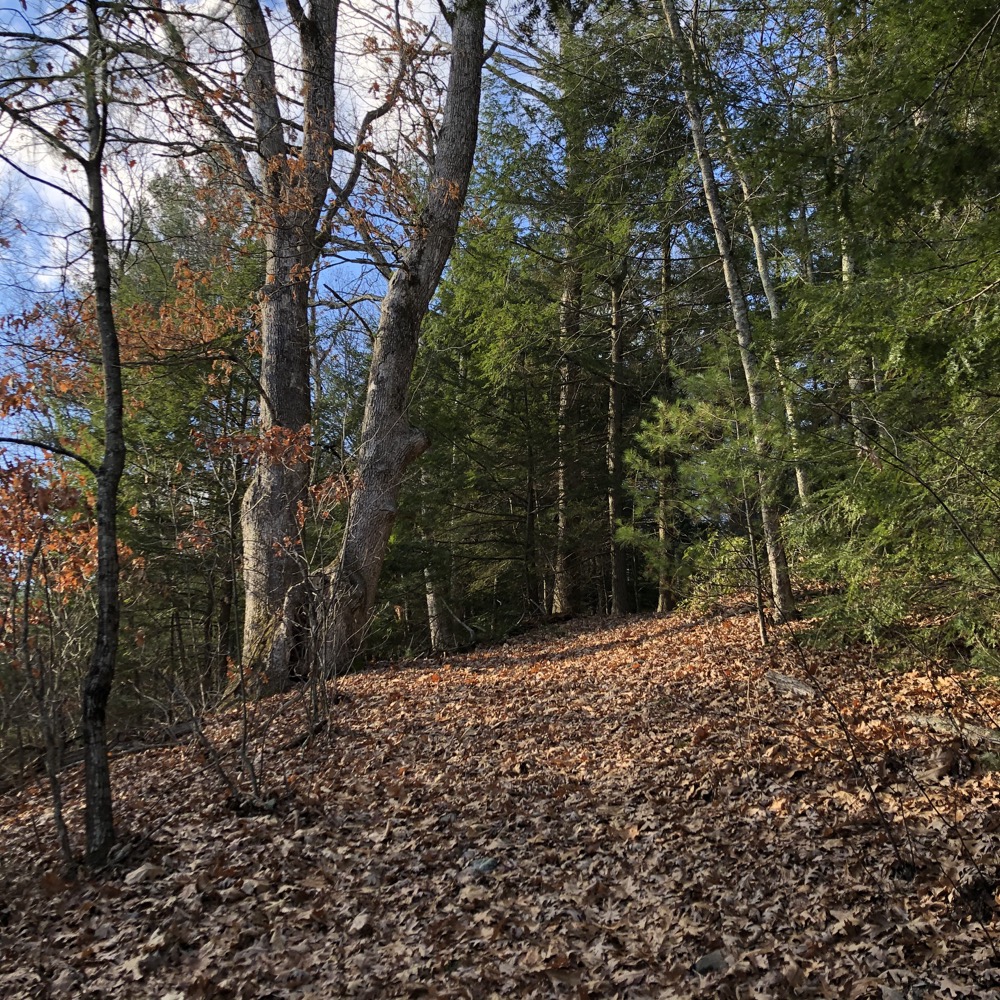 After completing the blue trail, I sought out the white trail. This meant walking past the living quarters and some church men milling about. Polite hellos were exchanged and I found the white trailhead near the entrance/access road.
Blazed white, just like the AT, the white trail is serious business. It switchbacks up a very steep hill and curls around to the top, which provides some seasonal 270-degree views. There's a bench up there which is nice. Some god graffiti may provide inspiration to some.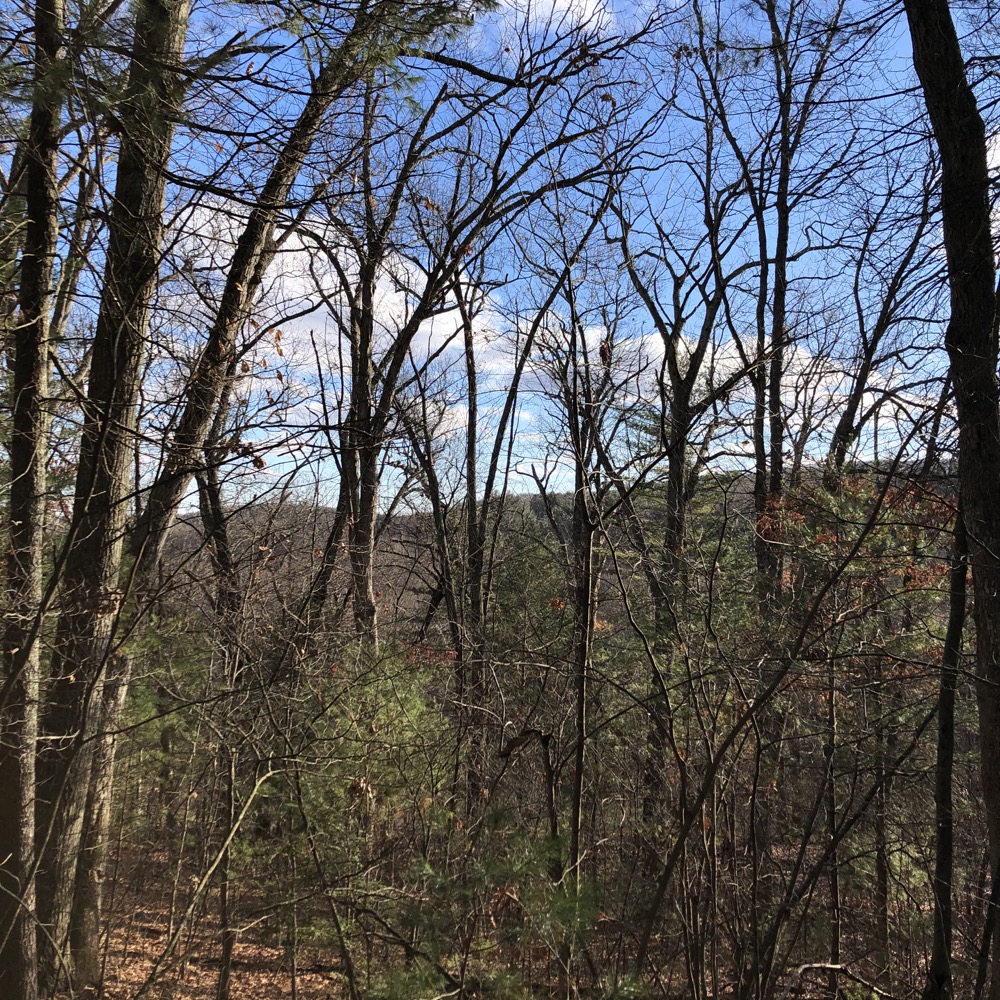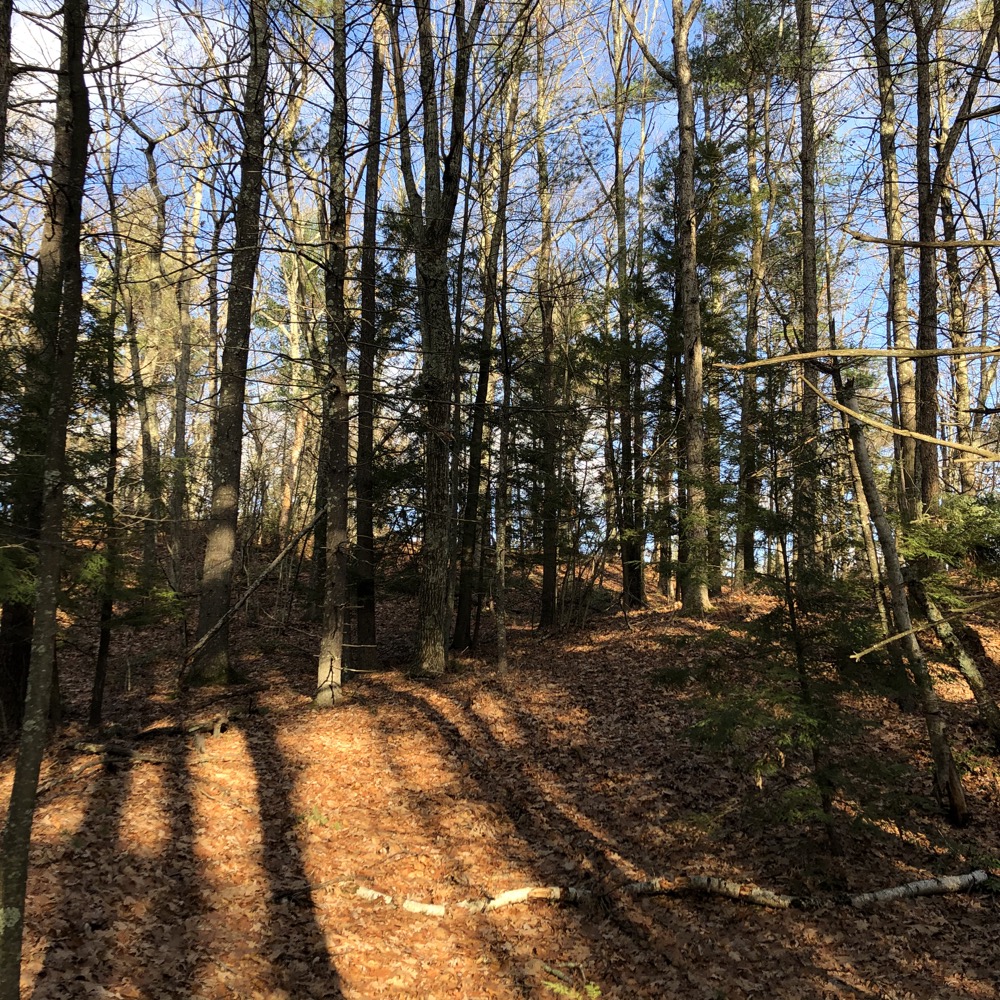 Continuing the white loop, I descended off the hill back towards Salmon Brook far below. Summiting the hill is a short and steep effort in either direction. The white pine forest towards the river is nice and at one point I was able to see where I'd been on the other side just 20 minutes prior.
As I made my way back towards the buildings I passed a large cross at the end of a field where the trail enters/exits the woods.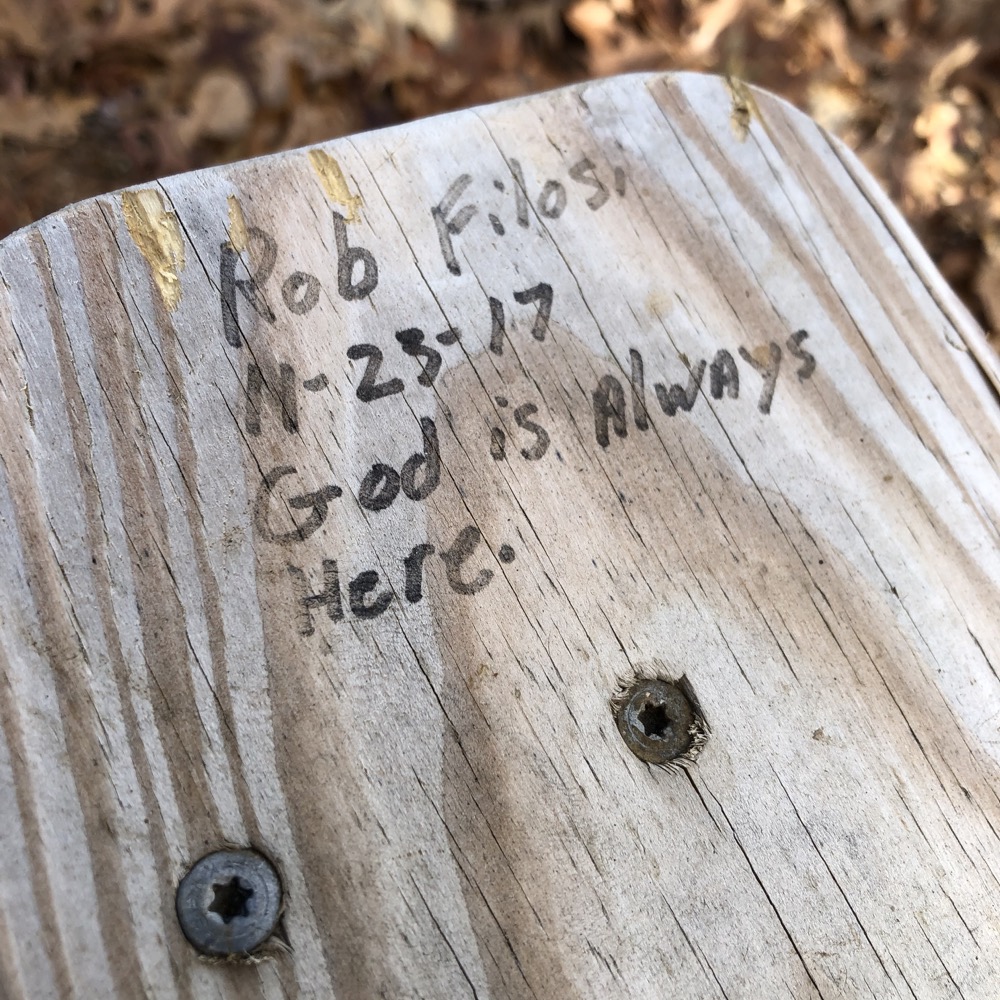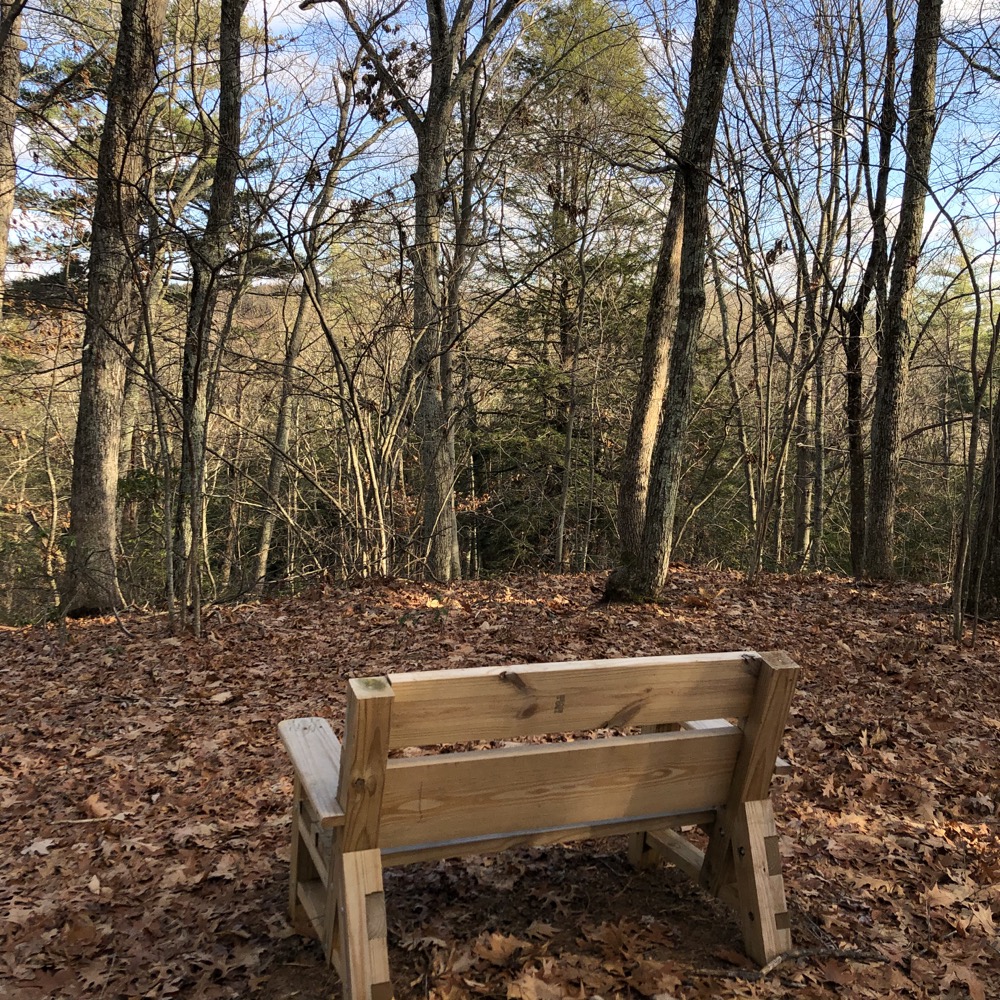 The Valley Brook property is beautiful. Rolling hills, Salmon Brook, and solitude. Although the blue trail was kind of blah, it's still cool that it's open to any heathen bum like me to enjoy. And I did enjoy it. Thanks Valley Brook Community Church! Peace be with you.
And with you.
Valley Brook Community Church is located on 80 acres on the east branch of Salmon Brook in North Granby. The campus grounds include a pond, hiking trails and a house that is currently home to a partner ministry.

During daylight hours, you're free to explore and enjoy the campus. Please watch your children and do not allow them near the pond or brook without adult supervision.